J.C. Penney (NYSE: JCP) has been lackluster compared to competitors in the retail space over the past few years. To bounce back and perhaps re-reach their target demographic, the mom, J.C. Penney announced today that it plans to open 500 baby shops. This coming in the wake of Babies R'Us completely closing down shop.
This has been the latest move in a series of retailers trying to enter the baby business. For example, Walmart (NYSE: WMT) is pushing the baby section of its website. Year over year, baby-related searches are up 40%. Target (NYSE: T) has expanded its private-label baby brand to include a more comprehensive collection of baby products. Amazon (NASDAQ: AMZN) used Khloe Kardashian to push its own baby registries as well.
All in all, J.C. Penney has made the most aggressive move to target this market. And it's been much needed. Investors are hoping these store-openings can propel J.C. Penney in the right direction again. J.C. Penney shut down 141 stores in fiscal quarters 2 and 3 in 2017. This happening as a result of total sales declining 4% YOY in the first quarter of 2018– a direct result of the Amazon effect. The first quarter of 2018 was unimpressive for the retailer, despite actually beating analysts' predictions on revenues by $40 million. Earnings for the second quarter are to be released next week.
The retail space has been extremely interesting to cover since e-commerce began to take over the United States. In what they're calling the "retail apocalypse," JCP has done far worse than its competitors. However, it has done more to adapt than many of its old and new competitors. JCP added appliances back to its stores and has offered home services in spaces that have been lost by former-giant Sears (NASDAQ: SHLD) – a company which has also been closing stores. The eventual fall of Sears will allow JCP and other retailers to gain a stronger footing in the home services space.
Where JCP went wrong, writes Tertiary Capital, is its devotion to millennials under the tenure of former CEO Ron Johnson. After spending years chasing the younger generation, they are back to focus on their target demographic of middle-aged moms. Thus, there is not really much in the Earnings Reports or 10K's to focus on for JCP's revival. As the company stands on its last legs, their only hope lies in their leadership. This is a concerning reality, as currently, the company's CEO is a collection of four people. The "Office of the CEO" is made up of CFO Jeff Davis, CCO Joe McFarland, CDO Therace Risch, and Executive VP of Supply Chain Mike Robbins. In the last seven years, the company has been through three CEO's – but this next one is their most important yet. None in the Office have apparel experience, which accounts for $12.5 billion in the company's annual sales.
If that is not alarming enough, JCP is on track to remain unprofitable for 16 of its last 18 quarters. This earnings report next week might sink their price further than the $2.30 it is hovering around currently. JCP also holds $4 billion in debt. Only $160 million in maturities will be due in the next two and a half years – so investors can take one short sigh of relief. With creditors already being tapped, JCP needs to use this opportune period of low debt servicing to make some enormous moves.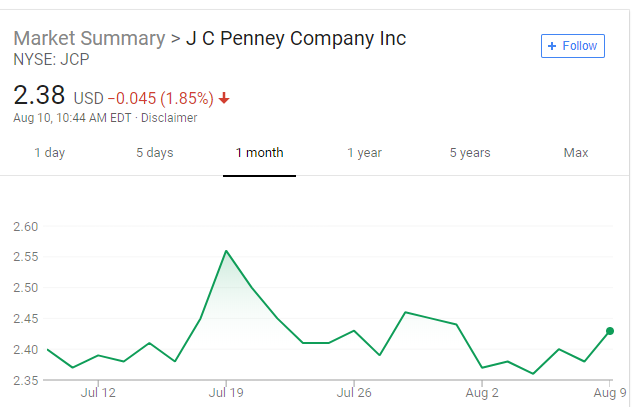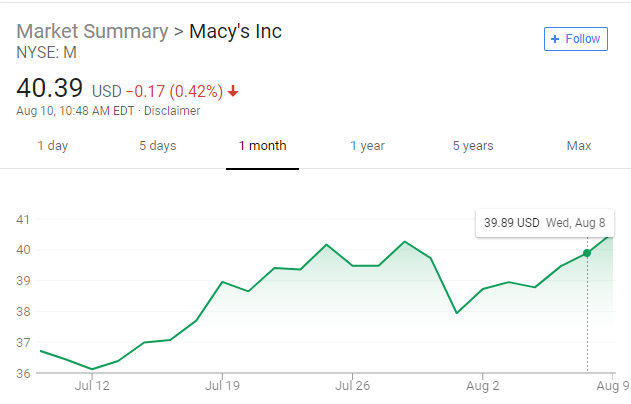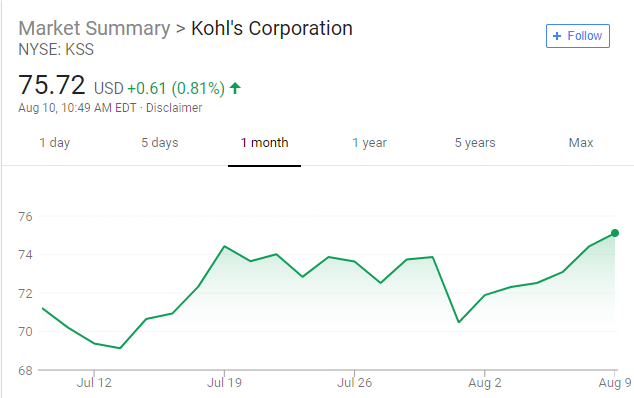 As you can see, JCP has been getting gassed by its competitors. Though these are perspective graphs from the last month, Macy's shares are up 59% on the year while Kohl's are up 36%. The good news for JCP is that a good earnings beat next week can shoot the stock up pretty high. If you are currently a shareholder, it would be a good time to hold. But with a stock that has continuously let investors down, it really does not make sense to buy now. If a company continues to struggle in a booming economic period such as this, it is time to switch up the leadership.

If earnings do not beat analysts' bleak projections next week, expect a change to the Office of CEO. Chairman Ronald Tysoe stated to the WSJ in a recent interview, "The challenge is to reinvent, but you don't want to throw the baby out with the bathwater," Mr. Tysoe said." JCP must stay true to the middle-aged women who made the company what it once was. And the baby-market is exactly where JCP can right their wrongs. JCP took their eye off their core customer and tried to do too much in the appliance industry.
8/16/18 is the day JCP's earnings will release. This report, coupled with an upcoming CEO announcement, will determine if this company will sink, swim, or continue to do the dog paddle.
Disclosure: I/we have no positions in any stocks mentioned, and no plans to initiate any positions within the next 72 hours.
I wrote this article myself, and it expresses my own opinions. I am not receiving compensation for it (other than from Seeking Alpha). I have no business relationship with any company whose stock is mentioned in this article.