Written by Bob Ciura for Sure Dividend
Investors flock to Master Limited Partnerships, or MLPs, for high yields. Indeed, it is not hard to find high yields of 5%, or even 10%+, in the MLP space. However, investors should not just be focused on high yields. As we have seen over the past few years, often a sky-high yield is a sign of trouble with the underlying business model, and can be a precursor to a distribution cut.
Therefore, investors should be equally concerned with distribution sustainability, as well as total return potential. This article will discuss three of our top MLP picks that not only offer high yields of 9%+ but also have secure distributions, and high annual return potential of 20%+ over the next five years.
Secure High-Yield MLP #3: Genesis Energy LP (GEL)
Genesis provides midstream energy infrastructure and logistics services. It operates primarily in the Gulf Coast region of the U.S. The company has four operating segments:
Offshore Pipeline Transportation (42% of segment margin)
Sodium Minerals & Sulfur Services (36% of segment margin)
Onshore Facilities & Transportation (15% of segment margin)
Marine Transportation (7% of segment margin)
Genesis operates primarily fee-based assets. This means many of the company's business segments, including offshore and onshore pipeline, as well as the marine transportation business, have no direct commodity price exposure.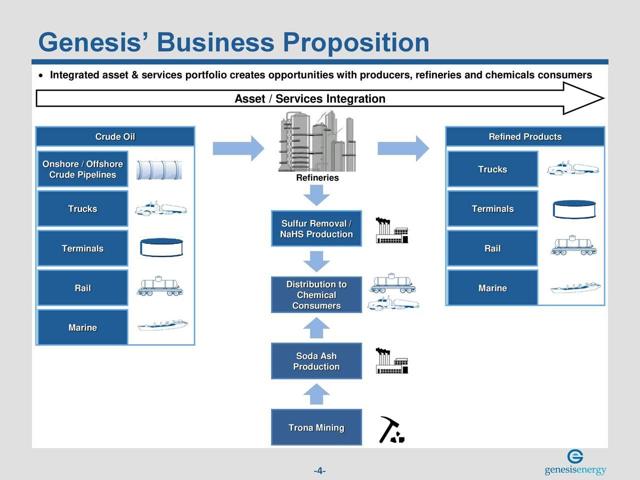 Source: MLP & Energy Infrastructure Presentation, page 4
Last year was a particularly hard one for Genesis. The company raised a significant amount of capital to finance its growth projects in recent years, which strained its balance sheet. But when operations were negatively impacted by extended turnarounds and Hurricane Harvey, the company chose to cut its distribution by 30%. As a result, Genesis' stock declined by 38% in 2017.
The good news is that these investments are in place and will contribute to growth in future cash flow and distributions. One key strategic initiative for Genesis was to build its Gulf of Mexico operations. Genesis' offshore business provides services primarily to deep-water producers in the Gulf of Mexico, where fundamentals remain healthy.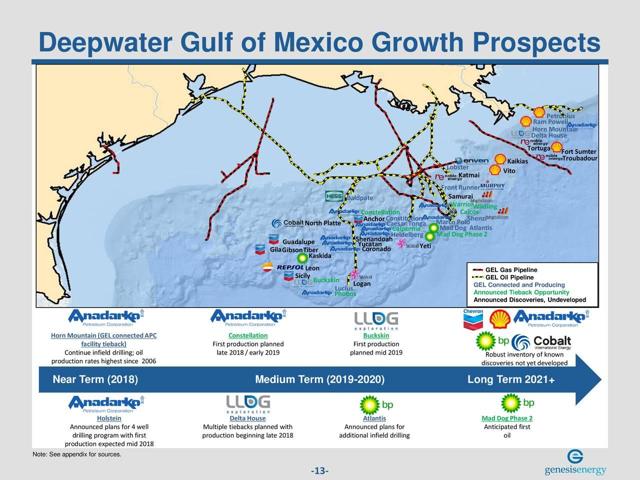 Source: MLP & Energy Infrastructure Presentation, page 13
The Gulf is a major area of production, which continues to increase. The Gulf of Mexico still has tremendous untapped potential due to huge deep-water discoveries that have not yet been developed, but will be serviceable by Genesis' platforms and pipelines.
Genesis' turnaround remained on track in the second quarter. Adjusted EBITDA increased 16.5% for the quarter. Growth was primarily due to higher volumes. Onshore crude oil pipeline volumes increased 8.5% to 224,031 barrels per day, while crude oil and petroleum products volumes increased 1.5%. Genesis had a distribution coverage ratio of 1.55x in the second quarter.
While the distribution cut last year was difficult, the revised distribution was much more sustainable, and the company has actually increased its distribution by 2% each quarter since the cut. Future distribution hikes are likely, as Genesis management expects to maintain a distribution coverage ratio of 1.40x-1.60x over the next five years. The company also expects to raise its quarterly distribution by no less than $0.01 per unit per quarter, through 2022. Lastly, the savings from the distribution cut will be used to repay debt. Genesis expects to reduce its leverage ratio to 4.75x by the end of 2018, with a long-term target ratio of 3.75x. Reducing debt and high coverage indicates the distribution is secure, with room for growth.
We expect 7.8% annual returns from valuation expansion, 4% annual EBITDA growth, and the 9.2% distribution yield will result in total returns of 21% per year for Genesis units over the next five years.
Secure High-Yield MLP #2: Sunoco LP (SUN)
Distribution Yield: 12.7%
Sunoco is a Master Limited Partnership that distributes fuel products through its wholesale and retail business units. The wholesale unit purchases fuel products from refiners and sells those products to its dealers as well as independently-owned dealers. Its products are sold to customers in more than 30 U.S. states, at more than 9,000 sites.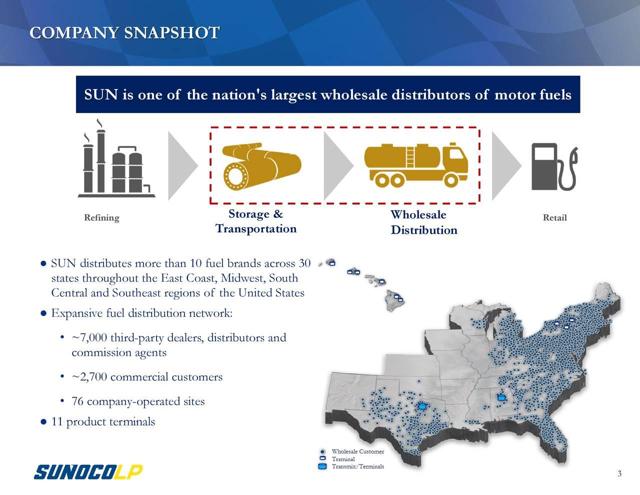 Source: Earnings Presentation, page 3
On August 8th, Sunoco announced strong second-quarter financial results. Revenue of $4.6 billion jumped 59% from the same quarter a year ago, and beat analyst expectations by $570 million. The increase came from a higher average selling price for fuel, and the benefit of the fuel distribution deal with 7-Eleven.
Adjusted EBITDA declined 36%, as increases in fuel distribution and marketing were more than offset by declines in the "all other" segment. The company also amended its credit facility. The size of the credit facility stays at $1.5 billion, but now provides flexibility to increase up to $750 million. This adjustment gives the company a cushion to invest in growth.
Sunoco's main growth strategy is acquisitions of new distribution sites. In April 2018, Sunoco acquired 26 retail sites from 7-Eleven. It also acquired the wholesale fuel distribution business and terminal assets from Superior Plus Corporation for $40 million. The wholesale fuels business sells approximately 200 million gallons of fuel annually through multiple channels, and the acquired terminals have a combined 17 tanks with 429 thousand barrels of storage capacity. And in the second quarter, Sunoco closed on its acquisition of the wholesale fuels business of Sandford Oil for approximately $66 million.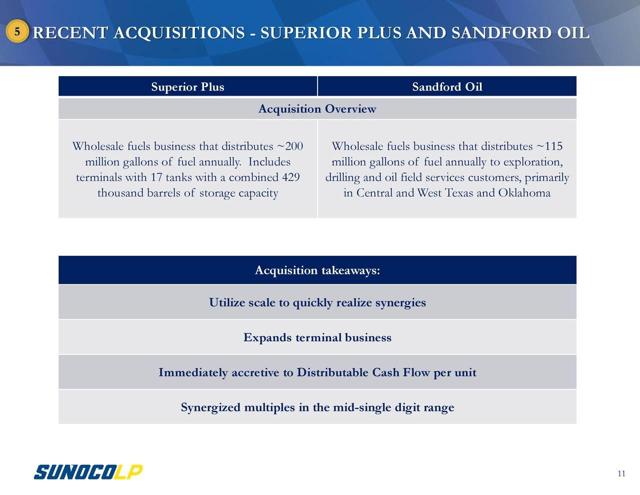 Source: Earnings Presentation, page 11
The acquired business distributes approximately 115 million gallons of fuel annually to oil exploration and drilling companies in Texas and Oklahoma. Over the next five years, we expect Sunoco to generate EBITDA-per-unit growth of approximately 4.7% per year.
The moves Sunoco has made over the past year have strengthened its distribution coverage. Sunoco's distribution coverage ratio for the second quarter was 1.24x, and stands at 1.14x in the trailing four quarters. It has also strengthened its balance sheet by paying down debt. As of the end of the second quarter, Sunoco had long-term debt of $2.3 billion, down from $3.5 billion at the end of 2017. Interest expense declined 38% last quarter. Sunoco's distribution appears to be secure.
We expect Sunoco will generate EBITDA-per-unit of $4.15 for 2018. At the midpoint of this range, the stock trades for a price-to-EBITDA ratio of 6.3. We believe the stock deserves a price-to-EBITDA ratio of 8.0 over the next five years. As a result, we view Sunoco as undervalued. Expansion of the valuation multiple could provide annual returns of 4.9% through 2023. Combining valuation changes with 4.7% annual EBITDA growth and the 12.7% distribution yield, we expect total returns of 22.3% per year for Sunoco over the next five years.
Secure High-Yield MLP #1: Suburban Propane Partners LP (SPH)
Distribution Yield: 10.3%
Suburban Propane Partners sells propane and related services and accessories. It has a diversified business model, with fuel oil, refined fuels, natural gas, and electricity customers. In all, it has approximately 1 million residential, commercial, industrial and agricultural customers in 41 states.
On August 2nd, the company reported third fiscal quarter earnings. Revenue in the third quarter increased 8.5% to $241.9 million, primarily due to higher propane volumes sold combined with higher retail selling prices. Retail propane gallons sold increased 3.6% last quarter. Weather contributed positively, as average temperatures last quarter were 14% cooler than the same quarter last year in Suburban Propane's service territories. Adjusted EBITDA increased 42.5% last quarter, and rose 17.3% through the first three quarters of the fiscal year.
Going forward, Suburban Propane's future growth will be fueled by organic customer additions, as well as small acquisitions to boost growth. During the third quarter, the company closed on the acquisition of a propane operation in Florida, for a total purchase price of $11.9 million. We expect annual EBITDA-per-unit growth of 3%-4% over the next five years.
Like Genesis Energy, Suburban Propane had a tough year in 2017. Poor weather patterns contributed to an erosion in the company's fundamentals, which compelled Suburban Propane to cut its distribution by 32% in October 2017. But again like Genesis Energy, the revised distribution level is sustainable. Suburban Propane had a distribution coverage ratio above 1.3x in the trailing four quarters.
If weather patterns normalize, we believe Suburban Propane can generate satisfactory returns moving forward. We forecast EBITDA growth of 3%-4% per year, on average, in a normal operating environment. In addition, the 10% distribution yield will add significantly to annual returns. Lastly, we believe the share price is undervalued. The stock trades for a price-to-EBITDA ratio slightly above 5, and we believe fair value is a price-to-EBITDA ratio of 8. The impact of a rising valuation could add approximately 8.5% to annual returns over the next five years. As a result, we believe total returns for Suburban Propane could reach 22%-23% annually over the next five years.
Disclosure: I/we have no positions in any stocks mentioned, and no plans to initiate any positions within the next 72 hours. I wrote this article myself, and it expresses my own opinions. I am not receiving compensation for it (other than from Seeking Alpha). I have no business relationship with any company whose stock is mentioned in this article.