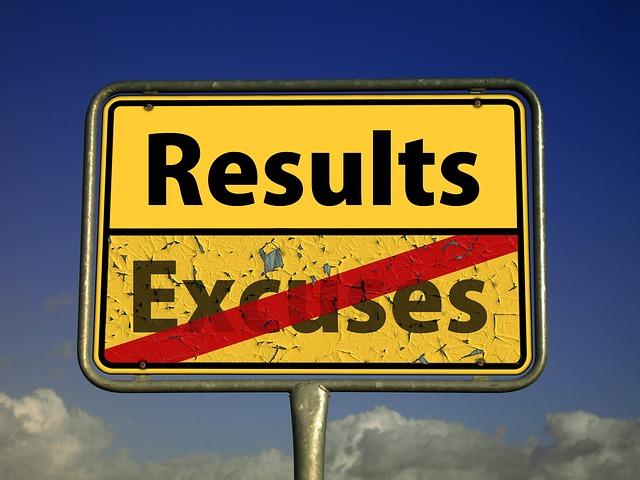 Introduction
In mid-January, I began writing a series of articles that examined how far some popular large-cap industrial stocks might fall if we were to have a downturn within the next three years. I continued the series into the spring, and during the months of March and April, I wrote about 12 service sector stocks that had high historical price cyclicality. The stocks covered in those articles were: Union Pacific (UNP), Costco (COST), FedEx (FDX), S&P Global (SPGI), CSX (CSX), Carnival (CCL), Southwest Airlines (LUV), Paychex (PAYX), Magna International (MGA), Best Buy (BBY), W.W. Grainger (GWW), and Tiffany (TIF).
While most of the articles were generally bearish in nature and meant to be a warning to current investors that even the stocks of good companies could fall quite far during a bear market, I didn't stop there. In each article, I suggested alternative investment ideas for the stocks in question. For several stocks, I suggested that Berkshire Hathaway (BRK.A) (BRK.B) would be a good defensive alternative. For others, I suggested the Invesco S&P 500 Low Volatility ETF (SPLV), the Vanguard Utilities ETF (VPU) or a split between the two of them. In the case of Union Pacific, I suggested all three.
For May and June, I examined the financial sector. I had some difficulty finding large-cap stocks that were consistently cyclical enough to get me interested in their stocks, but eventually, I found four that I thought investors should rotate out of into more defensive positions. They were: American Express (AXP), State Street (STT), PNC Financial (PNC), and Progressive (PGR). I also introduced another alternative ETF, the Invesco S&P 500 Equal Weight ETF (RSP), and for American Express, I also thought that Fiserv (FISV) should be part of the defensive mix.
This article will examine how those stocks and alternatives are performing so far, and I'll also share some of my observations about the market, as well as some general takeaways or investing lessons we might learn from tracking these results.
The basic strategy I've been proposing in this series is that when the risk/reward - even for good stocks - becomes tilted too far toward the risk end of the spectrum and the stocks are overvalued once we consider the inclusion of a bear market within the next five years, that investors should rotate out of these stocks and into more defensive positions. The ETFs that I have suggested were chosen because I thought that if the market kept rising, the ETFs would likely capture some of the upside that cash wouldn't. But, if the market went down, the ETFs would likely fall a little bit less than the S&P 500. I assumed that investors liked the companies themselves, and would like to own more shares of the companies, and also that if investors could manage it, that they would like to avoid holding through very big price declines that might include drawdowns in excess of 50%.
Given these assumptions, the goal of this strategy is to increase the shares of the target companies one owns without spending any more money to do so. For example, if one rotated out of the target stock and into the defensive ETF while they were both priced at $100 per share, then during a bear market the ETF drops to $80, and the target company drops to $40 per share. You can rotate back into the target company at this point and own twice the number of shares at no extra cost. Then when the stock eventually recovers, you have doubled your wealth compared to what it would have been if you held the company through the entire period (minus taxes, of course).
In order for all this to work one needs to 1) identify a quality company 2) understand when it is overvalued 3) get somewhat close at identifying the late-stages of the business cycle 4) correctly identify a more defensive alternative 5) have the guts to rotate back into the stock when it looks like the world is ending near the bottom of the cycle.
My goal is to provide research, strategies, and ideas that help investors do this.
I'm going to be posting total return YCharts for each one of these stocks and their suggested alternatives in this article. The dates for the charts are from the day of publication of the article until the end of July for each stock. I think it's important to post the charts for each stock because, while the sum total return is important, it is equally important to see the price relationships between the stocks and their alternatives as they move through time. I'll also include SPY as a reference point as well. The reason for these parameters is to keep me consistent and honest with the tracking of the performance over time so readers know I'm not cherry-picking dates. Even without a PRO-subscription, readers can go to my profile and see the publication dates of the articles if they would like to double-check my work.
Financials First
I covered the service sector in March and April, and unlike the industrial sector, which has behaved very much like I expected it to, the service sector threw me several surprises, which I'll discuss later in the article. Because of those surprises from the service sector, I made a few adjustments when I started covering the financial sector in May and June. As a result, I was a bit more selective with regard to which stocks I wrote about. I wanted them all to be stocks I eventually wanted to own, and I also wanted them to be trading fairly close to all-time highs. Additionally, I was a bit more careful in selecting defensive alternatives and avoided choosing single individual stocks as alternatives. The results of those changes have been good so far.
American Express, despite having mostly good news over the past few months, has underperformed my suggested alternative of a 50/50 mix of VPU and Fiserv. I liked Fiserv for its combination of potential growth and earnings consistency. I expected it to outperform if the market continued to stay stronger for longer, yet not to be too cyclical during an economic contraction. VPU I expected to hold up stronger if the market turned negative sooner rather than later, even if it didn't have the same growth potential. We see this dynamic playing out over time, which is what I really like to see.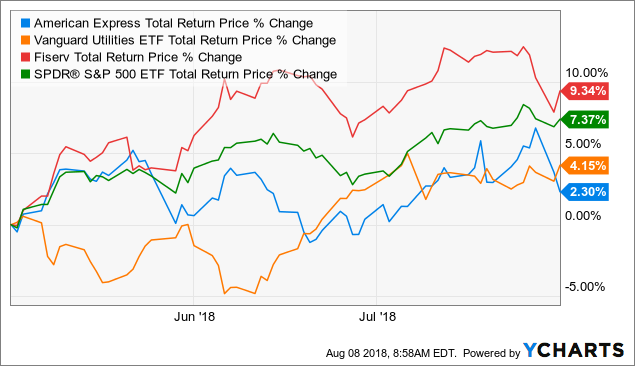 The SPY has been strong since publication, up 7.37%. VPU is positive but has underperformed SPY. However, Fiserv's outperformance has helped boost the overall returns of the 50/50 mix to 6.75%, which is close to in line with the SPY, all while AXP is up only 2.3%. The exact numbers here aren't as important that the overall dynamics of the relationship between the investments. The next thing to watch will be what happens to these stocks during a correction, my goal is for the Fiserv/VPU combo to at least hold up as well as the SPY and to fall significantly less than AXP.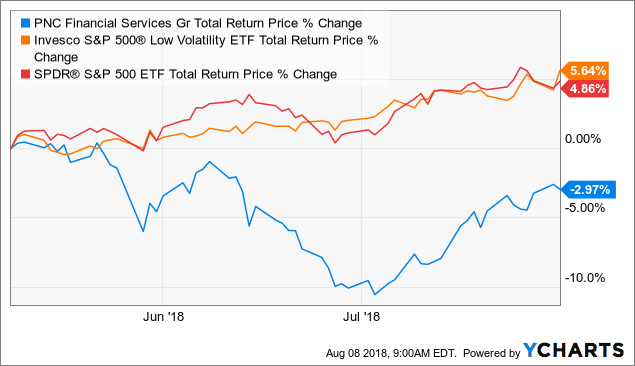 After taking a pretty deep dive in May and June, PNC has had a good July. But once again, this is the dynamic I want to see, good performance from the alternative SPLV (even slightly outperforming the SPY), while being generally more defensive should a downturn occur.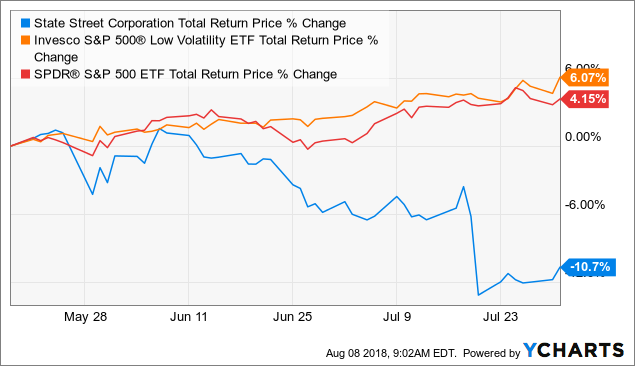 We see a similar dynamic with State Street, with SPLV performing very well, but State Street has failed to bounce like PNC did. That can likely be attributed to a slight revenue miss by State Street on the last earnings report.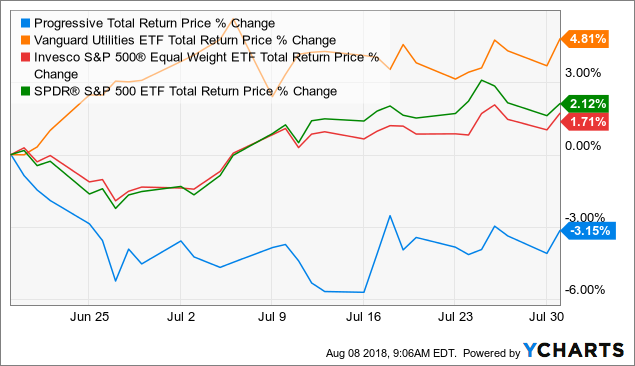 Progressive is fairing a little better, but the pattern is fairly similar. This probably has more to do with Progressive being overvalued at the time I wrote about it than anything else, but I think it will be hard for the stock catch back up to the alternatives this cycle unless it really surprises earnings wise over the next few months.
The average return of the target stocks through July was -3.63%. The average return of the alternative investments was +5.43%. And the average return of the SPY was +4.52%. So, overall, even though I was only able to find four large-cap financial stocks to write about, the results of my rotational strategy have been very good. I wouldn't necessarily expect to outperform the SPY while it was rising, but that is a nice bonus.
Now let's switch to the service sector, which has had much choppier - but more interesting - results.
Leading Bear Indicators?
I thought I would start with the four service sector stocks that are trending down, much like I expected them to. Interestingly, these are stocks that historically tend to fall a little in advance of the wider market when we get later in the economic cycle.
I wrote quite a bit about Carnival in my last update and how it tends to lead the market lower by a couple years. The price recovered a bit in July, but I think the late stages of the economic cycle will have to extend pretty far into 2019 for the stock to stage a full recovery to its highs earlier this year.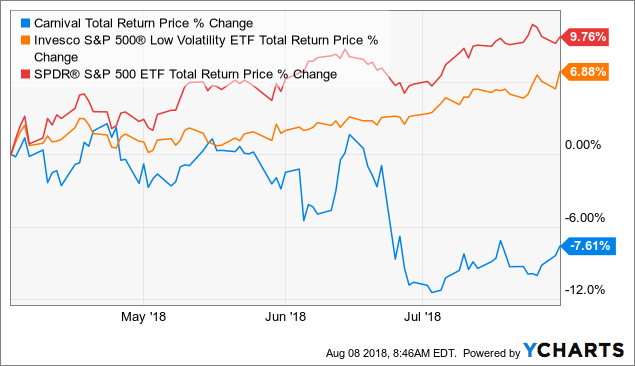 Southwest Airlines staged a nice rally, and by the end of July was outperforming Berkshire, my suggested defensive alternative. Ironically, there has been some research/rumor that LUV would be a logical purchase for Buffett, and that may be lifting the stock a bit here. While the logic behind the idea isn't completely off-base, the current strategy of owning all the major airlines seems to carry much more flexibility than owning one outright for Berkshire in my opinion, even if Buffett has hinted that owning one outright is on the table. I would expect Buffett to be a buyer on the backside of the downcycle (like with Burlington Northern) rather than the potential early stages of the beginning of the downcycle, though, unless the price was incredibly cheap, which I don't think it is yet.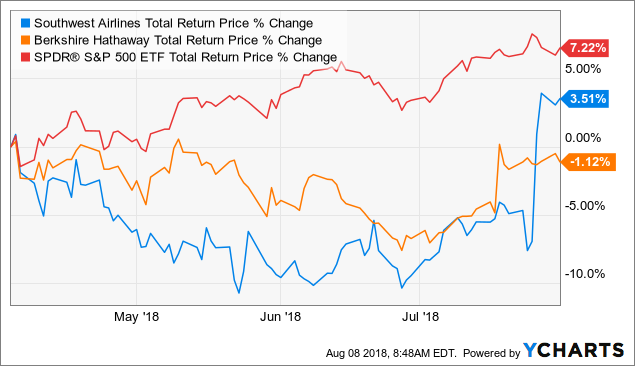 FedEx is another stock that has led the market down during the past two recessions, as well as the 2016 almost-bear market. It's still outperforming Berkshire, the suggested alternative, but it's beginning to show some weakness relative to the S&P 500.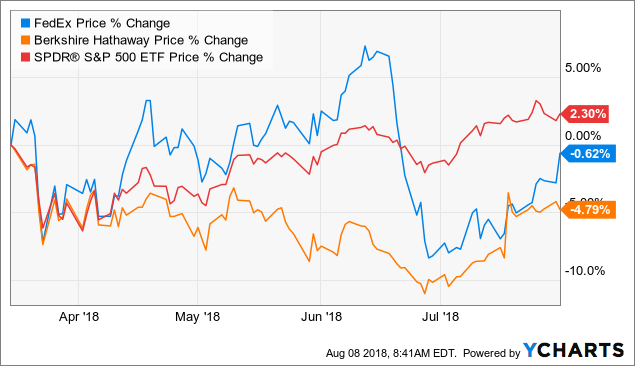 Magna International is more closely related to the stocks in the industrial sector even if it is categorized as service sector stock. When I originally wrote about MGA I received a fair amount of pushback in the comments section for pointing out just how cyclical MGA stock has been historically. I probably shouldn't have been surprised, since my article was the only bearish MGA article published in the past year, and one never knows how the comments are going to go on any article, but it did take me a bit off-guard. I've continued to sound the alarm bells about MGA in my updates, and we are now starting to see some real cracks in the stock price. I hope at least a few readers were able to rotate into a more defensive position.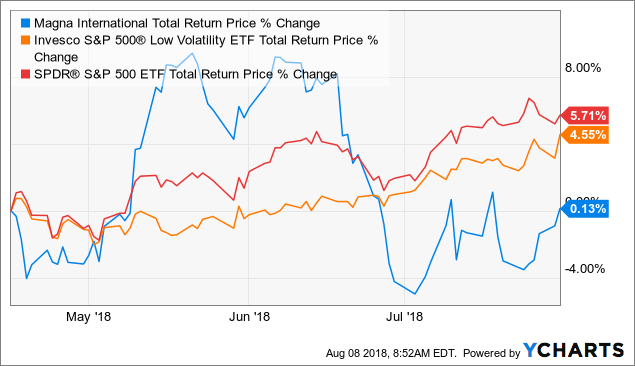 Berkshire finally takes action
Those readers who have been following these tracking updates are probably tired of hearing about how perplexed I've been regarding Berkshire Hathaway's stock performance since I constantly recommended it as a good defensive alternative during the month of March. I've put forth a variety of theories for the underperformance and even added to my personal Berkshire holdings around $187 per share, all while trying to figure out what was going on with the stock.
Finally, last month, Warren Buffett took action and altered Berkshire's buyback parameters, giving him and Charlie Munger more discretion on when they could buy back Berkshire shares. I wrote an entire article about this topic and my opinion of the change in policy here. On top of that, Berkshire had a very solid earnings report last weekend, and the combination of the two has helped the stock price recover. I'm running about a week behind on this update because I didn't return from vacation until August 5th, but in order to remain consistent from month to month, the charts below only run through the end of July. Thus far, Berkshire has continued to rally during the month of August, so next month we should see a clearer reflection of the new policy and strong earnings from last quarter. My expectation is for Berkshire to at least match the performance of the S&P 500 while the market is still rising.
Union Pacific is a good example of what I've been experiencing with regard to Berkshire's stock price. Since I mentioned Berkshire, VPU, and SPLV as possible alternatives to UNP in the original article, they are all placed together on the chart below.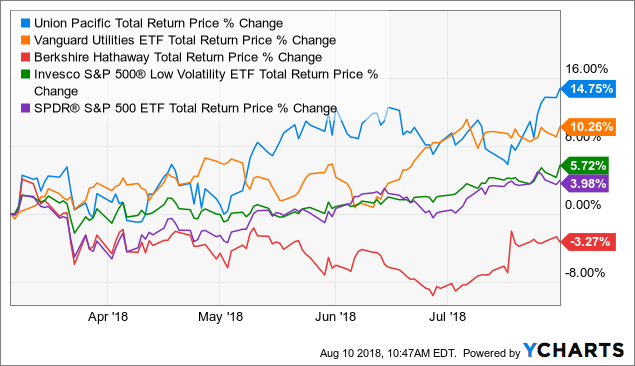 While UNP is performing well within the bounds of what we might expect during our continued economic expansion and rising oil prices, I would have expected Berkshire to perform something closer to the 3.98% return we saw from the SPY during this period instead of -3.27%. Over the next few months, I think we should see Berkshire stock catch up to the SPY.
Below, Costco has been a steady, and strong performer since March, and the degree of the rise has surprised me. I am primarily a medium-term investor, and I rarely hold individual stocks more than five years. The reason for that is because usually I try to buy the stocks at a discount to fair value, and sell them around fair value. Every now and then, though, as with the case of Apple (AAPL), when I bought it in 2013, the stock price grows but continues to remain undervalued, or it becomes fairly valued while the wider market is overvalued. In this case, it makes sense to hold the stock, and that is what has become of my Apple holding. I think if I could buy it at the right price, Costco has that same potential.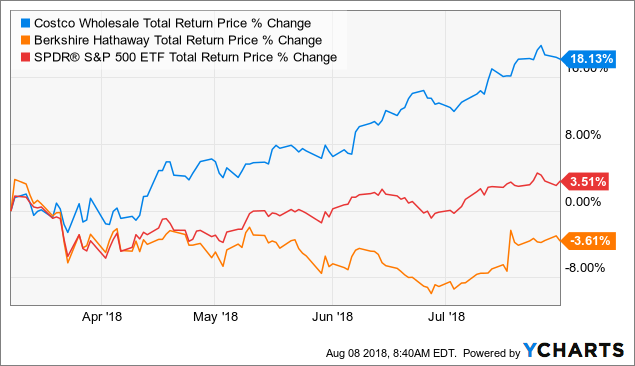 Costco probably remained mostly off my radar because I don't have one near my house and have never shopped there. But as is often the case, after I write about stock, I begin to pay more attention to the company, and everything I've seen and heard about Costco since I wrote my original article has been positive. Unfortunately, the price is too high for me to buy the stock today, but during a recession or bear market, when the price is right, I think Costco has a lot of potential to become a long-term holding like Apple has become.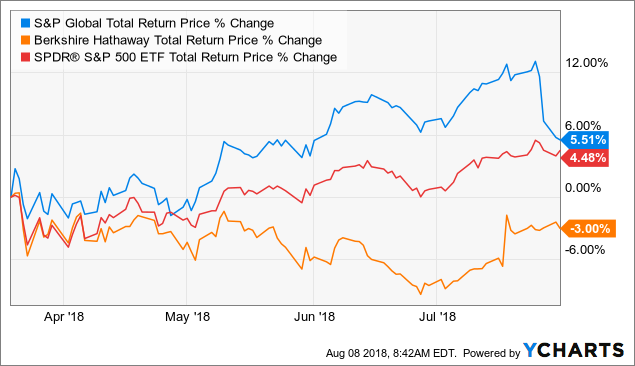 Moving on to S&P Global, which after narrowly beating earnings expectations on both the top and bottom line, saw the stock drop around 10% off its all-time highs, bringing it closer to in-line performance with the SPY since I wrote about the stock in March. Conversely, as noted above, my Berkshire alternative has been trending up. Probably, by the end of August, both stocks will have converged with the SPY, which is roughly what I would expect at this stage of the economic cycle.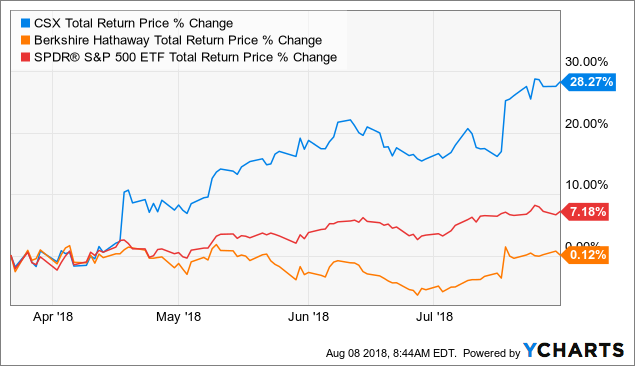 CSX has now had two positive earnings reports and reactions by the market since I wrote about it. Interestingly, this move was predicted by analysts and was reflected in my forward estimates for the stock. I should probably do some more research into the railroads to see historically whether they tend to stay stronger for longer into the economic cycle, or like cruise lines, turn negative sooner. Right now, it looks like stronger for longer is the case, but I'm going to put this research on my 'to do' list. It might be time to check what the forward expectations are for CSX now that it has a couple great quarters under its belt.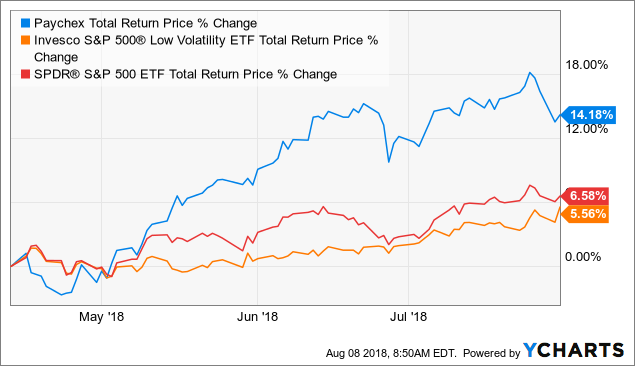 Paychex has been performing pretty much as expected given the strength of the economy right now. It had a slight miss on earnings which sent the stock a bit lower toward the end of the month, and I doubt we'll see any really large gains like we've seen with CSX, but we will probably need some negative economic news to send the stock significantly lower. Overall, this is the dynamic I expect by getting defensive before the market fully peaks. The target stock usually continues to do better than the market, while the defensive alternative slightly lags the market, but still performs better than cash.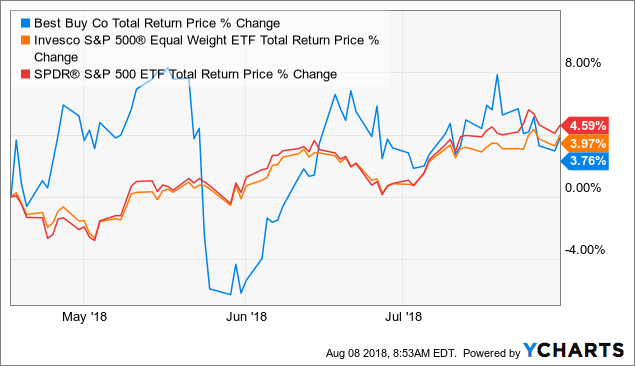 After oscillating fairly wildly, Best Buy has fallen in line with the market. I think this is roughly what we can expect until we see what sort of holiday season we have this year, which could cause Best Buy stock to break either higher or lower. I figure the odds right now are 50/50 it could go in either direction.
Surprises!
While, so far, now that Berkshire stock is in the process of correcting itself, all the stocks I've covered are behaving within the expectations of the original analysis I presented in March and April, there are two that are threatening to move outside the bounds of that analysis. The first is Tiffany: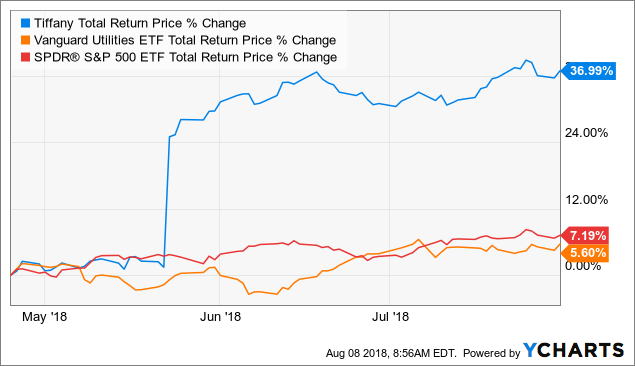 Tiffany surprised basically everyone with a blowout earnings report in June and then immediately jumped 25% and has continued to edge up in price since then. By the end of July, the stock was up a full 37% higher than when I wrote about it in April. I believe those analysts' expectations, which I used in my original analysis to estimate Tiffany's total stock price growth over the next three years at 35.85%. So, basically, Tiffany shareholders saw three years of expected growth in three months' time.
Friday, however, CNBC published an article, reporting on Oppenheimer research that pointed out the correlation between Tiffany's sales growth and the value of the Chinese yuan. I have to say that the chart is pretty compelling, and I would encourage readers to check it out. Tiffany stock is down over 3% on the report, and that brings it narrowly back in line with the model, and perhaps explains some of the surprise earnings in June. At any rate, I still think this is a great time for Tiffany owners to take profits and rotate into something more defensive and less cyclical.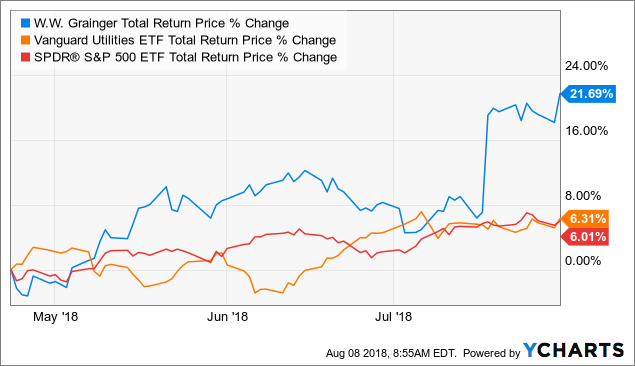 While Tiffany's jump in June was certainly a surprise, W.W. Grainger's recent earnings were equally as surprising for me. During last month's tracking update I was pretty convinced that Grainger was beginning its slide downwards. I went back and re-read my original article on Grainger, looking to see what the estimates from analysts had been, only to discover that I decided not to provide them. Here is what I had to say in that article:
Normally, when I do this type of analysis, at this point in the article I write a risk/reward section that projects future earnings for the company three years into the future and compares that to the stock's historical drawdowns. The goal of that analysis is to try to gauge where the stock price might be in 3-5 years if we were to have a recession or bear market during that time period. I don't think that would be a very useful analysis right now for two reasons. The first is that the 2014 decline truly broke GWW's historical pattern. This means that using long-term historical data in order to estimate the future might not be the best idea. We need to have confidence patterns will repeat for them to be useful. The second reason is that in recent history GWW's relative debt levels have never been as high as they are now.
And then I went on to discuss my concern with Grainger's high debt levels. Ultimately, this was my conclusion on the stock:
W.W. Grainger has a long history of stable earnings and dividend growth, but it has recently faced some challenges. The company seems to be making some changes in order to streamline their business and lower prices for their customers, but I question the increased debt and continued buybacks. It doesn't strike me as a company whose priorities are in the right place. At any rate, it seems to be in a fairly precarious position over the next 2-3 years, should the macroeconomy turn negative. I would get more defensive if I was a shareholder.
Now it appears some of the changes Grainger was making are having some positive effects. I don't see why these effects couldn't continue as long as the economy stays strong. That said, I would still be worried about the relatively high debt levels and how the stock will do during the next downturn, even if I'm happy for the Grainger longs out there that Grainger's business appears to be on the right track. After looking back at my original article, it's clear to me I should have simply put Grainger in the 'too hard' pile instead of offering up an alternative. Don't get me wrong. I think odds are the alternative will outperform if we have a downturn within the next couple years, but I basically admit in the article that Grainger doesn't really fit my model. I could have continued to discuss my concerns without offering an alternative. That's what I did with Ross Stores (ROST) and here is how ROST has performed since that article: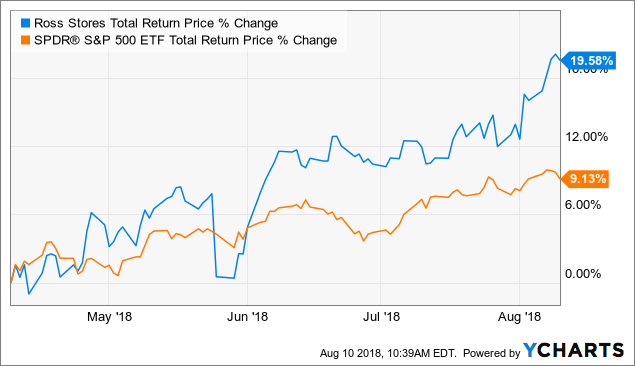 So, Grainger is a good reminder for me to make sure I stay within my circle of competence and the bounds of my methods.
Conclusion
Through June, the target service sector stocks had returned +5.29%. They saw some really big gains in July and have now returned +11.56%. This is significantly better than the SPY's return of +5.71% over the same time period. Meanwhile, my defensive alternatives have gone from -2.01% in June, to +2.06% through July. So, we've seen some improvement in the alternatives in July, mostly due to Berkshire Hathaway finally turning a corner price-wise, and that has continued into August, so I expect the target stocks and defensive alternatives to begin to converge a little closer the S&P 500 performance in August. With earnings season mostly over for these stocks, I don't think we'll see the target stocks take another leg up yet.
If we combine the results of the service sector with the financial and industrial sectors (which comprise a total of 27 stocks), the results for the SPY are +2.96%, the target stocks -0.22%, and the defensive alternatives +2.82%. If the stocks and ETFs I've chosen truly end up being defensive during a downturn and falling less than SPY, then, overall, things are tracking pretty well across these three sectors. The idea behind the defensive alternatives is that they earn more than cash should the market continue to move higher, but fall less than the S&P 500 during a bear market. That said, one can see how hard it is to beat the S&P 500. (Though it's important to keep in mind that I was not selecting the stocks of bad companies the way a short-seller might, but instead was selecting the stocks - generally speaking - of good companies that I might want to own someday, just at lower prices.)
It has been a couple months since I've written a 'How far could they fall?' article, but I'm going to start scanning the market for a few more to write about this week. This time, though, I'm going to ignore what sector they might be in and simply focus on the long-term historical cyclicality of the stock price and the risk/reward going forward under the assumption we are somewhere near late-cycle in the economy. Once again, thanks for reading and following along, and I'd be happy to answer any questions in the comments section.
Disclosure: I am/we are long AAPL, BRK.B.
I wrote this article myself, and it expresses my own opinions. I am not receiving compensation for it (other than from Seeking Alpha). I have no business relationship with any company whose stock is mentioned in this article.