Globally, we've been seeing a rotation between cyclicals vs. defensives, but there's one market where we've yet to see this play out. For America, cyclicals have been a major source of strength, and that may not necessarily be a good thing as we discuss in this article.
The chart comes from a report on global cyclicals vs. defensives, where we look at a key risk area for global equities.
The chart shows the cyclicals vs. defensives relative performance line against the S&P500. The key point is that cyclicals drove the last leg of the bull market, hence why I say this is basically the market's Achilles' heel.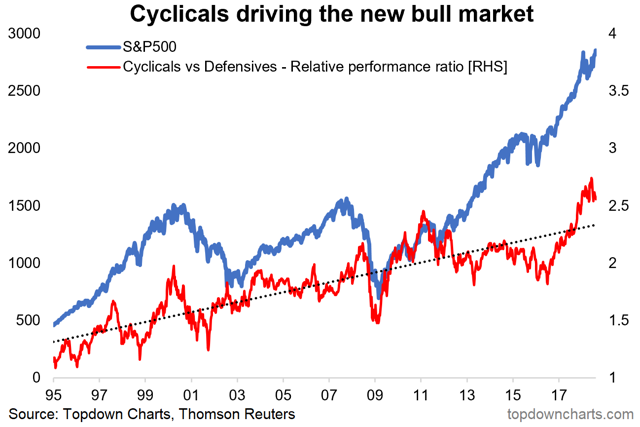 The cyclicals vs. defensives line takes the ratio of the equal weighted performance of cyclicals (materials, industrials, technology) vs. defensives (telecoms, utilities, healthcare). As this line seems to trend during the study period, I have added a linear trend line for analytical purposes (the indicator is stretched vs. trend also).
As you can see on the chart, it's been the solid performance of cyclicals relative to defensives that drove the last leg of the bull market. The extreme runup in the cyclicals vs. defensives relative performance line can unwind in one of two ways: 1. A bullish rotation: where the S&P 500 heads higher but defensive sectors take the lead; or 2. A bearish rotation: where the S&P 500 undergoes a correction/bear market, and defensives simply fall less than cyclicals.
Much, of course, will depend on the path of the economy, and I've previously shown how cyclicals vs. defensives tracks the ISM manufacturing PMI. So I think it's fair to say that this is going to be a key indicator to watch from a risk management and market timing perspective. And it's not just price that's seen the extreme movement, our measures of valuation show cyclicals trading at particularly expensive levels vs. history and vs. defensives.
So while cyclicals have been a key driver of strength up until now, going forward, they're more likely to be a source of risk - and a possible leading indicator for a turn in the market.