The Stock
Afterpay Touch Group Ltd (OTCPK:AFTPF) is an Australian company which provides a retail payments platform that offers a buy now-receive now, pay later service between retail merchants and customers. Over $2.18 bn of total underlying sales were processed through the Afterpay platform in FY18 (a 289% increase over FY17) with approximately 16,500 retailers and approximately 2.2m customers having transacted on the Afterpay platform since inception. The early successes in Afterpay's US business (launched in mid-May 2018) resulted in over $11m of underlying sales in its first full month. Over 200 US retailers currently are transacting on the platform, including Urban Outfitter and Revolve. Despite a substantial run-up in its stock price, success in the US will provide investors with further gains in the years to come, and the stock's recent stall provides investors with an opportunity to enter a long term position: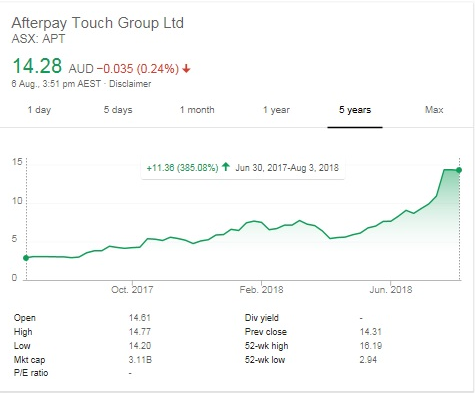 (Source: Google Finance)
The strong growth displayed in H1 is expected to continue throughout the year, with revenue expected to reach $142m and EBITDA estimated at $34m: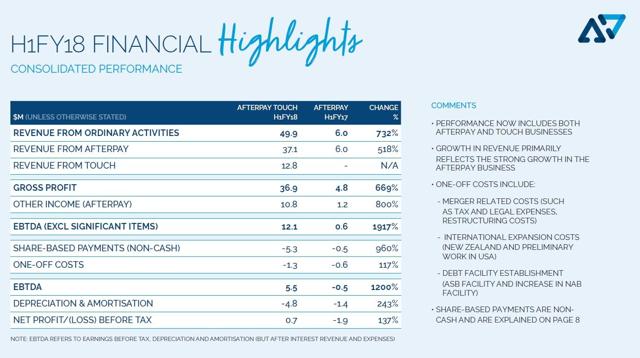 (Source: Afterpay Touch H1FY18 Presentation)
Obviously with a market cap of 3.1b, $142m in revenue is underwhelming, however, Afterpay's historical growth rates warrant such a lofty valuation. With 2018 growth currently on track to meet analysts' expectations of over ~400% growth in 2018/741% growth in 2019. If US growth resembles the success in Australia, I expect even higher growth into the future: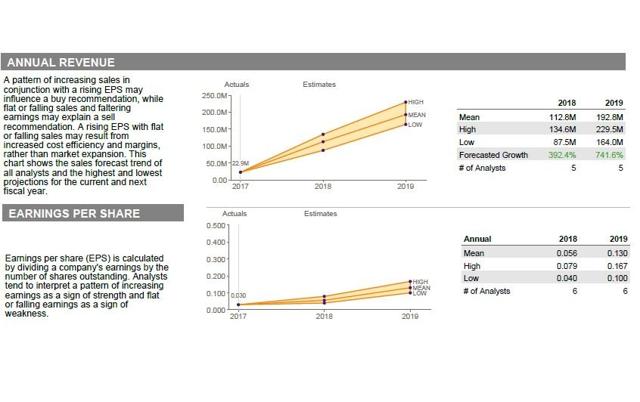 (Source: Reuters/Nabtrade)
In the near term, strong underlying growth and performance continued is expected in Q3 FY18 with estimated sales of approximately $530m, (up from $145m in Q3 FY17). There are approximately 14,000 merchants now using Afterpay compared to 11,500 at end of Q2 FY18 (merchant number growth in Q3 FY18 up 45% y/y).
Afterpay's success is due to its attractiveness as a budget focused alternative to traditional credit because it is a free product to consumers if payments are made on time, and it is applied to discrete transactions. Instalment periods are short (four installments, every two weeks) and cannot be extended. If payments are not made on time, the customer account is immediately suspended and they cannot keep purchasing, meaning bad debt cannot accrue and the customer base is refined to those who use the system responsibly. Afterpay's revenue is derived mainly from fees paid by the retailer as opposed to the customer.
Customer late fees are capped, are less than the costs associated with Afterpay's bad debts and are designed only to be a proportionate incentive for customers to pay on time.(Source: Afterpay Business Update)
The effectiveness of this system is evidenced by the high rate of returning customer monthly transactions and low default rates. Afterpay's Net Transaction Loss was 0.7% (Gross Loss of less than 2%) in H1 FY18, which is low compared to industry standards. Both Gross and Net Transaction Loss metrics improved (on a consistent methodology basis) and trended down in H2 FY18. Outstanding account balances are low, and>90% of accounts have less than $500 outstanding, while 75% of accounts have less than $350 outstanding: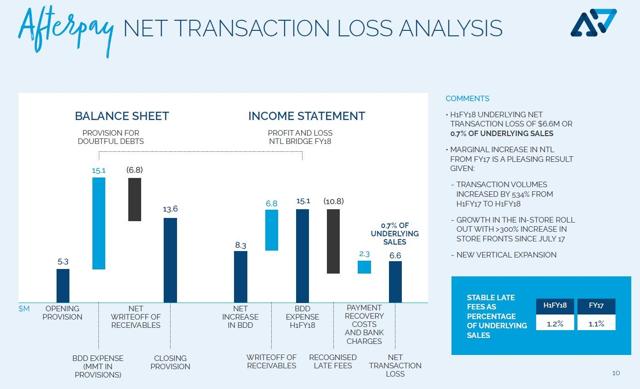 (Source: Afterpay Touch H1FY18 Presentation)
A number of product enhancements that were announced in April 2018 have now been implemented in line with previous guidance. From 30 June, Afterpay's late fees have been capped at either $10 or 25% of order value (whichever is higher), with a maximum late fee of $68 per order. Approximately 95% of instalment payments received in FY18 did not incur late fees:
Capping fees: As a result of our in-depth external review and consultation with a range of stakeholders, late fees are to be capped at 25% of the purchase value (maximum fee $68 per order).Based on the current customer profile and experience to date this will not impact most customersor accounts for whom Afterpay is a free service. Over 90% of orders do not attract a late fee and as Afterpay does not charge monthly account keeping fees, establishment fees or interest, the 25% cap is on total customer fees charged to the minority of relevant Afterpay customers(Source: Afterpay Business Update)
External third-party ID verification has been implemented in partnership with Illion to supplement Afterpay's existing systems. ID verification has strengthened fraud prevention and will help to ensure that everyone who uses Afterpay is over 18 years old. The ID verification process has been designed to minimise customer impact and is largely automated and instantaneous for the majority of customers:
The introduction of fee caps and ID verification in Australia is not expected to have a material financial or performance impact on the business and is part of an ongoing process of continuing improvement (Source: Afterpay Business Update)
Outlook
Management has begun targeting new vertical expansion opportunities in various sectors throughout the economy. The health sector has significant potential as it covers a number of 'sub-verticals', many of which are relevant to the Afterpay value proposition, including relatively low average order values. Management recently signed a five-year agreement with major domestic dental PMS provider (Software of Excellence) to integrate Afterpay in to its practice management platforms across Australia. Afterpay will also shortly commence a pilot with a major dental group in Australia to test further expansion into other healthcare providers. To begin targeting the beauty market, Afterpay commenced a roll-out programme to a number of domestic hair and beauty businesses in Q4 FY18. Over 250 shop fronts are now live with SalonPay and at least 500 shop fronts are in the pipeline with partners including Ella Bache and Hairhouse Warehouse. The travel industry also represents a significant opportunity, and Afterpay's partnership with JETSTAR was expanded towards the end of FY18 with a national advertising campaign, which followed a more extensive roll-out of the Afterpay product on the Jetstar platform.
US Expansion
Afterpay's offerings and have significant potential to resonate with the U.S. retail community as an alternative to traditional credit products, given the underlying market and demographic dynamics and trends. The millennial market in the U.S. has a population of 63 million compared with Australia's at 6 million, and 67% of US people aged 18-29 do not own a credit card, and thus the demand for Afterpay's credit alternative amongst this demographic is likely to be high.
Risks
The chief risk in initiating a position in Afterpay's stock at its current price is the potential for near term downside as institutions and investors close large positions to take profit/reduce risk. If growth fails to meet expectations or the early stages of the hyped US expansion fails to deliver there is also significant downside risk. Afterpay's business is exposed it to significant credit risk, and although outstanding balances and losses are relatively low, any unexpected rise in these levels could un-nerve wary investors or cause issues with Afterpay's credit providers
Conclusion
Afterpay Touch Group's growth story is set to continue as management works towards expanding both domestic operations and seizing international opportunities. Long term growth investors that are tolerant of short term volatility have been provided with an opportunity as the stock's upwards trajectory has recently stalled.
All investors must conduct their own due diligence on all investments and must take full responsibility for their own portfolio.