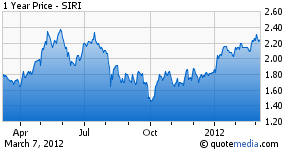 On March 5, Stifel Nicolaus's Jordan Rohan raised his rating on Pandora (NYSE:P) shares to Buy. He writes that Pandora "has evolved into one of the few large-scale platforms in mobile media, with audience [sic] larger than any terrestrial radio broadcaster." While Pandora is a large-scale platform with 125 million users, one has to take a closer look at the data and the business models within this arena to understand why SiriusXM (NASDAQ:SIRI) is the better investment. As per Barron's online, "Rohan admits his price target implies a valuation that is 'vexing,' as it would equate to 134 times even his optimistic 2013 estimate." On March 6, 2012, Pandora released disappointing earnings. In Q4, the company increased its user base by 62% but had higher content costs of 59% of revenue versus 50% of revenue during the same period a year earlier. As is clear from the earnings, the company has a challenging journey ahead in order to monetize its customer base.
While Pandora's growth has been impressive, it pales in comparison to SIRI's growth. Over the past 10 years, despite new competition in the radio/media space, SIRI has gone from no revenue in 2001 to having revenue in 2011 that is equal to that of Clear Channel Communications' (CCU-OLD) and exceeding Pandora's revenue tenfold.
According to SIRI's presentation at the December 5, 2011 UBS Global Media and Communications Conference, radio revenue market shares were as follows:
Terrestrial- CCU, CBS Corporation (NYSE:CBS), Citadel Broadcasting (OTC:CDELA), Entercom (NYSE:ETM), Cumulus Media (NASDAQ:CMLS) $15 billion (80% combined market share)
Streaming - P, Last.fm, Slacker, Rhapsody, MOG < $1b (5% combined market share)
Satellite- SIRI $2.8 billion (15% market share)
Not only has SIRI captured 15% of the market, its revenue model trumps its competitors'. Based on 2011 estimated revenue, SIRI makes $138.61 per subscriber annually, which is more than 10 times that of CCU's $12.47 per listener and over 20 times that of Pandora's $5.80 per active user. Further, SIRI's paying subscriber base clearly exceeds that of its digital competitors with over 21 million paying subscribers. That equates to 7 times its nearest competitor, Spotify and over 20 times Pandora and Rhapsody which have only approximately 1 million paying subscribers.
I expect that SIRI's future market growth will continue to impress as it capitalizes on its countless opportunities for growth. First, SIRI is increasing its presence in the Hispanic market with over 15 new Latin channels on the horizon. Secondly, SIRI is growing its online audience with the 2.0 launch of intelligent apps for smart devices, which enables owners of Apple's (NASDAQ:AAPL) iPad and iPhone devices to stream SIRI on their phones. Additionally, SIRI launched apps for owners of Research in Motion's (RIMM) Blackberry and Google's (NASDAQ:GOOG) Android devices. The 2.0 launch enabled SIRI to secure future commitments with OEM partners for chip installation and allows for adding more functionality, audio features and data services through software upgrades. As an example, SiriusXM Internet Radio lets you go back in time up to 5 hours to hear previously aired programming on any channel and users can pause and fast forward songs.
It is noteworthy that SIRI is one of America's Largest US Subscription media businesses in terms of paid subscribers. Looking at the filings of the two largest, Netflix (NASDAQ:NFLX) and Comcast (NASDAQ:CMCSA), they exceeded SIRI's subscriber base by less than 10%. And, SIRI dwarfs all other competitors. It has over 30% more subscribers than Dish Network (NASDAQ:DISH) and nearly double that of Time Warner (NYSE:TWX). SIRI has continued to grow both its subscribers and its revenue in 2011. The company has strong Free Cash Flow (FCF) that is projected to increase year over year resulting from revenue increases coupled with lower interest expenses and capital expenditures. In fact, per the company's aforementioned presentation, they are expecting the FCF to nearly double year over year. With a forward P/E of 23 compared to 134 for Pandora, I believe SIRI represents the wiser investment.
Disclosure: I have no positions in any stocks mentioned, but may initiate a long position in SIRI over the next 72 hours.