Range Resources Corporation (RRC) offers energy investors the opportunity to round out their portfolios with diversification into a different energy source - natural gas - from different locations - the Marcellus field of Pennsylvania and the Lower Cotton Valley formation in North Louisiana. Increasing demand from utilities and liquefied natural gas export and improved transportation access in the third quarter will allow Range Resources to increase its profitability. The company's upside to its one-year target price is 34%.
Brief Company Summary
Range Resources is a natural gas producer headquartered in Fort Worth, Texas with operations in Pennsylvania and Louisiana. With an August 14th, 2018 closing stock price of $15.39/share, its market capitalization is $3.76 billion.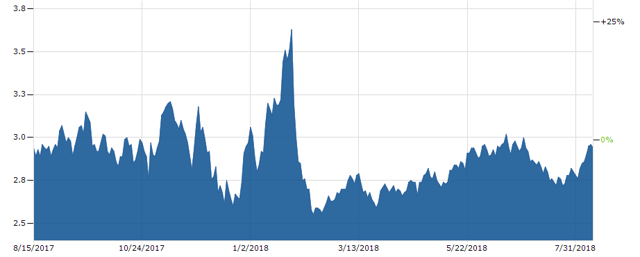 Left axis, gas price, $/MMBTU, Credit: markets.businessinsider.com
Gas Prices, Production, And Differentials
The August 14th closing price was $2.95 per million British Thermal Units (MMBTU) for natural gas at Henry Hub, Louisiana. Meanwhile, the price for Marcellus natural gas - compared to the August 13th close of $2.92 at Henry Hub - was $2.48/MMBTU, a difference of $0.44/MMBTU.
For standard-quality gas, one thousand cubic feet contains one million BTUs.
The August 7, 2018 Energy Information Administration (EIA) Short-Term Energy Outlook notes U.S. dry natural gas production was 73.6 billion cubic feet (BCF) per day in 2017 and is predicted to average 81.1 BCF/D in 2018, which would be a new record. Near term, the EIA projects Appalachian (Marcellus and Utica) volumes to be 29 BCF/day in September 2018. For competitive comparison, Haynesville, Louisiana volumes are predicted to be 9.4 BCF/D and Permian, Texas-New Mexico gas volumes are predicted to be 11.3 BCF/D.
The Marcellus field overall is estimated to contain 40 trillion cubic feet (TCF) of gas, 3 billion barrels of natural gas liquids, and 149 million barrels of condensate.
The EIA predicts Henry Hub natural gas prices will average $2.96/MMBTU in 2018 and $3.10/MMBTU in 2019.
Reserves And Production
At the end of 2017, the company's reserves were 15.3 TCF equivalent. The TCFe measure is similar in concept to the barrels of oil equivalent metric, except that everything is converted to natural gas equivalents.
Range Resources' second quarter 2018 production was 2.2 BCF/D and is predicted to be slightly higher in the third quarter. Most of this is from the Marcellus field: Range's Lower Cotton Valley production from Louisiana was 313 million cubic feet per day. The company also produced 117,520 barrels per day of liquids, which - note - contributed 46% of revenues before hedging.
The company's reserve-to-production ratio is 19 years.
Competitors
Appalachian natural gas competes with Haynesville dry gas and Permian Basin associated gas, so in a sense, Range Resources competes with a large number of producers, especially from the Permian. However, specifically within the Marcellus field, Range Resources' competitors include Antero Resources (AR), Cabot Oil and Gas (COG), Chesapeake (CHK), Consolidated (CNX), EQT Corporation (EQT), Exxon Mobil (NYSE:XOM), and Southwestern Energy (SWN).
Demand And Transport Boost For Natural Gas
Once discovered, Appalachian natural gas reserves quickly became the giant ushered out of the party - with decades of reserves, the region had neither the regional demand to take all the supply nor the pipeline transport to move it out. That has changed over the last few years. Pipelines now move Marcellus gas west to Chicago and south to the southeast. Pipeline capacities to the northeast have expanded and soon, the biggest market will also be on tap for Marcellus gas - the U.S. Gulf Coast.
Demand, too, continues to increase as utilities shift more of their sourcing to natural gas and as liquefied natural gas trains for gas export come online.
And, although it is not a huge demand factor, investors can even think of electric vehicles as essentially running on natural gas since natural gas (like coal) is a baseload, always-on fuel for electric generation. More generally, growth in U.S. electricity use will lead to growth in natural gas demand.
Nonetheless, the natural gas supply - from Appalachia, as well as Haynesville and the Permian - remains vast. The regional oversupply can be seen plainly in the differentials that persist between Marcellus gas prices and Henry Hub, Louisiana gas prices. As quoted above, most recently this was a decrement of -$0.44/MMBTU, or -15%.
Range Resources' Operations, Strategy, Capital Expenditures And Growth Prospects
The company's 2018 capital budget is $941 million, 85% of which will be spent in the Marcellus field. Corporate growth target is 11%, with planned production, according to the company's August 14, 2018 presentation, of 2.5 BCF/D in 2019 and 3.0 BCF/D in 2021.
Importantly, Tudor Pickering Holt notes that when the Rover Phase 2 gas pipeline comes online in the third quarter of 2018, Range Resources will be able to sell up to 70% of its production to the sizable U.S. Gulf Coast markets. These include chemical plants, utilities, and LNG export.
The company has 3800 core Marcellus prospects, and its low maintenance capital requirements make it an efficient operator. Downspacing, too, has proven economic. Additionally, Appalachian stacked pay is expected to increase well productivity. Range identifies three hydrocarbon zones: upper Devonian, Marcellus, and Utica/Point Pleasant.
Just as key, the company's connection via the Mariner East natural gas liquids pipeline to Marcus Hook have allowed it to export ethane and propane internationally.
Overall, Range expects to generate $1 billion in free cash flow at current pricing in the next five years. Higher oil prices of $60/barrel could increase the 5-year free cash flow to $1.7 billion.
Governance
Institutional Shareholder Services ranks Range Resources' overall governance as a stellar 1, with sub-scores of Audit (1), Board (2), Shareholder Rights (1), and Compensation (7). As an aside, Range Resources earned recognition as one of the first companies to upgrade and improve its water recycling for both drilling process and produced-from-formation water.
Insiders own only 1.4% of the stock.
Shorted stock relative to floated stock is a moderate 14.8%.
Range Resources' Financial And Stock Highlights
Range Resources' trailing twelve months earnings per share was $0.25, giving it a trailing P/E ratio of 62.
The company's second quarter 2018 net loss was -$80 million. Its cash from operations was $175 million. Moreover, Range notes natural gas differentials, including basis hedging, were $0.16 below the Henry Hub futures price, a $0.23 improvement from the second quarter of 2017.
Analysts expect full year 2018 net income to average $250 million or $1.02 earnings per share. Estimates of 2019 earnings per share average $0.94, resulting in a forward P/E of 16.4.
The company's 2017 full-year net income was $329 million, a substantial improvement from losses in 2016 and 2015 of -$522 million and -$714 million, respectively.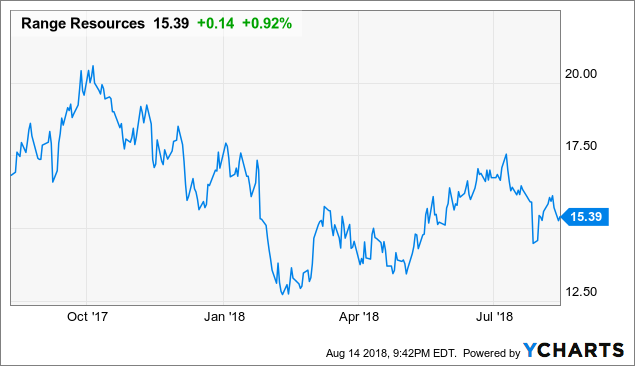 At June 30, 2018, the company had $6.06 billion in liabilities and $11.83 billion in assets giving Range Resources a liability-to-asset ratio of 51%. Its ratio of current assets divided by current liabilities is 0.52, less than the desirable minimum of 1.0.
Range Resources market capitalization is $3.76 billion at an August 14th, 2018 stock closing price of $15.39 per share.
The company's reported cash is minimal. Its most recently reported operating cash flow was $950 million and its levered free cash flow is -$275 million. With an enterprise value (EV) of $8.1 billion, its EV/EBITDA ratio is 8.5, below the preferred ratio of 10 or less.
Range Resources' 52-week price range is $11.93-$20.65 per share, so its August 14th, 2018 closing price of $15.39 is 75% of its one-year high. The company's one-year target price is $20.69/share putting its August 14th closing price at 74% of that level; thus, its one-year target price is 34% above its current price.
Like many other exploration and production companies, Range Resources pays a small dividend, $0.08/share, for a dividend yield of 0.5%.
Overall, the company's mean analyst rating is a 2.1, or "buy," from the 34 analysts who follow it. One rates the company "sell," nine rate it a "hold," sixteen rate it a "buy," and eight rate it a "strong buy." Three of the most recent six ratings changes have been downgrades; the other three were initiations.
As of December 30, 2017, the four largest institutional holders of Range Resources' stock were SailingStone Capital at 14.4%, Vanguard at 10%, and BlackRock and State Street at 6.25% each.
Range Resources' beta is 0.2, representing much less volatility compared to that of the overall market.
Positive And Negative Risks
Potential investors should consider their natural gas price expectations as the factor most likely to affect Range Resources.
Recommendations for Range Resources
I recommend Range Resources to investors who want to round out their energy portfolios with natural gas from a producer with an unusually high governance score and increasing access to large southwestern and export markets.
Although Range Resources has a small dividend yield, its upside of 34% to its one-year price target is attractive. Moreover, drilling efficiencies, improved transport and natural gas demand growth, natural gas liquids export, along with Range's proven ability to execute, will continue to provide Range with a good foundation in the physically and financially volatile sector of natural gas production.

While you're here, consider subscribing to Econ-Based Energy Investing, a Seeking Alpha Marketplace platform. Weekly in-depth articles provide you with recommendations for long energy investments.
Subscribers get actionable ideas, make decisions with larger industry context, and save time on research. My service focuses on publicly-traded small & mid-cap oil producers (by basin) & refiners (by area) drawing from a public energy space spanning more than 400 companies.
I'm an industry insider with +30 years' experience working for & investing in energy companies. As you plan your research and investing strategies for the year, consider Econ-Based Energy Investing.
Disclosure: I/we have no positions in any stocks mentioned, and no plans to initiate any positions within the next 72 hours. I wrote this article myself, and it expresses my own opinions. I am not receiving compensation for it (other than from Seeking Alpha). I have no business relationship with any company whose stock is mentioned in this article.