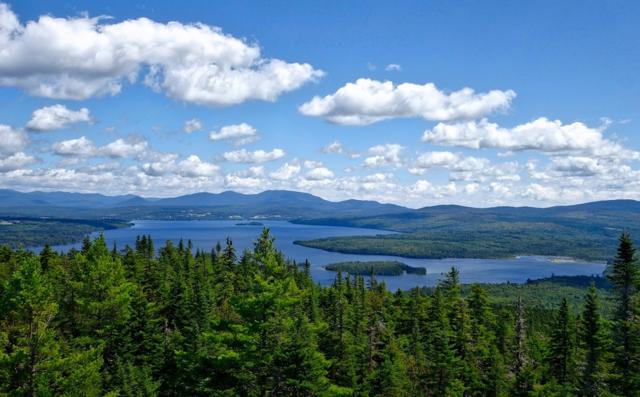 No one has to make asset allocation or security selection decisions. You can save up cash in federally insured savings accounts and max out tax-advantaged accounts with passive, low-cost ETFs pegged to indexes such as the S&P 500 (SPY). For most investors and investment dollars, this is a perfectly adequate solution. Want a better than adequate solution? There are a handful of publicly-traded companies run by people who have proved their abilities to beat the market over the long term. The best-known asset allocator among them is Berkshire Hathaway's (BRK.A) (BRK.B) Warren Buffett.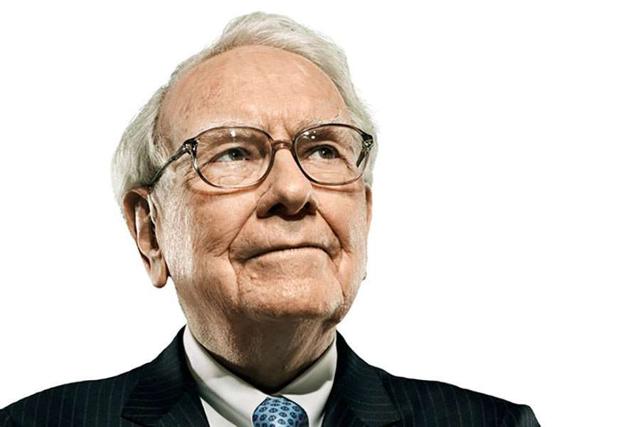 Others include his partner at Berkshire, Charlie Munger, who allocates assets at the Daily Journal (DJCO). Few, if any, investors are better than Buffett, but the Rales brothers - Steven and Mitchell Rales - are two lesser known peers. They have exercised their market-beating skills at both Danaher (DHR) and, to a lesser extent, Colfax (CFX). A few years ago I asked if they are better than Buffett:
It's hard to imagine a conglomerate that could outperform Berkshire Hathaway over the long run. Buffet's selection of companies to buy and hold, coupled with his well-known approach of leaving good managers alone to run separate businesses has led to nearly a 3,000% increase in BRK.A over the past quarter century.

So it may come as a surprise that Danaher, a smaller conglomerate (market cap of 60 billion vs. 345 billion) without a luminary at the helm, has more than doubled Berkshire's return to shareholders over the past 25 years. Danaher has not only built a portfolio of well-run independent companies but has figured out how to develop management talent and drive business process improvements across the group.
It has been neck-and-neck since then, with the Danaher currently in the lead.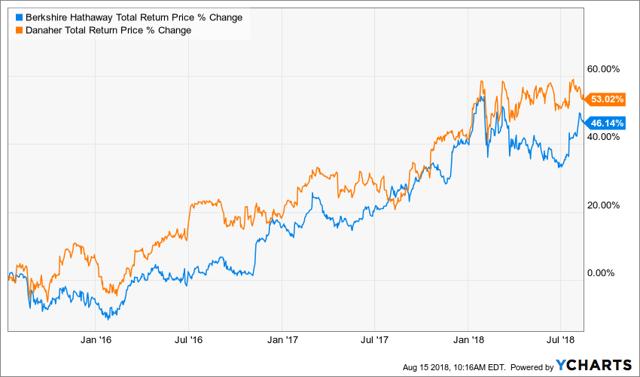 If you want to invest in a basket of top publicly-traded asset allocators, you can do so at M1, a free automated investing platform, charging no commissions or management fees. For details on this portfolio, please read One Easy Step To Beat The Market.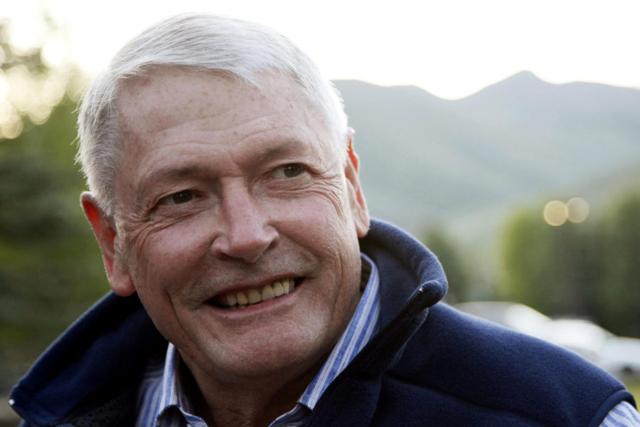 I also constructed a basket of securities specifically dedicated to another of my favorite asset allocators, John Malone. This basket trades at a discount to its NAV and has numerous catalysts to unlock value, primarily through future consolidation with publicly-traded subsidiaries in order to collapse net asset value discounts. Components include Liberty SiriusXM (LSXMK), which trades at a 28% NAV discount based on the Sirius XM (SIRI) market value. They continue to buy back shares in order to tighten the discount. Meanwhile, Liberty Broadband (LBRDA) trades at a 7% discount to NAV. While this is not a massive discount, its NAV is largely made up of Charter (CHTR) which appears to be substantially undervalued by the market. Additionally, LBRDA rights with regards to its holdings could reasonably justify a premium. Track or own both of these opportunities in Liberties.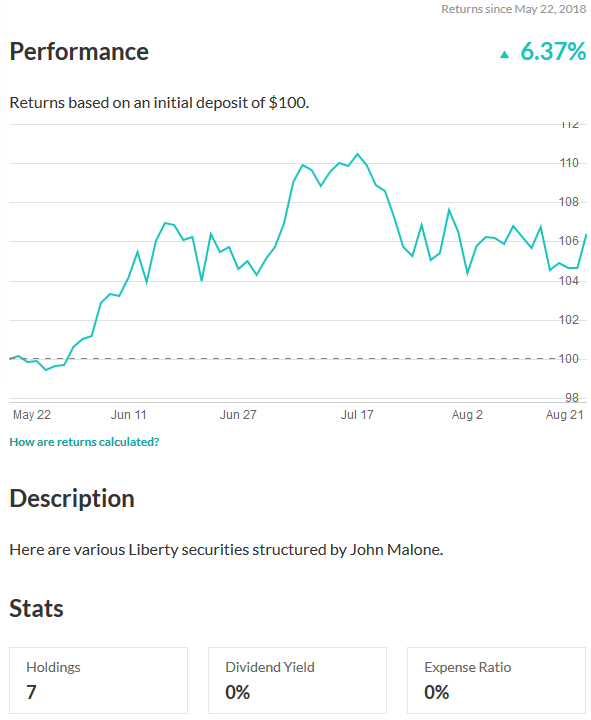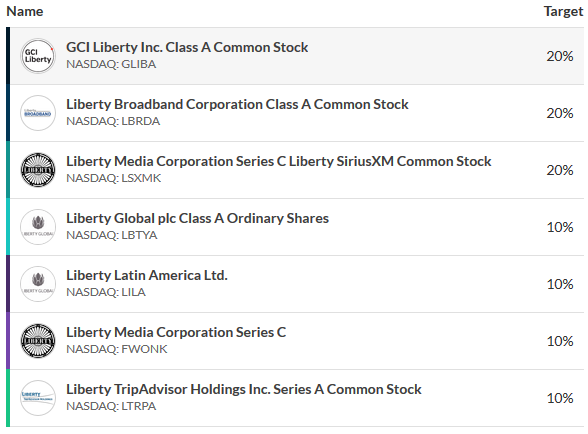 Please click here to invest in this portfolio: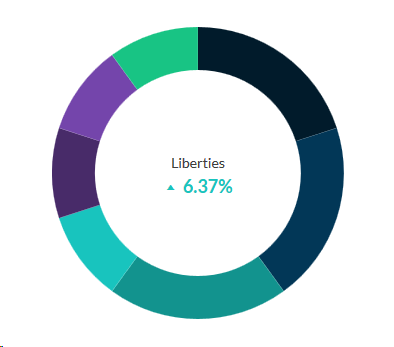 It allows you to make one time or recurring deposits and handles re-balancing into GCI (GLIBA), Liberty Broadband (LBRDA), Liberty SiriusXM (LSXMK), Liberty Globay (LBTYA), Liberty Latin America (LILA), Liberty Formula 1 (FWONK), and Liberty TripAdvisor (LTRPA).
John Malone might be the best source for investment opportunities at discounts to NAV, but he isn't the only one. Barry Diller built another one that I discussed earlier this year:
IAC (IAC) is free. It is a holding company with major stakes in both Match (MTCH) and ANGI Homeservices (ANGI). If you own an IAC share and short five shares of ANGI and two and a half of MTCH, your exposure to IAC costs nothing (in fact, less than nothing). In this case, you don't get what you pay for. You get Vimeo, cash, and one of the rarest things - a management team of a publicly-traded vehicle that does not deserve a discount for its asset allocation. You can count such teams on two hands and I am closer to subtracting names than I am to adding any. Through the years, they have created shareholder value and have unlocked that value in savvy and timely ways. The impending arrival of Facebook (FB) to Match's market offered a terrific entry point for the long leg of this parent minus subsidiaries stub. As far as an exit, this stub's value will probably be largely realized when management IPOs Vimeo at some point in the years ahead. Management thinks that Vimeo is their portfolio's most underappreciated asset and an IPO would force the market to confront its value. It could pay to wait for it.
Both public subsidiaries have performed well since then and management could be closer to spinning-off Vimeo; both have helped tighten the gaping value between IAC's price and its value.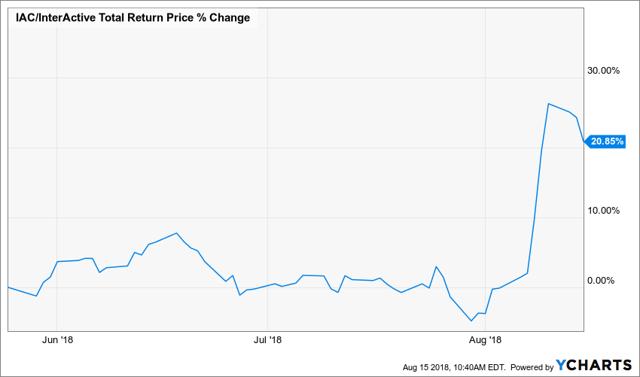 I put together a basket of such securities with NAV discounts. In some cases, they have publicly-traded subsidiaries and in others, they have individual divisions worth more than the overall market price. For specifics on this portfolio, please read NAV Discounts.
M&A activity is at an all-time high, and I put together a basket of merger arbitrage targets to take advantage of the current wave of consolidation. The top position in this basket is Aetna (AET), which is in the process of getting acquired by CVS (CVS). If the deal closes by November as anticipated, then the $7.34 net spread will close, resulting in a 17% IRR. Both sets of shareholders have approved the deal, which now awaits US antitrust approval. The transaction is largely a vertical one but has not attracted the same vertical concerns that delayed the AT&T (T) acquisition of Time Warner. The horizontal issues are surmountable and can be addressed with a modest divestiture. For more on this portfolio, please read Merger Arbitrage. There are a number of other opportunities in takeover candidates with market prices beneath their potential takeover values such as Nielsen (NLSN). 5% holder Elliott Management filed a 13D and could push the company to sell. The company is worth over $30 per share to potential buyers. For more on this portfolio, please read Takeover Candidates.
Speaking of shareholder activism, there are a number of other activist targets where shareholders could push boards and managements to take steps to unlock value. The history of such activist campaigns shows that they are most successful, on average, when they are able to push a company to accept takeover offers. In other cases, they can unlock value by breaking up companies into parts. In each case, the tension lies between shareholders who want to maximize the company's value per share and insiders who have a number of agency problems that tend to make them more interested in building empires and avoiding takeovers.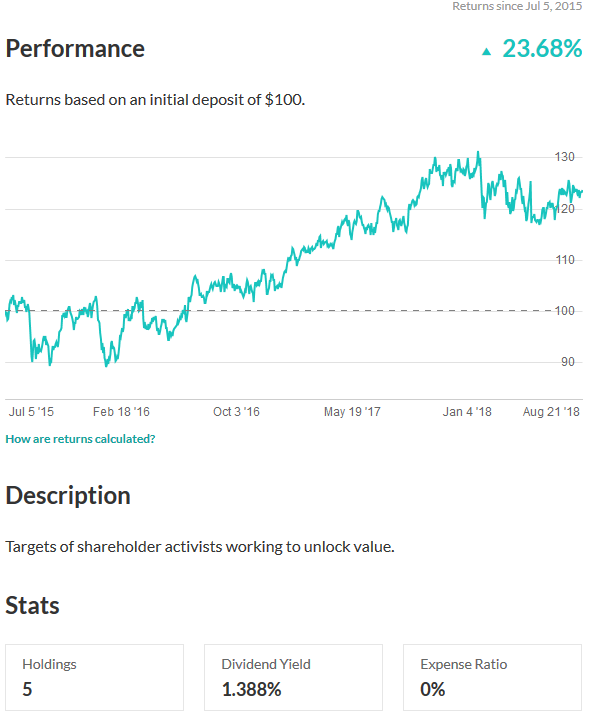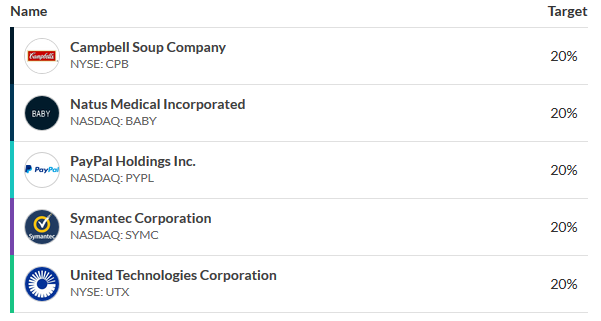 Please click here to invest in this portfolio:
It allows you to make one time or recurring deposits and handles re-balancing into Campbell (CPB), Natus (BABY), PayPal (PYPL), Symantec (SYMC), and United Technologies (UTX).
Each year, Forbes releases their list of sports franchise values. However, actual transactions are increasingly happening at big premiums to such estimated values. Sports teams are baubles for billionaires. All of your friends might have yachts and jets, too, but they don't all have sports teams. Only a select few own teams outright, but you can be a minority owner with my sports basket. Components include Manchester United (MANU), estimated by Forbes to be the world's second most valuable sports team. Another is the New York Knicks (MSG), estimated to be the world's seventh most valuable team despite not being particularly good at basketball. For more on this portfolio, please read Sports Investing.
I love owning land. Unlike most investments (but perhaps like sports), you can enjoy it while it increases in value. Direct investments in timberland offer unique tax flexibility and long-term appreciation potential. A black walnut tree offers walnuts that can clean jet engines, wood for gun stocks, and veneer for furniture. A $5 sapling could be worth $20,000 when full grown or more if it develops burls. A few publicly-traded companies are worth their market price in land. They are not as satisfying to own as simply buying your own land and they don't all have obvious short-term catalysts to unlock their land value, but they could be uncorrelated to the broader market and may appreciate over time. None have as good a view out the window as Rangeley Lake and its surrounding timberland (see picture above) where I research, invest, and write. For more on this portfolio, please read Land Investing.
Conclusion
Many investors seek investments that screen well relative to well-known valuation metrics; I, on the other hand, look for investments that screen poorly, the quirky corners of the market with value that is so hidden from view that it fails to show up on Bloomberg screens. I look at opportunities asking:
This just offers a peek at the types of opportunities that I am researching, investing in, and writing about. I will update them daily on Sifting the World to share with long-term value investors interested in mispriced securities and the transactions that could unlock their underlying value.
Disclosure: I am/we are long BRK.A, BRK.B, AET, IAC, LBRDA, LSXMK, MSG, NLSN, CPB, BABY, PYPL, SYMC, UTX, GLIBA, LBTYA, LILA, FWONK, LTRPA, CET, TPRE, GLRE. I wrote this article myself, and it expresses my own opinions. I am not receiving compensation for it (other than from Seeking Alpha). I have no business relationship with any company whose stock is mentioned in this article.
Additional disclosure: The information contained on this article is not and should not be construed as investment advice, and does not purport to be and does not express any opinion as to the price at which the securities of any company may trade at any time. The information and opinions provided herein should not be taken as specific advice on the merits of any investment decision. Investors should make their own decisions regarding the prospects of any company discussed herein based on such investors' own review of publicly available information and should not rely on the information contained herein.
The information contained in this article has been prepared based on publicly available information and proprietary research. The author does not guarantee the accuracy or completeness of the information provided in this document. All statements and expressions herein are the sole opinion of the author and are subject to change without notice.
Any projections, market outlooks or estimates herein are forward-looking statements and are based upon certain assumptions and should not be construed to be indicative of the actual events that will occur. Other events that were not taken into account may occur and may significantly affect the returns or performance of the securities discussed herein. Except where otherwise indicated, the information provided herein is based on matters as they exist as of the date of preparation and not as of any future date, and the author undertakes no obligation to correct, update or revise the information in this document or to otherwise provide any additional materials.
The author, the author's affiliates, and clients of the author's affiliates may currently have long or short positions in the securities of certain of the companies mentioned herein, or may have such a position in the future (and therefore may profit from fluctuations in the trading price of the securities). To the extent such persons do have such positions, there is no guarantee that such persons will maintain such positions.
Neither the author nor any of its affiliates accepts any liability whatsoever for any direct or consequential loss howsoever arising, directly or indirectly, from any use of the information contained herein. In addition, nothing presented herein shall constitute an offer to sell or the solicitation of any offer to buy any security.
This post may contain affiliate links, consistent with the disclosure in such links.