Regeneron (REGN) is priced nicely for buyers, given its profit growth and clinical pipeline of potential new drugs. Regeneron is a large cap ($38.8 billion) biotechnology pharmaceutical company. It is well below its 52-week high of $505.49, which I see as a good longer-term goal. Returning to $505 would result in a 38% return over the current stock price.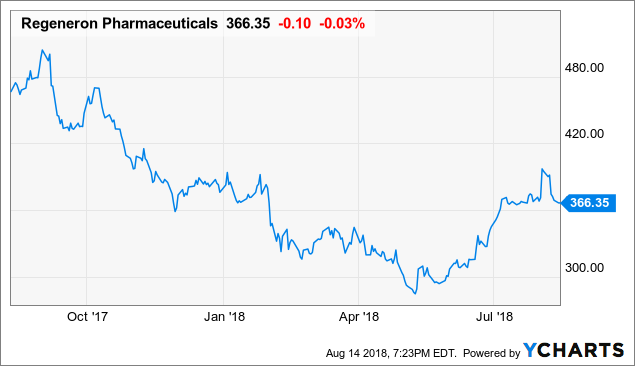 The value in the company is in its aging Eylea franchise, its new Dupixent franchise, in its later stage clinical pipeline, and in its proven ability to take drugs from preclinical studies to commercial success.
Q2 Results
First, a recap of Q2 results will place the financials in perspective.
Revenue was $1.61 billion, up 7% sequentially from $1.51 billion and up 9% from $1.47 billion in the year-earlier quarter.
GAAP net income was $551 million, up 15% sequentially from $478 million and up 42% from $388 million year earlier.
GAAP diluted earnings per share (EPS) was $4.82, up 16% sequentially from $4.16 and up 44% from $3.34 year earlier.
Non-GAAP net income was $624 million, up 16% sequentially from $537 million and up 28% from $487 million year earlier.
Non-GAAP diluted EPS was $5.45, up 17% sequentially from $4.67 and up 31% from $4.17 year earlier.
For more details see the Regeneron Q2 2018 press release.
At today's price, the trailing twelve-month GAAP P/E ratio is 22.1. The non-GAAP P/E is 18.9. Given the y/y EPS growth, that alone would typically make a stock a buy.
In Q2, we see the revenue usual bump from a Q1 low caused by the Medicare donut hole and y/y revenue growth that is strong but is moderating from Regeneron's past because growth is over a larger base. To grow revenue faster in the long run and justify higher P/E ratios for rational investors, Regeneron will need to move experimental drugs to FDA approval and then commercialization.
Eylea Recap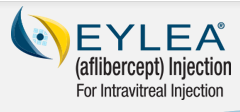 Source: www.eylea.us
Eylea is approved by the FDA to treat: wet AMD; macular edema following retinal vein occlusion; and diabetic macular edema.
Eylea has competition. In AMD, the competition is from laser surgery and from other anti-VEGF medications, notably Lucentis from Novartis (NVS) and Avastin from Roche (OTCQX:RHHBY). Since an Avastin biosimilar, Amgen's (AMGN) Mvasi is now approved by the FDA and may become available pending patent litigation, that could create more price competition.
Eylea revenue in Q2 2018 from U.S. sales increased to $996 million, up 1% sequentially from $984 million and up 8% from $924 million year earlier. Regeneron also recognized $263 million from Bayer's (OTCPK:BAYRY) ex-U.S. sales of $666 million, up 23% y/y.
On August 13, 2018, the FDA issued a complete response letter to Regeneron for wet age-related macular degeneration. But Eylea is already approved for wet AMD. The difference: the requested new label allows for treatment every 12 weeks, while the current label is for every 8 weeks, following three initial doses at 4-week intervals.
Although this FDA decision will likely delay the label expansion for 2 months and resulted in a drop in the stock price, I think will have minimal effect in the long run. Unless the delay turns into a denial, which I see as unlikely.
Despite the continuing ramp of Eylea and some room to grow as the U.S. population ages and foreign sales expand, at some point, Eylea will see slower y/y growth and eventually generic competition.
Dupixent Recap
Dupixent is an allergy and inflammation suppressor licensed by Regeneron to Sanofi (SNY). Global sales by Sanofi in Q2 were $209 million; it was launched in April 2017. It modulates interleukins, providing relief when older medications cannot.
Dupixent is approved in the U.S. and Europe for atopic dermatitis. CEO Leonard Schleifer stated he expects an approval in uncontrolled asthma before year end. In addition, the regulatory applications for adolescent atopic dermatitis should be submitted and the Phase 3 study for nasal polyps should report data.
In Q2, Regeneron did not break out how much of the $237 million in Sanofi collaboration revenue it received was generated by Dupixent as opposed to Praluent and Kevzara, but probably about three-quarters of it. Currently, this revenue is more for R&D and commercialization expense reimbursement than for royalties. However, as revenue ramps, so should revenue from Sanofi.
If these approvals do come through, Dupixent should add substantially to Regeneron revenue and profits in 2019.
Why I like the Regeneron pipeline
The Regeneron pipeline page shows 6 drugs in Phase 3, but that includes further indications for three drugs that have already been approved. 3 potential new drugs are late-stage: evinacumab, fasinumab, and cemiplimab. There are six drugs with indications in Phase 2 trials, but only two are novel, garetosmab and REGN3500. In Phase 1 trials are 11 drugs covering 13 indications; three of the indications are for cemiplimab alone or in combination.
My focus here will be on cemiplimab, fasinumab, and REGN3500, but the full future value of Regeneron should take into account the other potential drugs and indications.
Cemiplimab is a PD-1 antibody. It will come into a market dominated by Bristol-Myers Squibb's (BMY) Opdivo and Merck's (MRK) Keytruda. PD-L1 inhibitors on the market have similar uses. Many companies have PD-1 inhibitors in their clinical pipelines. Still, if approved, cemiplimab will be the first for CSCC (cutaneous squamous cell carcinoma). After that approval, getting the label extended to other indications should be relatively easy. It has been developed in cooperation with Sanofi.
While cemiplimab is not novel, it is necessary. PD-1 therapies fail to cure cancers more often than not. The hope is that they can have a higher cure rate when combined with other drugs. It is hard to predict how much revenue cemiplimab can generate as a single agent, but with trials in non-small cell lung cancer and basal cell carcinoma also underway, it could eventually be substantial.
Fasinumab is an antibody being tested for pain from osteoarthritis. It is being developed with Teva (TEVA).
REGN3500 is an IL-33 antibody for asthma, developed in cooperation with Sanofi. It could offer some improvement or differentiation from Dupixent, which targets IL-4 and IL-13. It also recently started a Phase 2 trial for COPD (chronic obstructive pulmonary disease).
As with any broad pipeline, there are bound to be some failures along with the successes. The stock will usually go down when a failure is announced. But keep in mind that except when Regeneron stock is priced at very high P/Es, say above 30, the full future value of the pipeline is attractively discounted. On the other hand, P/Es above 50 are likely overoptimistic. I mention this because the stock has seen pretty wild price swings for a large cap in this past year, from a low of $281.99 to a high of $505.49.
Cash and use
Regeneron ended Q1 with $3.7 billion in cash, up about $250 million sequentially from Q1. There is no debt. It is in a good position to acquire therapies or small companies or to return cash to shareholders.
Conclusion
I always like Regeneron, but, of course, I like it better when the stock price is more reasonable (lower). I expect the future will mean more drug approvals and label expansions, more revenue, and more profits. The exact pace is difficult to predict. I like Regeneron at the current price, to hold for long-term profit.
One caveat: I have mentioned how much the stock price is below the 52-week high. But it is also well above the 52-week low, which might represent a worst-case scenario.
Disclosure: I am/we are long AMGN. I wrote this article myself, and it expresses my own opinions. I am not receiving compensation for it (other than from Seeking Alpha). I have no business relationship with any company whose stock is mentioned in this article.
Additional disclosure: I may take a new position in REGN, and have owned it in the past.