On Monday evening, after the Turkish lira staged a dubious encore by building on losses incurred during its second-worst week in 24 years, I penned something for readers here called "Cold Turkey", in which I variously suggested that emerging markets were likely to remain under severe pressure.
In that linked post, I touched on a variety of topics, including spillover risk from the turmoil in Turkey, the idea that developing market policymakers are going to be at pains to stay ahead of the curve by hiking rates and, relatedly, the notion that ongoing strength in the dollar (UUP) precipitated by U.S. fiscal and monetary policy would continue to make this a challenging environment for emerging market assets.
With regard to spillover risk, I mentioned European and Gulf financials. In addition to citing the three European banks mentioned in the Friday Financial Times article that contributed to the lira's late week collapse, I also called out Qatar National Bank, the GCC region's largest by market value and total assets.
With respect to developing market policymakers, I flagged Argentina's emergency rate hike on Monday on the way to suggesting that Indonesia would likely need to hike on Wednesday, despite the fact that only five out of 28 economists surveyed by Bloomberg expected another hike. Here's the quote from my Monday piece:
The Indonesian rupiah came under immense pressure, falling to its weakest against the dollar since October 2015, forcing the central bank to intervene. That, just two days ahead of a rates meeting that now looks live (so to speak).
I also noted that the South African rand's flash crash in early Monday trading boded ill for emerging market currencies going forward.
Fast forward to Wednesday and literally all of that has panned out in rather dramatic fashion.
First of all, this was one of the worst days for the iShares MSCI Emerging Markets ETF (NYSEARCA:EEM) of the year, and at one point early in the session, the intraday loss would have been the worst day since Brexit on a closing basis. Emerging market stocks are in a bear market.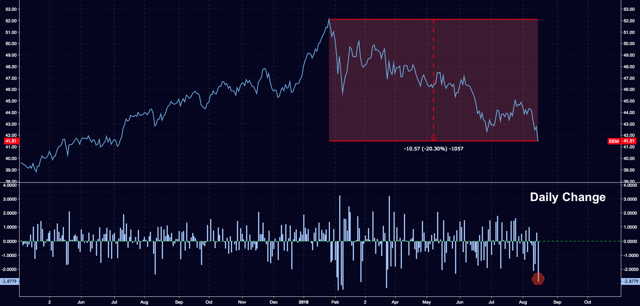 (Heisenberg)
I assume most readers know what triggered Wednesday's rout, but just in case, it was Tencent (OTCPK:TCEHY), which reported an egregious second-quarter bottom line miss. Sometimes I have a difficult time trying to communicate to readers here how hard I try every single day, both on this platform and especially on my site and on Twitter, to warn people about looming risks. Tencent's earnings hit at 6:00 AM New York time. More than 8 hours earlier, I tweeted this: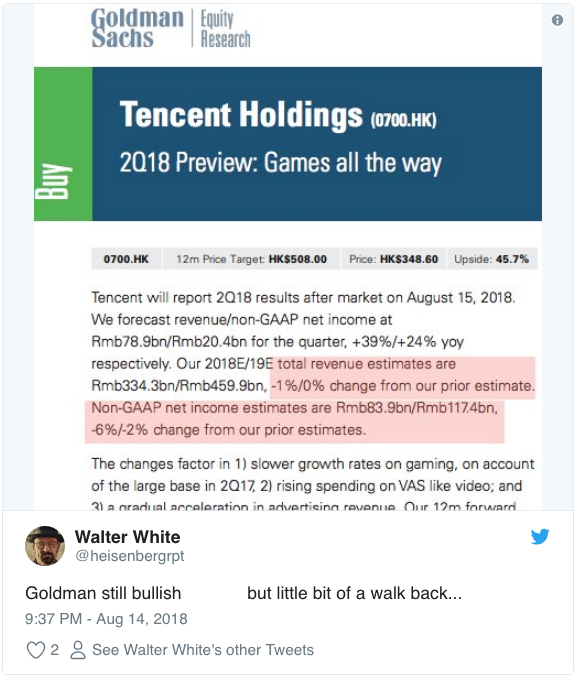 There's a reason I tweeted that on Tuesday evening. Tencent's earnings were on deck, and when it comes to EM, a potential Tencent miss wouldn't happen in a vacuum. It's the biggest component of the MSCI EM gauge, and it's also heavily owned across popular EM-focused ETFs. And do you know what else is tethered to Tencent? Naspers (OTCPK:NPSNY), that's what. And do you know what's tethered to Naspers? South African equities and the above-mentioned South African rand, which were already under pressure from the rout in the Turkish lira and also from a negative statement issued by Moody's on Wednesday.
Sure enough, Tencent's miss catalyzed the worst day for shares of Naspers in nearly a decade in Johannesburg trading.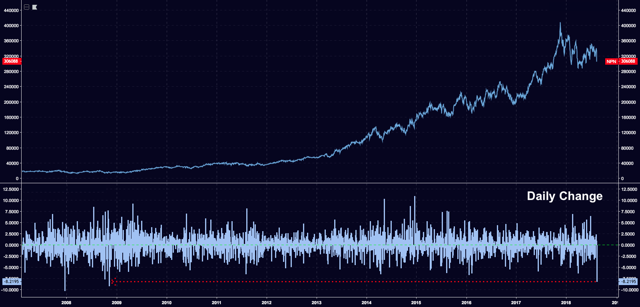 (Heisenberg)
The rand could have done without that, and it also could have done without a steep selloff in commodities. But when it rains it pours, and the Bloomberg commodity index dove nearly 2% on Wednesday.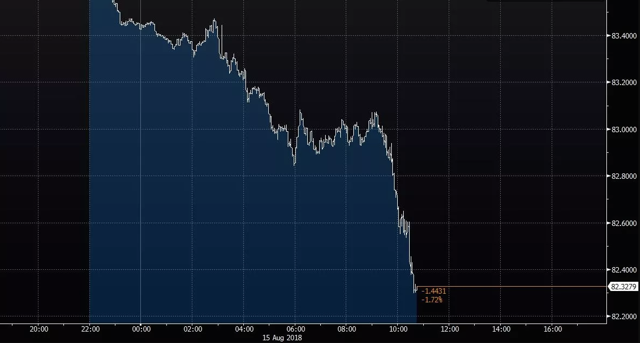 (Bloomberg)
The Bloomberg Industrial Metals Subindex slumped a truly harrowing 4% on the session, as copper fell into a bear market.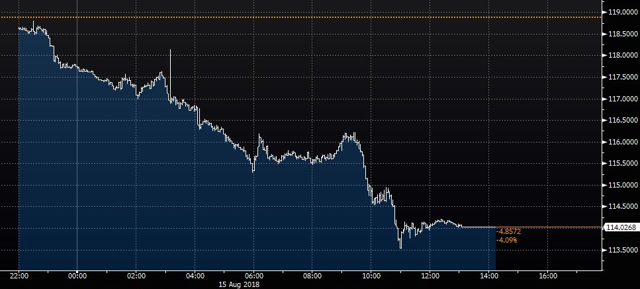 (Bloomberg)
Ultimately, the rand fell more than 2% on the day, and as Rabobank's Piotr Matys wrote in a client note, South Africa is probably going to need to hike. Here's an annotated chart that shows you Wednesday's weakness in the context of the flash crash on Monday evening.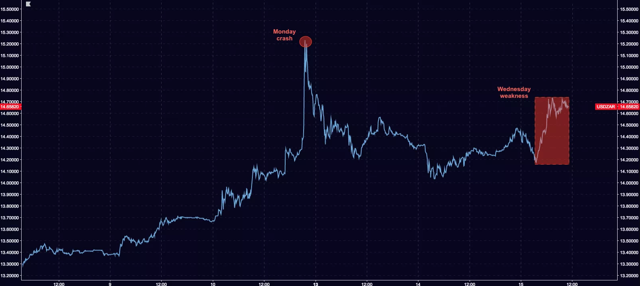 (Heisenberg)
Speaking of emerging markets and rate hikes, Indonesia did indeed hike on Wednesday, just as I suggested they would in my Monday piece for this platform, and just as I said they needed to on Twitter just hours before the decision. Here's Bloomberg:
Indonesia's central bank raised its benchmark interest rate a fourth time since May in a surprise move aimed at underpinning the currency as volatility sweeps across emerging markets.

The seven-day reverse repurchase rate was increased to 5.5 percent from 5.25 percent on Wednesday, as forecast by just seven of 28 economists in a Bloomberg survey, with the rest predicting no change.
Again, it wasn't a "surprise". It was entirely predictable, as was what happened to the Argentine peso, which fell to a fresh all-time low on Wednesday as traders ignored Monday's emergency rate hike. For context, here's what I said on Monday in "Argentina Races Thunderstorm With Panic Hike":
It's by no means clear this is going to matter. Sentiment around EM is souring in a hurry. At this point, central bankers in developing economies are effectively trying to outrun a thunderstorm in a car. That's a race they'll probably lose.
Below, for those interested, is the definitive annotated peso chart which shows you how this situation has evolved (or, more appropriately, "devolved") in 2018. The dashed red line at the tail end shows the depreciation since Monday.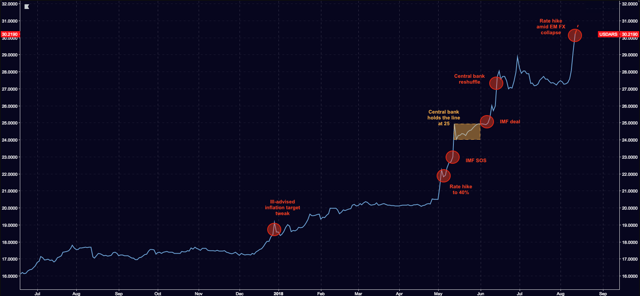 (Heisenberg)
As far as Turkey is concerned, the lira rallied for a second straight day amid another crackdown on swaps transactions. Wednesday's move was the second such crackdown this week. Far more notable than that, though, was news that Turkey is set to get what amounts to a $15 billion bailout in the form of direct investment. If you read the Monday post linked here at the outset, you weren't surprised to learn where that investment is going to come from. Hint: it's coming from Doha.
From a geopolitical perspective, this was entirely predictable given Turkey's support for Qatar during last year's Saudi-led embargo. Here's what BlueBay Asset Management's Tim Ash told Bloomberg on Wednesday:
That Turkish support for Qatar during the stand-off with Saudi Arabia finally paid off. Let's see if the Chinese and Russians put some money on the table.
But in addition to that, Qatar National Bank owns Turkish lender Finansbank, and QNB Finansbank accounts for 14% of Qatar National Bank's group net profit. This is where I get to remind you that it's important to take a holistic view of things when you're trying to assess what's likely to happen next in the markets.
Now, how about those European banks I warned about on Monday? Well, the Stoxx 600 Banks index was down again on Wednesday, marking the sixth consecutive decline. It's in a bear market too.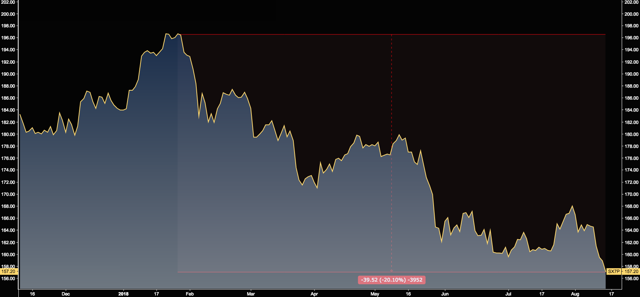 (Heisenberg)
Last weekend, I mentioned that Steve Eisman (of "The Big Short" fame) recently told Bloomberg he was shorting UniCredit (OTCPK:UNCFF) and BBVA (NYSE:BBVA) due to their exposure to Turkey. That's worked out pretty well. Here's a chart of the two banks since that interview: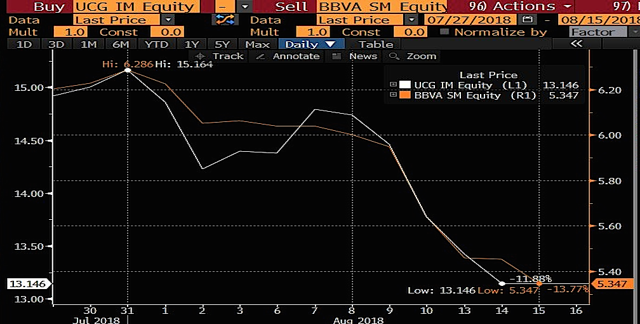 (Bloomberg, h/t Lisa)
Behind it all, the surging dollar, which rose for a fifth consecutive session on Wednesday to its highest since June 2017.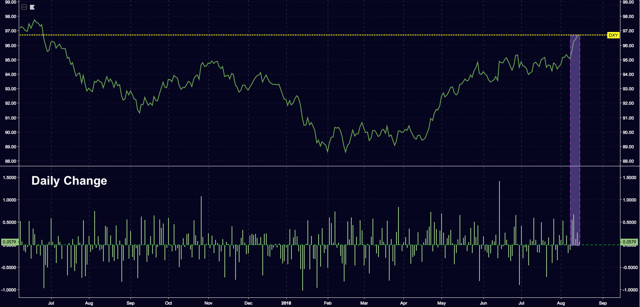 (Heisenberg)
All of this is playing out precisely like you'd think it would given U.S. fiscal and monetary policy. For months, I've suggested that late-cycle fiscal stimulus in the U.S. is putting the Powell Fed in a position where the committee has to hike in order to guard against the possibility that the Phillips curve suddenly reasserts itself, as it's prone to doing in late-stage expansions. When you pile tariffs on top of that, you put the central bank in a real bind. Powell has been steadfast in his commitment to a data-driven policy regime, and he's been even more adamant about expressing his upbeat take on the U.S. economy. That's all dollar-positive, and speculative positioning in the greenback reflects those dynamics.
Until something breaks that cycle, the turmoil in emerging markets is likely to continue, because it simply is not possible for developing economy central banks to tighten policy fast enough and dramatically enough to offset Fed hikes without undercutting their own economies. That quandary is complicated immeasurably by the fact that the trade tensions threaten to undermine global growth. This week's activity data out of China was lackluster, and the severe downturn in commodities reflects concerns about demand destruction. Emerging market economies are extremely vulnerable to that.
If you want to play for a bounce and do some bargain hunting in EM, be my guest, but do note that if you do that, you are implicitly betting that the Fed will repeat what happened in 2015, when "liftoff" was delayed due to adverse developments in international markets tied to the devaluation of the yuan.
Nothing further for now.
Disclosure: I/we have no positions in any stocks mentioned, and no plans to initiate any positions within the next 72 hours. I wrote this article myself, and it expresses my own opinions. I am not receiving compensation for it (other than from Seeking Alpha). I have no business relationship with any company whose stock is mentioned in this article.
Editor's Note: This article discusses one or more securities that do not trade on a major U.S. exchange. Please be aware of the risks associated with these stocks.