Introduction
One of the my main focuses is "long leading indicators," that is, economic data which usually turns a year or more before the economy as a whole turns. Perhaps the single one of those I have most often discussed is housing. Housing is somewhat unique among those indicators. There are others that focus on the financial sector, on producers, and on consumption. But housing is at the intersection of all three: production via house-building, consumption via the huge consumer spending on everything housing-related, and finance via mortgages.
Over the last year, the big question has been how increased interest rates and ever-escalating prices may finally be taking a bite out of the market. In order to examine this, and to put this morning's report on housing permits and starts in context, let me first step back and give you a "big picture" look at housing data - because there is a pattern to the order in which housing trends change.
The typical sequence of changes of trend in the housing market
That order is as follows:
I don't mean to suggest that the above sequence is inviolable, nor that causation is singular. As I have pointed out in the past, even if prices that are "too high" cause sales to slump, sales will turn first, even as prices rise for a while. That's because it takes a little while for sellers to get the message. Similarly, it is very clear that demographics can have a profound effect - in the case of the last 8 years, a significant tailwind of the large Millennial generation reaching their 30s. So, to show the sequence I laid out above, let's start with interest rates (inverted, blue) and sales, as measured by single family permits (red):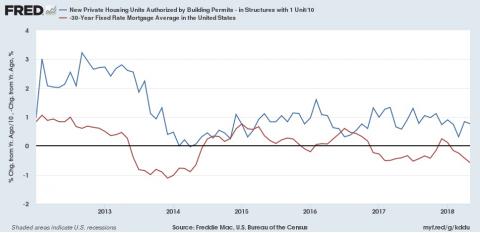 As you can see, increased interest rates in 2014, and again last year caused a slowdown (albeit not a downturn) in housing permits. Since the lead time tends to average about 6 to 9 months, this strongly suggests that issuance of permits should stagnate.
Why do I focus on single family permits? Because they are the least volatile of all the housing data, and are just as leading as permits overall (first graph below) and slightly more leading than housing starts (second graph) (note these do not include this morning's data):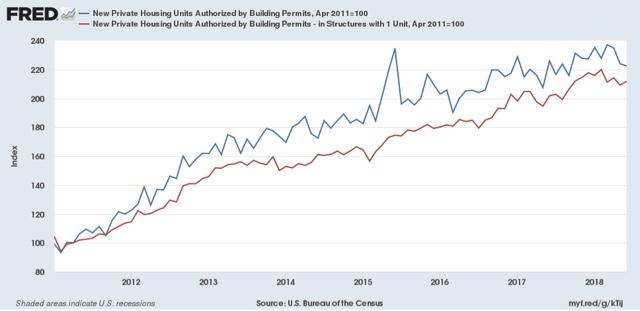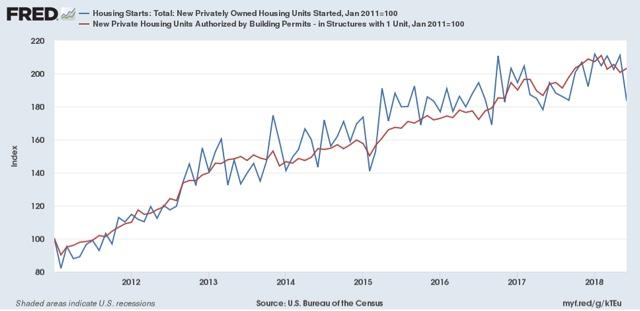 They are also *much* less volatile than new home sales, which are also very heavily revised: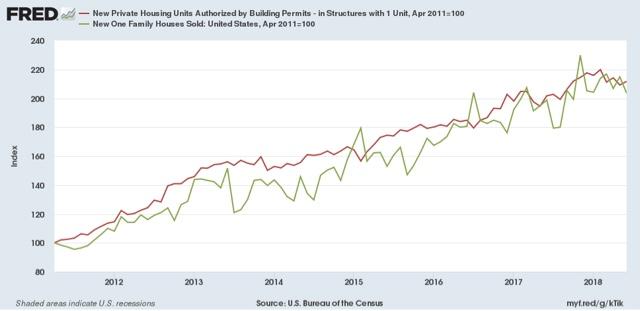 Returning to our sequential paradigm, now let's compare the same permits metric with sale prices (as measured by the Case Shiller index):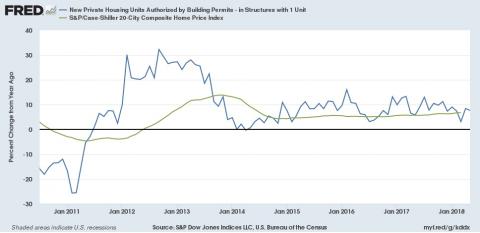 Sales have led prices by about 12 months. Most recently, although admittedly the effect has been small, the YoY% increase in housing has accelerated slightly, roughly one year after the YoY sales peak. Finally, let's compare prices (green) with inventory in the form of new houses for sale (purple):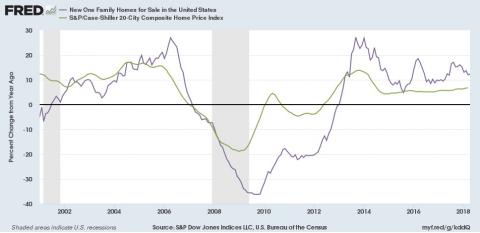 You can see, especially in the 2005-13 years, that house prices made peaks and troughs about 3 to 6 months before inventory did. Although inventory is much more variable, the general trend in the last few years for new homes is that inventory has been increasing.
While July housing starts were poor, permits - especially single family permits - rebounded
So, mortgage interest rates have risen significantly in the past 24 months. Has it been enough to derail housing sales? With the above sequence in mind, let's take a look at today's overall housing starts (blue) and permits (red) data: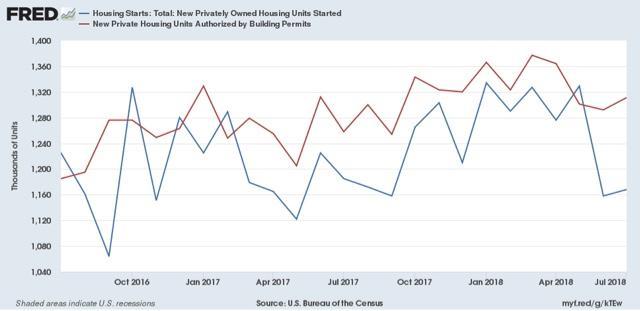 Here are the less volatile single family starts (blue) and permits (red):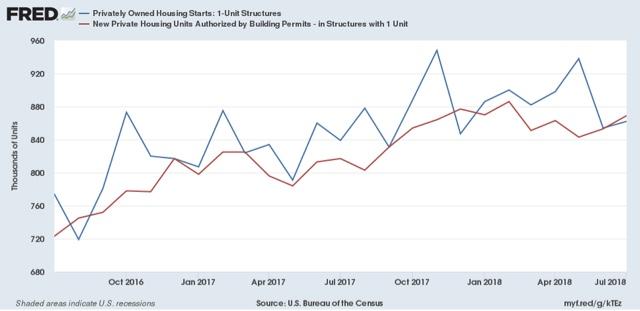 There was a sharp divergence this month. While starts - both overall and single family - continued near 1 year lows, and at a rate no better than average for two years ago, permits rebounded. Most importantly, single family permits rebounded to a five month high, and only 2% below their February high. Most importantly, note that both overall and single family permits started to decline this year several months before starts. That single family permits look like they are recovering strongly suggests that starts will follow in a month or two.
Indeed, the general trend in the YoY% growth in permits has been some deceleration, but not nearly enough to turn negative: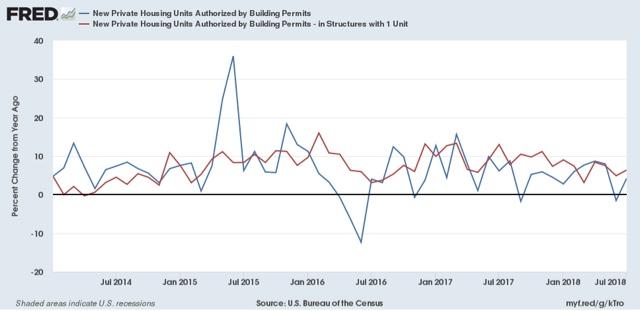 Again, because permits tend to lead starts by a month or so, I expect starts to improve toward the good permits numbers next month.
The relatively good news from permits is especially important, because this week for the first time in several years, the 4 week moving average of purchase mortgage applications went negative, at levels close to an 18 month low.
Conclusion
In conclusion, while we may be approaching the point where increased interest rates and prices are sufficient to overcome the demographic tailwind that has been buoying up housing, we don't seem to quite be there yet.