Spoiler Alert: The Market Won't Go Up Forever
Includes:
DDM, DIA, DOG, DXD, EEH, EPS, EQL, FEX, FWDD, HUSV, IVV, IWL, IWM, JHML, JKD, OTPIX, PSQ, QID, QLD, QQEW, QQQ, QQQE, QQXT, RSP, RWM, RYARX, RYRSX, SCHX, SDOW, SDS, SFLA, SH, SMLL, SPDN, SPLX, SPUU, SPXE, SPXL, SPXN, SPXS, SPXT, SPXU, SPXV, SPY, SQQQ, SRTY, SSO, SYE, TNA, TQQQ, TWM, TZA, UDOW, UDPIX, UPRO, URTY, UWM, VFINX, VOO, VTWO, VV
by: Quoth the Raven
Summary
The stock market has been in a century long uptrend, as well as a short-term post-2008 uptrend, basically going parabolic for an index.
Why has this happened? Two words: monetary policy.
Can we keep up the Keynesian charade for another year? Maybe. Another decade? Maybe. Forever? No.
I guess, in writing this title, I thought about it from two different perspectives.
The first perspective is that of the current bull market, which I believe to be on its last legs.
The second perspective is zooming out a lot further and looking at the performance of the Dow Jones over the last hundred years, where the index has done nothing but gone up. Does this chart of a "market" make sense to you?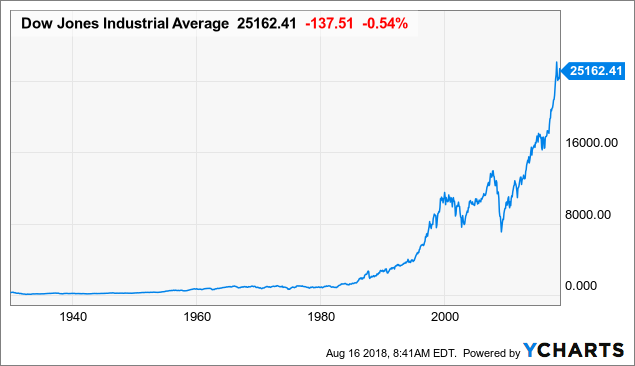 We can argue that the market rising over all these years has been a result of increased productivity and increased earnings, but its most recent parabolic move over the last 20 or 30 years has been helped along by inflation and fueled by scores of bailouts, lower interest rates, and other numerous excuses the Federal Reserve has made to turn its printing press on and continue its methodical slaughter of the purchasing power of the dollar.

With prices on the rise and the purchasing power of the dollar experiencing permanent attrition, the rising stock market shouldn't be too much of a surprise - prices have done nothing but go up. What investors should be doing is comparing its gains to the rate of inflation and the loss of power that their money carries. But the market would still show gains over time, just less of them. This is a result of things like increased population and resulting increased productivity. But this article is really to talk about why this charade can't last forever. I'm not going to be a doomsday sayer and try to convince you that the entire system is going to collapse tomorrow – although I do like to be prepared for that – but I will, any day, make the argument that our monetary policy is not sound and cannot be sustained ad infinitum. Over the last 10 years, the stock market has had a remarkable run higher. But at this very same time, municipalities and corporations, as well as consumers, have been loading their personal balance sheets with debt. Companies have been using cheap debt to buy back their own stock – many at prices that I believe to be ridiculous. At the same time, consumers are taking on record levels of debt and are using it to spend, creating "prosperity" in a monetary system that is doing nothing to address our nation's growing debt and our deficit in a meaningful and decisive matter.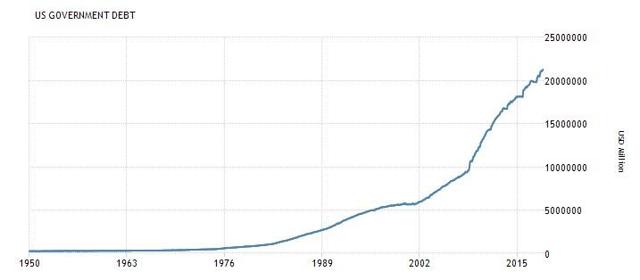 You don't have to be a PhD level economist to understand that the amount of debt that corporations and consumers take on over the short term will have to reach some type of boiling point and, even with rates low, will begin to result in an uptick in defaults and delinquencies across the board.
And you have to understand that rates can't stay low forever, because they run out of room after continuing to make lower highs and lower lows.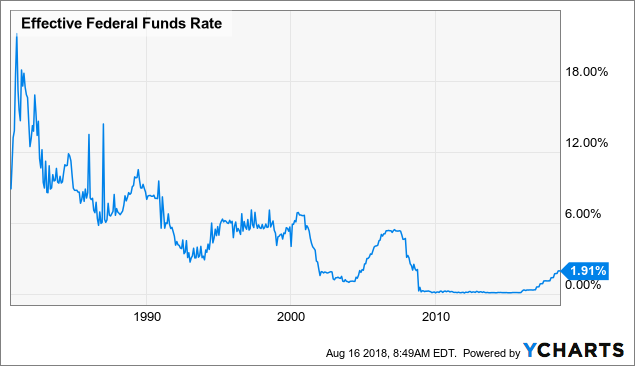 The fact that we have been riding high on this latest bailout that occurred in 2008 for more than a decade now leads me to believe that in the shorter term, we may start to see some credit cycles burst. When this will happen and whether or not it has a profound effect on the overall movement of the stock market remains to be seen. However, the consequences of our actions over the last 10 years will undoubtedly catch up to us. When they do, the Fed will run the same playbook they have been running for the last couple of decades, likely lowering interest rates and potentially proposing to purchase securities from the government, further manipulating the bond market and the value of our currency. Then the question becomes "exactly how many times can the Fed do this over the course of decades, or even centuries, before we have a much larger scale bubble burst?" The 2008 housing collapse, for reference, I don't even consider to be that big of a collapse. Sure, it was arguably the largest whole individual sector, as well as the most important, to face a quick and sharp deleveraging the way that it did prior to the crisis.
But what happens not only when the bull market runs out of steam, but when our larger scale Keynesian monetary policy experiment finally reaches an impasse? To many economists, this is an impossible scenario. To me, applying some basic common sense, it almost seems to be a certainty. The only question is at what point it will occur. I mean, just think about it simply. At some point we're not gonna be able to move interest rates any lower, nor are we going to be able to print money without causing significant inflation. If we continue to use those as our only two methods of propping up the economy and we are hell-bent on quantitative easing anytime something goes wrong, (which judging by the past couple of decades seems to be the case) how do you not arrive at a conclusion of either a debt crisis, confidence crisis, or the currency simply losing its value in significant fashion? To me, those all seem like "whens" and not "ifs". The only question, as is often the case with those who are bears, is timing. We are not only experiencing short term euphoria in the market but a larger, decades long euphoria that has as such subtly given the message to people that the stock market simply won't go down. This action has been a result of accommodative monetary policy that I believe simply cannot last forever. I continue to enjoy owning gold, despite its recent price performance. I have a long term outlook - as in, decades.
If you're an investor, perhaps you have already thought about the possibility of a shorter term recession. However, have you considered the thought of a larger scale bubble burst? My hope in putting this piece together is to offer a slight bit of perspective to those who may not have it. I have stated publicly before that I like to own gold as a hedge not only against shorter term volatility but also against longer-term systemic risk.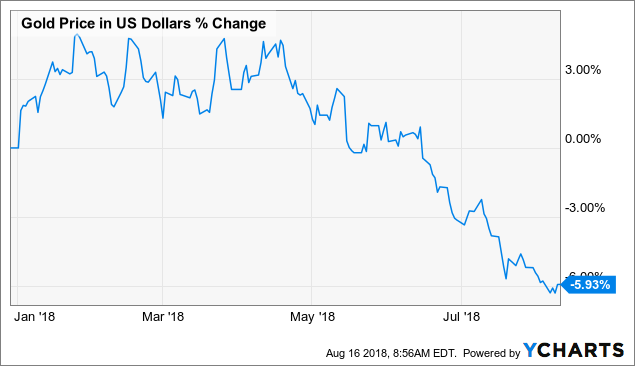 With gold prices plunging over the last couple of months, backward looking thinkers will tell you that this isn't a time to buy, but I think the insurance and peace of mind that it gives you at its current reduced prices could prove to be well worth it.
Disclosure: I am/we are long GOLD. I wrote this article myself, and it expresses my own opinions. I am not receiving compensation for it (other than from Seeking Alpha). I have no business relationship with any company whose stock is mentioned in this article.
Additional disclosure: I own gold