I have long championed e-commerce giants JD.com (JD) and Alibaba (BABA) as ideal long-term investments set to prosper on the backs of a growing and modernizing Chinese economy. For a time, this was not only a profitable position but also an easy one to defend. No one could argue the revenue growth rates nor the price appreciation seen at these impressive companies over the past five years. As the Chinese economy flourished, so did BABA and JD, building out their now world renown businesses over an abnormally prosperous decade. However, of late, as JD.com's performance has waned, the Chinese economy has cooled off, and President Trump's trade war has begun taking a toll on emerging markets; this position has been both less profitable and much more difficult to defend. Nonetheless, as a young investor, I find I learn the most not when I am watching stocks rise, but when I am forced to react as they fall.
I have considered myself a dividend growth investor since high-school. This means the majority of my portfolio is made up of relatively safe, long-term investments that pay me to hold them. However, over the past few years, I have increasingly sought price appreciation through more risk-on investments. Although this is a more aggressive strategy than I have employed in the past, I believe, given my age, risk tolerance, and the nature of our extended, government backed bull-market, this was the right choice. Thankfully, thus far it has paid dividends.
That being said, when you invest in companies like JD.com and Alibaba that don't pay a dividend, have a risky VIE structure, and operate in a communist dictatorship, a hedge is more than appropriate if there are even the slightest signs of economic weakness.
Of late, a myriad of macroeconomic issues have caused emerging markets - yes, China is still included here, we can debate as to whether it should be - to take a hit. This began with shifting US monetary policy forcing the US dollar higher, but has been exacerbated by President Trump's trade war and Turkey's currency woes more recently. In response to these concerns, on 6/20/18, I opened a short position in the iShares MSCI Emerging Markets ETF (EEM) at $44/share as a hedge against some of my riskier emerging markets investments. I then raised cash and reduced emerging market equity exposure.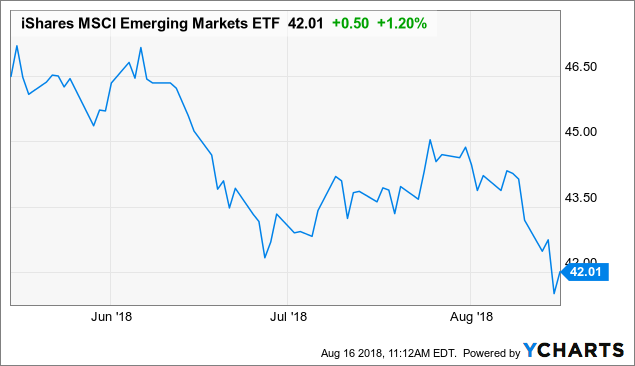 The idea for the short came from an article here on SA entitled, "Sector Study: Long U.S. Vs. Short Emerging Markets" by Eric Basmajian. Mr. Basmajian elaborates on the global effects of U.S monetary policy in that piece saying:
Given the path of Federal Reserve policy, expected to continue with interest rate hikes (a policy mistake) and balance sheet reductions, a further rise in the US Dollar can be expected.

As the Dollar rises, I expect emerging market economies to contract further exacerbating the declines in the emerging market equities.
Although I disagree with the Basmajian's declaration that the interest rate hikes are a mistake - in my view the Feds are forced to have more hawkish monetary policy in an effort to have somewhere to go if a recession hits, this is really a normalization - I do agree the effects of the US tightening its monetary policy while many emerging market governments have yet to do so is a surging dollar and weakness in emerging market equities. Furthermore, although Mr. Basmajian did not directly emphasize it as a factor the trade war has also put pressure on emerging markets over the past few months. More recently, Turkey's lira disaster - which I did not foresee, but perhaps should have - has made things even worse, pushing the Emerging Markets ETF down to $42/share.
I may have only slightly benefited from my short position's hedging affects, thus far, but this week especially, I have been happy to have it. JD.com has been especially hurt over the past few weeks. Post earnings, JD revealed lowered revenue guidance (still strong YoY growth), meaning things may be even worse in the near term as the Chinese economy slows from the fantastic pace it has set over the past decade.
This weakness war mirrored in both Tencent (OTCPK:TCEHY) and Chinese e-commerce contender Vipshop (VIPS) just a few days ago as well. In an article entitled, Vipshop Holdings: Trade War Headwinds And Margin Compression back in July, I was bearish on VIPS and recommended reducing exposure to Chinese equities as trade wars and a slowing Chinese economy were, and continue to be, greater concerns than many are willing to admit. By doing this, increasing my cash position and adding a hedge through a short of the Emerging Markets ETF, I have been able to protect capital while maintaining long-term investments that I believe in.
I want to make it clear, my thesis for both JD and Alibaba remain intact, I am not selling and I will be accumulating shares at what I consider to be discounted rates over the coming quarters. Nonetheless, the past six months have been a lesson in hedging and protecting capital for a young investor, and I've been taking notes.
Trade Wars and A Slowing Chinese Economy
President Trump's trade war began slowly. Most investors, including myself, at least at the beginning, were intimating things would fizzle out quickly due to Trump's fears of hurting the economy (and therefore looking bad in the media). That was not to be the case.
Things began in December 2017, when the US International Trade Commission found that imports of solar panels and washing machines were hurting the US solar panel and washing machine industries, recommending President Trump impose "global safeguard" restrictions. A month later in January 2018, President Trump approved global safeguard tariffs on $8.5 billion in imports of solar panels and $1.8 billion of washing machines, officially beginning the trade war. Trump's tough talk on China began walking. Still, at this time I figured the President would recognize the futility of this move and move on to another fixation, as he did with healthcare.
Oh, boy was I wrong. The trade war has consistently escalated since then, with tariffs being imposed not only on China, but almost every major US trading partner from Canada to Turkey. Many exemptions have been made; however, the effects of the trade war on the global economy have been evident over the past few months (for a more in depth review of the trade war thus far, I recommend this Trump Trade War Timeline).
Oddly enough, it isn't necessarily the outright effects from the trade war which have hurt equities, but rather the negative effect on public opinion which has caused a general unsettling of many investors who are well within the green at this stage of one of the longest bull markets in history. This means we have seen many investors and institutions taking profits off the board and reducing risk exposure.
Trade wars are bad for almost all equity investments - at least in the near term, an argument can be made about long-term benefits for certain equities - and when you add in China's already slowing economy, you can see why a hedge is necessary for owners of companies like JD and BABA during these uncertain times. Below is a graph of real GDP growth in China, which as you can see has fallen significantly over the past four years and the trend is expected to continue going forward.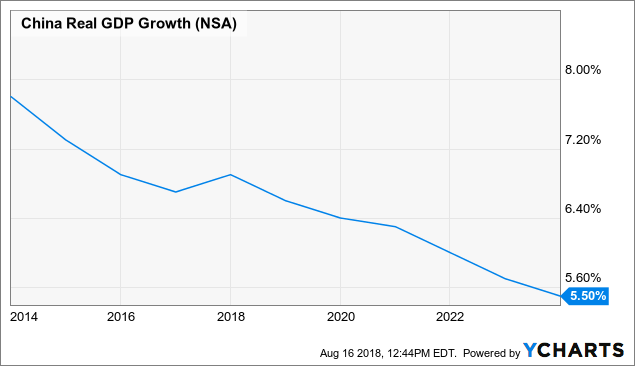 This being said, I am not here to preach doom and gloom about the Chinese economy. In fact, many figures reveal continued strength, despite more historically average GDP growth figures. For example, Chinese shoppers are still turning out. In June, China's retail sales figures were up 9% versus consensus estimates of 8.8%. However, this hasn't helped the Chinese equity markets which are now down over 20% from Jan. 26 highs.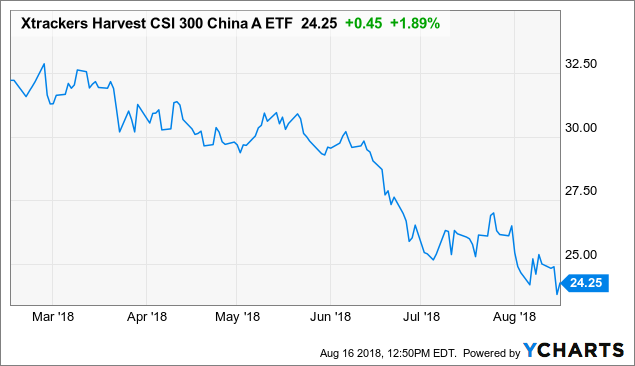 Also, as of today, I am far less confident that a mutually beneficial trade agreement will be reached with China. Worryingly, Frank Gaffney, CEO of the Center for Security Policy and Republican strategist, believes Trump's long-term strategy is to isolate communism. In a recent Forbes piece, he was quoted saying:
The common denominator for Trump's foreign and trade policies seems to be a determination to isolate and counter Communist China. Russia has become a close ally of China. North Korea is Beijing's puppet. Pakistan, Iran and Venezuela are its clients. The European Union — unlike NATO and many of its members — is hostile to the U.S. and doing deals with the Chinese. President Trump is working hard to drive wedges between China and the (rest), weakening its regional proxies, and challenging our allies for harming U.S. interests and rewarding them when they don't. And he's taking on China directly with trade, investment and military measures. Here's hoping this is the Trump Doctrine and that it works.
All I can say is, I hope Mr. Gaffney is wrong. If Trump's goal is really to isolate communism, then this trade war could be an ongoing feature of the remainder of his presidency. Once again, this reveals the necessity of raising cash, reducing emerging markets equity exposure, and creating a hedge for a majority equity portfolio.
US Monetary Policy and The Turkey Meltdown
The main pressures currently weighing down the Emerging Markets ETF are: 1) hawkish US monetary policy creating a strong dollar, 2) an unwinding of central reserve balance sheets, and 3) Turkey's currency devaluation, economic woes, and trade war pressure.
The Fed rescued the global economy in 2008 by doing one thing, buying $4.8 trillion in bonds and other assets. Those purchases left the global economy with an extra $4.8 trillion in what I like to call 'rescue cash'. Now that the Fed and other central banks are normalizing policy, the global economy is set to take a hit.
On December 16th, 2015, the Fed began slowly raising key interest rates after seven years of them being held at zero post crisis. Given global debt levels, this has had a far larger effect than it would have historically. In July of last year, I attempted, in an article ironically about US dollar weakness and a gold hedge, to describe the position the Fed was in:
Of late, the Fed has been locked in the precarious game of raising rates despite lower inflation and weak GDP growth. They must strike a perfect balance between hawkish and dovish, so this flying bull market can come to a soft landing instead of a fiery crash. In my view, the Fed will continue to raise rates because it is their only viable option. They need to have somewhere to go when the inevitable turn down hits. This bull market can't last forever.
Over the past year, we have seen mostly what I expected as the Feds have continued slowly raising rates while unwinding their balance sheet. However, what I was not expecting was US GDP growth to tick up above 4%, nor was I expecting emerging market governments to continue with their mostly dovish monetary policy. The result of these two unexpected factors has been a strong dollar, weak gold, and hurting emerging markets. This is one reason why an EEM short is a logical hedge position at this time.
The second factor that makes an EEM short viable is Turkey's currency distress, which may be infectious spiraling into a debt crisis. As you can see below, over the past six months, Turkey's currency has gone down the drain and its economy with it.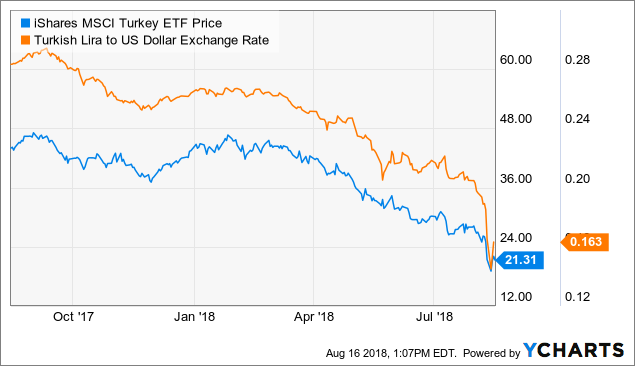 This is, in large part, due to central banks' balance sheets unwinding and US hawkish monetary policy which has led to a strong dollar. The dollar's strength means more expensive debt for Turkey. Given that Turkey's economy has sustained itself over the past few years on high levels of deficit spending and "external" debt, this is exceedingly bad news. Not to mention geopolitical tensions in the region and Turkey's real GDP growth which has taken a hit since the beginning of 2018 and is expected to continue falling.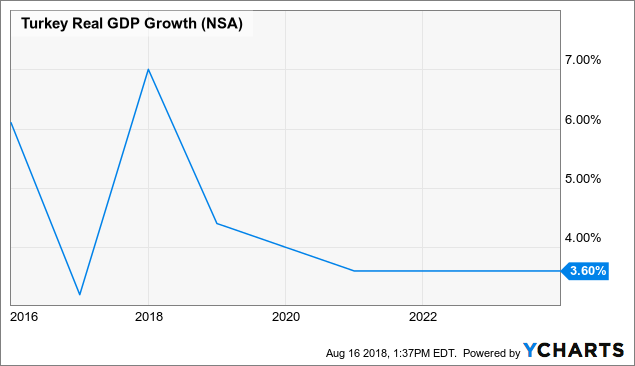 Furthermore, it appears President Trump has taken a 'moral' stand against Turkey, threatening tariffs unless a US pastor who is currently jailed in the country is released. This, along with unwavering US monetary policy, means Turkey could be in trouble for some time. For me, this means the EEM short is clearly viable hedge.
Short EEM ---> Long EEM, Short QQQ
Although current macroeconomic conditions warrant a short of the iShares Emerging Markets ETF as a hedge for my majority equity portfolio, I will always be a long-term biased investor looking for value. Given US equities' current overvaluation vs. emerging markets, I believe that eventually EEM will begin to look like a value vs. say the Invesco QQQ ETF (QQQ) which is a US based NASDAQ proxy ETF that is overweight tech. QQQ's two largest holdings are Apple (AAPL) and Amazon (AMZN). Big tech is now a global business, meaning tech stocks are bound to be hurt more than most by trade wars and global economic faltering. That, plus weakness already seen in FAANG stocks like Facebook (NASDAQ:FB), leads me to fear that US equities could be in for declines and a short of QQQ may end up being a worthwhile hedge going forward. Especially after tech's monumental run that now places them in irrationally exuberant territory. If you don't believe the overvaluation of US equities narrative, have a look below at this illuminating chart.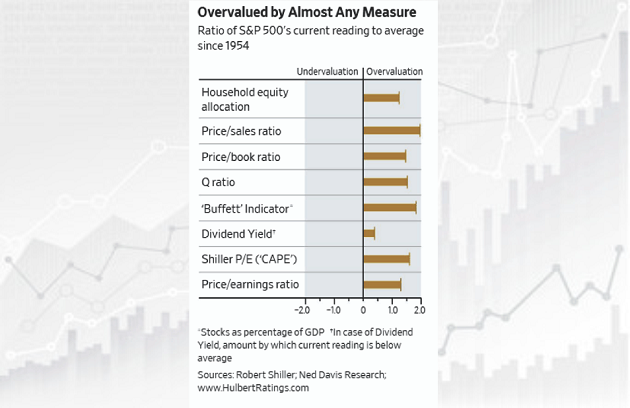 To counter this bearish narrative, many investors are pointing to charts like the one below, which illustrates the improving profitability of the S&P 500. However, it should be noted this is mostly an affect of tax reform rather than real economic strength. Still, charts like this one and current GDP figures to me indicate US equities are still stronger than emerging markets, and until something materially changes, I will be using EEM as my hedge instead of QQQ.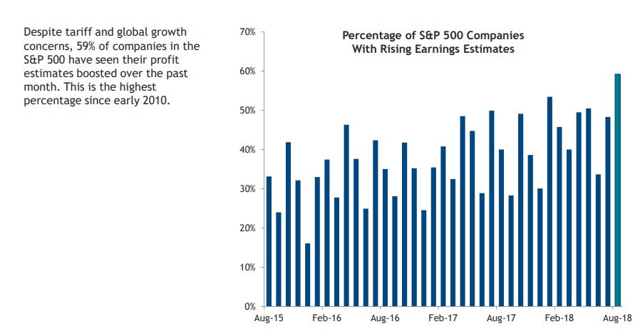 From: The Street Insider
Conclusion
For now, I believe by raising cash (taking profits from some winners), reducing my exposure to emerging market equities and hedging my portfolio through a short of EEM, I have done enough to protect my hard earned capital. However, over the next six months, if US economic conditions or big tech names show weakness, I will be adding a further hedge with a short of QQQ. I understand that many investors have a buy and hold mentality whereby the recession is nothing more than a blimp on a twenty plus year timeline. However, I think it is only logical to take steps to preserve capital after years of prosperity. When investing in companies like JD.com and Alibaba, you can undoubtedly be patient during tough times and you will be rewarded. If you accumulate shares on the way down, these long-term winners will pay dividends (not literally, unfortunately). That being said, why not hedge these positions and protect capital during the downturn, allowing for larger repurchases on the bottom? I am a firm believer that "timing" a market recession or crash is a difficult feat; however, preparing for and defending against one is a logical, simple necessity of investing.
Disclosure: I am/we are long JD, BABA. I wrote this article myself, and it expresses my own opinions. I am not receiving compensation for it (other than from Seeking Alpha). I have no business relationship with any company whose stock is mentioned in this article.
Additional disclosure: I am short EEM.
Editor's Note: This article discusses one or more securities that do not trade on a major U.S. exchange. Please be aware of the risks associated with these stocks.