My Current Portfolio
In my portfolio introduction, I introduced Seeking Alpha to my real money, REIT-heavy portfolio which had 9 positions. Three months later, most of the portfolio has had an amazing quarter and 3 new positions have been added. With my REIT 'base' down, I am now looking ahead to opening positions outside of the REIT space. Without further ado, here is how the portfolio is looking as of market close on Friday, August 17th

(Source: Author's Chart)
Prior Divs = Dividends received prior to 2018
The stock section of the portfolio has gone from being down 2.67% (-$1,341.92) to being up 5.54% (+$3,614.54).
As can be seen in the table below, big moves from LADR, OHI, VER, CIO, and STAG all have contributed to the rise of the portfolio since the last update. I have included the three major indexes as benchmarks based on a comment from my last article. Despite the fact I have my own goals for the portfolio (7% annual returns, $150,000 in annual dividend income) I think this was a great suggestion just for my own knowledge. The chart does not include dividends received from my positions or dividends reinvested.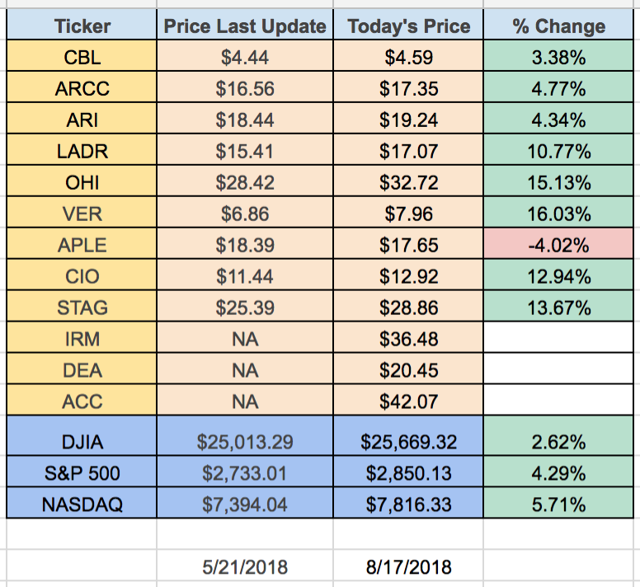 (Source: Author's Chart)
Finally, I sold a $31 put contract on AT&T on 06/19/2018 for $1.16. This was my first adventure into the world of options. This contract was sold shortly after the decision came down in favor of the AT&T and Time Warner merger. I thought $30 would be a good entry price for the stock which is why I sold the contract at $1.16 ($31 - $1.16 would give me a cost basis of $29.84 if the contract was exercised. For a brief period after the Q2 2018 earnings, the stock fell below the $31 strike. However, the shares have rebounded nicely since then, settling at $33.03.
My return on the sale was 3.61% which annualizes out to 10.80%. If the option expires in October, I may look to sell another contract 3-4 months out or redeploy capital elsewhere.
My current available cash: $4,306.86.
This is investable money after removing my wife and I's agreed upon figure for and emergency's and/or loss of jobs.
Portfolio Buy/Sell Action Since Last Update (05/21/2018)
1. Iron Mountain Inc (NYSE: IRM)
Purchased 136 shares on 07/13/2018 for an average share cost of $36.7511.
As of market close on 08/17/2018, shares trade for $36.48. (-0.74%)
See the company's Q2 results here.
2. Easterly Government Properties (NYSE: DEA)
Purchased 250 shares on 07/13/2018 for an average share cost of $20.0278
As of market close on 08/17/2018, shares trade for $20.45. (+2.11%)
See the company's Q2 results here.
3. American Campus Communities (NYSE: ACC)
Purchased 117 shares on 07/13/2018 for an average share cost of $42.8094
As of market close on 08/17/2018, shares trade for $42.07 (-1.73%)
See the company's Q2 results here.
4. Sold 2 AT&T (NYSE: T) put contracts on 06/19/2018, $31 strike, for $1.16 per share.
As of market close on 08/18, shares trade for $33.03, $2.03 away from the strike price.
There are 63 days left until the contract expires on 10/19/2018.
The total premium (fees removed) received for the contracts sold was $223.63.
I have yet to exit a position since starting the portfolio.
Annualized Dividends
One of the stated goals of this portfolio is to one day in the future return annual dividend income of at least $150,000. Based on the shares owned today, the portfolio currently returns $5,187.45 in dividend income annually.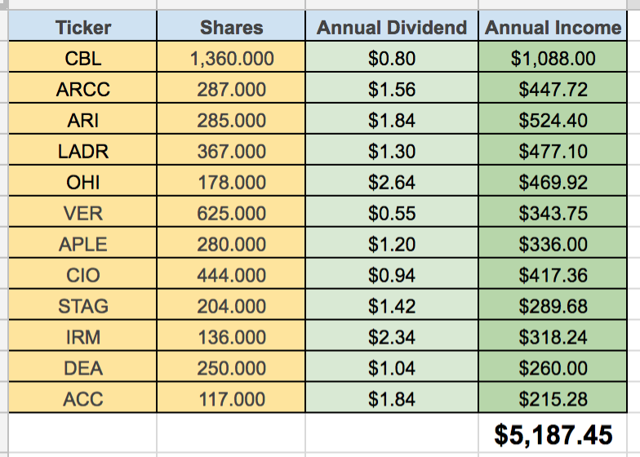 (Source: Author's Chart)
Since my last portfolio update, ARCC and LADR have both announced quarterly dividend increases. ARCC bumped its dividend from $0.38 to $0.39 which reflects a 2.6% increase. LADR bumped its dividend from $0.315 to $0.325 which reflects a 3.2% increase.
Portfolio Plans
Below are the changes I have on my mind for the portfolio. I do not have a timetable on when these plans may happen, but I want to at least acknowledge that they are on my mind.
1. Sell CBL
My thesis when purchasing CBL back in February 2017 ($10.00 per share) was that the stock was being unfairly punished for weakness in Sear's (NASDAQ: SHLD) and J.C. Penney (NYSE: JCP). In fact, it was the JCP announcement that they would close 130-140 more stores that led to CBL falling into my buy range. Shares at the time were trading for 4.0x AFFO which I thought made the shares an interesting speculative play. I committed $5,000 to the stock.
Fast-forward nine months later to November 2017 and CBL slashed its dividend from $0.265 per share to $0.20 per share. This pushed the stock all the way down to $6.00 a share which was about 2.5x AFFO. If there is one decision I made that I occasionally question, it was averaging down the cost of CBL here.
The stock had actually been doing really well, rising from $4.44 on my last update all the way to $6.19 on June 22nd. For a brief moment, I was starting to think about getting out of the position as the total return loss had dropped all the way down to 10.39%.
Then, the Q3 2018 conference call happened. Given the run the stock was on and the fact that everyone seemed impressed by Q2, it was really curious that another dividend cut seems to be on the table for 2019. Seeking Alpha contributor Byron Clarke actually wrote a very good article explaining the current situation CBL finds itself in. After listening to the conference call, I could barely understand what management was trying to convey. The stock is all the way back down to $4.59. If it sniffs up near $6.00 again, I may pull the trigger and take the marginal loss.
2. Move out of Apollo Commercial Real Estate Finance, Inc. (NYSE: ARI) and into Blackstone Mortgage Trust Inc (NYSE: BXMT)
BXMT and ARI are both commercial mREITs that have benefited from a rising interest rate environment. There are two primary categories of commercial mREITs: pure balance sheet lenders and balance sheet/conduit lenders. Seeking Alpha's REIT guru is Brad Thomas and he summarizes the difference between the two simply:
A pure balance sheet lender originates or purchases loans for their own balance sheet and holds these loans on their balance sheet (although they may sell participation units in the loans to diversify some of the risks). BXMT and ARI are examples.

A balance sheet/conduit lender originates and/or purchases loans for its own account (balance sheet) or to be sold into a securitized vehicle such as CMBS (conduit). Ares Commercial Real Estate Corp. (NYSE: ACRE), Ladder Capital (NYSE: LADR), and Starwood Property Trust (NYSE: STWD) are examples.
ARI has been very nice to me (22.63% total return, 14.87 annualized return) since purchasing it in February 2017. ARI and BXMT are both in the same commercial mREIT 'class' and both have been benefiting from rising rates (ARI 91% variable rate portfolio, BXMT 94%). ARI and CBL were both 'speculative' purchases back when I first purchased them and we all know my thoughts on CBL. In my purchases since have tried to own some higher-quality names (OHI, STAG) while also taking the chance on some smaller cap plays (CIO, DEA). The portfolio is a little on the risky side at the moment, so I wouldn't mind selling ARI, pocketing the gains over $5,000, and then purchasing BXMT.
Both of these ideas has highlighted a weakness in my investing strategy: I haven't determined good rules of thumb of when to sell. In my next piece, I will try and bring some clarity to this for both myself and my readers.
Power Rankings Watch List
REIT Power Rankings and Watch List
1. EPR Properties (NYSE: EPR)
2. CareTrust REIT (NASDAQ: CTRE)
3. CorEnergy Infrastructure Trust (NYSE: CORR)
Honorable Mention, The GEO Group (NYSE: GEO)
In my last portfolio update, CORR was #1 on my watchlist and since then I have done some research on the stock and put out a $40 PT on the stock under the assumption that management makes an acquisition in 2018, per guidance. The stock was trading at $36.29 when I wrote the article and closed Friday at $38.23. I still like the stock as it pays a healthy 7.8% dividend and is a small cap REIT I think may break out much higher as it's really the only player in the space. However, without an acquisition in the first half of 2018, I think it is a little expensive at these levels. This was one of the main reasons I did not buy CORR when I purchased my new positions on 07/13/2018.
I like EPR Properties investment portfolio which includes entertainment, education, and recreation properties. More and more we see millennials are embracing the "experience" and I think EPR Properties is a high-quality REIT in that space, owning 400 properties which are 99.1% leased. EPR Properties currently trades for $70.30 (6.30% yield) and has been on an absolute tear since hitting a 52-week low of $53.04 back at the end of April. I will be watching for a pullback.
Non-REIT Power Rankings and Watch List
1. AMC Entertainment Holdings (NYSE: AMC)
2. Huya Broadcasting (NYSE: HUYA)
3. World Wrestling Entertainment (NYSE: WWE)
4. Twitter (NYSE: TWTR)
Honorable Mention, AT&T (NYSE: T)
AMC's decision to start a $19.99 subscription service to see up to 3x movies a week vaulted this stock to #1 on my non-REIT Power Rankings. In a world where subscription models are king, I think this is here to stay for the long-term and will change the way younger generations think about movies. The stock currently yields 4.42% based on Friday's closing price of $18.35 which would fit nicely into my portfolio as currently designed. I need to do some more research on the stock as the 5-year chart looks like CBL. And don't get me started (again) on CBL.

(Source: Seeking Alpha)
HUYA would be a massive shift away from my all dividend-paying stocks portfolio. For those that do not know, HUYA has been dubbed the "Twitch of China". A streaming service, it is a bet on the rise of eSports. Seeking Alpha contributor App Economy Insights wrote a great introductory piece a few months ago for anyone interested in learning about the name. I have been in the mobile gaming space for several years and even briefly considered trying my hand as a YouTube content creator a few years ago. I have seen nothing but an explosion of interest, especially in the mobile gaming space. If I were going to take a position in a pure growth play, it would be HUYA. The stock has been a roller-coaster ride since its $16 IPO on May 11th. Shares quickly climbed to $48.57 before plummeting down to $25.61 alongside the downfall of Chinese tech stocks. Perhaps selling a $20 put if the stock runs a little lower could be interesting.
I have written two recent articles on the massive run-up in WWE stock since my last portfolio update. One when it was trading at $59.00 a share and another only three weeks later when it was trading at $74.35. An entertainment powerhouse with massive growth potential, WWE stock is of interest to me. The stock currently trades at $79.49 and I currently have an $82 2019 PT on the stock. It would not shock me to see WWE shares fall on any sort of market correction given its run-up this year.
FAQs from Last Portfolio Update
I really enjoyed chatting with everyone in the comments section during my portfolio introduction. There were a couple of key themes that showed up in the comments that I thought I would address before closing this article.
1. Why All REITs?
It was always my plan to establish an 'income base' of REITs. As a generally more conservative investor, I liked the idea of receiving quarterly paychecks. I could have adventured many different directions in this regard, but I found myself understanding the REIT business model better after reading The Intelligent REIT Investor: How to Build Wealth with Real Estate Investment Trusts by Stephanie Krewson-Kelly and Brad Thomas. Understanding what you're invested in was (and still is) very important to me.
I understand the need to branch out and with $60,000 invested in REITs (ARCC is a Business Development Company) I plan to branch out here soon. When? You'll have to subscribe and follow me every few months to find out.
2. Why not monthly updates?
I had considered doing monthly updates of the portfolio but given that the portfolio is just getting started I did not feel as if I would have enough to say. I want to make sure that I am being respectful of everyone's time and providing worthwhile content. By doing the portfolio reviews four times a year, I'm assured of having a recent string of quarterly reports to anchor some discussion in.
Conclusion
As always, I love to write these updates to interact with you all. My last article had 136 comments (in actuality probably 68, I responded to all of them) and I really enjoyed our discussions in the comments. Feel free to leave any thoughts on my stock picks, your stock picks, or anything else to drive the discussion.
Disclosure: I am/we are long ACC, APLE, ARCC, ARI, CBL, CIO, DEA, IRM, LADR, OHI, STAG, VER. I wrote this article myself, and it expresses my own opinions. I am not receiving compensation for it (other than from Seeking Alpha). I have no business relationship with any company whose stock is mentioned in this article.