Lithium has taken investors for a ride over the past year, now we're deep into a negative sentiment cycle that has investors running away in droves. In fact, the best indicator of just how negative current sentiment is, is the increase in short interest in popular lithium names. The short trade has become a hedge fund darling, just as the long side of the trade was a year ago.
It's become a pile on trade with short interest as a percent of free float climbing above 12%. Pile on trades are well and good until they aren't and we think this one is running out of steam.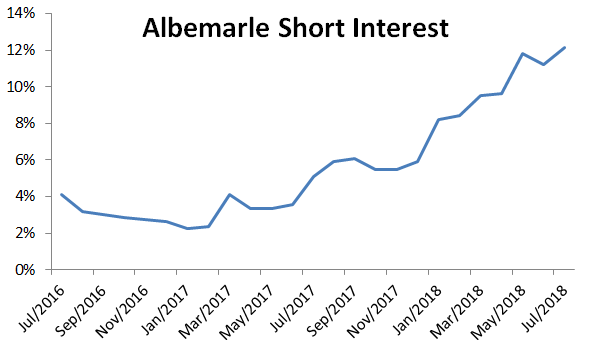 Source: Author, data from NYSE.
The pressure on the lithium names has been swift and intense, while the majors such as Albemarle (ALB) have only fallen ~20%, junior producers and pre-production companies have been absolutely smashed, with many down 50%-70%.
Chart below shows last six months of share performance for Albemarle, Orocobre (OTCPK:OROCF), and Lithium Americas (LAC). Replacing these with pretty much any lithium, cobalt, and many manufacturers (such as BYD (OTCPK:BYDDF)) will net you similar results.

Source: Yahoo Finance.
There are three big reasons why this happened
First. There is no question valuations on lithium stocks were getting out of line. Multiples expanded beyond 15x EBITDA, which is ridiculous for a metals commodity stock (most base metals trade sub 8x). Beyond a simple spot metric such as forward EBITDA, when using the current share price to back into the implied market lithium price, a common method of determining the sensibility of a commodity stock price, the results were far too high.
Even giving credit for all proposed production expansions, many of these companies were pricing in lithium prices well above $12,000, forever. Against a cost curve that is arguably closer to $8,000. Sure, there are a couple of high cost producers online right now, but those projects are so small, it would only take a breath of wind to knock them right off the curve.
While I don't agree with this cost curve 100% (Thacker Pass is not even turned on in many cost curves, but that's a different discussion), overall the shape is about right. Brine based producers on the left and hard rock producers on the right. It wouldn't take much to get rid of those two very high cost projects, and true cost curve economics are much closer to $8,000 per tonne than $12,000.
So if the companies were pricing in over $12,000, but the right price is closer to $8,000, then they were overvalued, which meant multiples needed to stretch for analysts to justify lofty target prices. That was well and good until a bulge bracket came out with a high quality report in February telling us what everyone knew but no one wanted to admit. In about 50 pages, they summarized that lithium is indeed a commodity, will trade on the cost curve, and the right number is likely $8,000. The stocks tanked.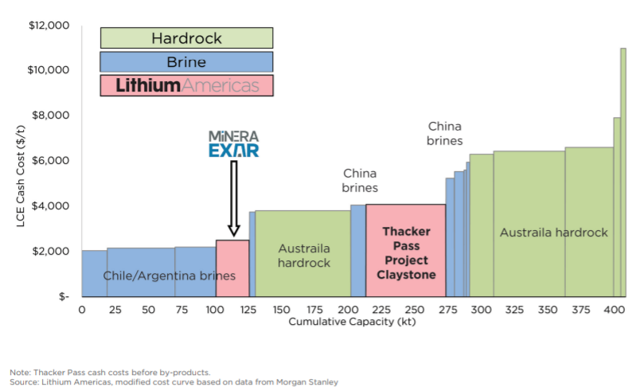 Source: Lithium Americas who is sourcing Morgan Stanley.
Second. Chinese EV demand is one of the main drivers of the industry; lithium stocks are very sensitive to changes in expectations, and as such, EV policy is critical for lithium equities.
Until recently, Chinese EVs were expected to remain heavily subsidized, but government reforms are set to bring that support level way down. China had invested huge amounts into battery infrastructure supporting companies such as BYD, this build-out was government supported.
But in July, China began revising its subsidy policy favoring vehicles with long 400 km driving ranges over those with under 300 km. These changes spooked the market given what it could mean for Chinese EV demand. You can search the web for more details on Chinese EV policy, but a good place to start are Bloomberg articles here and here.
The result contributed to the already negative sentiment in the space and pushed the equities even lower. The added problem was that it also took some of the wind out of the spot lithium market, as some thought the supply and demand balance wouldn't be so tight after all.
Third. Until February of this year (largely due to the report mentioned above), the lithium hype cycle was in full gear, and the underlying market was tight as ramping up new brine based lithium projects is notoriously challenging. Spot lithium prices continued to tick higher and higher, while average contract prices for companies like Chemical & Mining Co. of Chile (NYSE:SQM) and ALB lagged but eventually followed. Keep in mind realized prices for these companies have ticked up every quarter for years.
Consider the chart below, while Chinese prices actually spiked in mid-2015, contracted prices for the majors have ticked ever higher. Over the past few months, given the reasons above as well as capacity announcements by the biggest producers (SQM in Chile and ALB in both Australia and Chile), spot prices have fallen sharply lower and this is a main reason you have seen the equities follow suit.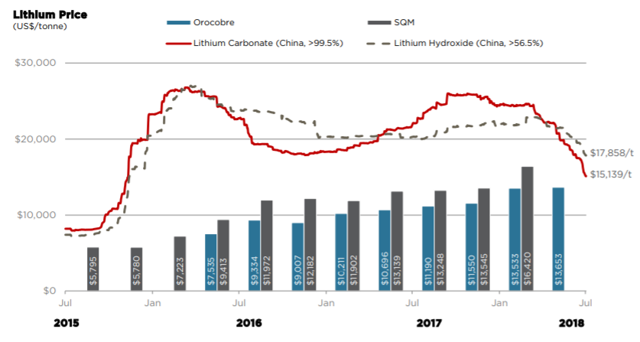 Source: Lithium Americas investor deck
What's Next?
So that takes us to today, lithium stocks are in the dumps, sentiment is terrible, and the shorts are winning.
But as valuations fall back to earth, opportunities are emerging and the short side of the trade is becoming more dangerous. Word of warning to the longs though, as long as spot lithium prices are falling, equities are very likely to follow.
For lithium stocks to fall far enough that I can actually get in at what I consider value levels is something I didn't expect to see for many years.
On the chart below, consider where we are right now and where we need to be in 15 years, let alone 30 years. It puts into perspective just how much lithium will need to be produced.

Source: IEA.
In fact, today global production is sub-250,000 tonnes and by 2025 most analysts estimate we'll be needing at least 750,000 tonnes. Every year that analyst number has been moving higher, just a few years ago consensus 2025 demand was closer to 400,000 tonnes.
The chart on the left shows various analysts' EV penetration rates; five years ago no one was even in the double digits. Some are now predicting the market will be as big as 1 million tonnes by 2025. And from the chart above, we can see it will need to be about twice as big just 5 years later.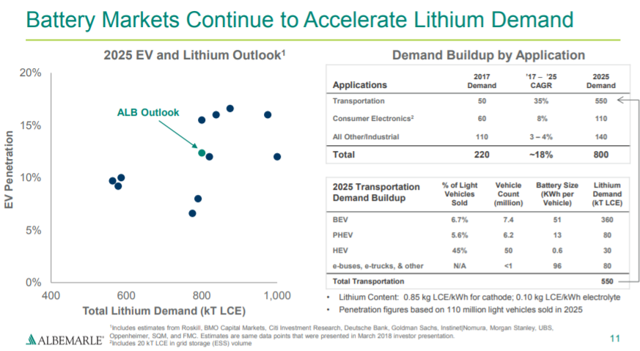 Source: Albemarle investor presentation.
There is no question that massive capacity announcements from the majors will be able to satisfy most of the demand requirements, and some of the smaller companies will also manage to bring their projects online. But over the coming years, not every project will ramp up on time, or as expected. Force Majeurs such as too much rain (which impacts evaporation rates and by extension lithium production) for a single year in Chile would tighten the market significantly. There will be both positive and negative sentiment cycles going forward, and we think investors would be wise to follow the buy low (during negative sentiment) and sell high (during positive sentiment) strategy.
What we are seeing now is that many of the companies that had been pricing in $12,000 a tonne lithium forever are now pricing in below $8,000 a tonne. While >$12,000 was unsustainable, <$8,000 is also unsustainable. As such, bargains are beginning to emerge.
I'm going to leave discussing actual companies and valuations for future parts of this series. Hit that follow button above if you want to be the first to see those articles.
Conclusion
Lithium stocks have had a volatile ride. While for a long period it felt that nothing could go wrong, everything changed in February. The market woke up to the fact that lithium is a commodity and valuations had become stretched. Now the trade has moved in the other direction and opportunities are beginning to emerge. Lithium is still a nascent trend and there will be many opportunities going forward to play both the long and short side of this market.
Disclosure: I am/we are long ALB. I wrote this article myself, and it expresses my own opinions. I am not receiving compensation for it (other than from Seeking Alpha). I have no business relationship with any company whose stock is mentioned in this article.
Additional disclosure: We may initiate long positions in OROCF, LAC, or LIT over the next 72 hours.
Editor's Note: This article discusses one or more securities that do not trade on a major U.S. exchange. Please be aware of the risks associated with these stocks.