Traditional retail giant Macy's (M) recently offered up second quarter numbers which topped consensus expectations, but weren't good enough for investors. The market sent Macy's stock down 16% on concerns that margins in the back-half of 2018 would be pressured by tougher laps and higher delivery expenses.
In the big picture, we think this post-earnings sell-off in Macy's stock is both rational and a buying opportunity. Macy's stock had rallied 60% year-to-date and 100% over the past year into the second quarter print. Clearly, this stock needed to cool off. Now, it has cooled off, but such cooling has come against what we view as still strong go-forward fundamentals. Thus, we view this dip as a perfect buying opportunity.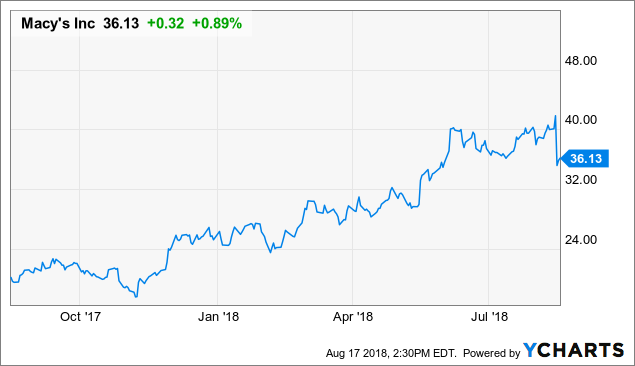 Macy's second quarter report was pretty good. Revenues and earnings both came in ahead of expectations. Comparable sales rose 0.5%, versus expectations for a 0.9% drop. Smoothed out for one-offs, comparable sales are up 2.3% year-to-date, which is really good considering this company has been mired in negative comparable sales growth for several years. Meanwhile, gross margins rose slightly and so did operating margins, signs that the company's profitability profile is improving alongside strengthening top-line trends.
Overall, the quarter showed that the company's fundamentals remain strong. Over the past several years, brick-and-mortar retail was stung by the rising e-commerce threat. But, brick-and-mortar retailers weren't just sitting back and letting Amazon (NASDAQ:AMZN) eat their lunch. Instead, they were rationalizing their brick-and-mortar footprint to accommodate lower sales volume in the physical retail format, building out robust e-commerce capabilities to accommodate higher sales volume in the e-retail format, and updating stores with remodels and private brands to reinvigorate traffic. The sum of these initiatives has started to pay off over the past several quarters, bringing an end to the so-called retail apocalypse. As such, retail companies have reported much improved numbers in 2018, and retail stocks are bouncing.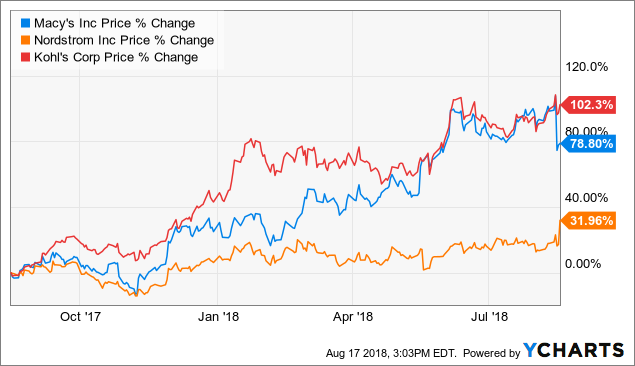 Macy's is a big part of this trend. The company has boosted e-commerce capabilities, shut down lower volume stores, updated higher volume stores, and pushed private brands. The sum of these initiatives has turned Macy's around from a negative comparable sales growth company with falling margins, to a positive comparable sales growth company with improving margins.
Second quarter numbers affirmed that this trend remains in-tact. Investors, however, are worried about management's guide calling for gross margin compression in the back-half of 2018 due to tougher laps and rising delivery expenses. According to management's Q&A with analysts, it seems that over the next several years, gross margins will be in a constant tug of war between higher merchandise margins from more private label and full-price offerings, and higher delivery expenses from more digital sales. Thus, the era of robust gross margin expansion may be in the rear-view mirror, and gross margins may be flat going forward. But, this is a company that has a history of being really good at cost cutting when necessary, so despite a flat gross margin, operating margins still have room to improve over the next several years.
Overall, we aren't terribly concerned with the guide for gross margins to fall slightly in the back-half of the year. At $35, Macy's stock simply needs gross margin stabilization to be a good investment here.
This is a company that is projected to do about $3.60 in earnings per share next year. Total sales volume is well off its historical highs, and revenue growth trends are favorable at the current moment. Thus, it is reasonable to assume that due to built-out e-commerce capabilities, Macy's can continue to grow sales at a 0-1% rate over the next five years. Assuming margins stabilize, then that means that Macy's should be able to earn in excess of $3.60 per share in five years, and likely close to the $3.80 to $4 range. A market-average 16X forward multiple on $3.80 implies a four-year forward price target of $61. Discounted back by 10% per year, that equates to a year-end price target of ~$45.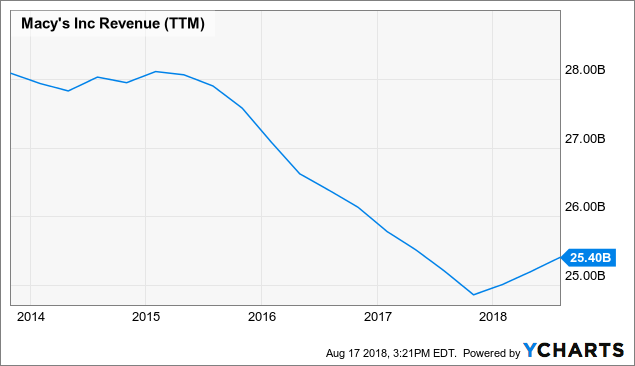 Thus, we think this stock can rally towards $45 by the end of this year, and potentially higher if the long-term earnings picture improves. From a technical standpoint, it does look like there is further weakness ahead, so we just want to warn investors of that. This stock has broken below its 50-day moving average, and when that happens, the stock usually tests its 200-day (see early 2018). Right now, the 200-day sits at $30, which is healthy downside from today's $35 levels. We don't think the stock gets there, but we do think that given how far and how fast this stock has rallied, further weakness and/or sideways trading is likely before the rally resumes.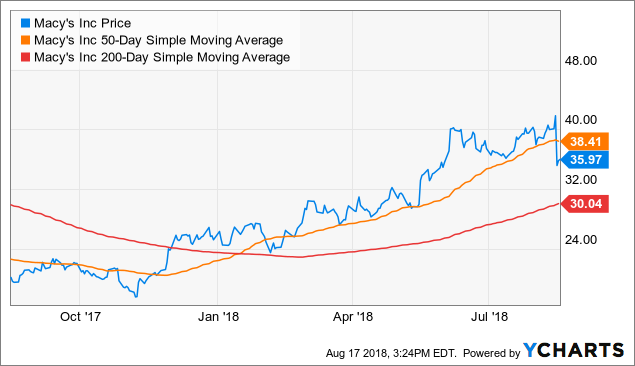 Overall, we think Macy's the company is doing just fine, and Macy's the stock is simply correcting back down after a big rally that put the share price out over it's skis. At $35, the valuation on Macy's stock looks compelling in a multi-year window, so this is an opportunity to buy the dip. But, the stock could be due for more downside in the near-term, so waiting for a bottom to form is probably the best move.
Disclosure: I am/we are long AMZN, M. I wrote this article myself, and it expresses my own opinions. I am not receiving compensation for it (other than from Seeking Alpha). I have no business relationship with any company whose stock is mentioned in this article.