The combination of bad earnings, bad guidance, and a double downgrade sent prices of Pandora (NYSE:P) crashing 25%+ on Wednesday.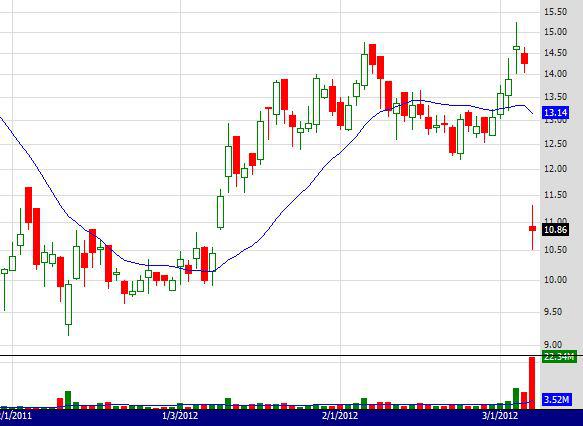 For those who missed picking up the stock when it went from around $10 to over $15.50, now is the time to add positions in this name. I am bullish on Pandora at these levels. There is significant upside from here. To like this name you have to look a bit longer term. When it comes to internet music, Pandora is the name to beat. Almost everyone I know uses the service. The more widespread smart phones and iPads are, the better it will be for Pandora. They will figure out how to monetize this incredible franchise. This is also a play on social media and will benefit from the upcoming Facebook IPO.
Bears of this company point to their lack of revenue traction, earnings traction, and visibility on how they are monetizing their users. It all really depends on the price at which you enter. I probably would not pay $20 for this stock for all the reasons the bears cited. At $10 and change, I can be a bit more forgiving.
Pandora is still a young company in a very dynamic space. Time will tell whether this is just another bubble or is social media here to stay. I am more of a believer that social media has and will continue to be a critical part of our lives. Investing in a well known name like Pandora at a relatively attractive valuation is music to my ears.
Disclosure: I have no positions in any stocks mentioned, but may initiate a long position in P over the next 72 hours.