Since I wrote my bullish article on Value Line, Inc. (NASDAQ:VALU) four months ago, the shares are up about 34%. While that's gratifying, I think the risk-reward of a company that's trading at 16 times earnings is much different than one that was trading at 12 times, so I need to look in on the name again. I need to re-evaluate my investment thesis to see if it still holds. As my regular readers know, I have been droning on about market risk with increasing regularity and urgency, and I'd like to continue this theme today with a discussion of Value Line. I'll get right to the point: I don't recommend that marginal investors buy these shares at these levels. I think investors would be wise to take gains off the table and switch to safer sources of income. While I'm not suggesting that the business is broken in any way, I believe that at current multiples, the market is mispricing the risk inherent in the business model. When I first wrote about this company, I characterized it to friends as a "no-brainer." It no longer is and the marginal investor should avoid.
Emerging Risk
There's still much to like about Value Line. Even ardent bears seem to acknowledge that quality of the periodicals business is intact, and growing by ~$4 million per year. That said, over the past few months I've become more bearish on the market in general, and I must acknowledge that Value Line is heavily geared to the market. My growing unease is evidenced by the fact that for weeks now I've generally recommended a strategy of switching to call options as a means to capture most remaining upside at far less risk.
Financial Snapshot
Since I wrote my piece in April, the company has released new financials, so I'll update my financial snapshot for the company. The positive trends I cited originally are largely still present. Management continues to treat shareholders quite well, having returned just over $36 million to them over the past five years ($2.5 million of this from stock buybacks, the balance from dividends). As a result of this, the number of shares has declined at a CAGR of about .25% since 2014. The payout ratio has actually declined slightly over the past year which I like as well. Thus, it could be said that management is doing everything in their power to treat us well. My problem is with what's beyond the power of management to control.
The percentage of revenue from EAM Trust has been increasing steadily for years, and now represents about 25% of total revenues. Given my rather uncontroversial view that this market is objectively expensive, I think it would be wise to try to model what would happen to total revenues if EAM experienced a 15% reduction in revenue as a consequence of a market correction.
I'll try to keep my forecast as simple as possible by assuming that a 15% correction will result in a 15% decline in EAM revenue. I'll also try to simplify by forecasting only two scenarios, one where profit margins revert to the long-term average, and one in which the adjusted profit margin remains the same from last year. I'm bolding the text and changing the color of each scenario to set my forecasts apart from the historical record. The first column assumes a 15% correction and a net profit margin that is the average of the past five years (26%). The second column assumes a 15% correction and assumes that the net profit margin remains at the same levels of 2018. Note that the profit margin in the most recent year was boosted to 41% by a negative tax rate. In my forecast, I'll assume that the tax rate moves to 21% per new tax legislation. In either scenario, the dividend is imperilled.
My forecast suggests the following:
If profit margins revert to the multi-year average, earnings per share would drop by more than 50%, which is 17% below the current dividend.
If profit margins remain at 2018 levels, the scenario is less grim, but EPS is still below the current dividend.
Please note that a 15% decline is a relatively benign forecast. If the market drops further, and EAM revenue is hit harder, obviously the situation would be worse for shareholders.

Source: Company filings, author forecasts
The Stock
I could accept the risks presented by my forecasts if the price was right. Unfortunately, it is not. One of the challenges with investing well is to not only find companies that are expected to produce high quality future cash flows, but we must buy those future cash flows at low multiples. These low multiples are the compensation for taking on the risk of buying a stock. When we buy a stock, we're taking on both the idiosyncratic risks of a particular company, as well as the market in general. For Value Line investors, those risks are one and the same in my view. In my estimation, the fact that an investment in Value Line is basically akin to an investment in "the market," we see a "snowballing" effect. Things improve massively on the way up, and are harmed massively on the way down.
As per the chart below, the stock is no longer inexpensive.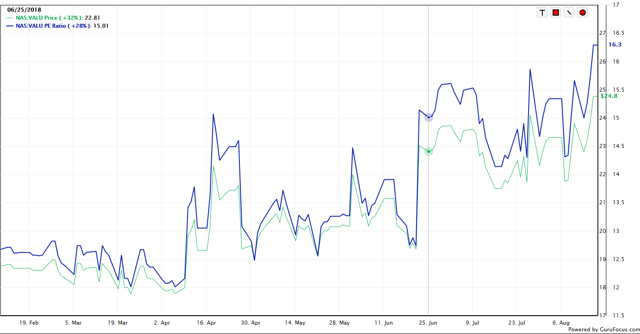 Source: Gurufocus
My regular readers also know that in addition to looking at price to earnings or price to free cash flow multiples, I also try to glean what the market is "thinking" about a given company, based on the current price. I do this because I think it's helpful to compare what the market is assuming about future growth with my own expectations, and seeing if I agree. In order to work out the market's assumptions, I turn to the methodology outlined best by Professor Stephen Penman in his excellent book "Accounting for Value." In this book, Penman describes how an investor can use price itself (and the magic of high school algebra) to isolate the "g" variable in a fairly standard finance formula. This allows us to see what the market is assuming about long-term (i.e., perpetual) growth. Applying this methodology to Value Line at the moment suggests that the market is currently forecasting a long-term growth rate for this business of about 7.5%. I consider this to be quite an optimistic view.
Conclusion
In my previous article on Value Line, I was expecting a CAGR for the shares of about 7.5% over the next four years. I made this assumption based on a continuation of the long-term payout ratio and a moderate growth rate of dividends. I knew of the risks present, but was comfortable taking on those risks because the shares were very reasonably priced. The "problem" I face now relates to the fact that the market delivered my four-year return in 4 months, through an elevated stock price. It's axiomatic that this changes the risk of owning the shares. In addition, we're now in a situation where a relatively benign correction may imperil the dividend itself.
I was initially intrigued by this stock because of the dividend. There were risks in the business, obviously, but investors were adequately compensated for those risks with a cheap stock. Those risks haven't gone away (they've arguably gotten worse), and yet the stock is now very optimistically priced. For these reasons, I think investors would be wise to cash out and seek safer sources of income with their capital.