The March to Freedom Fund, which will provide the dividends that pay my wife's and my expenses in retirement, has spent much of the last year or so trailing the S&P 500 (SPY). That is something that I am fine with for two reasons: 1) In previous years we've outperformed the index in years that it suffered a loss (for example, 5.4% total return for our portfolio, -2.2% total return for the S&P 500 in 2015). The second reason, and most important to us, is that our dividends have grown at an incredible rate. As I stated in my first half of 2018 review, our income was up almost 30% year over year through the end of June. Since dividends will fund our retirement, this is fantastic news.
But after trailing the market index for a long period of time, our portfolio had a breakthrough in July. Including dividends, the March to Freedom Fund gained 7.22% through the end of the month. The S&P 500 offered gains of 5.95%. Both returns are solid with five months still to go in the year.
Our expected dividend yield for 2018 is 2.67%, falling from last month's 2.9%, but that is to be expected when the portfolio saw an increase in value. Our portfolio now yields slightly less than the 10-Year Treasury Bond did at the end of July (2.96%), but well above the yield of the S&P 500 (1.83%).
Top and Bottom Performers
Mastercard (MA) continues its streak as our best performer in 2018, with a 30.8% share price return year to date. The company reported 2nd quarter results on July 26th, earning $1.66 per share in the quarter. This was a $0.13 beat of estimates and a 51% improvement from the prior year. Revenue increased 20% to $3.67 billion, $20 million above estimates. The company reported 13% growth in transactions and a 14% increase in gross dollar volumes. Mastercard generates revenue on both transactions and dollar volumes. These healthy increases would be even higher if you excluded the crumbling economy of Venezuela. A lowered effective tax rate of 18.8% (down from 27.7% previously) also helped the company's bottom line. From the start of 2017 through the end of July, Mastercard's stock has almost doubled. The stock is now the ninth largest holding in our portfolio. I consider the stock to be a full position, but on a market-wide pullback, I would be interested in owning more as the company's performance shows that the transition from cash to plastic continues.
V.F. Corp. (VFC) climbs into our second spot on our best performers' list, gaining 24.4% this year. VFC released earnings for the 2nd quarter on July 20th. The world's largest apparel manufacturer earned $0.43 per share, topping expectations by $0.10 and increasing 48% year over year. Revenue grew 23% to $2.8 billion, which was $110 more than expected. The majority of VFC's businesses were up during the quarter, led by the active segment's 22% growth in constant currency terms. Within this division, Vans grew 32%. Digital sales grew 50% in the second quarter and gross margins improved 70 basis points to 50.5%, above what Wall Street had expected. VFC announced on August 13th that it will spin off its Lee and Wrangler jeans into its own publicly traded company sometime in the first half of 2019. The new VFC will hold onto the remainder of the brands, including the North Face, Timberland and Vans lines. The yet to be named spinoff would have about $2.5 billion in annual revenues, with the new VFC would have sales totals of more than $11 billion. We last purchased VFC on February 21st, 2017, at a price of $52.32. It has been one of our best purchases over the last two years. I hope to own more of the company, but am waiting for more details regarding the spin-off before pulling the trigger on another batch of shares.
Microsoft (MSFT) moves up a couple of slots on our top performers' list, gaining 24% in 2018. The stock has returned 9% in the month of July alone. The company's fourth-quarter earnings, released on July 19th, having a lot to do with that growth. EPS was $1.13 during the quarter, $0.05 above estimates and a 7% improvement year over year. Revenues increased 17% to $30.1 billion. MSFT's cloud business grew 20% to $9.6 billion, as server products and cloud services had sales growth of 24%. Azure revenue was up 85%. Personal Computing revenue climbed 16% to $10.8 billion. Revenue for the 1st quarter for fiscal 2019 is expected to be above consensus estimates of $27.4 billion. MSFT's stock has returned more than 70% over the last nineteen months and is now our second largest position. I'm content to leave the holding where it is at.
Target (TGT) continues to prove wrong those who thought Amazon (AMZN) would simply lay waste to everything retail. But with a 23.6% return through the end of July, that has proven not to be the case. Target reports second-quarter results on August 22nd, but if the numbers are similar to those of the first quarter, then the stock should climb even higher. In the first quarter, same-store sales were 3%, higher than the 2.8% that was expected. Even better, traffic was up 3.7%, the best total in more than a decade. Digital sales grew almost 28%. We purchased Target back on June 25th and those shares have gained 5.7% already. Target is our 14th largest position and I would be willing to buy more of the retailer if the numbers continue to be positive.
Nike (NKE) drops a few spots on our list, but is still our fifth-best performer year to date. The stock has returned nearly 23% this year. As I said in our last update, the fourth quarter for fiscal 2018 were very solid. The company had a 15% increase in EPS and 13% growth in revenues. The stock recently hit an all-time high as earnings showed a return to growth in North America and a 25% increase for sales in China. The stock is just our 29th largest position. We hold Nike more for its growth story than its dividend yield (though it has raised its dividend an average of 14% per year for the last decade), so the position is likely to remain small. One area of note, Nike has been sued for fostering a hostile workplace for female employees. Over the last year or so, several high profile executives have left the company.
Our bottom five performers read the exact same as it did last month. General Mills (GIS), which we purchase a small amount of every month through shareowneronline.com, continues to disappoint in 2018, declining 22.3%. Consumer packaged goods as a whole have continued to struggle this year. General Mills' organic products are expected to cross the $1 billion sales threshold next year, but this division accounts for just 5% of total revenues. At best, management believes total sales to be flat in fiscal 2019. Not what you want to hear from a company, but General Mills has paid a dividend for more than a century. We are content to purchase a small amount each month of the stock.
Cummins (CMI) maintains its #2 spot on our laggards list, as the stock has fallen 19.2% this year. The market seems to be concerned with the fact that Cummins took a $181 million charge related to the upgrades that are needed for its truck engines made between 2010 and 2015. This is on top of a $187 million charge related to the same issue that Cummins had to take during the last quarter. Additional charges could total another $200 million or so. That being said, Cummins had a solid quarter. EPS of $3.29 missed estimates by $0.34, but improved 30% from Q2 2017. Revenue grew almost 21% to $6.13 billion, $320 million above expectations. The company expects heavy duty and medium duty trucks to have demand of 29% and 13% worldwide, inclusive of a 1% drop in China. We purchase a small amount of Cummins every month through shareowneronline.com.
Philip Morris' (PM) and Altria's (MO) tough 2018 continues. PM has dropped 18.3% and MO has declined 17.8% this year. PM beat on both earnings and revenues estimates, but lowered guidance for 2018 on both metrics. MO beat on EPS, but missed on revenues as smoking rates have declined over the years. Both companies manufacture Marlboro, the top brand of cigarette in the world. PM's iQOS/Heatstick products have been fairly successful in Japan and South Korea, as consumers attempt to use a somewhat safer tobacco product. Altria is our third-largest holding, and one that I wanted to own more of in 2018, while PM is our twenty-fourth biggest position. I'm content to leave them both where they are at until I see more positive developments.
AT&T (T), which had thought that its protracted fight with the Department of Justice over its purchase of Time Warner was finally resolved, has seen its share price decline 17.8% in the first seven months of the year. There is news that the DOJ will fight this acquisition with legal briefs due to the court system by October 18th. AT&T has already started providing AT&T customers with a $15 per month streaming service that contains Time Warner content. The government's continued fight with AT&T is likely holding shares back, giving the stock a yield above 6%. We bought shares once at the end of last December and then again in the middle of this past April. Even though AT&T is our fifth largest holding, I would not rule out buying more of the company as the Time Warner deal provides another way for the telecom giant to grow revenues.
July Purchases
Our only purchase in the month of July occurred on July 25th, when we purchased shares of Stryker (NYSE:SYK) at $169.11. I've long wanted to own this medical device company as I consider it to be the best of breed in its sector. For some time, Stryker has outperformed its peers in terms of organic growth.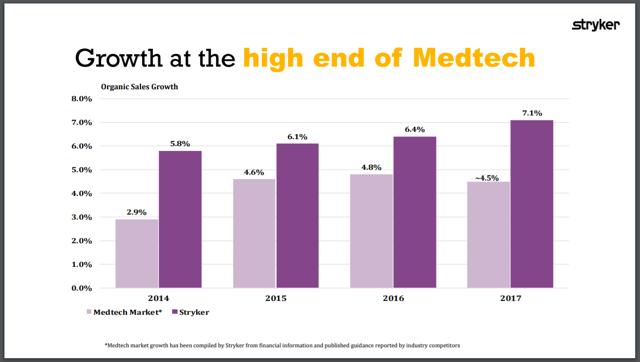 Source: Slide Show Presentation from the 36 th Annual J.P. Morgan Healthcare Conference
The company's 2nd quarter earnings didn't disappoint either. Stryker earned $1.76 per share, topping estimates by 3% and improving 15% from the previous year. Revenue grew 10% to $3.3 billion, slightly ahead of estimates. Stryker had organic growth of 12% in the quarter, showing that the trend illustrated in the image above continues.
What really made me push the purchase button on Stryker was Stryker's continued dominance in Orthopedics. The division had 7% organic growth, with hip procedures growing 4.3% and knee operations up 8.5%. Competitor Johnson & Johnson saw hip procedures inch up just 1.2% while knee surgeries declined 2.2% in its most recent earnings report. Surgeries for both of these joints are expected to grow at very high rates through 2030. Despite an increase in demand for hip and knee surgeries, Johnson & Johnson is struggling to show growth while Stryker continues to post healthy increases. Stryker has increased its dividend for the past twenty-five years, with nearly fifteen percent growth over the past five years.
With an impressive business performance and dividend track record, I really don't have a problem overpaying for shares of Stryker.
Current Positions
After this month's activity, our portfolio now consists of the following 40 companies:
3M (MMM), Abbott Laboratories (ABT), AbbVie (ABBV), Aflac (AFL), Altria, Apple (AAPL), AT&T, Boeing (BA), Chevron (CVX), Cisco (CSCO), Coca-Cola (KO), Costco (COST), Cummins, CVS Health (CVS), Disney (DIS), Dollar General (DG), Dominion Energy (D), Exxon Mobil (XOM), General Mills, Honeywell International (HON), Johnson & Johnson, JPMorgan Chase (JPM), Lockheed Martin (LMT), Mastercard, McCormick & Company (MKC), Microsoft, Nike, PepsiCo (PEP), Philip Morris, Procter & Gamble (PG), Qualcomm (QCOM), Realty Income (O), Southern Company (SO), Starbucks (SBUX), Stryker, Target, Ventas (VTR), Verizon (VZ), V. F. Corp. and Visa (V).
Dividends
July was another month of dividend growth for our portfolio.
| | | | |
| --- | --- | --- | --- |
| Previous July | Year Over Year Increase | Year to Date | Year Over Year Increase |
| July 2014 | 156.22% | 2014 | 230.35% |
| July 2015 | 84.85% | 2015 | 125.35% |
| July 2016 | 74.06% | 2016 | 80.66% |
| July 2017 | 33.19% | 2017 | 29.66% |
Source: Author's own calculations.
Our dividend hauls have become quite a sight to behold over the last couple of years. Outside of May, every month has seen at least 25% growth in dividends from the prior year. July was no different. While some of this is due to prior purchases, the vast majority of the increase can be explained through dividend growth that our portfolio of companies offers and the reinvestment of all dividends. I am looking forward to what dividend growth looks like a couple of years from now.
As I said in our mid-year review, my wife and I have decided to take our dividends in cash inside of our IRAs. We've turned the automatic dividend reinvestment off because my wife is taking at least this year off from teaching, so our investment capital will be slightly limited for the time being. We should be able to make 2-3 more purchases in 2018 based off of expected dividends for the remainder of the year.
Companies that paid us dividends during the month of July include: Coca-Cola, Nike, Altria, Philip Morris, Ventas, Realty Income, McCormick & Company, Cisco, Disney, JPMorgan and Dollar General.
Conclusion
After at least a year of trailing the S&P 500, our portfolio not only caught up, but passed the market index in the month of July. Even better in my opinion is that our dividend income continues to reach new highs. I recall looking at the dividends we received in the early days of our portfolio and thinking that the numbers might never amount to much. Almost four years later, I see that I was very wrong. We were able to add Stryker, long a target of mine, to our portfolio at a slight overvaluation, but sometimes you have to pay up for companies you consider to be quality.
What do you think of your Stryker purchase? How has your portfolio or dividend income stream performed this year? Feel free to leave a comment below. Thank you for reading.
Disclosure: I am/we are long ABBV, AFL, CMI, CVX, GIS, HON, JPM, KO, XOM, MA, MMM, MO, MSFT, PG, PM, QCOM, T, TGT, V, VFC, VTR, AAPL, BA, CSCO, CVS, DIS, JNJ, O, PEP, SBUX, VZ, NKE, LMT, D, COST, ABT, MKC, SO, DG, SYK. I wrote this article myself, and it expresses my own opinions. I am not receiving compensation for it (other than from Seeking Alpha). I have no business relationship with any company whose stock is mentioned in this article.