Portfolio Goals
We're all at different stages in life and with different goals for our investments. My portfolio is partly a reflection of my investing goals - it is intended to provide me with growth until I permanently retire. I do not anticipate needing to rely on my portfolio for income for at least 20 years - I almost never take money out of my portfolio and I reinvest all dividends.
I am interested in capital accumulation at risk levels that I find comfortable. My comfort with risk may change over time or in response to events in my life (e.g., if I received a substantial promotion at work, I might be more willing to take on additional risk).
Due to my risk comfort level, I try to keep individual (non-index) investments under ~5% of my total portfolio. I wish to limit my overall exposure to volatile sectors (e.g., technology and cannabis) to levels I find acceptable. Generally, I find those stocks most interesting to read about, but I recognize that owning a portfolio of only those holdings would tend to be much more volatile than a more diversified portfolio.
I am in Canada and want to limit exposure to CAD/USD currency fluctuation. Therefore, I try to invest ~1/3rd of my portfolio into USD assets and ~2/3rds of my portfolio into CAD or global assets. Since I have no expertise - or desire to gain expertise - in foreign markets, most of my foreign holdings are in low-cost index funds. The same is currently true of my Canadian holdings, although I anticipate that this will change with time - I will research more Canadian companies and find ones that I am comfortable investing in.
What I Own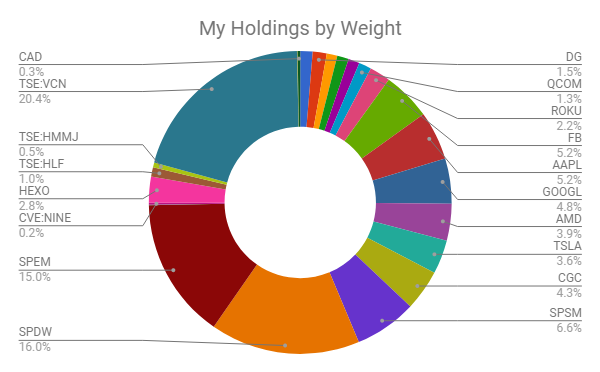 This is a complete listing of all my equity holdings. In addition to equities, I also have money in fixed-interest investments. That money is currently in a 2.5%-yielding ($CAD) account from Tangerine Bank (BNS).
| | | | | | |
| --- | --- | --- | --- | --- | --- |
| Holding | Pct | Since | Cost* | Price | Ret% |
| Vanguard Canada ETF (TSE:VCN) | 20.4% | 2/12/18 | $31.13 | $33.25 | 7% |
| SPDR Developed World ETF (SPDW) | 16.0% | 2/6/18 | $31.73 | $30.06 | -5% |
| SPDR Emerging Markets ETF (SPEM) | 15.0% | 2/6/18 | $39.75 | $34.65 | -13% |
| SPDR Small Cap ETF (SPSM) | 6.6% | 5/1/18 | $29.92 | $33.24 | 11% |
| Facebook (FB) | 5.2% | 2/23/18 | $182.95 | $173.80 | -5% |
| Apple (AAPL) | 5.2% | 2/27/18 | $184.90 | $217.58 | 18% |
| Alphabet (GOOGL) | 4.8% | 7/23/18 | $1,206.73 | $1,215.85 | 1% |
| Canopy Growth (CGC) | 4.3% | 7/6/18 | $30.17 | $33.75 | 12% |
| AMD (AMD) | 3.9% | 7/30/18 | $19.73 | $19.77 | 0% |
| Tesla (TSLA) | 3.6% | 8/1/18 | $324.90 | $305.50 | -6% |
| Hydropothecary (TSE:HEXO)(OTCPK:HYYDF) | 2.8% | 2/14/18 | $4.82 | $4.59 | -5% |
| Roku (ROKU) | 2.2% | 2/23/18 | $40.41 | $56.07 | 39% |
| Dollar General (DG) | 1.5% | 12/11/17 | $92.25 | $106.38 | 15% |
| Alaska Airlines (ALK) | 1.3% | 8/30/17 | $72.22 | $65.00 | -10% |
| Qualcomm (QCOM) | 1.3% | 12/11/17 | $63.04 | $66.06 | 5% |
| GameStop (GME) | 1.2% | 11/22/17 | $16.90 | $15.33 | -9% |
| Southwest Airlines (LUV) | 1.2% | 9/26/17 | $54.88 | $59.68 | 9% |
| Dollar Tree (DLTR) | 1.1% | 12/11/17 | $107.61 | $95.61 | -11% |
| High Liner Foods (TSE-HLF) (OTC:HLNFF) | 1.0% | 3/5/18 | $10.70 | $6.60 | -38% |
| Horizons Marijuana ETF (TSE:HMMJ) (OTC:HMLSF) | 0.5% | 2/23/18 | $18.17 | $16.55 | -9% |
| Delta 9 Cannabis (CVE-NINE) (OTC:VRNDF) | 0.2% | 1/31/18 | $2.75 | $1.36 | -51% |
(*Cost basis reduced, in some cases, for reinvested dividends and includes trading fees. Date is date of first purchase. Total percent is slightly <100% because I hold some cash.)
The majority of holdings in my portfolio are on a dividend reinvestment plan (if applicable). These assets are held in a mixture of taxable and non-taxable accounts in both the United States and Canada.
Equity Holdings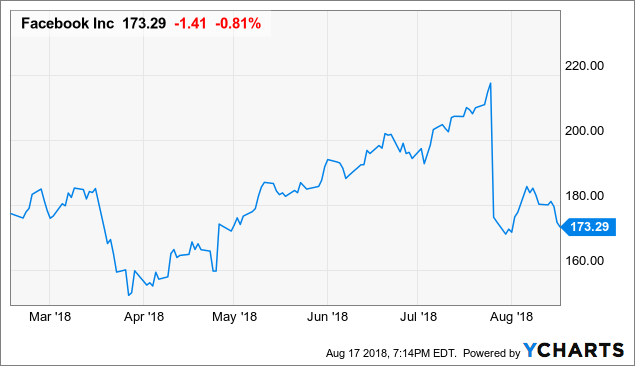 Facebook (FB): I first purchased Facebook back in February based on their focus on the long-term rather than short-term gains (which I wrote about at the time here). However, I significantly upped my stake in Facebook last month when shares fell 20%. As I wrote at the time, I felt the decline was larger than warranted and I value shares at ~$240/share based on my own model.
Since I wrote my most recent Facebook article, my thoughts on the company have not changed. I think they're a great value with their current PE ratio (~21x forward, ex-cash) and growth (~31% forward and 46% trailing). Read my most recent article (not paywalled) for more details on my thoughts there.
Apple (AAPL): Like Facebook, I see Apple as a strong value play in a market where much of technology is overpriced. I do not have a particularly recent valuation of Apple that I can point towards - nothing since the last earnings report on July 31. That said, I do have a DCF model that I maintain with the most recent data in it, and I value shares at ~$265/share. I see substantial upside and I've been encouraged by their ability to maintain a high average sales price on iPhones this year.
My favorite Apple article of late has been J.M. Manness's "Why 20 Is The Most Important Number In Apple's Earnings Report." His article is short and to the point: iPhone ASP is much higher than the same time last year which is leading to big revenue growth in a supposedly saturated market. In my view, Apple is cheap, at an ~15x PE ratio (forward, ex-net cash) with ~8% earnings growth (my estimate).
Alphabet/Google (GOOG) (GOOGL): I purchased Google last month after doing a DCF valuation of the company here (paywall). I value shares at ~$1,450/share and see significant upside. Long-term, I expect Google to be a player in a lot of developing markets like AI, augmented reality, self-driving cars, and nearly anything else they want to be a part of. Apple might have been the first $1T stock, but I wouldn't bet against Google reaching $2T first.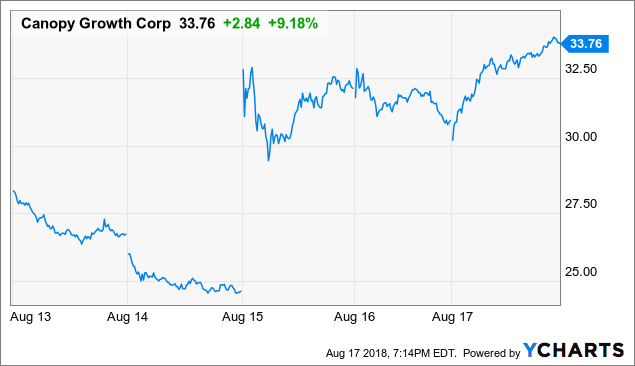 Canopy Growth Corporation (CGC): The first really speculative pick of this list. I haven't really written about Canopy on this platform, although it was mentioned in my piece about Constellation's $4B investment into Canopy.
In short, I really like Canopy Growth's execution in the emerging Canadian market. In terms of orders from provinces, they're the only cannabis producer that is involved in every single province (see the Canopy tab on this spreadsheet - not my spreadsheet). No one else comes close there. They were also ahead of the ball purchasing Hiku just before Ontario announced that private stores would sell cannabis (Hiku operates stores in Ontario). In my view, Canopy's execution has been great. Their price is very high, and I have some valuation concerns, but if I had to put a bet on who was going to succeed in this emerging industry, I'd pick Canopy Growth.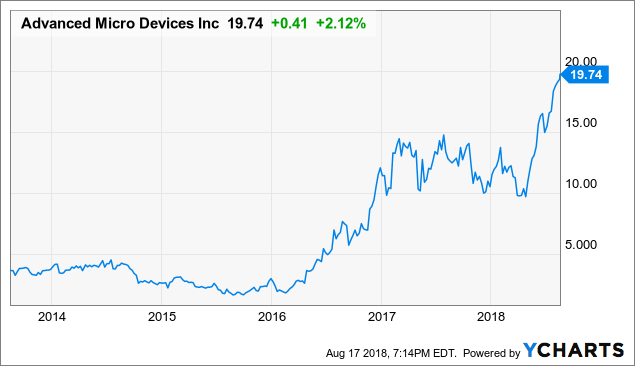 AMD (AMD): I most recently wrote (paywall) about AMD after earnings last month. Like Canopy, AMD is flying high right now with relatively lofty multiples, but management is delivering on all their promises. Facebook, Apple, and Google are solid value stocks, in my mind. AMD is a great growth stock - management has promised the sun and the stars for the last two years and delivered on those promises. If they can keep delivering on their promises, I expect further success.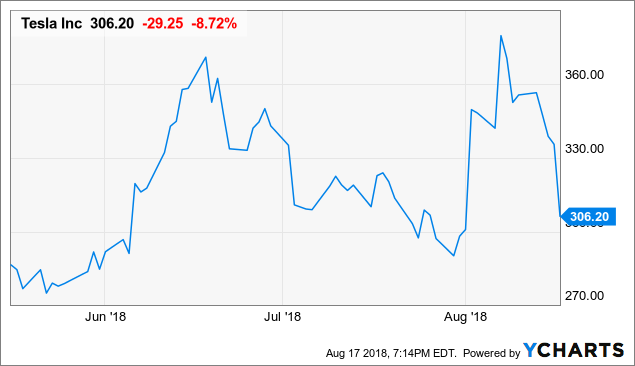 Tesla (TSLA): I purchased Tesla after their stellar earnings in July. I won't bore you with details of the drama (Damodaran's coverage was best) that's unfolded since then - whether or not you care about that drama, I'm sure you've seen plenty enough about it. The "tldr" of my holdings is this: I expect Tesla to do well over the next few quarters. If they can turn the corner over the next couple quarters and become GAAP profitable and cash-flow positive, it will invalidate a lot of short theses.
This battleground stock is one of my riskiest holdings. Frankly, it could go a long way down. But it's only 3.6% of my portfolio and I feel that the risk/reward is worth it. More on my long thesis can be found in my article on this platform (paywall).
Hydropothecary (TSE:HEXO) (OTCPK:HYYDF): Another cannabis play. While I think that Canopy Growth has the best execution, I think that Hydropothecary offers the best value to investors. I love their market cap compared to their massive order from Quebec and their joint venture with Molson Coors (TAP). I have previously written about their order from Quebec and their Molson Coors JV on this platform.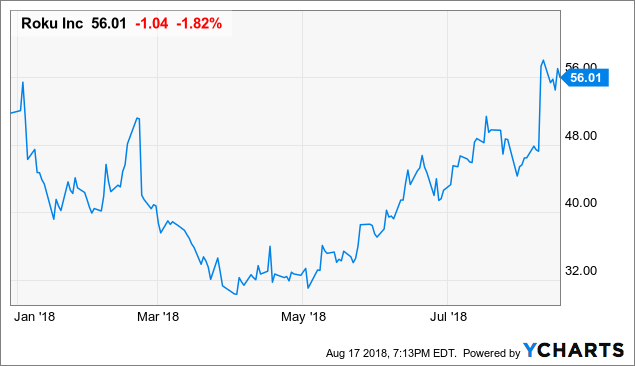 Roku (ROKU): Roku is a growth play based on big growth in both their number of users and their revenue per user. Growth in both remains brisk and the OTT streaming industry is likely to continue to accelerate.
I covered Roku in some depth recently in "Roku: Riding The Wave Of The OTT Revolution." In my opinion, that article is the best I've published on this platform, and it lays out my bull case. This is a strong player in a growing market which will lift all boats. I'd consider adding more Roku shares, especially if there's a pullback in the future.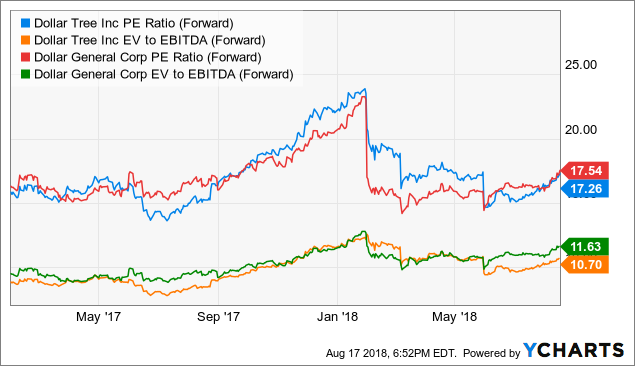 Dollar General (DG), Dollar Tree (DLTR): Both of these small holdings are simple value stocks that trade at relatively low multiples. They're also a bit of a hedge against the economy worsening - rising unemployment would increase the number of shoppers turning to these convenient, value-priced stores.
I haven't written nor read anything particularly compelling about either company recently. Perhaps it is time for me to turn my attention to them once again...
Alaska Airlines (ALK), Southwest Airlines (LUV): My two favorite airlines. Neither investment has done exceptionally well, but I continue to like both. I see them both as having relatively strong balance sheets compared to their peers, which will help them weather possible downturns better than peers. That, in turn, will help them be more successful after those downturns. There has also been the usual Warren Buffett rumors surrounding Southwest Airlines, but I'll believe that when it happens.
Qualcomm (QCOM): Great innovation and questionable practices. I think that long-term, the former will win out. I expect Qualcomm to beat Apple in patent suits (paywall) and to recover the majority of their lost income from Apple. The continuing licensing income from Apple, when it resumes, will have a material impact on Qualcomm's top- and bottom-line numbers. I was also encouraged that Qualcomm managed to claw back $700 million in fines which had already been included in their income (although not paid) and hope that's a sign of continued legal success.
When 5G rolls out, I expect Qualcomm to do very well, much as they were successful when previous technologies were released. I was happy to see the NXP deal fall through, as I'd rather they use the money for buybacks.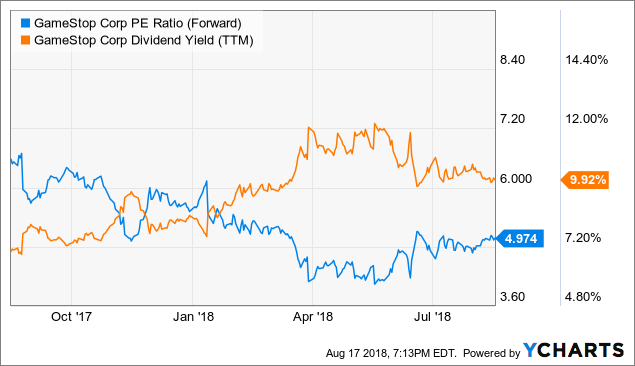 GameStop (GME): I invested in GameStop last year based on my analysis here (paywall). My basic thesis was the GameStop isn't drying as quickly as its share price would indicate. Since then, dividends have remained but share price declines have continued. More recently, there has been rumors of a private equity buyout.
Given the 10% forward yield, I still believe GameStop is worth the risks. I don't love the long-term future of any of their businesses - selling games, selling AT&T (T) phones, or selling collectibles - but there is a juicy dividend and a low PE ratio.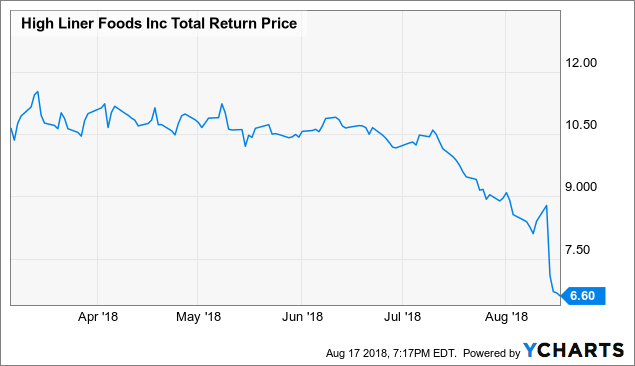 High Liner Foods (TSE-HLF) (OTC:HLNFF): Back in March, I wrote "High Liner Foods: Finding Value In Fish Sticks" (paywall). Whatever I thought, it's clear that I was wrong: Shares are down 38% since then. Mea culpa.
Shares plummeted after the most recent earnings - and they weren't doing great before then either. I haven't looked at just what went wrong, but based on share prices, I'm guessing it was ~everything. I will look at this one soon and probably won't like what I see.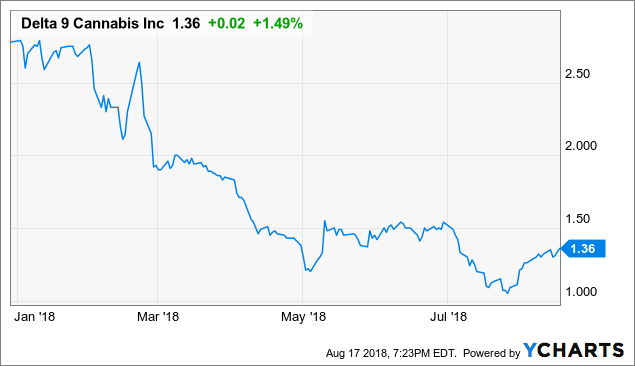 Delta 9 Cannabis (CVE-NINE) (OTC:VRNDF): If I get just one do-over, I'd like to do High Liner Foods over again. But if I get a second, this is a great choice. Thankfully my initial investment here was small, but I am down more than 50% on this cannabis company. The best thing Delta 9 has going for it was being jointly awarded a retail license in Manitoba with Canopy Growth. Nothing else has gone right though. On the bright side, shares seem to have found a bottom since Cornerstone Investments wrote the most recent article on the company back in May: "Delta 9 Cannabis: Staying In Manitoba."
Delta 9 is even more speculative than the other cannabis companies I own. Best-case scenario here appears to be getting bought out. Unfortunately, since Canopy Growth bought Hiku (who had another Manitoba retail license), they might be less likely to buy out Delta 9. Mea culpa on this one.
On the bright side, my two biggest losers, percentage-wise, are also two of my smallest holdings.
ETF Holdings
ETFs: I own five ETFs, and they represent ~58% of my portfolio. While they represent most of my portfolio, they represent only a small part of the effort I put into maintaining my portfolio. That's a real benefit of index funds - just set it and forget it.
The funds I own emphasize low fees (management and trading fees, at the brokers I hold them at) and broad holdings.
Vanguard's FTSE Canada All Cap Index ETF (TSE:VCN) is my Canadian ETF of choice. I use this ETF primarily because of its expansive holdings - it holds 214 different equities - and because of its relatively low fees (0.06% MER). I'll likely eventually invest in more individually Canadian companies, but for now, I'm happy with my Vanguard ETF.
For global holdings, I hold SPDR S&P World ex-US ETF (SPDW) and SPDR S&P Emerging Markets ETF (SPEM). Both are low-fee (0.04% and 0.11%) holdings which, together, cover the world outside the United States. I suspect that my 16%/15% split of the two is aggressive and many might favor a more developed world-heavy split, but I'm more attracted to the income potential of SPEM over SPDW. Both holdings are primarily to limit exposure to changes in the USD. While both are US-traded and USD-denominated, the underlying holdings are not in USD so their movement in CAD will not be heavily impacted by USD shifts.
For a little bit of reading on emerging market ETFs, I recommend "Do You Know What You Really Own In Your Emerging Market Funds?" For what it's worth, SPEM does not include South Korea, which is included in SPDW instead. However, SPEM is still heavily weighted towards China and towards Tencent (OTCPK:TCEHY) in particular - Tencent has a 4.6% weighting with another 1.9% in Naspers (OTCPK:NPSNY) which derives much of its value from its 30% ownership of Tencent.
I also own a bit of SPDR Portfolio Small Cap ETF (SPSM) and a tiny holding of the Horizons Marijuana Life Sciences Index ETF (TSE:HMMJ). The former is a low-cost small cap index fund, which I'll likely eventually replace with something along the lines of Nvidia (NVDA) and the latter is a higher-cost but small investments into the Canadian cannabis industry. I primarily hold both due to getting free trades on them at the brokerages at which they are held.
Holding Diversity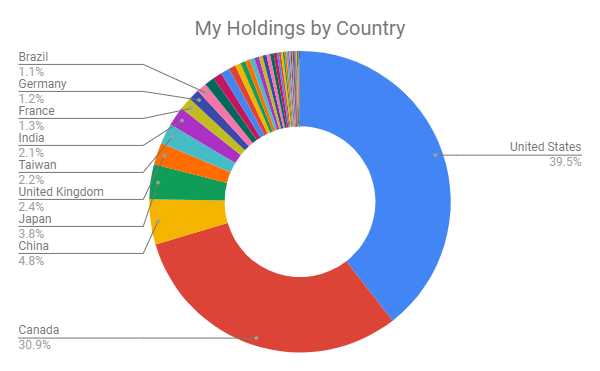 My holdings by country, including the component holdings of ETFs.
Generally, I aim for ~1/3rd Canadian, ~1/3rd American, and ~1/3rd international. As shown, I'm currently a bit heavy on American stocks and light on other stocks. Of course, this only looks at the country where companies are located. Companies like Apple and Google make a lot of their money internationally but will be included in the United States, while companies like Samsung (a component of the ETFs I own) will make a lot of money in the United States but be included internationally.
Despite that caveat, my holdings are sufficiently diversified for my purpose, which is to avoid undue risk of USD/CAD currency fluctuations. I am certainly exposed to those fluctuations (and other CAD fluctuations), but only to an extent that I am comfortable with.
Sector Allocation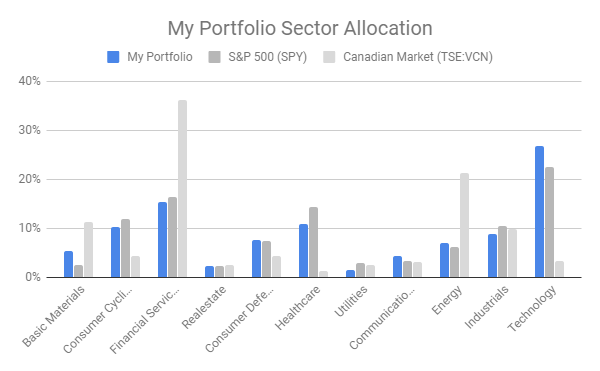 (All sector data from Yahoo Finance)
For sector allocation, my only real concern is that I am not too heavily weighted in technology. I find technology shares the most interesting companies to research and to discuss, but don't wish to have unduly heavy weighting on them.
My sector weightings right now are within a range that I am happy with. The Canadian market - here represented by TSE:VCN - is heavily weighted towards financial services companies (the three largest Canadian companies by market cap are banks) and basic materials/energy companies. Meanwhile, the US market (SPY) is much more heavily weighted towards technology and to healthcare. I have moderate allocations of all of these industries with the exception of technology, although I am still far below the 57% technology weighting of the Nasdaq (QQQ).
Recent Trades
In the past week, I have only made one trade - I sold a position in TSE:VCN so that my Interactive Brokers (IBKR) account was no longer borrowing on margin. I originally purchased Tesla shares on August 1 after-hours and on margin. I don't like to carry margin balances long-term - it increases the risk in my portfolio past what I am comfortable with right now - so I sold some shares in TSE:VCN to remove that margin.
Other than that, I did not make any trades this week. Apple paid a $0.74/share dividend on August 16, which I reinvested into Apple on a DRIP. (I account for these reinvestments on the table above by reducing my cost basis for the additional "free" shares, so that I can track the total performance of my investments.)
Future Plans
Overall, I am happy with my current portfolio. Most of my holdings are long-term holdings that I intend to hold for at least another year. Of my holdings, I'm most likely to drop Tesla (TSLA) or AMD (AMD) - primarily if I believe that their stock prices has run out ahead of the value/growth offered by the company, but I don't have plans to sell either at this time.
As far as companies I'm likely to add, I'm considering taking a long position in Nvidia (NVDA). I'd also like to convert more of the VCN holdings into individual Canadian companies but am still in the process of researching which companies I'd like to invest in - the Canadian market is dominated by banks, natural resources, and energy stocks and I have little experience investing in any of those industries. I might start by looking at Dale Roberts' Wide Moat 7.
Thank you for reading. If you have any thoughts on any of my holdings or thoughts on potential holdings, please let me know in the comments below.
Happy investing!
Did you like this article? Please consider clicking "Like" below or giving me a "Follow" by clicking the orange button above. I'd also appreciate any constructive feedback - positive or negative - in the comments below.
Disclosure: I am/we are long ALL LISTED SHARES. I wrote this article myself, and it expresses my own opinions. I am not receiving compensation for it (other than from Seeking Alpha). I have no business relationship with any company whose stock is mentioned in this article.
Editor's Note: This article discusses one or more securities that do not trade on a major U.S. exchange. Please be aware of the risks associated with these stocks.