Breakout Forecast Selections for Week 34:
Market conditions continue with low positive breakout momentum and increasing negative momentum. The positive momentum gauge has continued to decline into the red to 19 down from a value of 37 at the end of the prior week. The red positive momentum conditions signal increasingly negative momentum conditions - be cautious.
In this Week 34 last year, the positive momentum gauge set its all-time highest score of 120 since the momentum gauge has been put to use. The all-time low for the positive momentum selection gauge is 8 during week 14 of 2018.
The negative momentum score increased to a value of 43 from a medium value of 36 last week for negative momentum. Last published report: Week 33 Breakout Forecast
My momentum gauges are based on the count of the momentum stocks screened as either positive accelerating or negative accelerating stocks based on my research algorithm. The combination of the two different types of momentum categories screened by segments 2 and 6 of my algorithm may help validate the quality of the overall market momentum strength.
Total Return Chart: +80.73%
The Total Return Chart reflects total return of all stocks in the weekly portfolio.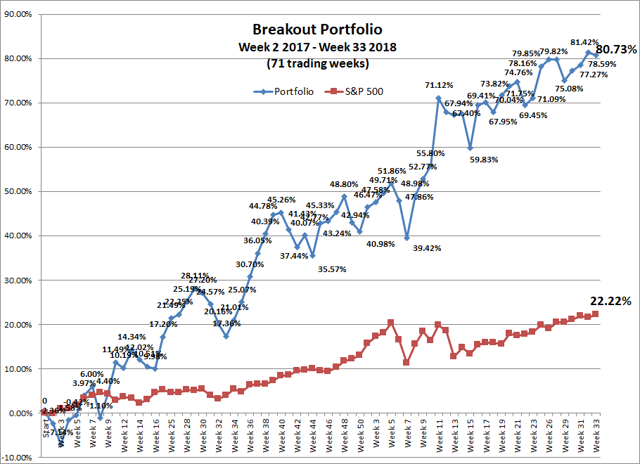 Market fund flow update August 17th from ETF.com:
ETF flows just barely nudged into positive territory this week. On net, U.S.-listed ETFs had inflows of $512 million during the week ending Thursday, Aug. 16, according to FactSet. That pushed year-to-date inflows up to $156.1 billion.

U.S. fixed-income and U.S. equity ETFs netted inflows, while international equity and commodity ETFs netted outflows in a week in which emerging market woes counterbalanced optimism about the U.S. economy.

~ ETF.com
This week I have two sample selections out of the 8 breakout stocks from the following sectors: 3 services, 3 healthcare, and 2 technology.
The two sample selections of positive momentum stocks for this week include:
BioCryst Pharmaceuticals (BCRX) - Healthcare / Biotechnology
Cheetah Mobile (CMCM) - Technology / Application Software
Thumbnail images of the Breakout Forecast Portfolio Week 34

Caution: These stocks are not necessarily recommended for long-term buy/hold unless you are comfortable with very large price swings. These are the most volatile selections I offer from among all the different Value & Momentum portfolios.
As I continue to observe, strong momentum events usually last from one to three weeks and may encounter some substantial decline before returning again to positive gains. Proposed entry points for each of the selected stocks are as close to the highlighted prices in yellow on the charts at market open.
Breakout Stock Selections for Week 34
Note: all breakout stocks are selected based on my algorithm to increase the frequency of 10% gains within a very short period of time. Price targets are estimated through an unrelated technical charting process for those who are looking for estimated exit points, however it is possible the momentum in these selections may move well beyond the initial target.
Sample Pick #1: BioCryst Pharmaceuticals - Healthcare/Biotechnology

Price Target: 9.00

| | |
| --- | --- |
| Aug-17-18 09:40PM | Edited Transcript of BCRX earnings conference call or presentation 7-Aug-18 3:00pm GMT Thomson Reuters StreetEvents |
| Aug-15-18 08:00AM | New Research Coverage Highlights Cincinnati Bell, BioCryst Pharmaceuticals, Shutterstock, Kopin, Lands' End, and Pieris Pharmaceuticals Consolidated Revenues, Company Growth, and Expectations for 2018 GlobeNewswire |
| Aug-07-18 03:38PM | BioCryst banks gross proceeds of $57.5M from offering American City Business Journals |
| Aug-07-18 07:30AM | BioCryst Pharmaceuticals (BCRX) Reports Q2 Loss, Tops Revenue EstimatesZacks |
BioCryst Pharmaceuticals, Inc., a biotechnology company, designs, optimizes, and develops small molecule drugs that block key enzymes involved in the pathogenesis of diseases. The company markets peramivir, an intravenous neuraminidase inhibitor, which is approved for uncomplicated seasonal and acute influenza in the United States and Canada under the name RAPIVAB, in Japan and Taiwan as RAPIACTA, and in Korea as PERAMIFLU; and Mundesine, an oral purine nucleoside phosphorylase inhibitor to treat cancer in Japan.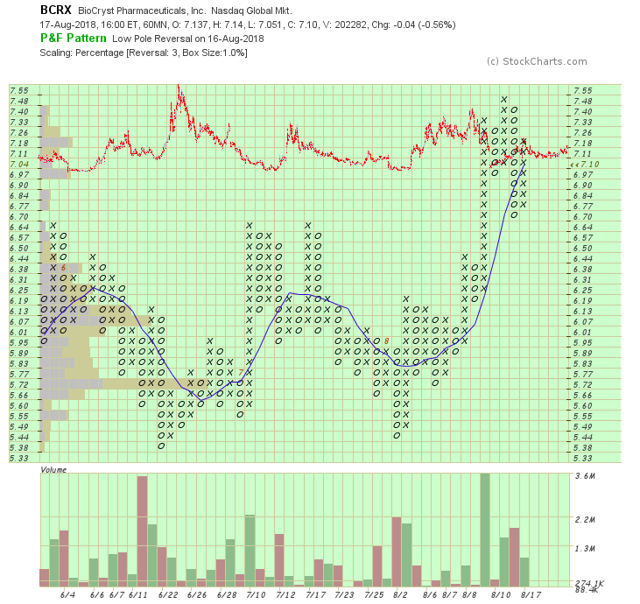 Sample Pick #2: Cheetah Mobile - Technology/Application Software

Price Target: 12.00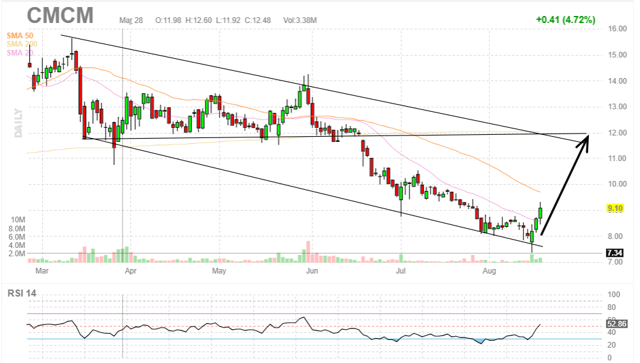 | | |
| --- | --- |
| Aug-08-18 05:00AM | Cheetah Mobile to Report Second Quarter 2018 Financial Results on August 20, 2018 PR Newswire |
| Jul-09-18 07:20AM | Free Pre-Market Technical Recap on Cheetah Mobile and Three Additional Application Software Stocks ACCESSWIRE |
| Jun-23-18 09:15AM | June Fundamental Stock Pick: Cheetah Mobile Inc. (CMCM) Simply Wall St. |
Cheetah Mobile Inc. operates as a mobile Internet company worldwide. The company's utility products include Clean Master, a junk file cleaning, memory boosting, and privacy protection tool for mobile devices; Security Master, an anti-virus and security application for mobile devices; Battery Doctor, a power optimization tool for mobile devices; Cheetah Browser, a Web browser for PCs and mobile devices; CM Browser, a mobile browser to protect users from malicious threats; and CM Launcher, which provides personalized experience in using smart phones.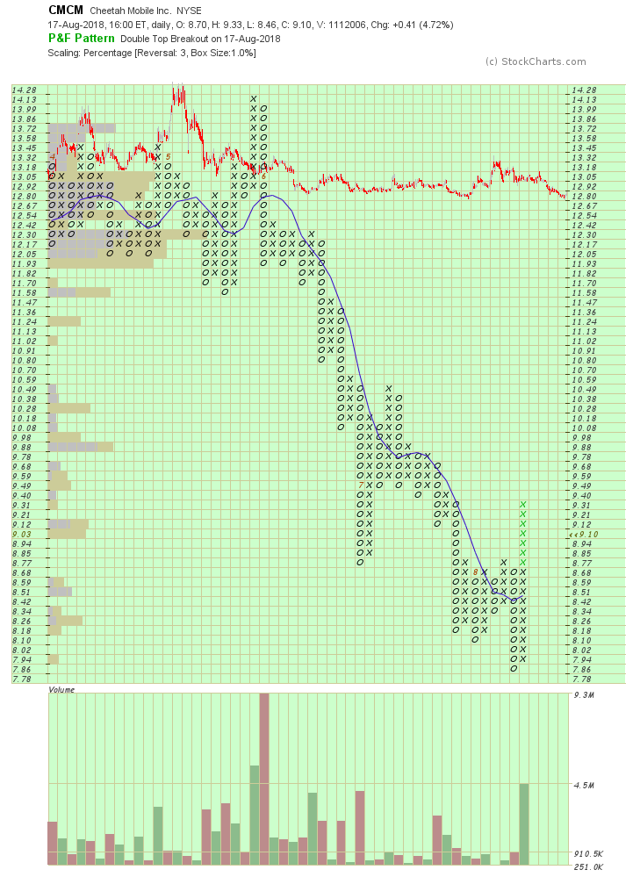 2018 Chart: +39.54% YTD
Cumulative return with 1-week holding period.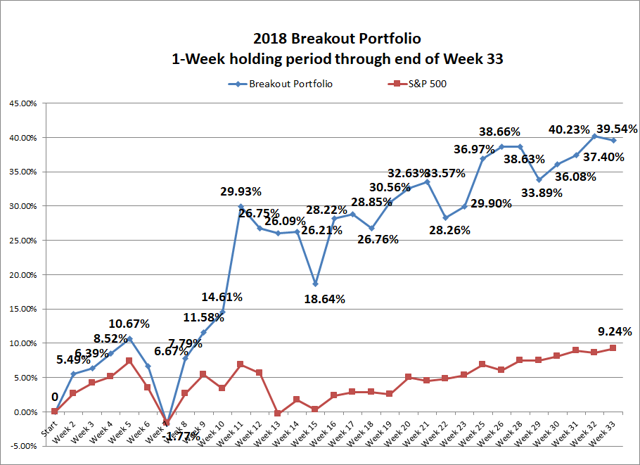 A detailed holding period analysis for Q1 2018 sampled Breakout Stocks is available here for review: Value & Momentum Breakout Stock Returns For Q1 2018
Long-Term Portfolio Returns
As a reminder of the other longer term portfolios being tracked and updated regularly with portfolio spreadsheets listed in the Tools section, here are the returns through Week 33.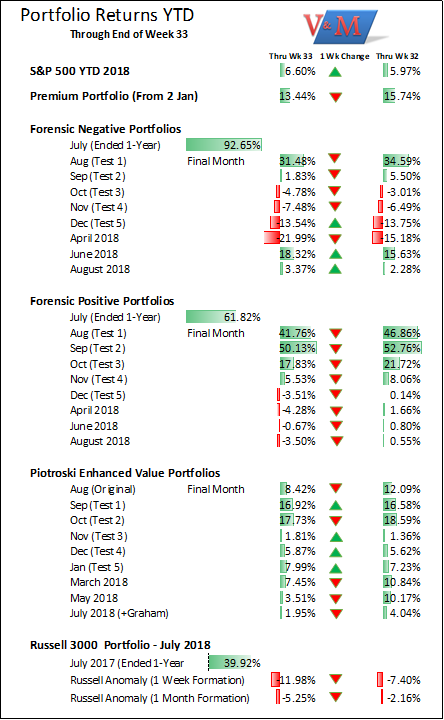 Click the "Follow" button at the top of the page to enjoy free updates and select real-time alerts if you want timely updates on the latest stocks and portfolios I offer that are outperforming the S&P 500 in each of their respective time periods. Be sure to check out:
The latest stock report on SORL Auto Parts released last week after its record Q2 earnings announcement
The Best Performing Portfolio Stocks from Week 32 from across all the portfolios (except the Premium Portfolio exclusive to members).
The Week 33 top performing stocks from across different Value & Momentum Portfolios include Tandem Diabetes Care (TNDM) in both the Russell Top 20 Anomaly and the Forensic Negative August portfolios, Tuesday Morning Corp (TUES), The ExOne Company (XONE), HC2 Holdings (HCHC), RiceBran Technologies (RIBT), Gogo Inc. (GOGO), PAR Technology (PAR) and others.
Top Gainers last four weeks: NFEC +40.91%, INVE +22.35%, SHSP +19.53%, HBIO +15.45%, SOI +15.22%, EXPI +15.13%, SMRT +8.26%, GOGO +7.28%, RIBT +8.61%.
To Subscribe to Value & Momentum Breakouts, click on the link here.
I think these breakout stocks will serve you well in Week 34 and beyond. I hope you all do well with these stocks and always diversify to minimize some of the market risks.
All the very best, and have a great week of trading!
JD Henning, PhD, MBA, CFE, CAMS
Disclosure: I am/we are long ARQL, HBIO, SMRT, SORL, PACB.
I wrote this article myself, and it expresses my own opinions. I am not receiving compensation for it (other than from Seeking Alpha). I have no business relationship with any company whose stock is mentioned in this article.
Editor's Note: This article covers one or more stocks trading at less than $1 per share and/or with less than a $100 million market cap. Please be aware of the risks associated with these stocks.