Dividend growth investing is one of the most popular investing strategies in the market, and for solid reasons. Dividend growth investing is a straightforward and effective method to pick stocks, and the statistical data shows that dividend growth stocks tend to produce attractive risk-adjusted returns over the long term.
To begin with, dividend payments generate consistent cash distributions from the portfolio, and this is much appreciated by investors, especially those with recurrent income needs. Growing dividends also make overall portfolio returns more stable and predictable over time, since dividends are a more predictable source of returns than price fluctuations.
Perhaps even more important, dividend payments say a lot about a company's fundamental quality. If a company is distributing consistently growing dividends to investors, this means that the business is generating more cash than it needs to retain. This is a clear sign of underlying financial strength.
The following chart from Hartford Funds, based on data from Ned Davis Research shows how companies initiating new dividends and raising their dividends year after year tend to produce market-beating returns over the long term.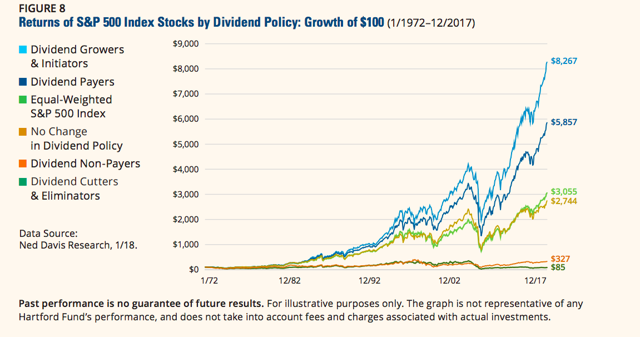 When it comes to picking the best dividend growth stocks, looking at a company's history of dividend payments is not enough. Variables such as dividend growth rate, payout ratios, and capital distributions through both dividends and buybacks are remarkably important to evaluate a company's ability to sustain dividend growth in the future.
In that spirit, the following paragraphs are introducing a quantitative stock picking system focused on dividend growth stocks with strong potential to sustain growing dividend payments in the long term.
Dividend Growth By The Numbers
The quantitative system looks for high-quality dividend growth stocks based on the following set of criteria:
To begin with, over the counter stocks and companies with a market capitalization level below $300 million are excluded from the investable universe to guarantee a minimum size and liquidity level.
Then the system considers only companies with a dividend yield above the industry average. Dividend yields vary substantially across different industries and sectors, a 3% yield is not particularly high for big companies in the consumer staples or utility sector, but it's substantially above-average in the tech sector.
This is because cash generation, capital needs, and reinvestment opportunities are materially dissimilar across industries. Since dividend yields are relative, the system looks for companies paying above-average dividend yields according to industry standards.
It's important to keep in mind that the system is focused on dividend growth, not dividend yield. However, it still makes sense to look for companies with above-average dividend yields, since this shows that management is inclined to distributing a large share of excess free cash flow to investors.
Dividend growth can be even more important than dividend yield. Even if the dividend remains stagnant - or declining - the dividend yield can increase because the stock price is moving in the wrong direction. For this reason, the system requires the dividend growth rate over the past three years to be above 10% annually.
A company's ability to sustain dividend growth into the future is remarkably important. In that spirit, the dividend payout ratio is required to be below 60% of earnings in order to guarantee that the company can comfortably continue raising dividends in the years ahead.
Among the companies that meet the specified criteria, the system then selects the 25 stocks with the highest capital distributions, meaning dividends plus buybacks as a percentage of market capitalization.
Many relatively young companies tend to prioritize buybacks over dividends, since buybacks provide more flexibility as a method for cash distributions while the business is still growing. As the company matures and cash flows are more stable and predictable, dividends usually start absorbing a larger share of excess cash flows. This means that companies with big buybacks today can be the ones with big dividends tomorrow.
Summing up the stock selection criteria:
Over the counter stocks and companies with a market capitalization below $300 million are excluded.
Dividend yield needs to be above the industry average.
Average dividend growth rate needs to be above 10% annually in the past 3 years.
The payout ratio has to be below 60% of earnings.
Among the companies that meet the criteria above, the system selects the 25 names with the biggest total cash distributions when considering dividends and buybacks together.
Backtested Performance And Recommended Stocks
The backtesting assumes that positions are equally weighted and the portfolio is rebalanced every four weeks. The portfolio carry cost is assumed to be 1% per year to account for trading costs and other expenses, and the benchmark is the Vanguard Dividend Appreciation ETF (VIG).
Backtested performance is quite promising. Since January of 1999 the portfolio recommended by the system gained 15.62% per year, significantly outperforming the Vanguard Dividend Appreciation ETF and its average annual return of 9.71% per year in the same period. System Alpha amounts to 5.09% during the backtesting period.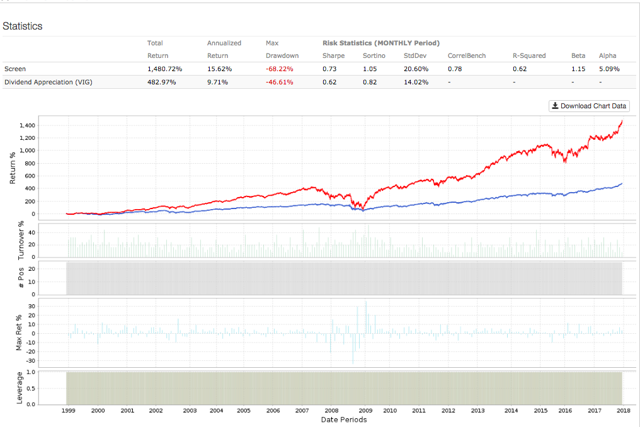 Data from S&P Global via Portfolio123
In plain English, a $100,000 investment in the Vanguard Dividend Appreciation ETF in January of 1999 would currently be worth around $583,000, and the same amount of capital allocated to the portfolio of dividend growth stocks recommended by the quantitative system would have a much larger value of $1.58 million.
The table below shows the 25 stocks currently picked by the system. To provide more information, data in the table also includes market capitalization, dividend yield, dividend growth rate in the past 3 years, and dividend payout ratio for the companies in the list.
| | | | | |
| --- | --- | --- | --- | --- |
| Name | Mkt. Cap | Dividend Yield | Div3Y CGr% | Payout % |
| Boeing (BA) | $199,486.20 | 1.97 | 24.83 | 38.25 |
| Union Pacific (UNP) | $110,519.70 | 2.14 | 11.17 | 18.84 |
| Starbucks (SBUX) | $73,179.03 | 2.69 | 24.36 | 35.61 |
| PNC Financial Services Group (PNC) | $67,215.75 | 2.63 | 11.41 | 29.03 |
| Prudential Financial (PRU) | $41,269.85 | 3.64 | 11.4 | 18.67 |
| Delta Air Lines (DAL) | $38,472.57 | 2.52 | 50.12 | 26.01 |
| SunTrust Banks (STI) | $34,294.47 | 2.71 | 23.55 | 32.77 |
| Lam Research (LRCX) | $26,657.52 | 2.59 | 52.43 | 12.92 |
| Regions Financial (RF) | $21,719.33 | 2.87 | 21.92 | 25.87 |
| Magna International (MGA) | $18,890.86 | 2.42 | 13.12 | 18.21 |
| Principal Financial Group (PGF) | $15,857.91 | 3.8 | 13.47 | 22.87 |
| Interpublic Group of Companies (IPG) | $8,585.27 | 3.76 | 23.74 | 50.48 |
| Unum Group (UNM) | $7,872.55 | 2.89 | 11.52 | 19.2 |
| Fortune Brands Home & Security (FBHS) | $7,823.13 | 1.46 | 14.47 | 24.57 |
| Sinopec Shanghai Petrochemical (SHI) | $6,119.76 | 8.26 | 65.36 | 43.91 |
| Goodyear Tire & Rubber (GT) | $5,690.75 | 2.33 | 25.99 | 47.92 |
| Wyndham Destinations (WYND) | $4,475.12 | 3.65 | 18.34 | 32.12 |
| TCF Financial (TCF) | $4,331.30 | 2.32 | 14.47 | 31.37 |
| Washington Federal (WAFD) | $2,898.63 | 2.07 | 12.9 | 27.35 |
| Cheesecake Factory (CAKE) | $2,351.84 | 2.57 | 20.22 | 38.42 |
| Hope Bancorp (HOPE) | $2,308.56 | 3.18 | 12.62 | 43.67 |
| Big Lots (BIG) | $2,033.07 | 2.5 | 25.16 | 27.35 |
| Brinker International (EAT) | $1,929.14 | 3.45 | 12.31 | 55.61 |
| Central Pacific Financial (CPF) | $842.53 | 2.94 | 24.81 | 50.99 |
| Entravision Communications (EVC) | $462.81 | 3.88 | 17.59 | 10.38 |
It's important to keep in mind that all quantitative systems are based on backward looking information, and this approach has some obvious limitations. In order to evaluate if a company can truly sustain dividend growth in the future, investors need to take a look at the business behind the numbers and its fundamental strengths and weaknesses. Past performance does not guarantee future returns, and backtested numbers should always be taken with a grain of salt.
In any case, the main point is not that investors should not automatically buy a stock solely because it's recommended by the quantitative system. The main takeaway is that a system such as this one can be a remarkably valuable tool to find investment ideas in dividend growth stocks with attractive quantitative attributes for further research.
Capitalize on the power of data and technology to take the guesswork out of your investment decisions. Statistical research has proven that stocks and ETFs showing certain quantitative attributes tend to outperform the market over the long term. A subscription to The Data Driven Investor provides you access to profitable screeners and live portfolios based on these effective and time-proven return drivers. Forget about opinions and speculation, investing decisions based on cold hard quantitative data can provide you superior returns with lower risk. Click here to get your free trial now.
Disclosure: I am/we are long LRCX.
I wrote this article myself, and it expresses my own opinions. I am not receiving compensation for it (other than from Seeking Alpha). I have no business relationship with any company whose stock is mentioned in this article.