Investment Thesis
Investors are still reeling from Constellation Brands' (NYSE: STZ) $5 billion investment in Canopy Growth (NYSE: NASDAQ:CGC) (TSX: WEED). The deal is a massive boon for Canopy, the company now has everything necessary to become the biggest player in the global cannabis market. In this article I'll provide an overview of the broader marijuana market, both companies, the benefits of the deal and close with a discussion and calculation of Canopy's valuation. I believe all signs point towards the company being a strong buy.
All amounts in CAD$ unless otherwise noted.
Canadian Marijuana Market
Medical cannabis use is currently legal all across Canada. The country is set to legalize recreational cannabis use in October, becoming the second country in the world to do so. Provinces will handle the specifics, including details concerning the production, distribution and sale of cannabis. Edibles won't be legalized until at least July 2019, due to the complexities involved in regulating food products.
In most provinces, including BC and Alberta, cannabis will mainly be sold through government-owned stores and retailers, very similar to how alcohol sales are conducted across the country. In Ontario, the most populous country and home to around ≈40% of Canadians, the provincial government plans to act as a wholesaler to private retailers by April 2019 as well as directly operating an online retailer.
Cannabis sales are massive in Canada, with millions of customers and billions of sales. Although exact numbers are, understandably, difficult to come by, StatsCanada estimates around $5.7B in cannabis sales for 2017, 10% in the legal medical market and 90% in black-market sales. Many analysts have tried to estimate post-legalization cannabis sales, and have generally arrived at numbers between $4B and $9B. The Canadian Parliamentary Budget Officer expected around $4B-6B in a 2016 report. Deloitte estimates between $4.9B and $8.7B, with increased consumption from conservative, older, more risk-averse users driving significant sales growth: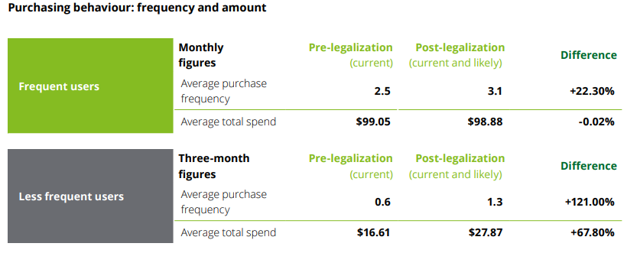 (Source: Deloitte 2018 Cannabis Report)
Although estimating future sales is always difficult, doubly so for black-market products like cannabis, I believe there is some strong preliminary evidence to indicate the figures are reasonable. Some provinces have already announced their planned cannabis purchases, remember that most sales will be directly handled by the provincial government, and the figures are massive.
Using data from Canopy Growth's latest earnings, I estimate that Alberta and BC have already signed multi-year supply agreement commitments for recreational cannabis worth around $837,500,0001 annually. As around a fourth of the country lives in those two provinces, nationwide recreational cannabis sales of around $3,350,000,000 seem reasonable. Add in the $570,000,000 in medical cannabis sales, per StatsCanada, and you get almost $4 billion in annualized sales.
Although this is a bit less than analyst estimates, it excludes sales from private distributors, medical marijuana sales growth, and assumes no new production/supply agreements will be signed. I think it is reasonable to assume $5B-6B in annualized sales once edibles enter into the market in late 2019.
Bottom line, the Canadian cannabis market is large and the stakes are larger. Whoever ends up as market leader will likely generate billions in sales, hundreds of millions in earnings and be in a strong position to become the world's pre-eminent cannabis producer.
Global Marijuana Market
Besides Canada, cannabis is only legal in Uruguay, a relatively small country with negligible sales. In several countries, including Germany, Italy and Australia, and several states in the U.S., medical cannabis is legal. The U.S. generates the vast majority of legal cannabis sales worldwide, being responsible for USD $8.5B of the world's $9.5B sales.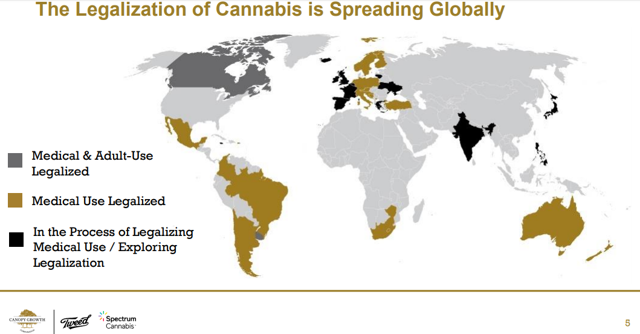 (Source: Canopy Growth Investor Presentation)
Most analysts expect significant sales growth in the coming years, both from new markets legalizing cannabis and from organic growth in countries with legalized medical/recreational sales. Brightfield Group, a cannabis research firm, estimates that the cannabis market will be worth $40 billion by 2021. Grand View Research, a market research firm, estimates the market will be worth $190 billion by 2025, a very optimistic assessment, I believe. Canopy Growth, using estimates provided by Eight Capital, believes the market will be worth $180 billion over time: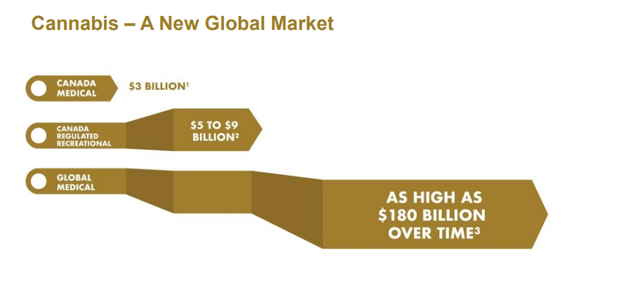 (Source: Canopy Growth Investor Presentation)
All of these estimates are, of course, fraught with risk and probably biased in favor of the cannabis industry. Nevertheless, it seems clear to me that there is a lot of potential for worldwide cannabis sales, it is most definitely a growing market and set to be worth upwards of $30 billion in the next few years.
I believe Canadian cannabis players will be especially well-positioned to take advantage of growing international sales as this is the first large, developed country with legalized cannabis sales worldwide. Basically, Canadian companies will have years to establish large production and distribution facilities before cannabis starts being legalized worldwide, giving them a headstart in the global marijuana market. Out of all Canadian players, I believe Canopy Growth is in the strongest position to do this.
Canopy Growth
Canopy Growth is Canada's largest medical marijuana producer, with seven facilities, over 2.4 million square feet of production capacity and operations in nine countries. Canopy Growth also has operations in close to a dozen other countries, including Germany, Colombia, Brazil and Australia.
Canopy Growth currently focuses on the sale of dried cannabis, 76% of its sales, with oils and gels accounting for the rest of its revenues. The company is also developing cannabinoid-based pharmaceuticals, with several dozen applications filed already: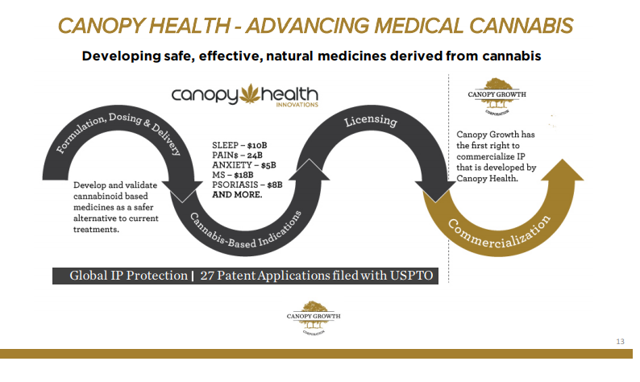 (Source: Canopy Growth Investor Presentation)
The company currently focuses on medical marijuana products but is looking, like most Canadian producers, to transition to the recreational market once it is officially legalized in October. Canopy Growth is well-poised to take advantage of legalization, with an estimated 36% market share in committed sales already. At current prices that would be ≈$600,000,000 in annual sales.
Canopy's valuation is a tad rich. The company currently has a market cap of around USD $10B on negative income and cash flow and very few sales - $26 million in total last quarter. Relevant valuation metrics are sky-high as well: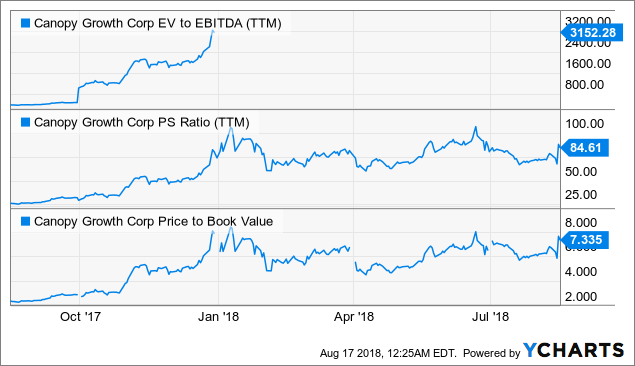 CGC EV to EBITDA (TTM) data by YCharts
Canopy is very clearly valued under the expectation that its market share in the cannabis industry, both Canadian and worldwide, will be very large. Although this is far from certain, the company does currently have a commanding market share in the Canadian cannabis industry, has signed contracts worth hundreds of millions in revenues, and has national/international production, distribution and retailing facilities. It is a lofty valuation, but not without reason.
Constellation Brands
Constellation Brands is the world's seventh-largest alcoholic beverages producer, with a massive USD $40B market cap.
Unlike Canopy, Constellation Brands' valuation and market cap are based on much more tangible aspects. The company generates billions in sales in more than a hundred countries from dozens of well-known brands, with worldwide supply-chain and distribution network to ensure it can readily manufacture in, and access, all relevant markets. The company focuses on the high-end market and has several brands, including Corona, Modelo and Pacifico, which are especially popular with Hispanics. Its large market cap is generally well-supported by the company's sales and earnings: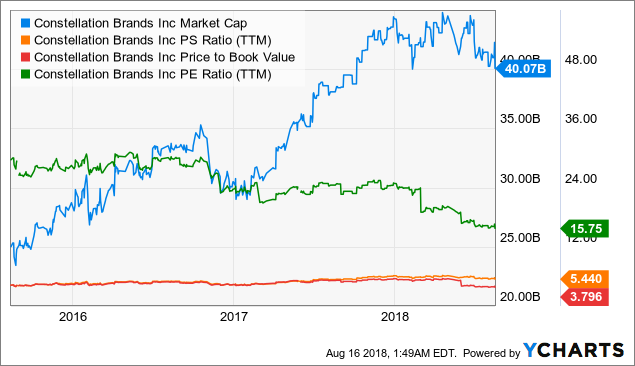 STZ.B Market Cap data by YCharts
The company has made several strategic investments in the cannabis industry, as it thinks it complements its current business model relatively well. It is developing several cannabis-infused beverages and products as well.
A Gamechanging Deal
Constellation Brands will be investing $5 billion in Canopy Growth, increasing its stake to ~38%. Constellation Brands will also receive additional warrants for $4.5 billion which, if exercised, make it majority shareholder. Constellation will also name four of the seven directors in the board.
I believe the deal will be a massive boon to Canopy as it confers significant financial and operational/strategic benefits to the company. Let's take a look at each.
Financial Benefits
The terms of the deal were, I believe, very beneficial to Canopy Growth and its shareholders.
First, the amounts raised were staggering and will prove immensely beneficial for Canopy's expansion plans. Five billion dollars is a massive amount for the cannabis industry, and dwarfs what Canopy has raised in the past. Its latest financing only took in $600 million, and the company has only raised between $1.1 and $1.3 billion in the past three years:

(Source: New Cannabis Ventures)
Canopy plans to use the funds raised for international acquisitions and expansions, with management stating it has already identified around $1 billion in acquisition targets. I believe the funds raised put Canopy in the strongest position in the industry, and will allow the company to achieve a commanding market of the global cannabis market which, remember, is estimated to be worth upwards of $40 billion in the coming years.
Second, the pricing of the deal itself was incredibly beneficial for Canopy and its shareholders. Constellation Brands will be paying a 51% premium over Canopy's August 14th stock price, a massive premium. Raising funds at a large premium is always great news, even more so considering the fact that Canopy trades at a relatively rich valuation already.
Beyond that, the deal is also a very strong indication of the company's perceived value. There is a sense in which companies are worth the net present value of their future cash flows, but there is also a sense in which they are worth what someone is willing to pay for them. The fact that Constellation Brands, under advice of Goldman Sachs (GS), was willing to pay CAD 48.60 / USD 37 per share is a very strong indication that that is what the market is willing to pay, and that carries a lot of weight in and of itself.
Third, the deal makes Canopy the sole cannabis provider for Constellation, which will drive sales growth for the company as Constellation develops cannabis infused drinks and beverages.
On a more negative note, the $4.5 billion in warrants somewhat limit investors' future upside potential. Basically, if Canopy does better than expected, shares will be somewhat diluted. Although this is undoubtedly a negative, this will only be an issue if the company is massively successful, so shareholders shouldn't worry too much.
Operational/Strategic Benefits
As part of the deal, Constellation Brands will name four of the seven directors on Canopy's board. I expect Constellation to name directors with the necessary experience, knowledge and expertise to successfully guide Canopy in its international expansion. More importantly, I trust Constellation, and its directors, much more than I do Canopy's. Black Mamba, a contributor here at Seeking Alpha, has catalogued the CEO's past performance and it's not good: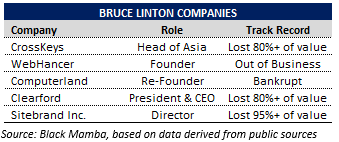 As you can see, the CEO has an abysmal track record. Although Canopy seems to be the exception so far, shareholders can only benefit from having an independent board to rein in the CEO in case his performance starts to slack.
Valuation - The Narrative
Aswath Damodaran likes to say that every valuation starts with a narrative. I believe this is even more so for a young company in an uncertain market like Canopy Growth. With that in mind, I'll share what I believe to be Canopy Growth's story for the next three years:
Canopy Growth will slightly increase its commanding market share (40%) in the Canadian cannabis market through further acquisitions, investments and economies of scale.
The deal with Constellation Brands will ensure the company's international expansion plans are successful, with a similar market share as the tobacco giants (20%).
Canopy's financial resources, experience, and partnership with Constellation Brands will allow the company to develop and market new edibles, oils and other luxury products with large operating margins (40% or comparable to tobacco products).
Nevertheless, low barriers to entry and the nature of the industry ensure a significant portion of the company's sales (50%) are commoditized (2.5% operating margin - comparable to agricultural products or wholesalers, not tobacco per se).
Pharmaceutical products might prove successful, but not in the relevant time frame.
Canopy's deal with Constellation Brands will go through, the company will receive $5 billion in cash, shares outstanding increase to $324 million.
Canopy won't require significant amounts of extra funding for their expansion plans.
The Canadian cannabis market will grow in the lower end of analyst expectations ($5 billion by 2021), in line with current trends.
The global cannabis market will grow below analyst expectation ($30 billion by 2021) as most estimates are upwardly biased in favor of the industry.
Valuation - The Numbers
With the narrative in place, I'll proceed to estimate Canopy's valuation. I'll start by more formally stating my assumptions: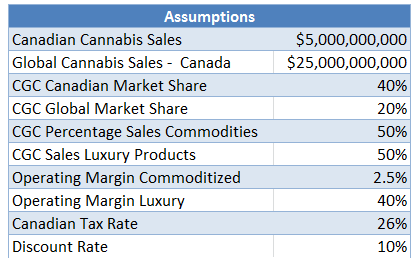 From that I can calculate some high-level financial results for Canopy Growth:

Finally, I'll determine the company's value through the use of a relative valuation analysis. For the ratios, I've selected the Price/Sales and Price/Earnings ratios. For peers, I've selected the three tobacco giants, Altria (MO), Philip Morris (PM), and British American Tobacco (BTI):

Based on the calculations above, the stock of Canopy Growth is 25% undervalued. I believe the company's strong operational track record, secured funding, strong partnerships and proven sales success mean the valuation is reasonable and achievable.
Valuation - The Bear Case
Even though I believe Canopy Growth to be an excellent investment, it is not without risk. The 'narrative' I constructed above is, I believe, plausible and likely, but not certain. Canopy faces many hurdles and difficulties, all of which could significantly hamper the company's financial performance.
Although I'm not going to go into detail about the bear case for Canopy, I will recommend another article here at Seeking Alpha, Aurora And Canopy: Time To Sober Up, 90% Downside, that does. The author argues that cannabis production will become commoditized, and all companies in the sector will earn very slim operating margins. Although I think this is incredibly unlikely, as Canopy already derives a significant portion of its revenues from higher-margin items, it is a plausible alternative. I thought it might be interesting to see how Canopy would perform under these conditions, and results are quite negative: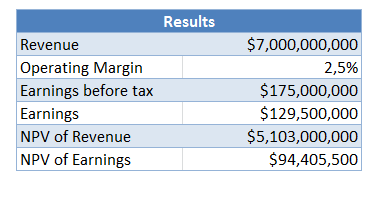 I also calculated a relative valuation, swapping the tobacco giants for the overall farming/agricultural industry:

If Canopy is unable to differentiate its products, and cannabis becomes a commodity industry, investors could see 85% downside. As I mentioned previously, I don't believe that this will happen, but I do believe it is important for investors to understand the risks involved in any prospective investment.
Conclusion
The global cannabis industry will be worth upwards of $30 billion in the coming years. Canada will be uniquely-well positioned to lead the globe in cannabis production, distribution and research due to the country's relatively large market and favorable regulatory/legal environment. In Canada, and around the globe, Canopy Growth will be the undisputed market leader. The company already has a commanding market share in the Canadian market, and sufficient expertise, funding and operational capabilities to achieve the same all around the globe. Investors looking to enter the marijuana market should consider investing in Canopy Growth.
1 Calculation is as follows. Canopy Growth has supply agreements worth 67,000kg a year. Alberta and BC account for around half, so 33,500kg. Canopy Growth has received around 36% of all production orders, which imply total orders of 93,056kg for the two provinces. At an average price of $9 per gram, that is $837,500,000 in annual sales. As these two provinces account for around a fourth of Canada's population, I estimate total country sales of $3,350,000,000, four times that of the two provinces.
Thanks for reading! If you liked this article, please scroll up and click "Follow" next to my name to receive future updates.