If you follow my writings here on Seeking Alpha, you are likely to be familiar with my series "The More it Drops, The More I Buy". I have authored many popular articles with this same heading, and the title says it all.
I am not scared to buy what most others are selling, and this is especially true when it comes to Real Estate Investment Trusts,or REITs in short. REITs have, over their recent 2-year history, provided many profitable buying opportunities to contrarian investors.
We have been vocal about these opportunities in our "The More it Drops, The More I Buy" reports (here, here and here), noting that:
"REITs sell off leading to interest rate hikes, and quickly recover their losses thereafter. Recognizing this pattern, we have at many times been able to benefit from the repetitive drops by buying low just to a few month later resell the same shares at higher prices for a short-term profit."
Most recently, we encouraged readers to buy the drop in February, and later reaffirmed my stance in April when REITs continued to sell-off.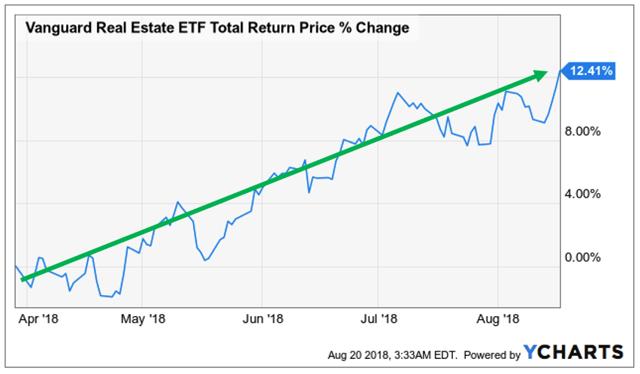 Today, after locking in some of our gains, we take a step back and seek to explain why the repetitive sell-offs really make no sense. The common market perception is that REITs are "bond-like" investments, and as such, investors have been reluctant about owning REITs in times of increasing interest rates.
The common thought is that REITs are highly dependent on debt, and that real estate will get crushed by higher interest rates. Investors remain underweighted in REITs and are generally bearish on REITs today. We firmly disagree, and here are 6 reasons why:
1) Strong NOI Growth
Interest rate increases may greatly affect REIT share prices, but they are not really affecting fundamentals much at all. This is because unlike bonds, REITs are able to grow their cash flow, and this is especially true in times of economic growth as we are experiencing today.
Interest rates are rising today because the general economy is doing well. This leads to higher occupancy rates, higher rents, and more demand for real estate space. All very positive for REITs.
And this is directly reflected in the results, with most REITs achieving higher FFO and dividends per share in 2017 and the first half of 2018. NAREIT makes the following note:
Current operating performance for the REIT industry is right in its "sweet spot": over the last four quarters, same-property NOI growth averaged 3.2 percent, consistent with the industry's long-term norm. Same property NOI growth greater than about 4 percent can be "too much of a good thing," stimulating so much new construction that it results in oversupply that reduces occupancy rates and rents, eventually suppressing same-property NOI growth to its "soft" range of 2.5 percent or less.
In other words, when a tiny rate hike is balanced with a sizable increase in cash flow, we see no reason to worry.
2) Profitable Acquisition Pipelines
In addition to high NOI growth, REITs are able to achieve even greater growth by acquiring new properties with leftover cash flow that is not paid in the form of dividends to shareholders.
Since higher interest rates commonly lead to higher cap rates on new acquisitions, we expect future investments to be more profitable - resulting in even faster FFO growth.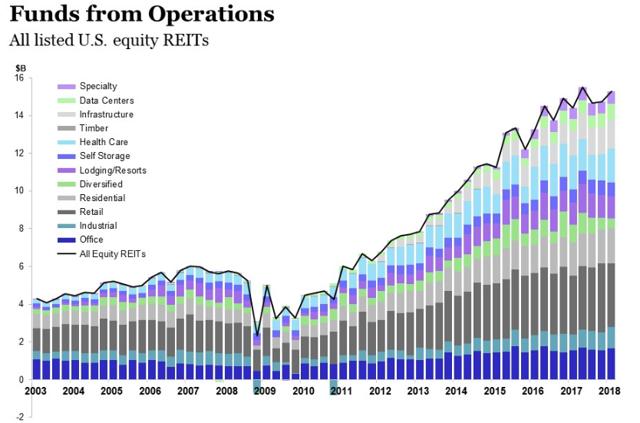 Source: NAREIT
To buy even more properties, REITs can raise new capital at a cost that is commonly lower than the expected returns of the new acquisitions, earning a positive spread along the way. With higher cap rates, REITs may be able to target even higher spreads in the future.
3) Safest Balance Sheets Ever
Today, REITs are particularly well-positioned to sustain another period of interest rate hikes, as balance sheets are stronger than ever before and leverage is at an all-time low.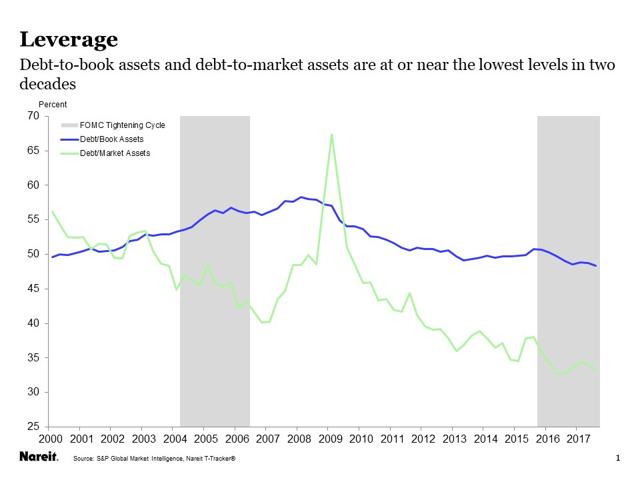 Source: NAREIT
REITs have steadily fortified their balance sheets since the great financial crisis, leaving the industry in an exceptionally resilient financial position. The leverage levels are very reasonable today, with the average debt-to-assets at just ~30%, which compares very favorably to the many private equity real estate investors who often use up to 80% Loan-to-Value to finance deals.
Moreover, it should be noted that most of this debt is long-term and fixed-rate, and as such, the exposure to interest rate movements is minimal today. In fact, rate hikes may, in most cases, have zero immediate impact on REITs' interest expenses, but cash flow continues to grow, thanks to increasing rents, higher occupancies and new acquisitions.
4) REITs Hedge Against Inflation
In times of increasing inflation, REITs may provide natural protection against it, as they are backed by real assets. We consider the risk of inflation to be massively underestimated today in light of the structural challenges of fiat currencies.
Interest rate hikes are correlated with increasing inflation, and real estate is one of the main beneficiaries, as rents and values tend to increase with inflation. In fact, most leases are today directly tied to an inflation index, and rents increases can be automatically enforced. This supports REITs' dividend growth and provides a reliable stream of income even during inflationary periods. Research from NAREIT demonstrates that REITs' dividend growth has outpaced inflation as measured by the Consumer Price Index in all but two of the last twenty years.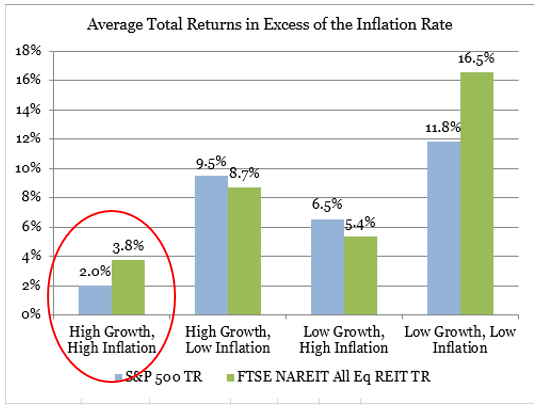 Source: NAREIT
Not surprisingly, NAREIT also finds that REITs outperform in times of high inflation when combined with high growth such as we are experiencing today. Stocks also protect against inflation shocks, but often less so than REITs and real estate.
5) Historical Evidence Says "Buy REITs"
Studies have demonstrated that share prices of REITs have more often increased than decreased during times of rising interest rates. In the 16 periods since 1995, when interest rates rose significantly, Equity REITs generated positive returns in 12 of them.
This does not mean that REITs will never suffer from interest rate increases. If interest rates are increased too fast, it can cause a whole country to go into recession, and that would certainly harm REITs as well. But this is not a REIT-specific risk. All income-producing assets, including stocks, are affected by higher interest rates.
Still not convinced? Consider the following example: from July 2004 to June 2006, the Federal Reserve hiked interest rates from 1.25% to 5.25%. Anyone would agree that this was a very material increase that we are unlikely to see today. According to the consensus belief, this should have been a horrible time for REIT investors, yet REITs significantly outperformed the broad equity market: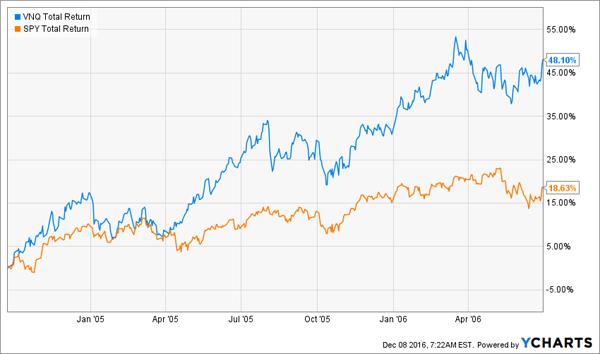 This is proof that REITs can not only "survive" interest rate increases but even prosper and outperform in these periods. While investors were "panicking," REITs (VNQ) returned more than 48% over that time period, while the S&P 500 (SPY) only generated 18%. This is because REITs are not bonds. REITs are real estate, and as such, they are able to generate cash flow growth that may more than compensate for the increased interest expense.
6) Relative Valuation Suggests "Opportunity"
Regardless of what valuation metrics you look at, all the evidence points out that REITs are cheap today.
On a cash flow multiple basis, Lazard notes that REITs valuations have now fallen 20% below the long-term average of 16.5x FFO: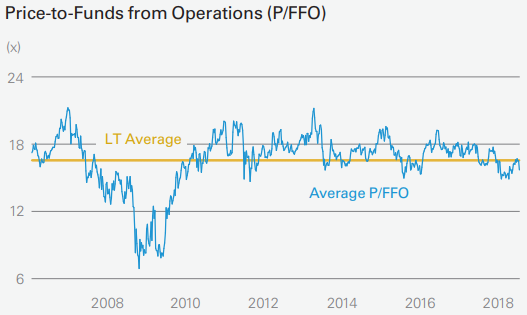 Source: Lazard Real Estate
The current P/NAV also suggests that REITs are substantially undervalued at a 4-7% average discount, compared to a 2-3% long-term average premium.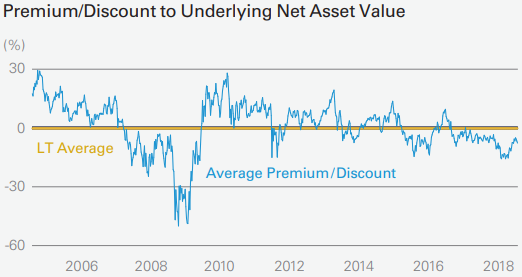 Source: Lazard Real Estate
While REITs trade at historically inexpensive valuations, the broad equity markets are at all-time highs with a P/E ratio close to 25, or up to a 40% premium to its historical average.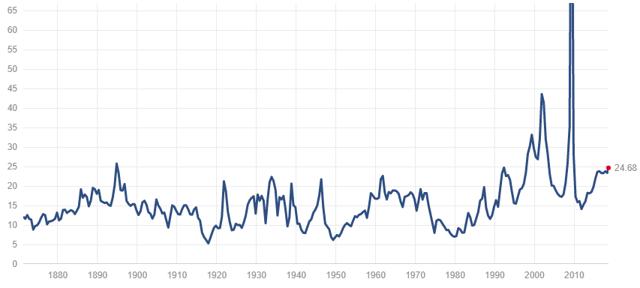 Source: Multpl
Which one is more opportunistic? REITs at a discount to historical valuations at just ~14x FFO and a ~6% discount to NAV, or broad equities at about 25x earnings? You tell me...
High Yield Opportunities
The lesson to be learnt here is simple: Be greedy when others are fearful and fearful when others are greedy. In this sense, today may be an opportune time to lock in some gains from highly valued FANG-type stocks Facebook (FB), Amazon (AMZN), Alphabet (GOOG) or Netflix (NFLX) and reallocate some of your gains into undervalued higher-yielding real estate opportunities.
(Editor's note: The article has been updated to cite Brixmor in place of an incorrect reference to SPG when discussing yields above 6%.)
There are today many quality REITs that trade between 10-15 times FFO with 6-9% dividend yields, including W.P. Carey (WPC), Iron Mountain (IRM), Medical Properties Trust (MPW), Spirit Realty Capital (SRC), Kimco Realty Corp. (KIM) and Brixmor Property Group (BRX), to name just a few. If you own any of these REITs and earn a mid-to-high single digit dividend yield, you really do not need much growth to get to double-digit returns. Even if interest rate hikes cause the FFO multiple to contract a bit, your long-term returns would still look very compelling.
Lastly, we want to thank all the readers who have followed "The More it Drops, The More I Buy" series in the past. Let's keep the debate going. What do you think about REITs? Comment below...
If you enjoyed this article and wish to receive updates on our latest research, click "Follow" next to my name at the top of this article.
Become a "Passive Landlord" with Our 8.4% Yielding Real Estate Portfolio
At High Yield Landlord, we are a group of landlords seeking high income opportunities from real estate, without all the hassle that comes with owning rental properties. HYPO, our high yielding portfolio, is designed to maximize total return and has a dividend yield of 8.4% with a conservative 78% payout ratio despite a yield that is double the index.
We invite you for a 2-week free trial to help you identify the future outperformers in the high yielding real estate space. For more info, click HERE.

Disclosure: I am/we are long WPC, SRC, IRM, MPW. I wrote this article myself, and it expresses my own opinions. I am not receiving compensation for it (other than from Seeking Alpha). I have no business relationship with any company whose stock is mentioned in this article.