By Jeremy Schwartz, CFA, Director of Research
August has been a volatile month from a market performance stand point. With that in mind, it is interesting to look at how WisdomTree strategies have been performing with this volatility.
First, the strongest performing fund within the WisdomTree line up in August was our Strong dollar fund, the WisdomTree Bloomberg U.S. Dollar Bullish Fund (NYSEARCA:USDU). This just goes to show that much of the emerging market uncertainty showing up is coming from within the currency moves. But beyond that, some of our better performing strategies are three of our alternative strategies: the WisdomTree Dynamic Long/Short U.S. Equity Fund (BATS:DYLS), the WisdomTree Dynamic Bearish U.S. Equity Fund (BATS:DYB), and our WisdomTree CBOE S&P 500 PutWrite Strategy Fund (NYSEARCA:PUTW).
During periods of volatility when people expect upside gains to be limited, a put-writing fund like PUTW can be a valuable tool in gaining access to writing options to collect premiums. Where this strategy may lag is when markets are full-steaming ahead in a strong bull market - which does not appear to be the current mentality for the market, and henceforth, makes the strategy relevant.
Our fixed income funds were also on this list. In particular, our yield enhanced Aggregate bond strategies, both the core and short-term versions - WisdomTree Yield Enhanced U.S. Aggregate Bond Fund (NYSEARCA:AGGY) and WisdomTree Yield Enhanced U.S. Short-Term Aggregate Bond Fund (BATS:SHAG) - have shown strong performance in the face of a rising rate environment. Kevin Flanagan just wrote a piece on barbelling fixed income strategies that combine our WisdomTree Floating Rate Treasury Fund (NYSEARCA:USFR) with AGGY, to create a blended fixed income exposure.
The best performing WisdomTree U.S. equity strategy continues to be our WisdomTree U.S. Multifactor Fund (BATS:USMF), which continues to be among top performing WisdomTree Equity strategies year to date.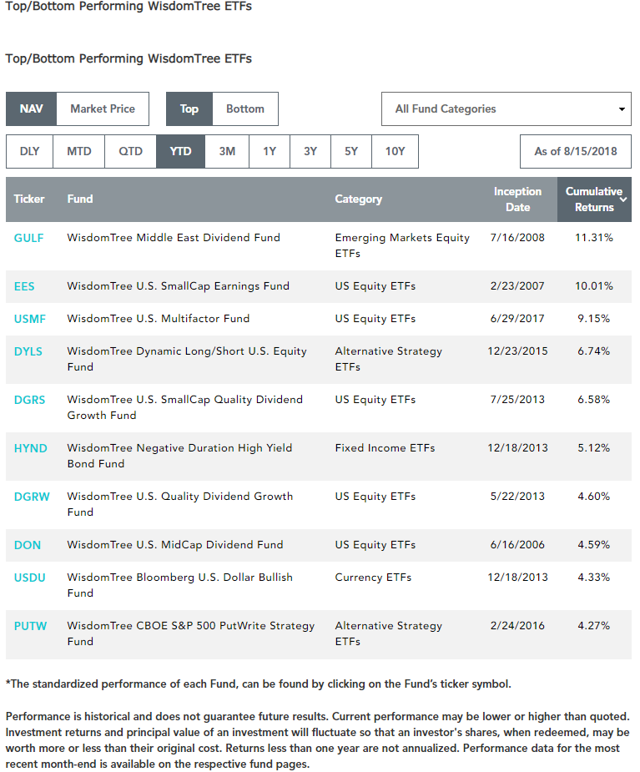 The area of the market that has been hit hardest in August has been the emerging markets, China, and European local market exposure. Of the bottom 10 performing WisdomTree strategies, 8 of them are emerging market-focused, and 2 of them are European-focused, as the declining euro weighs in on performance.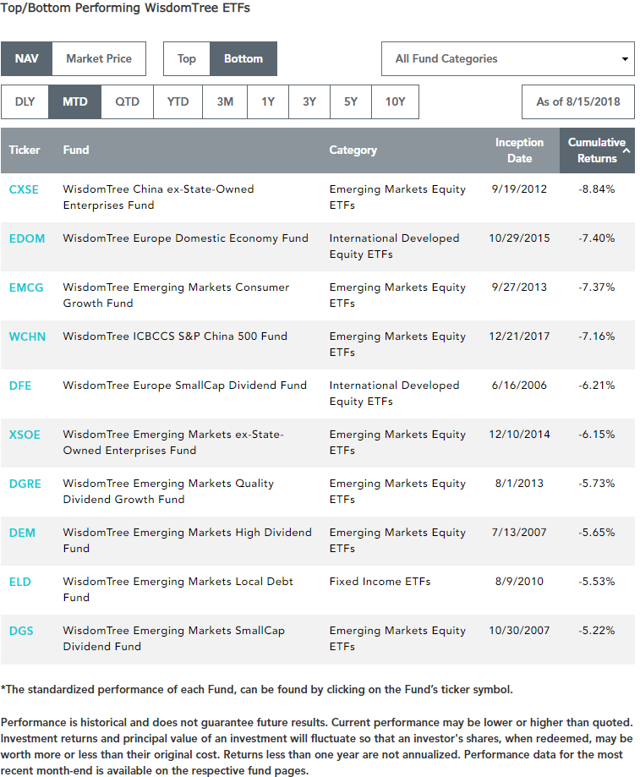 For investors who are looking for options to lower volatility in emerging markets and Europe, WisdomTree just launched two multi-factor strategies that employs a currency factor as one of the multiple factors. The WisdomTree Emerging Markets Multifactor Fund (NYSEARCA:EMMF) launched on August 10th with a 70% currency hedge ratio - which currently places this amongst our more defensive strategies. That currency signal resets every two weeks, so if the currencies start appreciating, it will not stay hedged for long. In fact, our research shows that the signals are only hedged 20% of the time.
The WisdomTree International Multifactor Fund (NYSEARCA:DWMF) was also launched with over an 80% hedge ratio, and over 90% hedged for the Euro. The developed world signals have lower latency re-balancing and do so monthly. Both strategies have a factor process that emphasizes lower volatility in the weighting process of securities. Through factors like risk-adjusted momentum and low correlation selection in the stock selection process, we expect these strategies to be attractive solutions for periods of higher volatility, like what we just experienced in August. For those interested in learning more about our newest multifactor strategy, please read this latest blog.
Important Risks Related to this Article
There are risks associated with investing, including possible loss of principal. Foreign investing involves currency, political and economic risk. Funds focusing on a single country, sector and/or funds that emphasize investments in smaller companies may experience greater price volatility. Investments in emerging markets, real estate, currency, fixed income and alternative investments include additional risks. Please read each Fund's prospectus for specific details regarding each Fund's risk profile.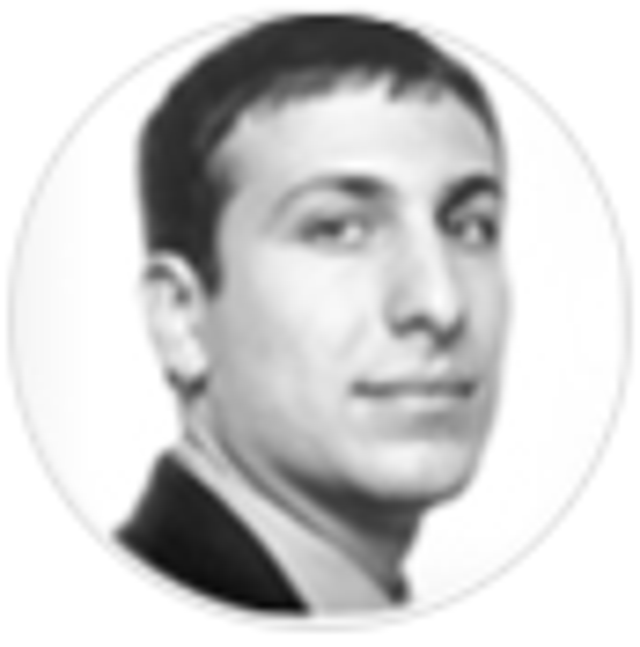 Jeremy Schwartz, CFA, Director of Research
Jeremy is responsible for the WisdomTree equity index construction process and oversees research across the WisdomTree family. Prior to joining WisdomTree, Jeremy was Professor Jeremy Siegel's head research assistant and helped with the research and writing of Stocks for the Long Run and The Future for Investors. He is also co-author of the Financial Analysts Journal paper "What Happened to the Original Stocks in the S&P 500?" Jeremy is a graduate of The Wharton School of the University of Pennsylvania and currently stays involved with Wharton by hosting the Wharton Business Radio program "Behind the Markets" on SiriusXM 111. Jeremy is also a member of the CFA Society of Philadelphia.