Article Thesis
General Electric (GE) is currently in the midst of a turnaround. Some of its approaches look promising, and due to a low valuation, shares look attractive for long-term oriented investors.
General Electric: In The Midst Of A Turnaround
General Electric's finance-heavy business model became a problem during the last financial crisis, and General Electric has rightfully decided to shrink GE Capital.
Due to the fact that General Electric's operations were not efficient enough, and due to the overall relatively bloated nature of the company, General Electric's earnings have been under pressure over the last couple of years.

Source: General Electric's 10-K filing
On top of weak operating results, other issues like a management shakeup and an accounting investigation pressured the company and its stock further.
General Electric's new CEO John Flannery has started a turnaround that will allow for a better cost profile and a focus on the industrial business. This turnaround will reshape General Electric meaningfully over the coming years. The strategic revisions include asset sales and spin-offs of some of General Electric's businesses.
Siemens Has Set An Example For A Successful Healthcare IPO
Siemens (OTCPK:SIEGY), a German industrial and one of General Electric's closest peers, had problems that were somewhat similar to what General Electric is experiencing right now. These problems included an unconvincing top line performance and unsteady profit margins.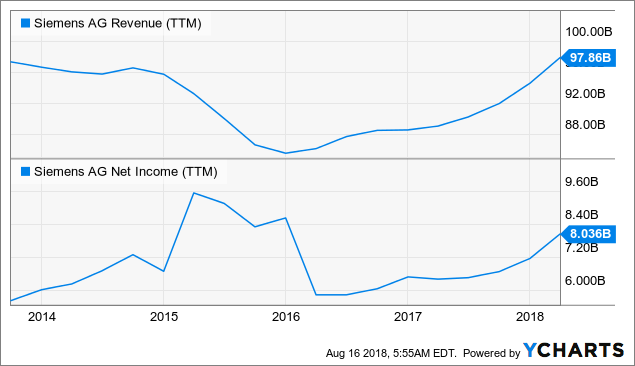 Siemens has, however, successfully right-sized and optimized its businesses over the last couple of years, and revenues, as well as profits, have been on a clear uptrend over the last couple of quarters.
Earlier this year, Siemens has sold a stake in its healthcare business via an IPO of the segment, which is now called Siemens Healthineers (OTCPK:SMMNY). This is somewhat related to what General Electric plans to do with its healthcare business.
General Electric's healthcare business produces about 18% of the company's revenues and 28% of General Electric's operating earnings. John Flannery plans to spin off 80% of the segment to General Electric's shareholders. The remaining 20% will be sold.
The 20% of the healthcare business that will be sold will increase General Electric's cash balance. At the same time, the spin-off will allow General Electric to get rid of some long-term debt and pension liabilities.
Siemens Healthineers is valued at $43 billion with annual revenues of $15 billion. General Electric's healthcare segment, which grossed annual revenues of $19 billion during 2017, could therefore be quite valuable.
Siemens Healthineers and General Electric's healthcare business grow at relatively similar rates. Siemens Healthineers has financial debt and pension liabilities totaling ~$6 billion.
The value of General Electric's healthcare segment would thus be around $54 billion if it carried a similar liability/debt load as Siemens Healthineers.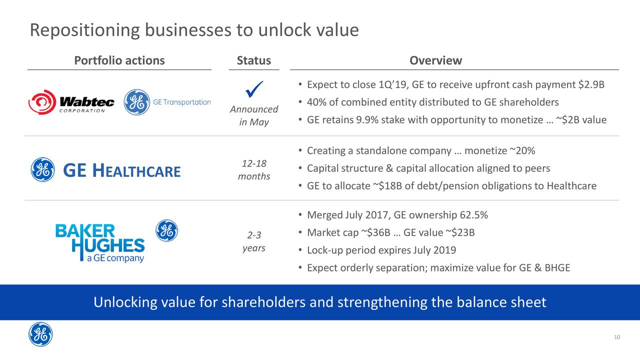 Source: General Electric investor presentation
Since GE Healthcare will hold about $18 billion of debt and pension liabilities, it makes sense to reduce its fair value by ~$10 billion. $8 billion of debt and liabilities would represent the same level of liabilities relative to revenues as what we see at Siemens Healthineers. Adjusting for GE Healthcare's higher debt gets us to a value of ~$45 billion for the segment.
Selling 20% of the segment, while the remainder will be passed to shareholders, will likely generate about $9 billion of cash for General Electric. Coupled with the fact that General Electric plans to allocate $18 billion of debt and pension liabilities to GE Healthcare, this move should bring General Electric's net liabilities down by roughly $27 billion.
More Portfolio Restructuring And A Renewed Focus On Core Segments
In addition to the spin-off of GE Healthcare, General Electric has also planned to restructure its portfolio in other ways. The company plans, for example, to sell its stake in Baker Hughes (BHGE). This move will likely generate about $22 billion when General Electric sells its ~62% stake in BHGE. Note: This number was updated on August 25, before that the article did include a wrong number.
General Electric also plans to merge its transportation business with that of Wabtec, which should lead to immediate cash proceeds of $3 billion. An additional $2 billion would be generated if General Electric sells its stake in the combined company.
This would bring General Electric's total cash proceeds and net liabilities reduction to $40 billion through portfolio restructurings alone. This would get General Electric a lot closer to its target of a leverage ratio (net debt to EBITDA) of less than 2.5 in 2020.
After the monetization and/or spin-off of its non-core segments, General Electric would be a much more focused company that would be active in 3 industries: Aviation, Power, and Renewable Energy.
The Market Outlook For General Electric's Businesses Is Strong
The three remaining business segments are all targeting markets that will be attractive over the coming years and decades. The biggest unit in regards to profit generation is the Aviation segment.
Aviation
General Electric is a tier 1 supplier to the aircraft industry and the biggest aircraft engine producer in the world. General Electric's engines are used in both commercial as well as military aircraft. General Electric, therefore, will profit from rising demand for military as well as civil airplanes.
Commercial aircraft demand will be driven by two factors going forward. The first one is the rising demand for air transport. In the following graph, we see that global passenger numbers have risen exponentially over the last decades: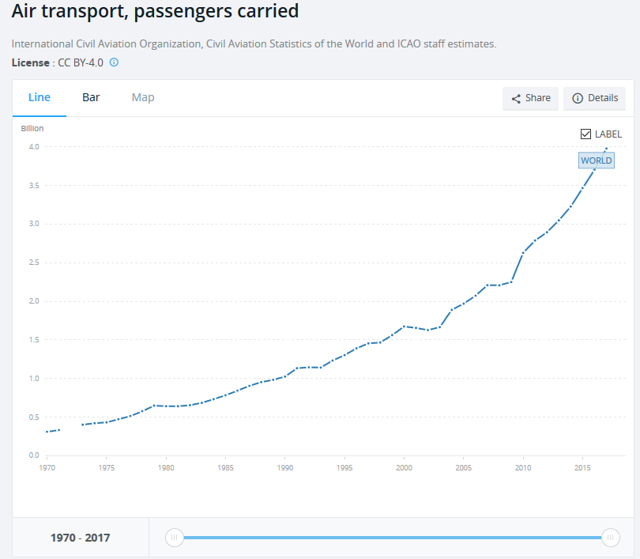 Source: worldbank.org
This trend will not slow down, as globalization means that business travel activity will increase. At the same time, rising wealth levels in emerging countries such as China will allow for increased travel spending, which will increase passenger counts. It is thus not surprising that Boeing (NYSE:BA) sees a $1.1 billion commercial aircraft market opportunity in China alone over the next 20 years.
Another factor that will drive demand for commercial aircraft is the aging fleet age of many carriers:

Source: prnewswire.com
The combination of rising replacement demand, as well as fleet expansion, will result in a global commercial aircraft market opportunity of an immense $15 trillion through the next 20 years, according to Boeing's forecasts. As a key supplier, GE Aviation will benefit from this long-term secular growth trend.
Military aircraft are less important for GE's Aviation business, but since military spending is on the rise, and since spending is shifting towards aircraft and drones, General Electric should still see rising profits from this sub-segment as well.
Power
General Electric's Power segment has seen its profits and revenues decline during Q2, but since this is a business which can be somewhat lumpy investors should not worry about quarterly results too much.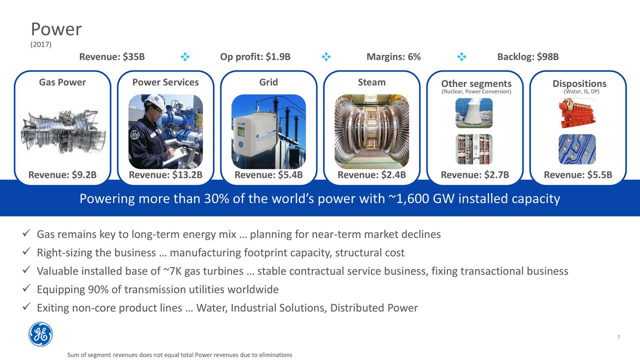 Source: General Electric presentation
The Power segment still has a backlog of close to $100 billion and produced revenues of $35 billion during 2017. The long-term growth outlook is favorable. One of the reasons is that General Electric will profit from growing nuclear power generation via its GE Hitachi Nuclear Energy joint venture.
The IAEA forecasts an increase in nuclear power generation of more than 50% through 2030. This will require a significant amount of newly built nuclear power plants, while older plants that will be decommissioned will have to be replaced.
Some countries are trying to exit nuclear power production, but due to a steep pace of expansion, especially in Asia, the number of nuclear power plants will continue to rise.
On top of that, GE Power will also benefit from rising natural gas usage for power generation: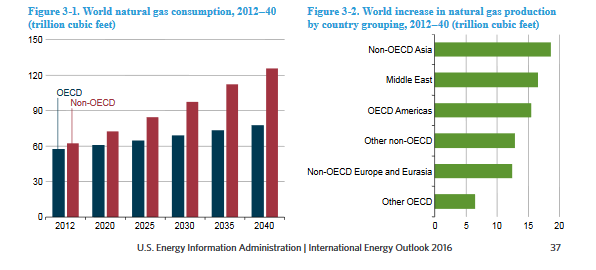 Source: eia.gov
Natural gas is cheap, reliable, and it is a significantly smaller burden on the environment compared to coal and oil. It is thus not surprising that natural gas consumption will increase steadily over the coming decades, especially in energy-hungry emerging markets.
General Electric will not only sell gas engines to this growing market; GE Power will also be able to sell spare parts and services to this ever-increasing industry.
The long-term outlook for General Electric's Power segment therefore is favorable, despite short-term struggles.
Renewables
The last pillar on which Flannery plans to rebuild General Electric is the Renewable Energy segment.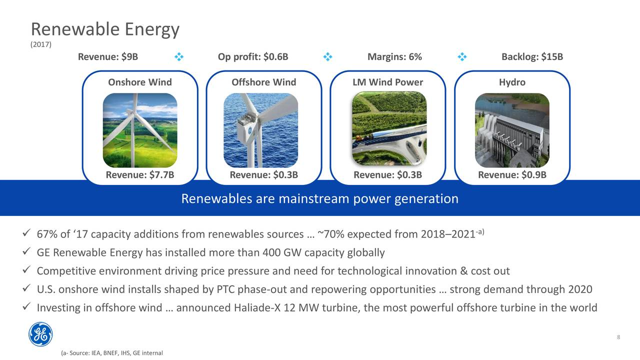 Source: General Electric presentation
This unit, which is substantially smaller than the other two, produces about $9 billion in sales annually, with the vast majority of revenues coming from onshore wind.
Onshore wind is, luckily, one of the most promising markets in the renewable energy industry.

Source: irena.org
The International Renewable Energy Agency reports that onshore wind is the most competitive way to generate electricity from renewable sources. Findings from the EIA point to a similar result: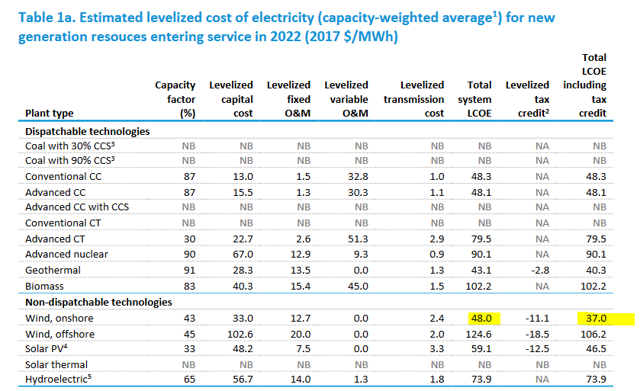 Source: eia.gov
We therefore can expect that demand for onshore wind generation will remain very strong, which will be positive for key suppliers and manufacturers such as General Electric.
Smaller markets, such as off-shore wind and hydro, will continue to grow as well, which will further benefit General Electric's renewables segment.
Overall, we can summarize that the long-term growth outlook for all three remaining segments is positive. General Electric is well-positioned in markets that will benefit from secular growth over the coming decades.
Finding A Fair Value For General Electric's Shares
A positive outlook is not good enough if the valuation is too high, though. Thus, we should also look at how General Electric is valued right here.
Based on its forecast of free cash flows of $6 billion during 2018, we can calculate that shares are trading for ~18 times this year's free cash flow. General Electric's price to free cash flow multiple is in line with that of Siemens.
When we look at General Electric's price to earnings ratio, we see that shares look quite inexpensive right here. Based on management's forecasts for ~$1.00 in EPS, as well as based on the analyst EPS consensus of $0.95, General Electric's shares look relatively cheap, at 12-13 times this year's earnings. Siemens, in contrast, trades at ~14-15 times this year's expected profits.
Last but not least. We can look at the sum of the parts that make up General Electric right now. Investors will receive 80% of GE Healthcare through a tax-free spin-off, and I estimate that value at $36 billion.
This leaves GE Capital and the three remaining segments. At a value of $0.50 per share, GE Capital would have a value of ~$4.5 billion.
Aviation, which produces annual sales of $27 billion, could be valued at $46 billion when we use the 1.7 times price to sales multiple of United Technologies (UTX).
When we value the Power segment at 1.0x sales and the Renewable Energy segment at 1.6 times sales, we get values of $35 billion and $15 billion, respectively. These valuations are based on my estimates for a fair value for each unit. In total, the sum of the parts would be ~$137 billion.
Right now, General Electric's industrial net debt and unfunded pension liabilities total ~$50 billion. The industrial net debt number excludes the long-term borrowings that belong to GE Capital and is adjusted for General Electric's cash holdings (excluding cash held by GE Capital). More information on this metric can be found in the 10-Q filing, page 53.
After the spin-off of GE Healthcare and the asset sales that will likely happen over the next couple of quarters, General Electric could have a net cash position of $4 billion. This incorporates $18 billion of debt and liabilities that will be spun off towards GE Healthcare, $9 billion in cash proceeds from the 20% stake in GE Healthcare, $22 billion for Baker Hughes, and $5 billion for the Wabtec deal.
The liabilities-adjusted sum of the parts therefore is ~$141 billion, or $16.20 per share. This would represent a 23% discount to fair value. Note: This was updated on August 25 as well to reflect the true value of the Baker Hughes stake.
Since the PE ratio relative to that of Siemens points to sizeable discount as well, this looks like a realistic assumption.
Risks To Consider
There are no risk-free investments, and an investment into General Electric's stock is no different.
One possible issue is that more accounting problems/irregularities surface over the coming years. The last accounting review has, in effect, not been a major headwind, but it is possible that another such issue would pressure General Electric's share price significantly.
There is also some execution risk. In the past, General Electric has not always been able to deliver the promised earnings and cash flow results. Even though General Electric's new CEO Flannery has so far not made aggressive promises, it is still possible that GE fails to meet goals such as the $6 billion FCF target for 2018.
General Electric has huge pension liabilities. If the $70 billion in investments (10-K, page 157) that account for General Electric's funded balance do not perform well over the coming years, this could mean that General Electric has to deploy additional capital towards its pension plans.
Due to its exposure to somewhat cyclical industries such as aviation and power generation, a major recession or global economic crisis would pressure General Electric's results substantially. The resulting cash flow shortfall could also lead to another dividend cut, which could, in turn, put more pressure on General Electric's stock.
Overall, General Electric does not look like an overly risky investment, but investors nevertheless should keep an eye on these items if they plan to invest in the company.
Final Thoughts
General Electric has lost an immense amount of market value over the last couple of years, but close to the 9-year-low, the bottom could be in.
Management's plans for asset sales and debt reduction look realistic and are in shareholders' interest.
The long-term outlook for General Electric's key segments is favorable, and shares of the company do not look expensive.
Shares could be a good long-term investment here, among other factors due to the high dividend yield of 3.9%.
Author's note: If you enjoyed this article and would like to read more from me, you can hit the "Follow" button to get informed about new articles. I am always glad to see new followers!
Disclosure: I/we have no positions in any stocks mentioned, and no plans to initiate any positions within the next 72 hours. I wrote this article myself, and it expresses my own opinions. I am not receiving compensation for it (other than from Seeking Alpha). I have no business relationship with any company whose stock is mentioned in this article.
Editor's Note: This article discusses one or more securities that do not trade on a major U.S. exchange. Please be aware of the risks associated with these stocks.