With the tech sector receiving the lion's share of attention from traders and investors over the past 12-18 months, it's easy to overlook the fact that the market is currently being led by some decidedly non-tech sectors.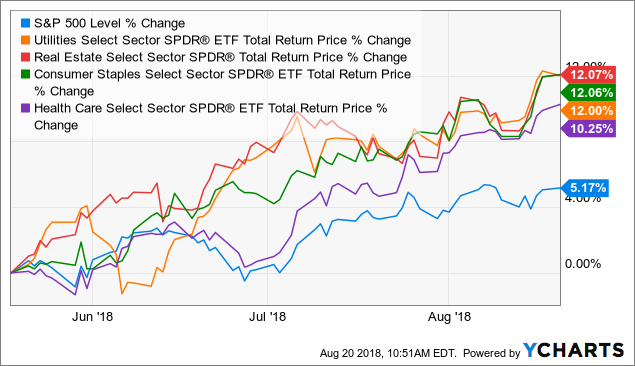 Over the past three months, the best-performing sectors have been the ones that are largely considered the most boring. Yes, it's not tech or even the consumer discretionary group that's leading the way. It's the equity market's "safe haven" sectors - utilities (XLU), consumer staples (XLP), real estate (XLRE) and healthcare (XLV) - that have been the real market beaters. And they've beaten the S&P 500 (SPY) by a lot.
The switch in market leadership shouldn't be all that surprising. The ongoing trade war with China and the economic unrest in Turkey and other European nations have sent investors scurrying for safer areas of the market despite an economy that still looks pretty solid (although that could change quickly depending on how long the trade war drags on). Interest rates which were expected to continue slowly rising throughout 2018 have instead stagnated. The 10-year Treasury yield has dropped from over 3% in May to 2.83% today making the higher yields of these sectors (XLU and XLRE, in particular, have 3.2% yields) look more attractive.
The resurgence of these sectors has also led to a resurrection in another group - dividend ETFs.
Dividend ETFs have largely been left behind since Election Day when anticipation of a pro-growth business environment and regulation reform gave fuel to the higher growth areas of the market. In 2017, investors didn't need high beta or smart beta, they just needed beta in order to score returns of 20-30% and more. Dividend yields of 3-4% didn't matter and with market volatility at record lows, investors didn't see the point in low volatility ETFs either.
Overall market volatility remains low, but investors are starting to see the value in value ETFs (no pun intended) and other lower risk, higher yielding products. The Vanguard Value ETF (VTV), for example, has taken in more than $5 billion this year, making it the ETF with the 6th largest net inflow year-to-date.
The time has come for investors to start looking at dividend ETFs again. Save for a few names, many of the most popular and highest-rated ETFs have done very well compared to the S&P 500 over the past few months.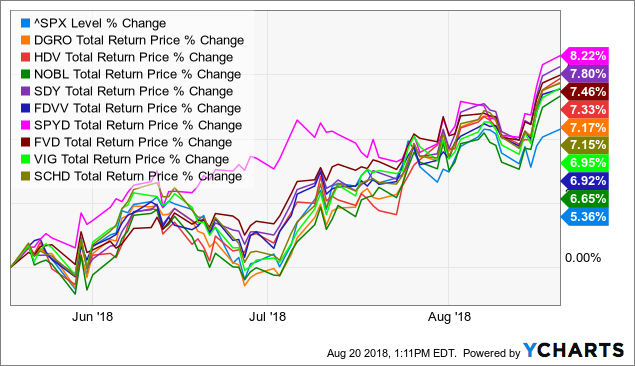 What's interesting about this is that it's virtually all dividend strategies that are benefiting. High yield, dividend growth and dividend quality ETFs have all been beating the market lately. Despite recent strength, ETF flows into these products have been mixed. The SPDR S&P Dividend ETF (SDY) and the iShares Core High Dividend ETF (HDV) have both shed more than $700 million year-to-date, but the iShares Core Dividend Growth ETF (DGRO) has gained more than $1.2 billion. Investors haven't necessarily been recommitting to these products, but now may be the time to take another look.
Each of the nine ETFs has done well lately, but let's break down each one a little further and see where each might be headed from here.
iShares Core Dividend Growth ETF (DGRO)
Expense Ratio: 0.08%
Strategy: To invest in companies of all sizes that pay a qualified dividend, have at least five years of uninterrupted annual dividend growth and have an earnings payout ratio of less than 75%.
Top Sector Holdings: Financials (18%), Healthcare (18%), Tech (16%), Industrials (14%)
Outlook: Good. DGRO currently holds the #1 spot in the ETF Focus Dividend ETF rankings and for good reason. It has got a 5-star rating from Morningstar, its performance ranks in the top 4% of its category over the past three years and, at 0.08%, is one of the cheapest ETFs around. DGRO's dividend dollars weighting strategy, which gives greater weights to those companies which have the greatest payouts to shareholders, could be an advantage over traditional market cap or yield weighting strategies. Weighting by dividends gives DGRO more of a pure play on dividend growth and could provide a degree of stability that others do not. The fund has great sector diversification and has beaten the S&P 500 by more than 1% annually over the past three years with modestly lower risk.
iShares Core High Dividend ETF (HDV)
Expense Ratio: 0.08%
Strategy: To invest in high quality U.S.-domiciled companies that have had strong financial health and an ability to sustain above-average dividend payouts.
Top Sector Holdings: Healthcare (20%), Consumer Staples (20%), Energy (18%), Telecom (15%)
Outlook: Okay. HDV is a fund that has a solid strategy, but it just hasn't been able to consistently deliver results. It uses Morningstar's Economic Moat rating and dividend yield as part of its criteria. That methodology has led the fund to overweight in large-cap energy and telecom names, two areas of the market which have struggled mightily over the past couple of years. In three of the six years from 2012 to 2017, HDV's performance has ranked in the bottom 20% of its category and is there again in 2018. The fund's strategy seems sound, but I'd look for a more consistent performer.
ProShares S&P 500 Dividend Aristocrats ETF (NOBL)
Expense Ratio: 0.35%
Strategy: To invest in S&P 500 companies that have grown dividends for at least 25 consecutive years.
Top Sector Holdings: Consumer Staples (25%), Industrials (20%), Consumer Discretionary (12%), Materials (11%)
Outlook: Good. Investing in dividend growers is almost always a good strategy. On the plus side, the fund is diversified enough that it minimizes rising interest rate risk and it's reasonably valued relative to the broader market. On the downside, the expense ratio is a little high and a 2.1% yield won't get many income seekers excited. Investors tend to seek out more conservative dividend growth stock in times of uncertainty which should serve NOBL well going forward.
SPDR S&P Dividend ETF (SDY)
Expense Ratio: 0.35%
Strategy: To invest in companies that have consistently increased their dividend for at least 20 consecutive years, and weight the stocks by yield
Top Sector Holdings: Consumer Staples (16%), Industrials (16%), Financials (15%), Utilities (11%)
Outlook: Good. Like NOBL, SDY goes after long-term dividend growers, but weights by yield so it gives investors a bit of an income boost. Despite their similarities in strategy and target universe, NOBL and SDY have just 50% asset overlap, so they can be complementary holdings. I like SDY for much the same reason that I like NOBL, although I prefer SDY's slight yield advantage. SDY has also been less risky, historically, than NOBL.
Fidelity High Dividend ETF (FDVV)
Expense Ratio: 0.29%
Strategy: To invest in the stocks of large and mid-capitalization high-dividend-paying companies that are expected to continue to pay and grow their dividends.
Top Sector Holdings: Financials (22%), Tech (18%), Energy (13%), Real Estate (11%)
Outlook: Good. While this fund uses several criteria to weight its holdings, it's largely a yield-weighted ETF. FDVV has had a great 2018 so far, returning more than 10% year-to-date despite an asset allocation that differs from many other ETFs on this list. The fund's 3.7% yield is ideal for yield seekers but is it worth it at the expense of heavier weights to financials and energy stocks? I say yes. Financials have been an unexpected underperformer in 2018 but the longer-term trend of higher interest rates should benefit them in the end. Energy has been a wild ride amid tensions with Middle East nations, but near-$70 oil should help companies produce profitably and the sector is still undervalued.
SPDR Portfolio S&P 500 High Dividend ETF (SPYD)
Expense Ratio: 0.07%
Strategy: To invest in the 80 highest-yielding dividend-paying securities listed in the S&P 500.
Top Sector Holdings: Real Estate (25%), Utilities (20%), Consumer Discretionary (12%), Consumer Staples (9%)
Outlook: Not good. No ETF has been from the resurgence in utilities and REITs as much as SPYD. But that's also the reason I can't fully jump on board here. In the past three months, interest rates have dropped but the long-term trend here is still up. As rates resume their climb, funds that target pure high yield stocks will likely be negatively impacted the most. With nearly half of assets in these two classes, I'd be looking elsewhere. The 0.07% expense ratio is one of the lowest you'll find and the current yield of more than 4% looks fantastic, but I'm less than enthusiastic about SPYD's total return outlook from here.
First Trust Value Line Dividend ETF (FVD)
Expense Ratio: 0.70%
Strategy: To invest in companies with a high degree of safety, pay above-average dividends and have the potential for capital appreciation.
Top Sector Holdings: Utilities (21%), Financials (18%), Industrials (14%), Consumer Staples (13%)
Outlook: Okay. FVD has been a bit of a "feast or famine" proposition (it's finished in either the top 15% or bottom 15% of its category every year since 2011), but overall it gets a 5-star rating from Morningstar. The fund has been a top 5% performer over the past 5-, 10- and 15-year periods, so performance hasn't been an issue. I like the fund's equal-weighting strategy and the 2.3% yield is above average, if not particularly high. The real sticking point for me is the expense ratio. 0.70% is just way too high (although to be fair I'm sure shareholders over the past several years haven't been complaining). I like everything else about the fund, but the fact that it has significant ground to make up on fees compared to most other ETFs on this list prevents me from giving it a whole-hearted thumbs up.
Vanguard Dividend Appreciation ETF (VIG)
Expense Ratio: 0.08%
Strategy: To invest in companies with at least ten consecutive years of increasing annual regular dividend payments.
Top Sector Holdings: Industrials (28%), Consumer Discretionary (18%), Healthcare (13%), Tech (13%)
Outlook: Good. VIG focuses on dividend growers too, but it has more of an income with growth look. It's slightly more expensive than the broader market, so it may not do quite as well if value stocks continue to lead. Still, the focus on quality dividend growth coupled with an ultra-cheap expense ratio makes me comfortable sticking with VIG. Its lack of exposure to utilities and real estate also helps alleviate some concerns about rising rates.
Schwab U.S. Dividend Equity ETF (SCHD)
Expense Ratio: 0.07%
Strategy: To invest in companies with at least 10 consecutive years of dividend payments and strong fundamental characteristics, such as cash flow to total debt, return on equity, dividend yield and 5-year dividend growth rate.
Top Sector Holdings: Consumer Staples (23%), Tech (20%), Industrials (18%), Consumer Discretionary (12%)
Outlook: Very good. This fund does a great job of combining dividend strength and financial health. The fact that SCHD can combine an ultra-low expense ratio, an above-average yield and solid long-term performance with below average risk is really something else. Its 5-star Morningstar rating is well-deserved. It's lagging a bit so far in 2018 but that shouldn't distract from the fund's long-term track record. It has almost no exposure to utilities and REITs which will help as rates rise and its current makeup offers a nice combination of both growth and value. Continue accumulating your positions.
Conclusion
It's taken about 18 months for the tide to have begun swinging back towards dividend ETFs but it looks like it's finally happening. Any further negative developments from either overseas or evidence of slowing growth domestically could mean bad news for all stocks, but dividend stocks should do relatively better in that environment. Dividend ETFs had a really nice run from 2014 to 2016, so giving the lead back to growth for two years is quite normal in the grand scheme. But things look to be setting up nicely for value and dividend ETFs over the next year or so. Each of the ETFs listed below has had a nice run over the past few months, but I'd tend to favor SCHD, DGRO, NOBL, SDY and VIG moving forward.
Disclosure: I am/we are long SCHD,VIG,DGRO. I wrote this article myself, and it expresses my own opinions. I am not receiving compensation for it (other than from Seeking Alpha). I have no business relationship with any company whose stock is mentioned in this article.