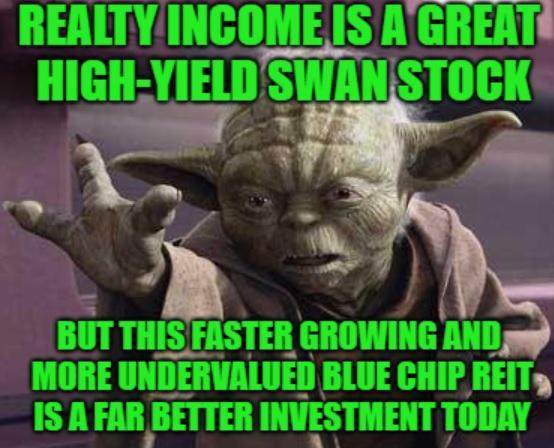 (Source: imgflip)
In one of my recent comment threads, a lively discussion began about the relative superiority of Realty Income's (O) and Simon Property Group's (SPG) business models. Both blue-chip REITs are time-tested, high-yield sleep well at night or SWAN stocks. In fact, their track records in terms of providing generous and steadily growing income make both REITs well worth owning in a conservative retiree portfolio.
A few readers asked me to write an article comparing these two blue-chip REITs to help them decide which is the better buy today. So let's take a closer look at the strengths and weaknesses of both Realty Income and Simon Property Group to see why both deserve a place on your high-yield income growth watch list. And importantly, discover why from current valuations Simon Property Group is far superior investment and likely to deliver both superior dividend growth, as well as better total returns. This is why Simon has earned a spot in my high-yield dividend growth retirement portfolio, but Realty Income has not.
Realty Income: Time-Tested, Recession Proof SWAN
While it IPOd in 1994, Realty Income has actually been in operation since 1969 making it one of the country's oldest REITs. Over the past 49 years, Realty has built itself into the nation's largest triple net lease or NNN REIT. This means that it uses a sales leaseback business model in which it will buy a free-standing retail property from its existing owner, and then lease its use to them under very long-term (usually 15-year) contracts.
The tenant is responsible for paying maintenance, taxes, and insurance, meaning that in exchange for cash, Realty gets a highly stable and very profitable stream of rental income. How profitable? Well in the first half of 2018, 70% of revenue was converted to adjusted funds from operation or AFFO. This is the REIT's equivalent of free cash flow and what's used to pay its generous monthly dividend.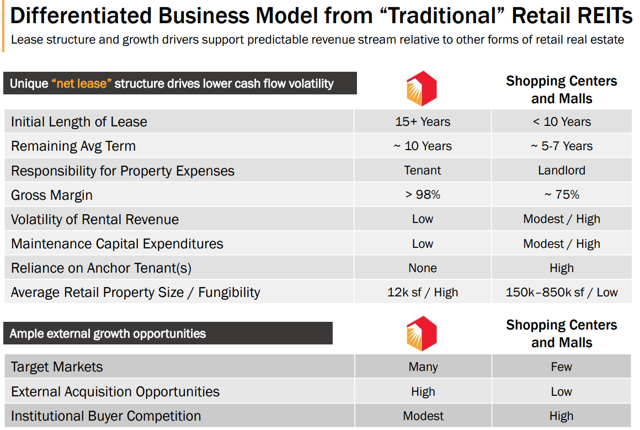 (Source: Realty Income Investor Presentation)
This triple net lease structure is one of the biggest differences between Realty Income and traditional retail REITs such as Simon, which owns malls. Mall and shopping center REITs focus on larger multi-tenant facilities, use shorter leases, and are responsible for maintaining the properties, resulting in lower margin revenue.
Today Realty Income property portfolio looks like this:
5,483 properties
49 states and Puerto Rico
257 tenants in 48 separate industries
average remaining lease: 9.3 years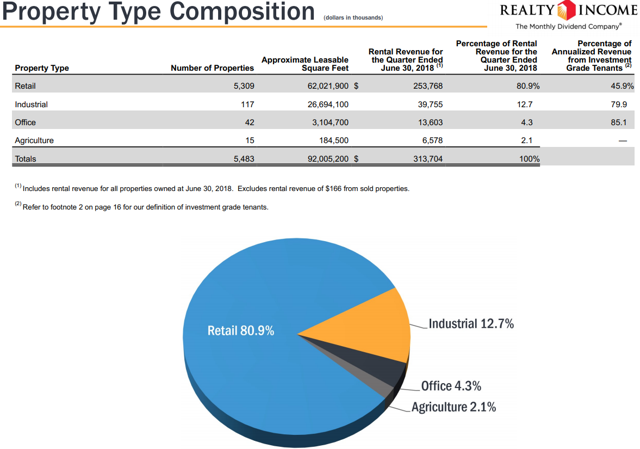 (Source: Realty Income earnings supplement)
While Realty has traditionally focused on retail properties in recent years, it's also diversified into industrial, office, and agricultural properties. This is why FedEx (FDX) is now its second largest tenant. The benefit of these different property types is they provide additional avenues for growth, and usually come with stronger investment grade tenants.
Realty Income's cash flow isn't just stable due to the highly profitable and long-term nature of its leases. It's also protected by some of the NNN industry's best diversification.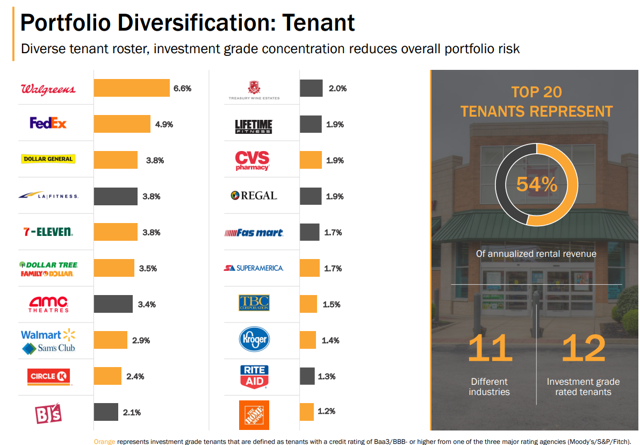 (Source: Realty Income Investor Presentation)
For example, no tenant makes up more than 6.6% of rent and even its top 20 tenants only account for 54% of annual revenue. And many of those are very healthy, investment grade companies. For example, the REIT's average tenant rental coverage (operating cash flow/rent) is 2.9, and has been stable or rising over the last four years.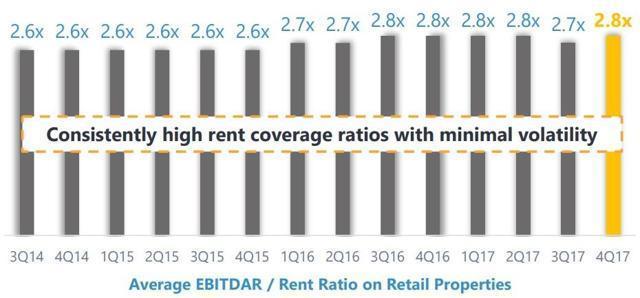 (Source: Realty Income Investor Presentation)
That should kill any idea that Realty Income is at risk of the so called "retail apocalypse". The fact is that Realty's tenants aren't dying but thriving thanks to a strong economy.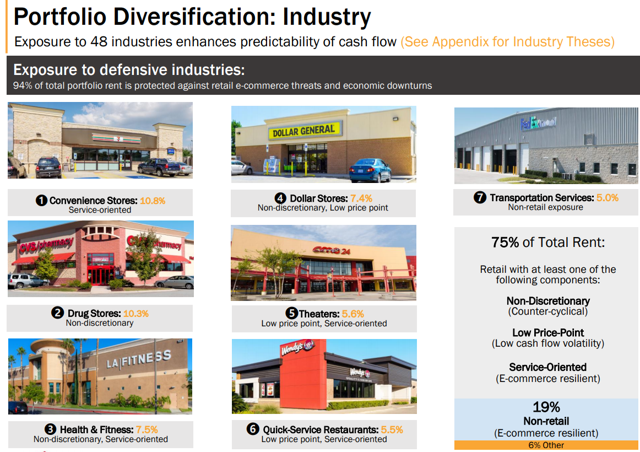 (Source: Realty Income Investor Presentation)
More importantly, 75% of its rental income comes from tenants in defensive or recession resistant industries. They also happen to be e-commerce resistant which is why management estimates that just 6% of Realty's cash flow is at risk from either e-commerce disruption or a recession.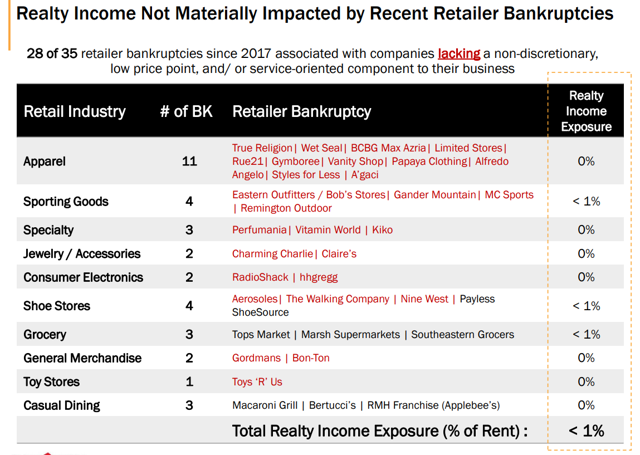 (Source: Realty Income Investor Presentation)
This is why, despite numerous major retailers going bankrupt in recent years, Realty Income's rents have been virtually unaffected. The end result of Realty Income's defensive triple net lease business model, overseen by one of the industry's best management teams (more on this in a moment), is rock steady occupancy.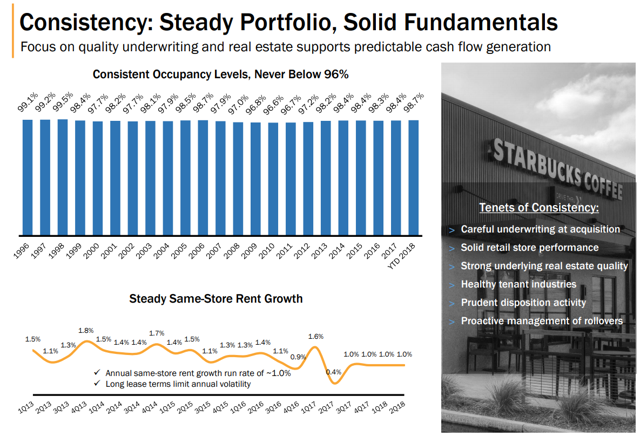 (Source: Realty Income Investor Presentation)
Not even the Financial Crisis could knock down occupancy below 96.6%, which was its lowest level since 1996. This is what has allowed Realty's AFFO/share to grow so steadily over the years. And that in turn has resulted in Realty's famously rising dividends, which have been growing every year since 1994. That puts Realty on track to become a dividend aristocrat in 2019.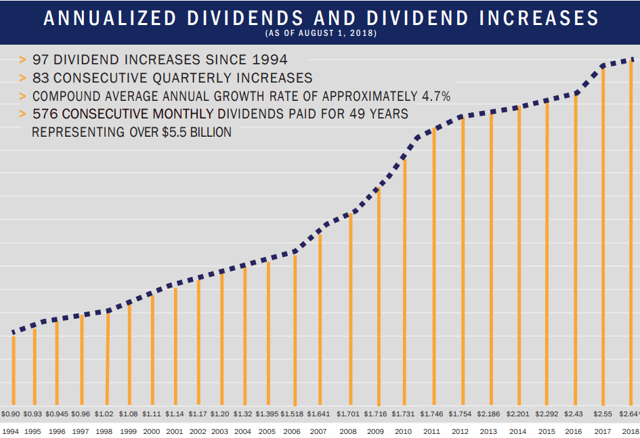 (Source: Realty Income fact sheet)
Generous, safe, and steadily rising dividends are what has allowed Realty Income to be not just a great high-yield income stock, but also generate sensational returns.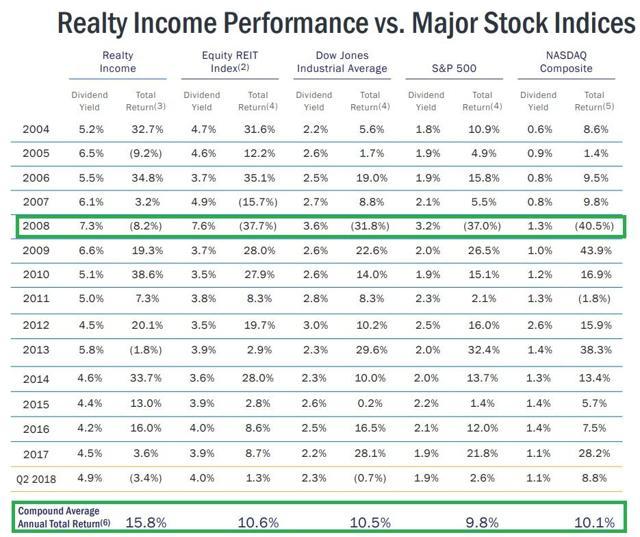 (Source: Realty Income fact sheet)
For example, Realty has beaten the S&P 500 by over 60% in the past 14 years. It has also put to shame most other REITs, and even the tech heavy Nasdaq.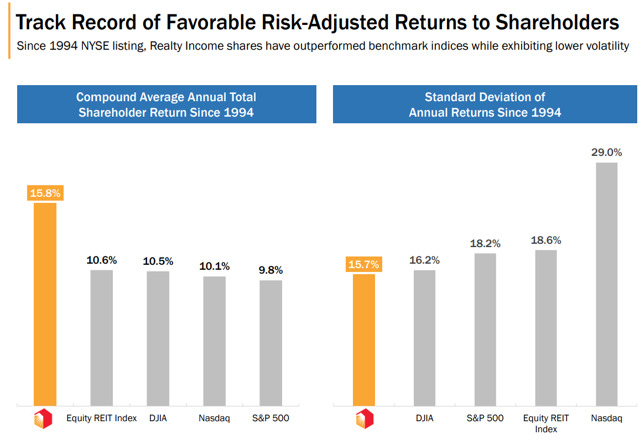 (Source: Realty Income Investor Presentation)
More importantly, for conservative investors who fear market volatility, Realty Income's risk-adjusted returns (total returns/volatility) has proven far superior to REITs in general, as well as all the major market indexes:
56% better risk-adjusted returns than Dow Jones Industrial Average
77% better risk-adjusted returns than average REIT
87% better risk-adjusted returns than S&P 500
189% better risk-adjusted returns than Nasdaq
Ultimately, this means that Realty Income's well managed and highly diversified triple net lease business model is perfect for conservative income investors seeking generous, safe, and steadily rising income. The defensive nature of its tenant base means that no matter what the economy does, "the monthly dividend company's" payouts are likely to keep coming like clockwork.
But Realty Income's highly defensive business model and low risk profile is just one part of its excellent investment thesis. The other is the three competitive advantages it has to ensure it continues to steadily grow investor income and wealth over time.
Realty's Strong Competitive Advantages Mean Steady Long-Term Growth
Realty Income has three main competitive advantages that help drive its rock steady growth over time. The first is one of the industry's best management teams. That's led by Chairman and CEO John Case, who has been in the top job since 2013. Before that Case spent 20 years as a New York based real estate investment banker overseeing over $100 billion in property deals. Or to put another way, Realty Income is helmed by someone with 25 years of industry experience in generating investor value through profitable real estate management.
For example, in 2017, Realty looked at $30 billion in potential acquisitions, (88% private market/relationship based deals) and pulled the trigger on just 5% of them. So far this year it's looked at $17.2 billion in potential deals, 94% private market, and also bought invested in just 5% of the properties it has considered. This highlights management's disciplined acquisition strategy, which is focused on quality over quantity.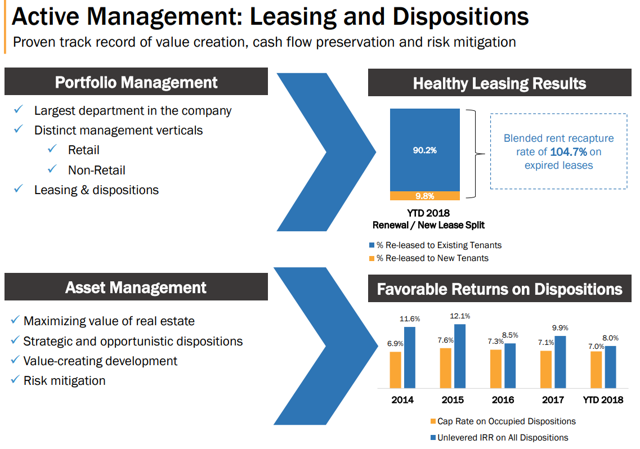 (Source: Realty Income Investor Presentation)
However, things change over time and good property portfolio management demands Realty be adaptable. This means that it does recycle its capital, by selling off underperforming properties, usually at a healthy profit. The benefits of such active property management are numerous. First, it helps maintain strong tenant profiles, meaning strong rental coverage ratios. That in turn helps Realty's rental recapture rate which was about 105% in the first half of the year. Rent recapture is the NNN industry term for how much pricing power a REIT has when releasing properties after contracts expire. A recapture rate of over 100% indicates that Realty's property quality is high and it has good pricing power (for this industry).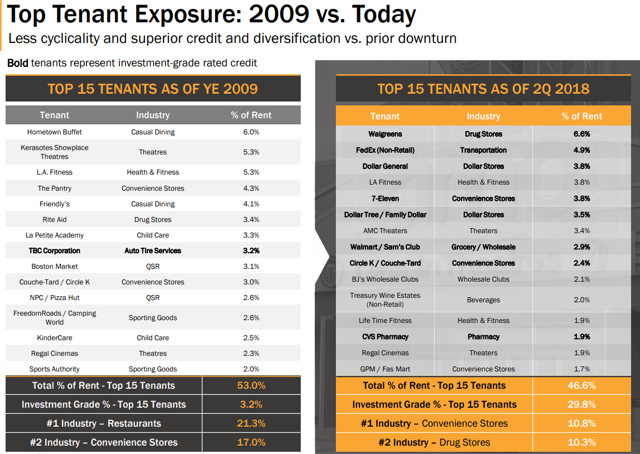 (Source: Realty Income Investor Presentation)
Capital recycling (via property dispositions) also helps Realty adapt to changing industry conditions. For example, in the past nine years, it's successfully shifted away from more volatile industries and tenants (some of which went bankrupt) into a more diversified and defensive collection of tenants and industries.
Realty Income's talented management team has done a good job of delivering its clockwork like top and bottom line growth in the first half of the year. that includes about 4% growth in AFFO/share which fueled equal growth in its dividend while still maintaining a safe payout ratio (85% or less in this industry).
| | |
| --- | --- |
| Metric | First Half 2018 Results |
| Revenue Growth | 8.2% |
| Adjusted Funds From Operation Growth | 10.2% |
| Share Count Growth | 6.0% |
| AFFO/Share Growth | 3.9% |
| Dividend Growth (YOY) | 4.1% |
| Dividend Payout Ratio | 82.4% |
(Source: earnings release)
That's thanks to $857 million spent on acquiring 358 properties at average cap rates (cash yields) of 6.3%. The average lease term on those was 13.8 years. During this time Realty also sold 40 properties for $48 million, netting $11 million in cap gains on those asset sales.
The reason the cap rates were lower than usual was because 71% of this new rent is from investment grade (lower risk) tenants. This highlights Realty Income's other major competitive advantage which is its strong access to low cost capital. This allows it to buy higher quality properties with lower cap rates while still growing AFFO/share and its dividend.
REITs avoid paying taxes as long as 90% of taxable income (not same as GAAP EPS or AFFO) is paid out as nonqualified dividends. This means that most of their cash flow must go to dividends and in order to fund growth, REITs must tap debt and equity markets. This use of external capital growth funding means that in order for AFFO/share and dividends to grow over time a REIT's cost of capital must be lower than cap rates on new properties.
Cost of capital is determined by three things: how much cash flow a REIT retains (payout ratio), its cost of debt, and cost of equity (cash flow yield). Realty Income benefits from very low cost of capital thanks to its well-earned share price premium. For example, in Q2 2018, it sold $300 million worth of shares at an average price of $53.44 (cost of equity 6%). That alone would be sufficient to ensure modest AFFO/share accretion. Note that at its current share price of almost $59, Realty's cost of equity is just 5.4% meaning it could afford to fund all its acquisitions with new share issuances and still grow AFFO/share.
But Realty also benefits from access to very low cost debt, thanks to its enormous size and strong balance sheet. This allowed it to issue a 7 year unsecured bond with an interest rate of just 4% last quarter. That was used to pay down its $2.25 revolving credit facility, which has an interest rate of just 2.9%. Today Realty has $1.5 billion remaining on that facility and can expand it by $1 billion if it wants. This means the REIT's total liquidity stands at $2.53 billion to fund new property growth and investments.
That's well above management guidance of about $1.75 billion in acquisitions for 2018, half of which are now complete.
| | |
| --- | --- |
| Weighted Average Cost Of Capital | 5.0% |
| Yield On Invested Capital | 6.5% |
| Gross Investment Spread | 1.5% |
(Source: conference call)
All told the REITs' cost of capital so far this year has been about 5% compared to cap rates on new properties of 6.5%. That's resulted in a 1.5% gross investment spread which is roughly its historical norm.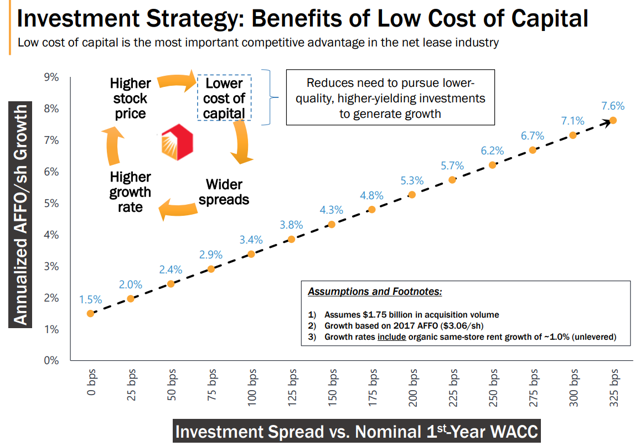 (Source: Realty Income Investor Presentation)
That investment spread is sufficient to drive about 4.3% AFFO/share and dividend growth, if it were to remain fixed. Of course, investment spreads don't stay constant but change over time, depending on interest rates, cap rates, and its share price.
However, as you can see management has been very good at managing its capital raises (mix of debt/equity funding) in such a way to ensure stable investment spreads over time.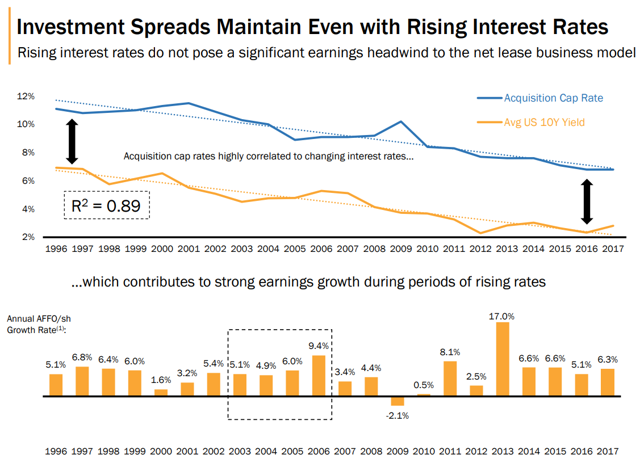 (Source: Realty Income Investor Presentation)
This is why Realty Income's AFFO/share has only fallen once in the past 22 years, and that was during the worst economic downturn since the Great Depression.
The final competitive advantage Realty enjoys is its enormous economies of scale.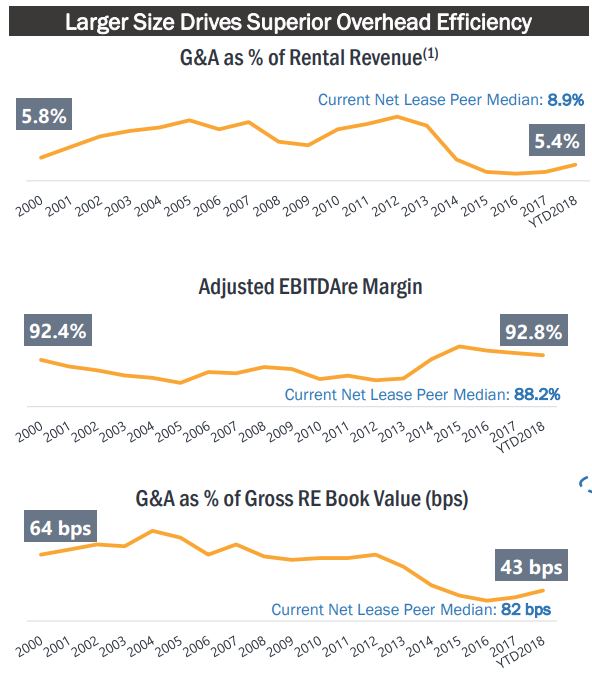 (Source: Realty Income Investor Presentation)
This allows it to amortize its administration costs over a larger revenue stream and thus enjoys superior profitability to its peers. This means each new property purchased becomes more accretive to its bottom line than if it were purchased by a smaller rival.
The bottom line is that Realty Income highly stable and defensive triple net lease business model ensures consistent cash flow to support its generous monthly dividend in all manner of economic, industry, and interest rate environments. Meanwhile, its competitive advantages of large economies of scale and access to vast sums of low cost capital make profitable growth easy. In the hands of its skilled management team, that is what makes Realty Income the quintessential low risk, high-yield SWAN stock.
But as great as Realty Income is, there are important reasons why I like Simon Property group more, especially as a place to invest new money today.
Simon Property Group: The King Of Class A Malls Is Firing On All Cylinders
Simon Property Group is one of the largest REITs in the world by market cap and owns full or partial stakes in 234 Class A malls in North America, Europe, and Asia. In total it owns over 190 million square feet of retail space.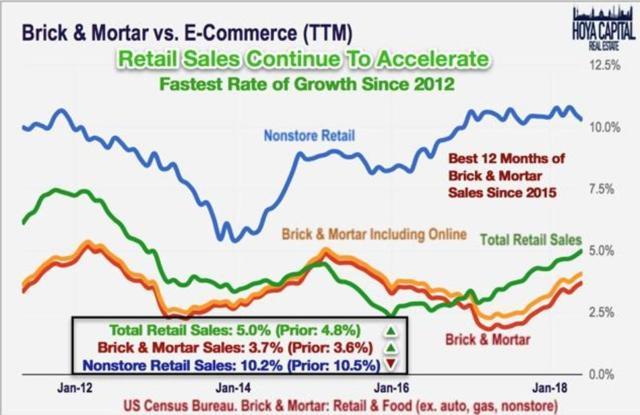 (Source: Hoya Capital Real Estate)
Now I know what many of you might be thinking. "A Mall REIT over Realty Income?! Surely you've gone mad! Malls are dying thanks to e-commerce!" While that's a popular belief, it's not actually true. Brick and mortar sales have continued to grow along with the economy and recently hit a growth rate of 5% when factoring in omnichannel sales by brick and mortar retailers. The important thing to know about mall REITs is the difference between high and low quality ones.
In the US there are approximately 1,000 malls, whose class (quality) is classified by sales per square foot.
Class A ($500+ sales per square foot): 28%
Class B and C: 67%
Class D: 5%
Class B malls might be struggling, and C and D ones are closing rapidly. But Class A malls is what Simon owns exclusively thanks to spinning off its lower quality properties into Washington Prime Group (WPG) in 2014.
As a result, Simon owns nothing but top shelf properties, located in thriving urban areas and enjoying very strong sales per square foot.
| | |
| --- | --- |
| Mall Operator | Sales Per Square Foot |
| Simon Property Group | $646 |
| Simon's Top 75 Malls | $743 |
| Macerich (MAC) | $570 |
| General Growth Properties (GGP) | $562 |
(Sources: Morningstar, earnings report)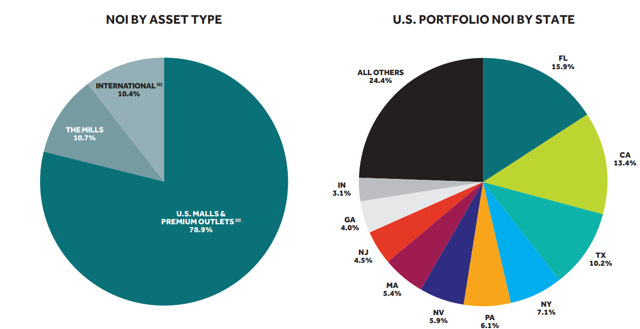 (Source: Simon Property Group Earnings Supplement)
About 70% of its net operating income or NOI comes from its Class A US malls. The other 30% is from premium outlet malls, its super high end Mills malls, and its international locations.
Simon's malls are contracted to a diverse group of retailers, most of who are not struggling, and under long-term leases.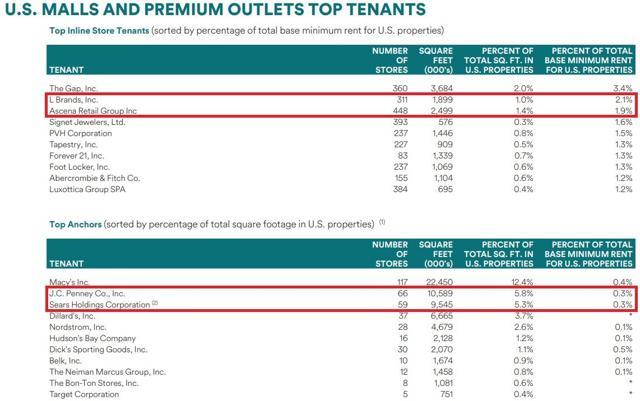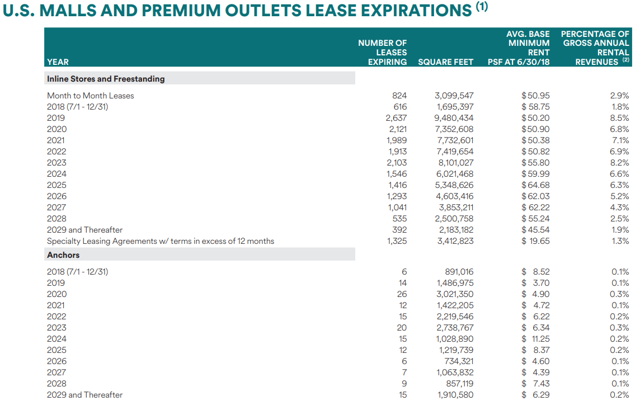 (Source: Simon Property Group Earnings Supplement)
Struggling retailers make up a very small portion of the REIT's rent, and the lease maturity schedule is very well staggered. This means that in no single year does the REIT face a significant risk of a major drop in funds from operation or FFO (what pays the dividend).
There are three reasons that Simon's malls are so attractive to thriving retailers. The first is their premium location, mostly located in highly dense and affluent cities with high customer traffic.
The second is that Simon has invested in technology that has helped its retailers embrace the "omnichannel" approach where their physical locations are leveraged to drive stronger online sales.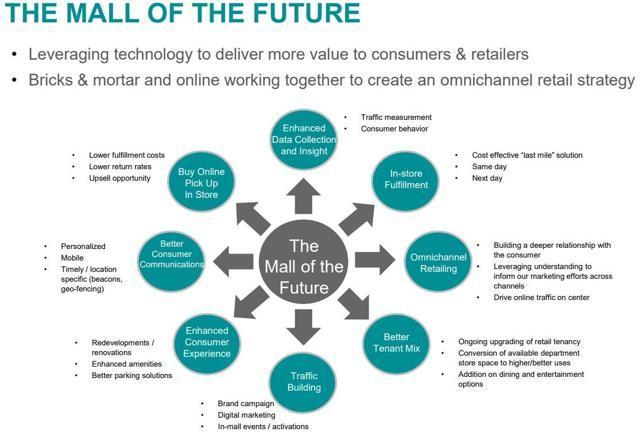 (Source: SPG Investor Presentation)
Finally, Simon has spent heavily on densification projects and non-retail developments that have helped turn its malls into "experiential" locations. For example, it now has about 1,750 restaurants throughout its mall portfolio.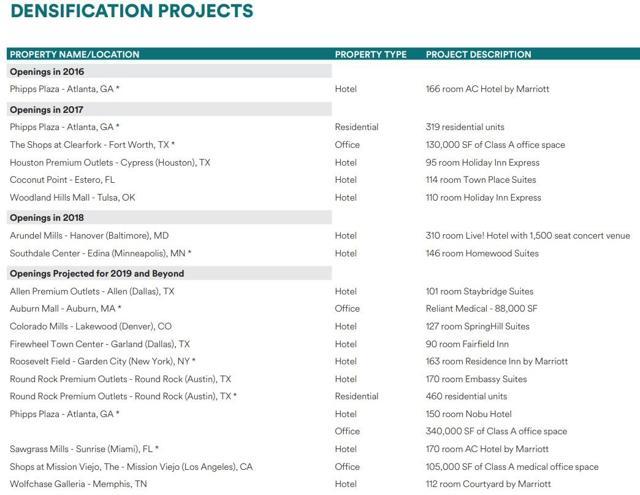 (Source: Simon Property Group Earnings Supplement)
Meanwhile, adding hotels, apartments and office developments near or attached to its malls helps drive stronger traffic and further increases the value of Simon's malls.
As a result, Simon's US malls are thriving, with the REIT reporting very strong results in Q2:
retail sales per square foot up 4.6% YOY (highest in four years)
minimum base rent up 3.3% YOY
lease spread 10.7%
The most important metric to watch for Simon investors is the lease spread. This is the difference between old leases and new ones. Simon's lease spreads have been in the double digits, which shows the strong pricing power it has with its tenants thanks to its top-tier properties.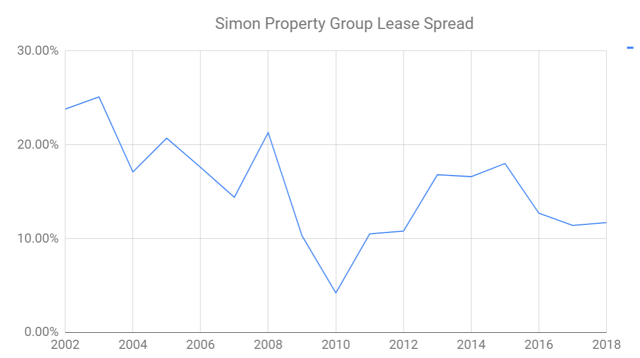 (Sources: Simon Property Group earnings supplements)
In fact, in the last 16 years Simon's lease spreads have never been negative and only during the Great Recession did they fall into the single digits. Meanwhile, its Mills and International malls are doing even better, with higher occupancy and even more impressive lease spreads.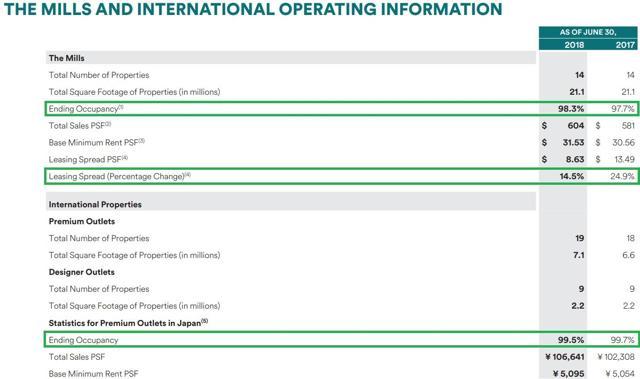 (Source: Simon Property Group Earnings Supplement)
As a result of its superior properties and global presence, Simon's growth in the first half of 2018 was exceptional.
| | |
| --- | --- |
| Metric | First Half Results |
| Revenue Growth | 3.0% |
| Funds From Operation Growth | 11.6% |
| Share Count Growth | -0.8% |
| FFO/Share Growth | 12.5% |
| Dividend Growth (YOY) | 11.4% |
| Dividend Payout Ratio | 66.7% |
(Source: earnings release, Gurufocus)
Simon's strong results were driven by numerous positive factors. One was the opening of a new 422,0000 square foot premium outlet mall in Edmonton, Canada, of which it owns 50%. The main growth driver was a 4.5% increase in NOI resulting from its strong lease spreads and rising rents. Finally, a one-time charge in Q2 2017 for redeeming some senior bonds wasn't replicated this quarter which also helped boost the results. To help keep its growth engine firing Simon has big plans.
That includes four more malls under development:
Denver Premium Outlets (Thornton, Colorado); scheduled to open in September 2018. Simon owns 100% of this project.
Queretaro Premium Outlets (Queretaro, Mexico); scheduled to open in December 2018. Simon owns a 50% interest in this project.
Malaga Designer Outlet (Malaga, Spain); scheduled to open in spring 2019. Simon owns a 46% interest in this project.
Cannock Designer Outlet (Cannock, United Kingdom); scheduled to open in spring 2020. Simon owns a 20% interest in this project.
Simon also has redevelopment/expansion projects underway in five malls located all over the world and has some of those properties 90% pre-leased to strong tenants. Most recently Simon announced a joint venture with Siam Piwat, an international mall developer, to build a new premium outlet mall in Thailand. That will add to Simon's international exposure to other thriving Asian countries which include Japan, Korea and Malaysia. And there remain plenty of new markets that Simon might break into. Management recently told analysts at the conference call that it believes premium outlet malls might do well in the Middle East.
Thanks to its strong results and thriving tenants, Simon's management raised its full year 2018 FFO/share guidance by 1% to $12.09, which represents about 8% growth over 2017's results. That's also double the growth rate of Realty Income, which is growing off a much smaller asset base. More importantly to income investors, Simon hiked its dividend for the third time in the past 12 months (11% YOY). That dividend growth rate is about triple Realty Income's this year.
For any REIT, such fast cash flow and dividend growth would be impressive. For one of Simon's enormous size and scale, it's doubly so.
Mall REIT FFO/Share Analyst Growth Projections

(Source: Brad Thomas)
In fact, Simon is now on track to beat analyst's earlier expectations for this year, and even those showed it as the second fastest growing mall REIT in America. And over the long-term analyst now expect Simon to grow its FFO/share at 6.5% which would keep it as America's second fastest growing mall REIT. It would also represent 33% faster growth than Realty Income is expected to attain.
That's thanks to its large development pipeline of $807 million worth of new properties and redevelopment projects.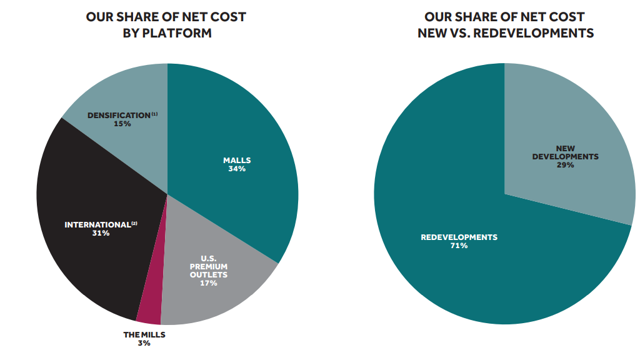 (Source: Simon Property Group Earnings Supplement)
66% of that growth spending is coming in the form of non-US malls, which are Simon's best performing assets. And keep in mind those are just the projects already approved and underway. Simon also has a shadow backlog of potential projects that according to CEO David Simon comes to "over $5 billion of readily available projects."
The bottom line is that Simon Property Group is not a distressed mall REIT that's struggling to cling to life in the age of Amazon (AMZN). Rather, it's an industry leader with some of the best assets in not just this country, but around the world. And thanks to a steady improvement of those properties with value added non-retail oriented projects, Simon's malls aren't dying but thriving.
But just like with Realty Income, the biggest reason to own Simon isn't its impressive past results. Rather, it's three competitive advantages that set it up to thrive in the future.
Unbeatable Scale, World-Class Management And A Mountain Of Low Cost Capital Support Strong Long-Term Growth
Quality management is ultimately the cornerstone of any good investment. Investors need to trust that the people investing our capital are taking a long-term and disciplined approach and adapting to changing industry conditions appropriately.
Fortunately, Simon literally has the best management team in the mall REIT industry, and arguably one of the best CEOs in all of corporate America. That team has managed to keep occupancy at 0.2% to 1.3% above its industry peers since 2011 despite a property portfolio that's two to four times as big.
Simon is led by Chairman and CEO David Simon, a 33 year industry veteran that has been named by both The Harvard Business Review and Barrons "one of the best CEO's in the world," three separate times. He also owns $115 million worth of the stock, meaning he's definitely eating his own cooking. David Simon started at the REIT 25 years ago, became its CEO in 1995, and has built it into the industry leading growth machine it is today. One with literally the biggest economies of scale of any mall REIT.
Remember that economies of scale allow a REIT to spread out its administrative costs over more revenue allowing for greater profitability. In the case of Simon that superior scale means 65% FFO margins. Remember that Realty Income's AFFO margin is 70% but it's a triple net lease REIT where tenants pay for everything. Simon has to pay for property upkeep yet manages to be nearly as profitable, thanks to its vastly superior scale.
Finally, we come to the final competitive advantage that will help Simon to grow strongly (and likely faster than Realty Income) over the long-term. That would be access to a mountain of some of the lowest costs of capital in all of REITdom.
Thanks to Simon's much lower payout ratio it's able to fund all of its growth spending with low cost debt and retained cash flow (about $1.15 billion in 2018). Retained cash flow is FFO minus dividends and maintenance capex. Simon is one of the few REITs that's buying back its shares, including 514,659 shares in Q2 of 2018. Simon's cost of equity is about 6.8% meaning that every share repurchased is nearly as accretive to FFO/share as its development projects.
Simon's river of retained cash in 2018 alone would be enough to fund its remaining development pipeline more than two times over. However, thanks to management's extremely disciplined and smart use of debt, Simon has the best balance sheet of any US REIT and thus can borrow at incredibly low interest rates.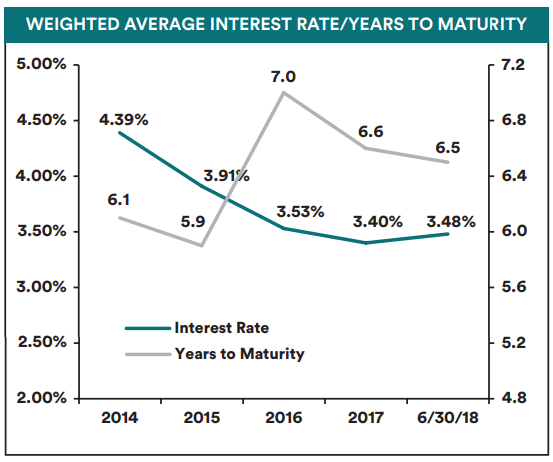 (Source: Simon Property Group Earnings Supplement)
Note that despite rising interest rates up until recently Simon's average borrowing costs have been falling. And even with rates now much higher in the last quarter Simon closed on eight mortgages totaling $2.4 billion (its share is $850 million) with an average duration and interest rate of 8.9 years and 4.0%, respectively. These highly attractive terms show that Simon's growth is not at risk from rising interest rates.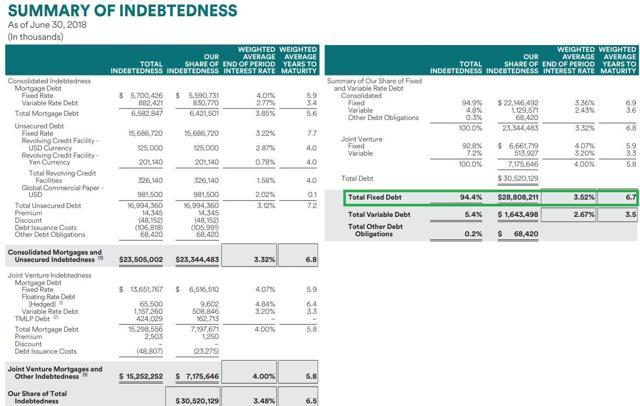 (Source: Simon Property Group Earnings Supplement)
Better yet, most of Simon's debt is long-term, fixed rate and property level non-recourse mortgage loans. This means that in a worst case scenario where a mall's cash flows can't cover interest and a loan is defaulted on, Simon just hands over the keys to the property. Creditors can't come after the rest of its cash flow to repay the loan. This further insulates Simon's dividend and makes it one of the safest in REITdom.
| | |
| --- | --- |
| Weighted Average Cost Of Capital | 2.3% |
| Yield On Invested Capital | 8.0% |
| Gross Investment Spread | 5.7% |
(Sources: earnings release, earnings supplement)
The combination of very low borrowing costs and funding so much growth with retained cash flow means Simon has the lowest cost of capital of any REIT I know of. Better yet, it's 8% cash yields on investment means its gross investment spread is nearly 6%, or four times that of Realty Income.
But wait it gets better! Remember that shadow backlog of growth projects of $5 billion? The one that means that Simon might be able to invest over $5.5 billion in profitable growth opportunities in the coming years? Well, Simon has total liquidity of $7 billion available to execute on that potential growth bonanza. Meanwhile, it's currently one of just two self-funding REITs I know of (meaning not having to issue equity to grow). Simon's share price could get cut in half and its FFO/share growth rate would actually accelerate because buybacks would then become even more beneficial (equivalent to 13.6% yielding investments).
That means that Simon's impressive growth potential is independent of its share price, which is the biggest competitive advantage a REIT can have. Thus while Realty Income is a world-class blue-chip REIT, I think Simon is clearly superior, at a fundamental level:
lower payout ratio
faster dividend growth
self-funding business model
lower cost of capital
much greater gross investment spread
greater access to lower cost capital
Those superior fundamentals mean that Simon is likely to prove the superior low risk, high-yield dividend growth investment. One that is likely to generate far better long-term total returns than Realty Income.
Dividend Profiles: Both Are Grade A High-Yield SWANS But Simon Offers Superior Income Growth And Total Return Potential
The most important part of any income investment, and what ultimately drives total returns, is the dividend profile. This consists of three parts: yield, payout safety, and long-term growth potential.
| | | | | | |
| --- | --- | --- | --- | --- | --- |
| REIT | Yield | 2018 Payout Ratio | Projected 10 Year Dividend Growth | 10 Year Annual Potential Total Return | Valuation Adjusted Annual Total Return Potential |
| Realty Income | 4.5% | 83% | 4.9% | 9.4% | 8.5% |
| Simon Property Group | 4.5% | 66% | 6.5% | 11.0% | 12.1% |
| S&P 500 | 1.8% | 38% | 6.2% | 8.0% | 2% to 5% |
(Sources: earnings releases, management guidance, Gurufocus, FastGraphs, Yardeni Research, Multpl, Simply Safe Dividend, Gordon Dividend Growth Model, Morningstar, BlackRock, Vanguard)
Both Simon and Realty Income yield 4.5%, which is well above the market's paltry 1.8%. More importantly, both dividends are very well covered by their highly stable cash flow. That makes them some of the safest payouts you can find in REITdom or on Wall Street.
The other half of the dividend safety equation is the balance sheet. In a highly capital intensive sector such as this too much debt can sink a dividend even if its well supported by strong and stable cash flow.
| | | | | | |
| --- | --- | --- | --- | --- | --- |
| REIT | Debt/Adjusted EBITDA | Interest Coverage Ratio | Fixed Charge Coverage ratio | S&P Credit Rating | Average Interest Rate |
| Realty Income | 5.5 | 4.4 | 4.6 | A- | 3.9% |
| Simon Property Group | 5.4 | 6.8 | 5.0 | A | 3.5% |
| Sector Average | 5.8 | 3.4 | 4.0 | NA | NA |
(Sources: earnings supplements, Gurufocus, FastGraphs, NAREIT)
Fortunately, both Realty Income's and Simon Property's balance sheets are fortresses. That means below average leverage, above average interest coverage, and very strong fixed-charge coverage ratios. The fixed-charge coverage ratio is EBITDA minus unfunded capital expenditures and distributions divided by total debt service. It's one of the key metrics that credit rating agencies and bondholders look at when evaluating balance sheet safety.
Ultimately both Realty Income and Simon Property Group have excellent balance sheets, which is why they have such high credit ratings and low borrowing costs. But note that Simon's credit rating is slightly higher, and in fact the highest of any REIT in America.

(Source: Realty Income Investor Presentation)
Meanwhile, both REITs are also far from breaching their debt covenants. These are relative debt metrics imposed by creditors. If a REIT violates even one then a loan can immediately be called in. This can potentially trigger a liquidity crisis and force a dividend cut or suspension.

(Source: Simon Property Group Earnings Supplement)
But as you can see, with rock-solid balance sheets like these, that's not going to happen.
What about dividend growth potential? Well, currently analysts expect Realty Income's AFFO/share to grow about 4.9% annually over the next decade. That's roughly in line with its historic growth rate and would probably mean a dividend growth rate that's also about 5%. That's excellent for a blue-chip REIT and well above what inflation is likely to run at in the future. This means that Realty Income is indeed a great choice for conservative high-yield investors like retirees.
But Simon Property's FFO/share is expected to grow 33% faster, or 6.5% CAGR which means that it offers the same yield, but substantially faster dividend growth potential. Don't get me wrong, even when we adjusted for Realty's valuation (more on this in a second) the REIT should still generate about 8.5% annualized total returns over the coming years. That's far superior to the 2% to 5% CAGR that Morningstar, BlackRock and Vanguard expect from the S&P 500.
But Simon Property, even assuming no multiple expansion, should be capable of about 11% total returns over the coming decade. That's from its combination of 4.5% yield and 6.5% long-term dividend growth. But when we factor in Simon's current valuation, then multiple expansion should boost that to at least 12%. This is about 40% greater than what Realty Income is likely to deliver and about three times the likely returns of the broader market.
Valuation: Simon Is A Buy, While Realty Income Is A Hold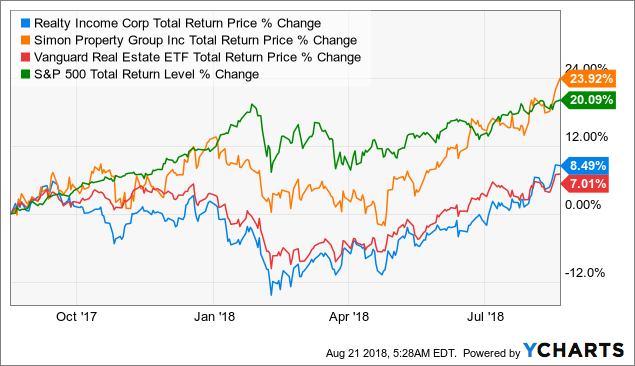 O Total Return Price data by YCharts
REITs have staged a nice recovery in recent months but over the past year, they've still lagged the market. Simon is a rare exception, with its stupendous 24% total returns rewarding patient investors. So you'd think that Realty Income would be a more attractively valued stock today. But actually, the opposite is likely true.
Now it should be noted that there are no 100% objectively correct ways to value a stock. There are dozens of metrics and models you can use. But for stable business model stocks such as REITs, a few time-tested approaches have historically been the most accurate. I use several of these to build a robust valuation model that minimizes the chances of overpaying for a REIT.
The first approach I use is the Gordon Dividend Growth Model or GDGM from the dividend profile. Since 1956 this has proven relatively accurate at predicting total returns if certain key assumptions hold:
stock starts out at fair value
over time valuation changes cancel out (stable business model)
payout ratio is stable (dividends grow in line with cash flow)
Under these conditions, total returns generally follow the formula yield + dividend growth. I only want to recommend a stock that can realistically beat the market. To own it personally, I need the long-term valuation adjusted total return potential to be at least 13%, which is my personal return hurdle rate.
Why adjust for valuation? Because if you buy a stock at undervalued levels then over time mean reversion of the multiple will result in a return boost that will add to the figure projected by the GDGM. So here's how I determine if a REIT is undervalued.
We start with the P/FFO which is the REIT equivalent of a PE ratio. We can compare this to the 20 year average to get an idea of current valuation/undervaluation because P/FFOs also tend to be mean reverting over time.
We can also plug the P/FFO into a formula devised by Benjamin Graham, Buffett's mentor and the father of modern value investing. This formula estimates fair value multiples according to: (8.5 + (2X long-term FFO/share growth))/discount rate (decimal form). The discount rate is your targeted rate of return. For these calculations, I use 10% since that's superior to the market's historical norm of 9.2% CAGR since 1871.
| | | | | | | |
| --- | --- | --- | --- | --- | --- | --- |
| REIT | P/2018 FFO | 20 Year Average P/FFO | Implied 10 Year FFO/Share Growth Rate | Graham Fair Value P/FFO | Estimated Fair Value | Discount To Fair Value |
| Realty Income | 18.6 | 15.4 | 5.1% | 16.6 | $52.75 | -10% |
| Simon Property Group | 14.8 | 14.8 | 3.2% | 19.5 | $236 | 25% |
(Sources: management guidance, FastGraphs, Benjamin Graham)
Currently, Realty Income's P/FFO is 18.6 which is far above its 20 year average. That cash multiple also implies that 5.1% growth is baked into Realty's shares. That's slightly above what analysts think is likely and implies little margin of safety.
Using the Graham fair value multiple formula we can estimate that if O grows at 4.9% over the coming 10 years then a fair value P/FFO would be 16.6. That would put the intrinsic value at $52.75 and mean the stock is 10% overvalued.
With Simon, the current P/FFO is 14.8, equal to its 20 year average. However, that multiple implies just 3.2% growth is baked into the stock which is about half what analysts (and I) think is likely. This means that if Simon continues to grow at a slightly slower rate than in recent years, its P/FFO should expand and boost total returns even more.
Using the Graham Fair value formula I estimate that SPG deserves to be trading at a P/FFO of 19.5, or slightly above that of Realty Income. This makes intuitive sense given that faster growing REITs usually trade at higher cash multiples. This also means that the Graham Formula estimates SPG is worth $236 today and implies a margin of safety of 25%. To confirm these valuation estimates I also use a time-tested approach used to great effect by Investment Quality Trends since 1966. That would be to compare a stock's yield to its historical yield.
The reason this tends to work well is because for stable business model stocks yields are mean reverting or fluctuate around a relatively fixed point over time. This level can approximate fair value. So if a stock's yield is much higher than its historical norm, it's likely to be undervalued and experience stronger returns in the future.
| | | | | | | |
| --- | --- | --- | --- | --- | --- | --- |
| REIT | Yield | 5 Year Average Yield | 13 Year Median Yield | Discount To Fair Value (5 Year) | Discount To Fair Value (13 Year) | Average Discount To Fair Value |
| Realty Income | 4.5% | 4.7% | 4.9% | -4% | -8% | -6% |
| Simon Property Group | 4.5% | 3.3% | 3.1% | 36% | 45% | 41% |
(Sources: Simply Safe Dividends, Gurufocus)
I use both a five year average yield and 13 year median one. That's to ensure a large enough period of time to factor in different economic, industry, and interest rate conditions.
Note that for both REIT's the five year and 13 year yields are nearly identical, thus validating that this is a good model for these stocks. Realty's current' yield of 4.5% is beneath its historical norms implying shares are 6% overvalued today.
In contrast, Simon's current yield of 4.5% implies it's about 41% undervalued. This means that when the market figures out that SPG's malls aren't dying its yield should fall to about 3.2% and its shares will take off (as has been happening in the past few months).
One further approach I use with blue chips is to look at a three stage discounted cash flow or DCF model, such as provided by Morningstar. A DCF estimated fair value based on the net present value of all future cash flow. It's theoretically the purest form of valuation and the most accurate. But in truth, it should never be used as one's sole determinant of whether or not to buy a stock.
That's because of the large number of assumptions required for this model including smoothed out growth rates extending to infinity and a discount rate that's different for everyone. But as one approach among many, it can provide some insight. That's especially true with Morningstar because its analysts are 100% long-term focused fundamental investors and notorious for their conservative growth assumptions.
| | | |
| --- | --- | --- |
| REIT | Morningstar Fair Value | Discount To Fair Value |
| Realty Income | $59 | 0% |
| Simon Property Group | $146 | -22% |
(Source: Morningstar)
Currently, Morningstar estimates that Realty Income is at fair value and Simon is 22% overvalued. That's because Morningstar, while impressed with Simon's world-class management and growth to date, is very worried that even its Class A malls will eventually end up declining due to e-Commerce.
As I explain in the risk section that is a valid concern. But I personally disagree that Simon's growth is doomed to flounder in the future given that it's managed to grow like a weed during the "retail apocalypse". Or to put another way, I'm trusting management to keep adapting to changing industry conditions as it has successfully done for decades.
Combining all of these methods and taking their averages I estimate that Realty Income is worth $53.5 today and Simon worth $200.5. That implies a margin of safety of -9% for O and 11% for SPG. Note that Simon's fair value is drastically knocked down by Morningstar's extremely bearish estimate.
| | | | |
| --- | --- | --- | --- |
| REIT | Estimated Fair Value | Discount To Fair Value | Long-Term Valuation Total Return Boost |
| Realty Income | $53.5 | -9% | -0.9% |
| Simon Property Group | $200.50 | 11% | 1.1% |
(Sources: Morningstar, Benjamin Graham, Gurufocus, FastGraphs, Simply Safe Dividends, management guidance)
Assuming that over the next 10 years each REIT's valuations revert to fair value, that means that Realty Income would experience a slight multiple contraction and SPG a slight expansion. Specifically, I expect that O would get a -0.9% return drag while SPG a 1.1% return boost (in reality, it's likely to be closer to 2% to 3% if Morningstar is wrong).
Adding this estimated valuation boost/reduction to the GDGM is how I estimate that Realty Income is likely to generate 8.5% annualized total returns over the next decade, while SPG should be capable of at least 12% (actually more like 13% or 14%). And since my personal hurdle rate is 13% this is why I can't personally own Realty but can, and do, own Simon.
But most investors don't need 13% long-term total returns. In fact, both of these blue-chip REITs are mostly owned by conservative high-yield investors in search of generous, safe, and steadily rising dividends. On that basis, both are excellent long-term investments.
However, valuation always matters and I tend to follow the Buffett philosophy that "it's better to buy a wonderful company at a fair price than a fair company at a wonderful price". While both Realty and Simon are wonderful companies, I still can't recommend overpaying for either. Which is why Simon is the only one of these high-yield blue-chip SWANs that I can call a "buy" today.
Of course, with either of these REITs, investors should only own them if they are comfortable with their respective risk profiles.
Risks To Consider
While both Realty Income and Simon Property Group are low risk blue chips and SWAN stocks, that doesn't mean there aren't risks investors need to be aware of before investing.
For example, while Realty Income's highly defensive and stable NNN business model has many great characteristics, it also has some downsides. For one thing, the very long-term nature of its leases mean that all NNN REITs have higher inflation risk than other REIT industries. That is especially true of Realty where just 15% of its annual rent escalators are linked to inflation. That's the second lowest in the industry and a major reason why its same store rent is growing at just 1% per years. For context inflation measured by core PCE (Fed's official metric) is 1.9% while CPI (overall consumer prices) is 2.9%. In contrast, SPG's superior business model means it is enjoying annual same store rent growth of 3.3%. This shows that Simon's superior pricing power with tenants, created by its wider moat assets, makes it less inflation sensitive.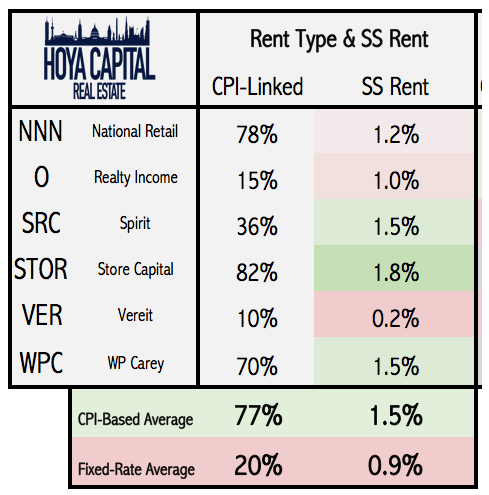 (Source: Hoya Capital Real Estate)
This means that in order to grow its dividend paying power over time, Realty Income needs to constantly be buying profitable properties because its individual rent increases are not keeping up with inflation.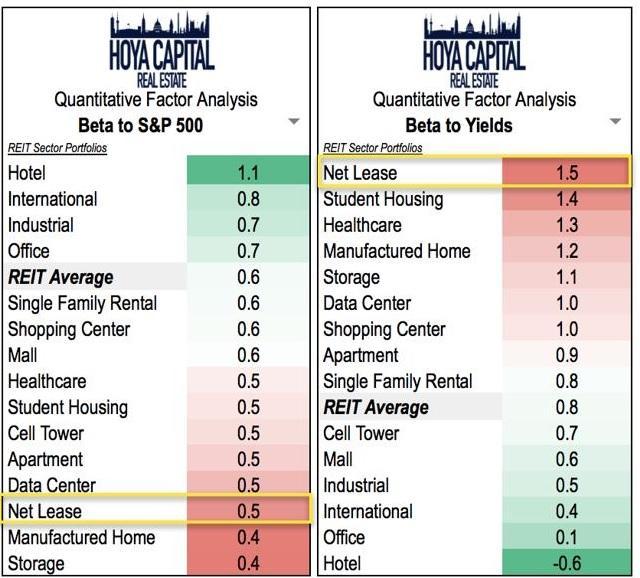 (Source: Hoya Capital Real Estate)
And, of course, we can't forget that while the NNN industry is among the least volatile in REITdom, it's also the most rate sensitive. This is due to the longest average lease duration in the sector. When combined with the highly stable nature of the business model this is why NNN REITs are thought of as "bond substitutes". Over the long-term, there is no significant correlation between REIT total returns and long-term interest rates (10 year yield).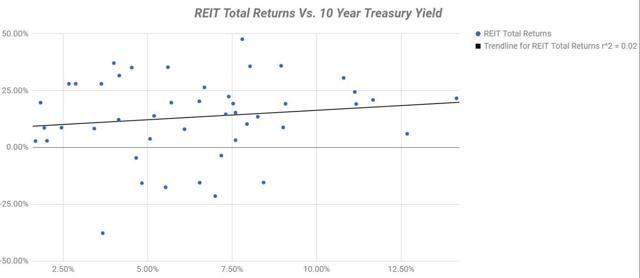 (Sources: NAREIT, St. Louis Federal Reserve)
In fact, since 1972, which includes an entire decade of high and rising rates, REIT total returns have been ever so slightly positively correlated with rising rates. In other words, higher rates (due to a strong economy) are good for REITs.
But that's over the long-term. In the short-term REITs can be highly sensitive to 10 year yields, and NNN REITs most of all. Over the past year Realty Income's beta to yield has been 1.77. This means that if the 10 year rose 1% Realty's yield would have gone up 1.77% indicating a declining share price.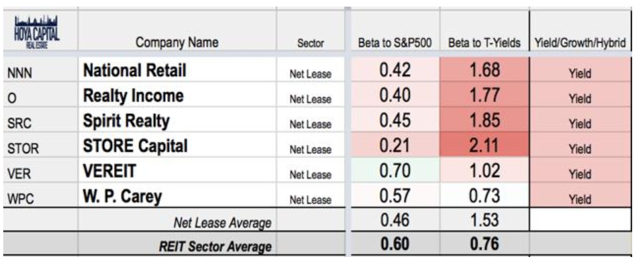 (Sources: NAREIT, St. Louis Federal Reserve)
Why do I bring this up at all? Well, it's not because Realty's potential growth is at risk from a low share price caused by a rapid and sharp spike in 10 year yields. The REIT's strong growth over the past 49 years included periods when the 10 year yield was as high as 16%. And Realty Income was able to keep buying properties profitably even during the Financial crisis when its cost of equity soared to about 13%.
However, short-term share price volatility can become an issue for those needing short-term cash to pay bills. This includes retirees living on the 4% rule, meaning they have to sell shares each year (regardless of price) to supplement Social Security.
If that describes your situation then it's best to minimize your overall share price risk (of your entire portfolio) through conservative asset allocation. In this case that would mean holding enough cash to live on for two to four years. That's long enough to ride out any market or sector crashes, such as the REIT bear market we just experienced.
What about risks to Simon Property Group? Well as with most REITs there is some short-term rate sensitivity (10 year yield not Fed Fund Rate) to be aware of.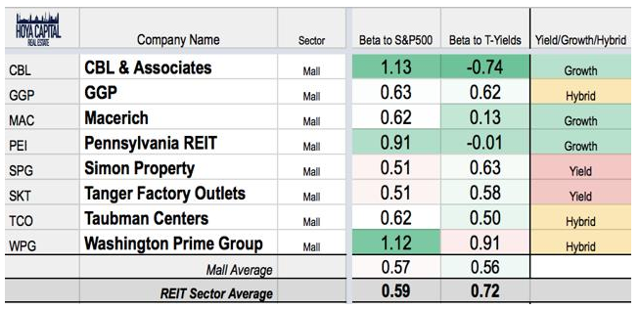 (Source: Hoya Capital Real Estate)
Of course, because of the different business model, which includes shorter leases and less inflation risk, mall REITs, in general, have far less short-term rate sensitivity. In fact, SPG's one year beta to yield is about 1/3rd that of Realty Income.
But we have to keep in mind that Simon's business model is also less defensive than Realty's. Yes, it has a wider moat and stronger pricing power because of the superior location of its class A facilities (Realty's are far more commoditized). But in a recession mall retailers are likely to suffer far more than Realty's diversified and defensive tenants.
In addition, while the fears of Amazon killing off all malls is overblown, there is some truth that the growth of e-Commerce might pose a problem for Simon. That's because its retailers use of omnichannel could create a situation in which the storefront becomes just a pick up/drop off point. That might decrease the importance of its superior locations and lower the REIT's pricing power with tenants. Investors will want to carefully watch Simon's lease spreads going forward to make sure that management is able to adapt and avoid this negative outcome.

(Source: Simon Property earnings supplement)
Finally, we can't forget that Simon's enormous size might make continued strong growth harder. That's because its current development pipeline is rather small and will soon be exhausted. In order to keep growing its FFO/share at its historical rate, Simon is going to need to steadily shift projects from its shadow growth backlog into its regular development pipeline. Thus SPG's development pipeline is the other important metric to watch for, and can be found in the REIT's quarterly supplemental earnings presentations.
Bottom Line: These High-Yield
blue-chip REITs Are Great Long-Term Investments But Simon is The Better Investment Right Now
Don't get me wrong, I'm in no way disparaging Realty Income as a long-term dividend growth investment. The "Monthly Dividend Company" has more than proven itself the quintessential sleep well at night or SWAN stock for conservative high-yield investors. In fact, I consider it one of the best core holdings retirees can own. So let me be clear, if you own Realty Income don't sell it, because the investment thesis remains as strong as ever.
That being said, investing is never done in a vacuum. From today's valuations, I consider Simon Property Group to be a far better high-yield blue-chip REIT investment. That's thanks to numerous competitive advantages including: a world-class management team, some of the world's best mall assets, access to a mountain of low cost capital, and its self-funding business model. These allow Simon, despite its enormous size, to generate industry leading FFO/share and dividend growth rates.
And from its far more attractive valuation, I think it's highly likely that Simon Property Group is going to generate far superior total returns to both Realty Income and the overall market. This is why I consider Realty Income a "hold" while Simon Property Group is a "buy" at this time.
Disclosure: I am/we are long SPG. I wrote this article myself, and it expresses my own opinions. I am not receiving compensation for it (other than from Seeking Alpha). I have no business relationship with any company whose stock is mentioned in this article.