When we do valuations, especially doing quick valuations to go through a large list of stocks to see how relatively attractive or unattractive they might be, we frequently adjust a company's cash flow numbers to back out changes in working capital. At first blush, it might sound a little insane. After all, why on earth would you remove working capital changes when companies (almost always) need to expand working capital to grow? It's a necessary and very real use of cash that will presumably continue as long as the company is in existence. Well, changes in working capital can be very lumpy and produce significant changes in FCF figures from year to year. Let's look at Northrop Grumman (NOC) as an example.
Working Capital Changes Can be Drastic
On their latest conference call, Northrop's CFO Kenneth Bedingfield said the following about working capital (emphasis ours):
I would say that we've seen some improvement in working capital this year, and we are happy to see that starting to turn to the positive for us. We have been building working capital for a couple of years, as we saw some long-term production programs that had some liquidations that were tied to deliveries. Those deliveries are starting to occur.
Looking at Northrop's past 10-K's, we can see just how much significant the working capital increases have been. The table below shows Northrop's working capital for each of the past three years.
| | | | |
| --- | --- | --- | --- |
| (in $M) | FY2017 | FY2016 | FY2015 |
| Current assets | $9,008* | $6,856 | $6,334 |
| Current liabilities | $6,965 | $5,630 | $5,457 |
| Working capital | $2,043 | $1,226 | $877 |
*Excludes $7341M in cash from long-term debt increase (Source: company filings, author's calculations)
The company has spent almost $1.2B increasing working capital for future projects. If you looked at working capital in just 2015 or 2017 in isolation, you would come to vastly different conclusions about the company's working capital needs and free cash flow. Indeed, looking at things another way, we can see just how big a change working capital (and other lumpy long-term asset and liability changes such as pensions) can affect free cash flow. Below is Northrop's cash flow from operations over the past three years.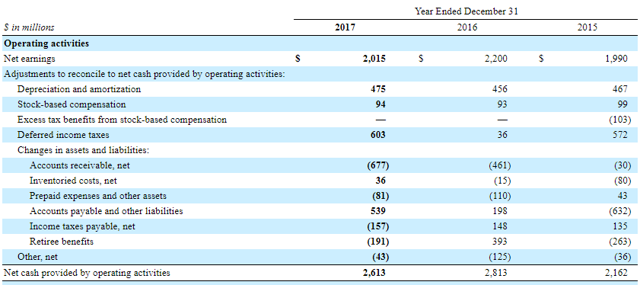 In FY2015 changes in assets and liabilities subtracted $827M from operating cash flow, in FY2016 it added $153M, and in FY2017 subtracted $567M. There are fluctuations of up to 38% of operating cash flow from year to year.
If you are going through a bunch of stocks looking for attractively priced investments and doing several dozen quick DCF models, then simply undoing changes in working capital or more is a quick, easy fix and prevents your numbers from being thrown off by 38%! Yes, they will be off by a bit due to excluding working capital altogether, but they'll always be off in the same direction (i.e. too high) which may not even matter at all in some cases such as comparative valuations.
The Better Solution
But, that solution ignores that in the real world, businesses generally need to increase working capital as sales grow.
A better solution is figuring out what the average working capital needs of the business are over the long term. Perhaps working capital as a percent of sales or operating income, or whatever makes the most sense for the business you are looking at. Then remove effects of working capital changes and adjust with your own estimates. You should now get a sort of average free cash flow figure that lends itself to use in a discounted cash flow model.
| | | | | | | |
| --- | --- | --- | --- | --- | --- | --- |
| (in $M) | FY2017 | FY2016 | FY2015 | FY2014 | FY2013 | FY2012 |
| Sales | $25,803 | $24,508 | $23,526 | $23,979 | $24,661 | $25,218 |
| Current assets | $9,008* | $6,856 | $6,334 | $7,780 | $9,488 | $8,392 |
| Current liabilities | $6,965 | $5,630 | $5,457 | $5,892 | $5,815 | $6,056 |
| Working capital | $2,043 | $1,226 | $877 | $1,888 | $3,673 | $2,336 |
| As % of sales | 7.9% | 5% | 3.7% | 7.9% | 14.9% | 9.3% |
(Source: company filings, author's calculations)
Over past six years (this was just chosen arbitrarily as an example), Northrop has averaged a working capital balance of about 8.1% of sales. The better solution would be to adjust Northrop's current free cash flow as if the working capital balance was around 8.1% (for this example).
Summary
This is far from the only solution. There are other good ways to derive a free cash flow estimate for use in a DCF model. What works best can depend on the available data, how precise you need your model to be, and the company's business model. The important thing is to realize how simply copying the operating cash flow number from a company's financials isn't the best option in most cases. Working capital changes can make cash flows lumpy and simply putting last year's (or the trailing twelve month) free cash flow number into a DCF model could produce wild swings.
Disclosure: I am/we are long NOC. I wrote this article myself, and it expresses my own opinions. I am not receiving compensation for it (other than from Seeking Alpha). I have no business relationship with any company whose stock is mentioned in this article.