The stock market is a complex mechanism, and there is an almost infinite amount of variables to consider when making investment decisions. However, simplicity is the ultimate sophistication, and focusing on earnings revisions as a key return driver for both the market as a whole and individual stocks in particular can generate attractive risk-adjusted returns over time.
Earnings Revisions Matter
Rivers of ink have been written about the best strategies for market timing and how to implement them. Economic models, chart analysis, and all kinds of quantitative algorithms are some of the alternatives available to investors.
At the end of the day, however, focusing on simple factors with big predictive power can be a more effective approach, and earnings are one of the most important variables to consider, if not the single most important return driver for stocks.
In essence, a stock is simply a share in an ownership of a business. As such, the value of the stock ultimately depends on the earnings that the business generates over time. This is an almost obvious concept, but it's easy to miss the forest for the trees when looking at all kinds of sophisticated and even esoteric indicators.
A research paper entitled Using Earnings Estimates for Global Asset Allocation, by Joseph F. Emanuelli and Randal G. Pearson evaluates how investors can obtain market-beating returns by investing in the markets with the biggest improvements in earnings revisions. From the paper:
"Using the earnings-estimate revision ratio, an aggregate measure of changes in analysts' earnings forecasts, an investor can enhance returns from international asset allocation. Our results indicate that an investor who purchased the market indexes of the five countries with the highest revision ratios would have outperformed the mean return of all 24 countries included in the study by up to 6 percentage points over a 12-month holding period."
Reaching a similar conclusion, data from the American Association of Individual Investors (AAII) shows that investing in stocks with strong and positive earnings revisions in the U.S. stock market can lead to market-beating returns.
The analysts at AAII have tracked a portfolio of companies with rising earnings expectations since 2003, and such portfolio has produced impressive gains. Based on data from AAII, the portfolio of stocks with rising earnings estimates has delivered an annual return of 23.6% versus an average return of 5.3% for the S&P 500 index in the same period.
A Quantitative Approach To Earnings Revisions
The following quantitative system uses earnings estimates data to enter and exit the market. The system basically buys and sells a portfolio of stocks based on earnings estimates for companies in the S&P 500.
More specifically: When the 5-day moving average of earnings estimates is above the 20-day moving average, meaning that earnings estimates are on the rise, the system is fully invested in a portfolio of 20 stocks. On the other hand, when earnings estimates are declining, meaning that the 5-day moving average is below the 20-day moving average, then the system is completely allocated to cash.
Stock selection is also based on earnings revisions. The system selects the 20 stocks in the S&P 500 index with the strongest revisions in sales and earnings numbers. This is calculated through an algorithm that calculates the average fluctuation in five key variables over a 4 week period. This includes:
The percentage increase in earnings expectations for the current quarter.

The percentage increase in earnings expectations for the current year.

The percentage increase in earnings expectations for next year.

The percentage increase in sales expectations for the current year.

The percentage increase in sales expectations for next year.
Leaving all the mathematical considerations aside, the main concept behind the system is actually quite straightforward and easy to understand. The system is only invested in the market when earnings expectations for companies in the S&P 500 are trending higher. When invested, the system buys the 20 stocks with the biggest increases in earnings and sales forecasts for different periods over the past four weeks.
Backtested Performance And Recommended Portfolio
The backtest builds an equally-weighted portfolio with the 20 stocks recommended by the quantitative system, and it evaluates performance since 1999. The portfolio is rebalanced every four weeks, and it has an assumed trading expense ratio of 0.2% per trade. The benchmark is the SPDR S&P 500 ETF (SPY).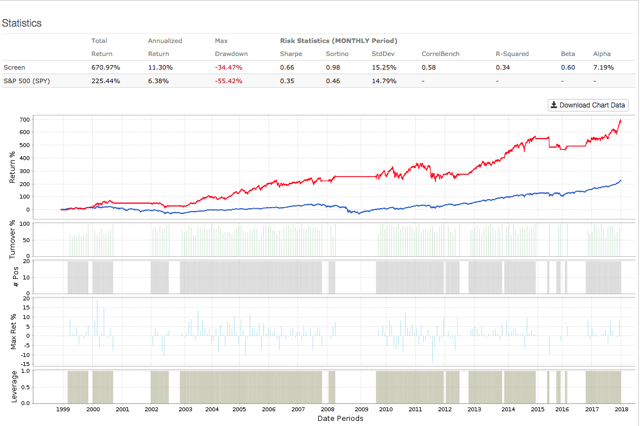 Data from S&P Global via Portfolio123
Backtested performance numbers are quite strong. Total return for the system since 1999 stands at 670.97% versus a total cumulative return of 224.45% for the SPDR S&P 500 ETF in the same period. System Alpha during the backtesting period amounts to 7.19% annually.
In other words, a $100,000 investment in the market tracking ETF in January of 1999 would currently be worth around $324,400, and the same amount of capital allocated to the portfolio recommended by the quantitative system based on earnings revision would have a much larger value of $771,000.
Not only that, the system substantially outperforms the benchmark with smaller downside risk. The maximum drawdown for the quantitative system was 34.47% during the backtesting period versus a maximum drawdown of 55.42% for the SPDR S&P 500 ETF. In essence, the system is produced both superior returns and smaller downside risk than the benchmark ETF.
It's important to keep in mind that backtested performance does not guarantee future returns. These kinds of systems tends to work quite well when the main trend in earnings estimates is clearly defined either up or down. When earnings expectations are moving sideways, chances are that a system such as this one will produce plenty of false signals and disappointing performance numbers.
Needless to say, the main trend in earnings revisions is clearly important, but it does not really tell you everything you need to know about an investment decision. Variables such as valuation, financial quality, and competitive strengths - to name a few noteworthy examples - are some of the multiple qualitative and quantitative factors that need to be considered when making a well-informed decision in the market.
Moving forward, the most recent earnings season has been remarkably strong, and earnings estimates for companies in the S&P 500 are clearly rising, so the quantitative system based on earnings revisions is fully invested as of the time of this writing.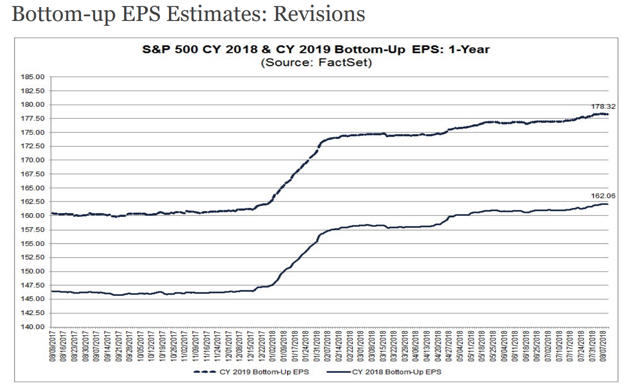 Source: FactSet
The table below shows the 20 stocks currently selected by the quantitative system. Offering more information, data in the table also shows market capitalization in millions, forward PE ratio and return on assets to provide a quick reference on size, valuation, and profitability for the companies included.
| | | | |
| --- | --- | --- | --- |
| Name | Mkt. Cap | Fwd PE | ROA%TTM |
| Bristol-Myers Squibb (BMY) | $98,435 | 16.69 | 1.14 |
| Gilead Sciences (GILD) | $93,779 | 11.01 | 3.52 |
| Lockheed Martin (LMT) | $92,332 | 18.94 | 5.42 |
| Caterpillar (CAT) | $82,415 | 11.9 | 3.98 |
| Biogen (BIB) | $69,319 | 13.59 | 12.99 |
| EOG Resources (EOG) | $66,473 | 20.79 | 12.6 |
| Phillips 66 (PSX) | $53,892 | 14.57 | 11.03 |
| Illumina (ILMN) | $47,921 | 60.45 | 12.1 |
| Vertex Pharmaceuticals (VRTX) | $44,785 | 46.51 | 10.9 |
| LyondellBasell Industries (LYB) | $44,495 | 9.65 | 22.85 |
| Allstate Corp (ALL) | $34,813 | 10.66 | 3.18 |
| Archer-Daniels-Midland (ADM) | $28,380 | 14.71 | 5.06 |
| Ingersoll-Rand (IR) | $24,488 | 18.03 | 7.95 |
| PACCAR (PCAR) | $23,932 | 11.26 | 8.93 |
| Xilinx Inc. (XLNX) | $17,631 | 23.93 | 10.55 |
| KLA-Tencor Corp (KLAC) | $17,310 | 12.11 | 14.39 |
| SVB Financial Group (SIVB) | $17,257 | 18.64 | 1.34 |
| National Oilwell Varco (NOV) | $16,896 | 319.08 | -0.41 |
| Seagate Technology (STX) | $15,662 | 8.74 | 12.66 |
| CF Industries Holdings (CF) | $11,395 | 36.38 | 4.22 |
Capitalize on the power of data and technology to take the guesswork out of your investment decisions. Statistical research has proven that stocks and ETFs showing certain quantitative attributes tend to outperform the market over the long term. A subscription to The Data Driven Investor provides you access to profitable screeners and live portfolios based on these effective and time-proven return drivers. Forget about opinions and speculation, investing decisions based on cold-hard quantitative data can provide you superior returns with lower risk. Click here to get your free trial now.
Disclosure: I/we have no positions in any stocks mentioned, and no plans to initiate any positions within the next 72 hours. I wrote this article myself, and it expresses my own opinions. I am not receiving compensation for it (other than from Seeking Alpha). I have no business relationship with any company whose stock is mentioned in this article.