Historically, caloric intake correlates closely with rising income. A further correlation links rising income with daily protein requirements being increasingly satisfied by the consumption of meat. Between 1980 and 2013 the per capital consumption of animal protein increased 426% in China, with the consumption of pork playing an outsized role. More recently, pork consumption has increased from about 29 kilograms in 2010 to about 31.2 kilograms by the end of 2015 on a per capita basis. Projected per capita consumption of pork by 2020 comes to about 34.7 kilograms. Meanwhile, global production of pork in 2018 is projected to grow about 2% to 113.5 million tons with China accounting for about 54.5 million tons, just shy of half the world total, according to USDA estimates.
The sheer volume of China's pork production thrusts the country into a particularly awkward position as the tariffs increase in dollar value across its agricultural sector. China's hog production required 19 million tons of US soybeans in the first half of the year through June 2017. This year, China has already imported 13 million tons of US soybeans before tariff duties began to erode the economic viability of US imports. Global oilseed production is projected to be about 603 million tons, of which US production claims just under 61% of that total at 367.1 million tons, according to USDA estimates. China has had to double up on Brazilian soybeans to meet its import needs, driving the average costs per ton to $393/ton, up almost $7/ton. Meanwhile, US soybean prices have fallen to $8.40/bushel, the lowest price in a decade. Major grain trading groups like Bunge (BG), Archer Daniels Midland (ADM) and closely held Cargill have been sucked into a downward price spiral by falling worldwide shipping volumes of grain. Chinese buyers have been canceling shipments of US soybeans involving hundreds of thousands of metric tons since April at a cost of almost $700 million to mainly Iowa farmers. The negative multiplier effect of uncertainty wafts through the greater economy as rising costs for freight, labor and raw materials have become a relentless pantomime in 2nd quarter earnings reports. Much of the increase since March has been driven by the Trump administration's tariff regimes on steel and aluminum, augmented by countervailing tariffs from targeted countries. Promises of increased shipments of US soybeans to the EU as a result of the tentative agreement on tariffs between EC President Jean-Claude Junker and the Trump administration pale in comparison with the loss of the China market, hitting US soybean farmers hard.
Meanwhile, companies' ability to push higher costs down the supply chains and onto consumers continues to be tested—despite one of the best earnings seasons since 2010. Weak consumer sentiment recently captured by the University of Michigan contrasts sharply with retail sales which expanded by 7% YOY, almost three times the pace of wage growth in the greater economy. In the midst of falling consumer savings and continuing anemic levels of wage growth, this spending spree is clearly being funded by debt as household borrowing is on the rise. The fact makes the impressions conveyed by the Federal Reserve's quarterly survey of bank loan officers all the more suggestive as the tightening of credit standards appears in the offing.
Figure 1: US Pork Exports January 2013-June 2018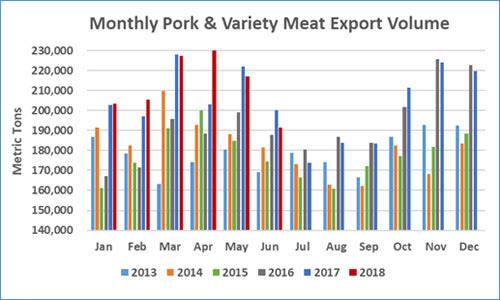 Imports of US pork have been singled out for countervailing tariffs by China, as the clarion din of a full-fledged trade war continues to reverberate between the world's two biggest economies. Hog farmers bestowed overwhelming support for Trump in the 2016 presidential election, creating an obvious target for China in its attempt at countering US tariffs on Chinese goods. In April, US pork exports to China were met with a punitive 25-percentage point increase in response to the administration's use of Section 232 from the cold-war era Trade Expansion Act (1962) on imported steel and aluminum, pushing duties. The resulting duty on US pork rose sharply to 37% of market value. The surprise announcement caught many shipments already en route as US pork exports hit a new record at 230,000 metric tons, well above the pace set in 2017. That pace began to slip badly by the end of May when the 25% tariff on US pork imports as the economic reality of the tariff regime began to hit home. Total US export volume to China dropped just over 5% MOM to about 218,000 metric tons by month's end. By June, the US pork exports had dropped almost 11% further to just about 195,000 metric tons for a two-month decline of over 15% under the weight of a 37% duty. The US expansion of tariffed goods from China under Section 301 of the Trade Act (1974) brought the response of another 25-percentage point uptick in Chinese import duties on American pork in the first week of July. The total duties on US pork entering the Chinese market now stood at a whopping 62%, essentially shutting out the US pork trade to China (see Figure 1, above).
To make matters worse for US hog farmers, Mexico announced the doubling of duties on US pork exports to 20%, countering the Trump administration's tariff regime on steel and aluminum that went online in June. October delivery of hogs to producers fell from a high of $66/head by the second week of June to about $57/head by the end of the reporting period. Contracts for December delivery envision prices to hit a trough of $43.87/head by 8 August before rallying to the upside at $49.90/head by the week ending 15 August. For now, current expectations see hog futures as a relatively temporary market distortion. That said, the March hog futures threshold price of $71/head are not projected to be breached until June 2019. While export markets for US pork slam shut, the volume of pork in US storage facilities continues to swell. The events have brought unexpected, if temporary, price relief to US consumers as supply exceeds demand in US markets, pressuring prices to the downside. On the flip side of this equation comes a stinging reality for US hog farmers: A sea of red ink.
Figure 2: Tyson's Food Group against the S&P 500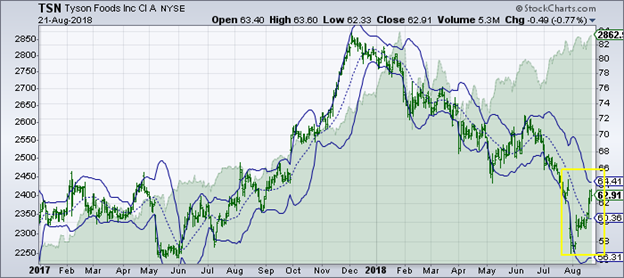 Tyson (green bars) went from an all-time high of $83.56 posted on the 4th of December 2017 to a YTD low of $57.55 at the market close on the 2nd of August, a decline of just over 31% in the course of eight months. Most of that time was spent well below the company's 20-day trading average (blue dotted line) hugging its lower Bollinger band (blue line). Tyson mirrored February's market correction to the downside but largely continuing that downward trend as tariff upon tariff reduced and then largely snuffed out the company's export market. Year-to-date, Tyson has given up 21%. The S&P benchmark (green area) is up just under 7% over the same period. Since April, when China put into place a punitive 25 percentage point tariff on top of the 12% duty on pork, Tyson's share price has given up just over 13%. The S&P benchmark has climbed just short of 11% over the same period. From July when China put its second 25 percentage point punitive duty on US pork, Tyson's share price gave up another 5%. The S&P benchmark was up just under 5% for the period.
With the recent announcement of the purchase of closely held Keystone Foods, a major supplier of chicken to McDonald's (MCD), Tyson's share price has suddenly found renewed life (yellow box). The purchase adds processing plants here in the US and Asia to the company's supply chain, shifting production to high margin growth markets like fast food located in large part here in the US, beyond the ensnaring reach of international tariff regimes (see Figure 2, above). Still, Tyson's lowered their profit forecast for the year due to the growing uncertainty surrounding the Trump administration's tariff regime and, as a direct consequence, the oversupply of protein in US refrigerated storage, depressing domestic prices and profit margins.
Tyson's Food Group (NYSE:TSN) pork segment fell victim to the growing political maelstrom rather quickly. Through the end of the company's 3rd fiscal quarter ending in June, Tyson's pork segment sales slumped 9% on a YOY basis. Domestic supplies of pork in storage facilities grew exponentially as the tariff regimes of April and July systematically shut down international sales in China and, to a lesser extent, Mexico—US pork's two biggest foreign markets. Operating income for the period fell a full 51% YOY. Operating margins fell from 10.3% through the end of the end of June 2017 to 5.6% in through June 2018.
Even in domestic markets, extraneous regulatory events made for anything but smooth sailing. A perfect cost storm quickly bore down on bottom line calculations for the quarter. As we have seen, refrigerated storage facilities across the country now filled with production earmarked for export. While good news for US consumers, downward price migrated through the supply chains wreaking havoc on the company's pork segment results for the quarter. At the same time, enforcement of new regulations requiring long-haul truckers to use electronic logging devices to record driver hours went into effect on the 1st of April, applying immediate upward pressure on freight costs. While long-haul truckers have for years been officially barred from driving more than 11 hours in any given 24-hour period, the paper logs of old allowed for circumventing such rules as delivery schedules dictated. Real-time ELD printouts now compiled vital engine operations, driver engagement. Tied to atomic clocks, these printouts began washing up onto computer screens of dispatchers and regulators across the country. Compliance was no longer a matter of choice or convenience. ELDs meant more long-haul trucks were, indeed, being parked at rest stops nationwide when drivers hit their compulsory driving limits under the very real threat of hefty fines and license suspensions. Increased costs of freight across the Tyson's segments alone claimed $80 million through the end of June as a result, while higher per pound input costs overall increased the cost of sales by $73 million over the reporting period.
Since the end of fiscal year 2015 in September, pork has averaged just over 13% of total sales and just under 20% of total operating income for the company. Pork's contribution to the company's total sales and operating income now appears heavily pressured to the downside. While slipping slightly to 12% of total sales for the 3rd from 14% in the 2nd quarter that ended in March, pork operational income as a percentage of total operational income took a real hit during the quarter, falling to a scant 0.08% through the end of June. The company's operational income in March came to 13% and 16% in December. As we have seen, market expectations on hog futures won't breach March highs until June 2019. Of course, any speculation on future pricing depends on the duration of the tariff and countervailing tariff regimes already in place. With only low-level meetings between the two antagonists scheduled for the latter part of August, expectations for a speedy resolution of outstanding issues remain extremely low.
The economic impact of this growing international trade tempest between the US and China suggests a curious, even surreal, sense of logic where uber-chivalry consciously threatens whole industrial segments, possibly jobs, most certainly corporate balance sheets and over time household budgets on both sides of the equation with an unnecessary pantheon of market risk.
Internationally, slapping another 25 percentage point punitive tariff on Turkish steel, already under a 25 percentage point US duty with the lira in free fall--essentially weaponizes Forex and interest rate arbitrage as tools of hardball foreign policy. The resulting collateral damage not only migrated quickly through an already severely imbalanced Turkish economy, but washed up with winged feet in the market performance of Spain's BBVA Bank, Italy's UniCredit and France's BNO Paribas who hold major tranches of Turkey's corporate and sovereign debt on their respective balance sheets. The European Central Bank is rightly worried that Turkish borrowers might lack sufficient hedges against the lira's slide and begin to default on foreign currency loans which make up about 40% of Turkish banking assets. Further depreciation of the lira could put Turkish banks' reserves in danger.
Sadly, Tyson is but one of many corporate examples where political acts of targeted retribution spills over into unrelated sectors of the greater economy. In the end we all pay the associated costs for these artificial market manipulations.