Editor's note: Seeking Alpha is proud to welcome Disruptive Capital Management as a new contributor. It's easy to become a Seeking Alpha contributor and earn money for your best investment ideas. Active contributors also get free access to the SA PRO archive. Click here to find out more »

(Source: MDP LOGO)
Focus:
Million-Dollar Portfolio, MDP, aims to construct a concentrated portfolio capable of delivering a 14.5% compound annual growth rate CAGR over the course of a decade. A CAGR of 14.5% will provide fourfold growth over a decade. Careful stock selection will be critical for the construction of MDP. Leading companies with long runways for growth should propel the portfolio. MDP will utilize a low turnover, long term, buy-and-hold approach towards investing. A key selection for current holdings is their ability to rapidly grow their revenue.
Introduction:
Million-Dollar Portfolio started as a portion of an inherited trust fund that severely lacked diversification. The initial portfolio was geared towards the generation of dividends for a retiree. An environment of rising interest rates will not be friendly towards some of the former higher-yielding assets. Former holdings such as interest sensitive Duke (DUK) will not be capable of producing a 14.5% CAGR. Remaining legacy holdings are SunTrust Banks Inc. (STI), Johnson & Johnson (JNJ), and AT&T Inc (T). Divestment of T will occur once the cash position is fully invested.
Utilization of capital losses helped minimize capital gains during the first month of MDP. Minimization of dividends will help reduce the capital gains taxes paid over the decade. The accrual of capital gains can be expected as the stake in SunTrust is divested. I expect to be taxed at a rate of 15% for capital gains.
MDP Current Composition: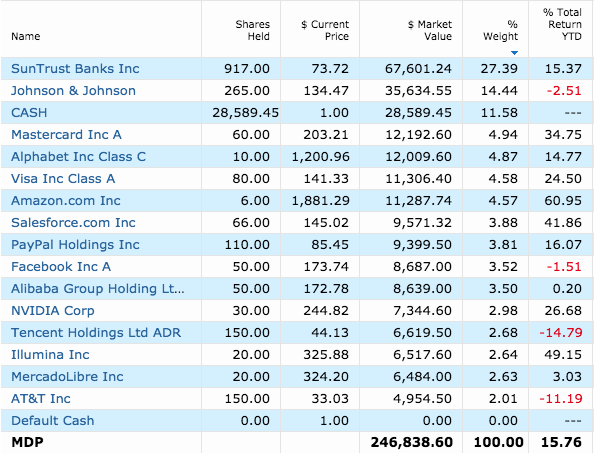 (Source: Morningstar Personal Portfolio)
A concentration of STI and JNJ can be noted from the chart above. The concentration of STI will be divested over time. JNJ has large capital gains and may remain a portfolio staple. I do not expect 14.5% growth from JNJ over the coming decade. Long term I do expect JNJ to outperform the S&P 500.
Rapid Revenue Growth
Fintech
Fintech is a disruptive sector that has a long runway for growth. On a global basis, cash transactions are still the most prevalent. However, electronic payments are quickly replacing cash. The growth in e-commerce is just one reason for this phenomena. As such, I selected Visa (V), Mastercard (MA), and PayPal(PYPL). I am amazed by the business structure and economic moat that V and MA currently exhibit. This duopoly has ample growth to fuel the portfolio.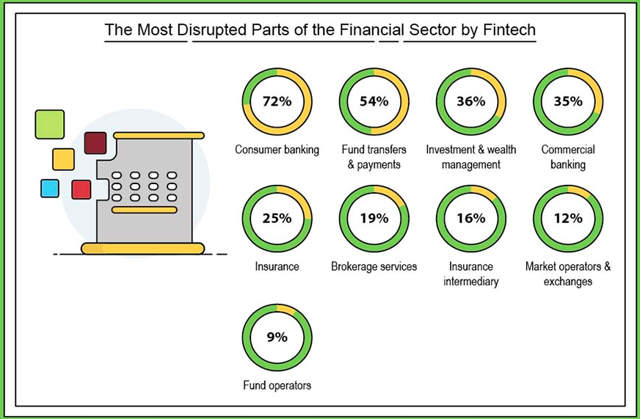 E-Commerce
E-Commerce is a rapidly growth sector that should see significant growth over the coming decade. Even an untrained eye can recognize the opportunities within e-commerce. Amazon (AMZN), Alibaba (BABA), and MercadoLibre (MELI) are leaders within their regions. BABA current share price represents an attractive entry point. The volatility of MELI should allow me to pick up a lower position if the market sells off. MELI could be a ten-bagger given its market cap, growth rate, powerful network effect, and a low e-commerce penetration of Latin America.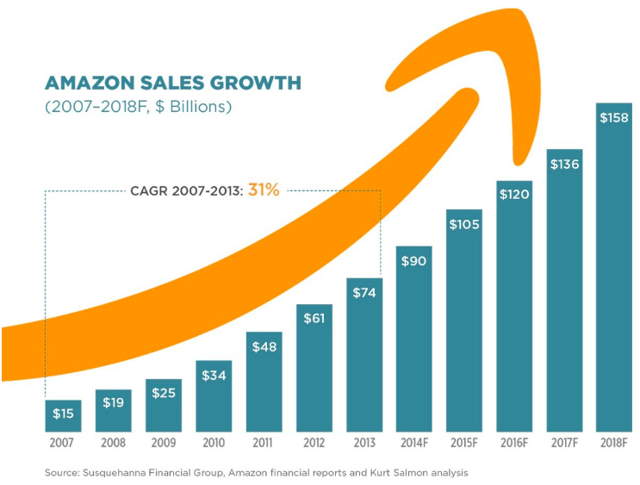 Genetics
The human genome project took thirteen years and cost an estimated $3 billion to complete. Sequencing a human genome in 2018 can be completed in less than one day for under $1000. Illumina (ILMN) is a leader in the genetics segment. Following a solid Q2 earnings beat ILMN is richly valued at a P/E of 74 TTM. However, a solid management and secular growth trend provide a compelling growth story. ILMN Q2 demonstrated robust revenue growth of 25%. Having followed ILMN for a few years, I realize a sizable pull back could provide me the opportunity to fill my ILMN position.
Digital Advertising
The transition from traditional advertising to online sources is evident in my daily life. Nearly 60% of all ad revenue currently lies with traditional sources. Digital advertising will be fueled by many trends, including cable-cutting, streaming of music, and reduction in print media. Google (GOOG) (NASDAQ:GOOGL) and Facebook (FB) garner the majority of online ad revenue. Adweek refers to them as duopolies. The sell-off in FB provides an attractive opportunity to build a position.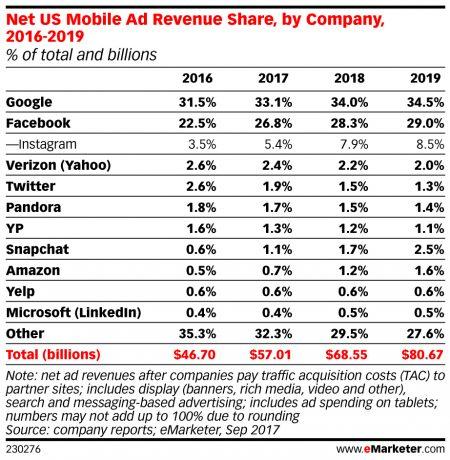 Software as a Service
Software as a service SaaS is a rapid growth segment of IT. Salesforce (CRM) has helped propel the growth of companies such as Home Depot (HD). CRM is the largest pure play SaaS vendor with revenue many times larger nearest competitors. A true software powerhouse CRM is pivotal in helping businesses cut their IT infrastructure costs.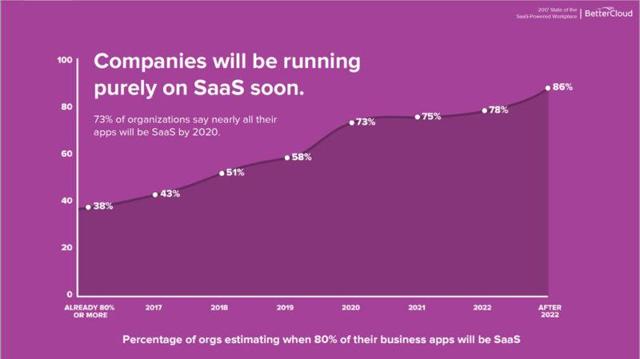 (Source: Finance Online)
AI, AV, Data Centers
Autonomous vehicles (AV) could be the greatest disruptor of my lifetime. Nvidia (NVDA) is my top pick for AI, AV, and data centers. Current holding of NVDA in my IRA is up two and a half fold in less than two years.
"We had another strong quarter, led by Datacenter and Gaming. Q2 revenue reached $3.12 billion, up 40% from a year earlier. Each market platform, Gaming, Datacenter, Pro Visualization, and Automotive hit record levels with strong growth, both sequentially and year-on-year. These platforms, collectively grew more than 50% year-on-year." NVDA Q2 Earnings Report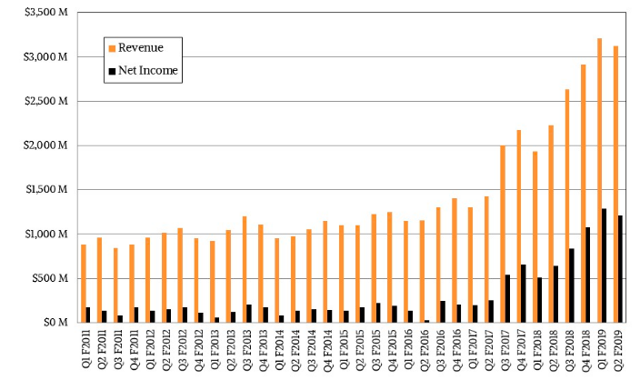 Sector Allocation:
As the portfolio takes shape, I expect information technology to be the largest segment of the sector allocation. MDP will be a concentrated portfolio, lacking a great deal of sector diversification.
Recent sell offs within the tech sector only provide opportunities for MDP. Sell offs in 2015 and 2016 allowed me to purchase many equities in a brokerage account. For example I purchased Amazon for $590 a share in January of 2016.
Current Sector Allocation: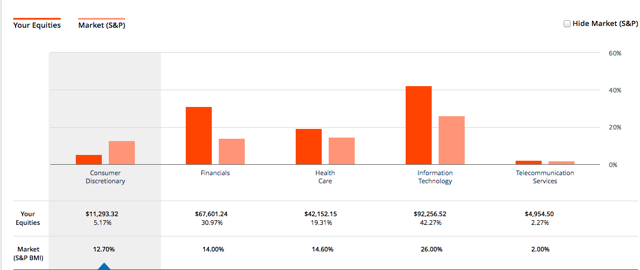 Volatility:
Beta is the measure of volatility of a stock to the market as whole. The overall market has a beta of 1. MDP has an average beta well above 1. Given the elevated beta, I can expect a volatile decade going forward. Ignoring the noise and focusing on fundamentals will be critical to the success of MDP.
3-Year Beta:

(Source: Morningstar Personal Portfolio)
Conclusion:
The first month has allowed for many investments given market sell-offs. MDP has a long road ahead with many speed bumps along the way. Filtering out market noise and focusing on the fundamentals will be essential to portfolio performance. Volatility will be extreme and is not for the fearful. I believe the goal to obtain a 14.5% CAGR over a decade is very realistic and obtainable.
Disclosure: I am/we are long ILMN, FB, NVDA, CRM, AAPL, TCEHY, MA, V, PYPL, STI, T, JNJ, AMZN, BABA. I wrote this article myself, and it expresses my own opinions. I am not receiving compensation for it (other than from Seeking Alpha). I have no business relationship with any company whose stock is mentioned in this article.