Political risk suddenly surfaced in the U.S. stock market on Tuesday. It was one-two punch of breaking headline news. First, the President's former personal lawyer Michael Cohen pleaded guilty to criminal charges and directly implicated the President in payments made "for the purpose of influencing the election". On the very same day, former Trump campaign chair Paul Manafort was found guilty by a jury on eight counts of fraud. These two headlines sent the S&P 500 Index down more than 20 points from the all-time highs it spent nearly seven months climbing all the way back to reclaim. Depending on how things unfold, could political risk become a mounting problem for the U.S. stock market going forward?
Why would it matter? Why is it even relevant to talk about a political issue on an investment website? Because the President takes a critical leading role in setting the path of fiscal policy for the United States. Consider the tax cuts that passed through Congress at the end of last year or the ongoing trade conflicts that have been unfolding throughout 2018. These are all part of the fiscal policy course that has been led by the President during his time in office. So while Seeking Alpha is no place to debate the politics related to the breaking headlines from today, it is still highly important to consider the potential investment implications on our investment portfolios depending on how things play out for the President going forward regardless of where one may reside on the political spectrum.
So what are the likely market outcomes?
First, it is very possible that today's headlines that caused the S&P 500 Index to fall by more than 20 points into the after-hours session amounts to absolutely nothing and the news story fades away. Then, of course, the market impact is nil.
But let's just suppose that there was something to the market's knee jerk reaction this afternoon and this actually starts to unfold into a more noteworthy outcome. After all, it is worth noting that political prediction market PredictIt is currently pricing a 49% probability that the President will be impeached in his first term. Given these implied odds, it is worthwhile to at least consider "what then?"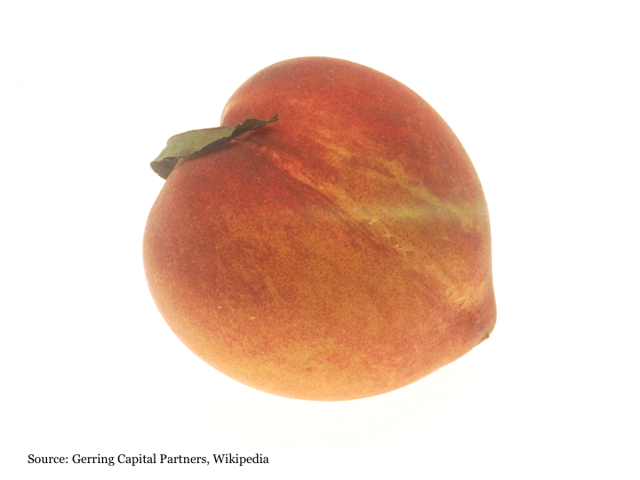 The simple answer? The market in the end will very likely be largely unmoved by whatever unfolds in the White House. In other words, it is likely to be a market non-event no matter how much the current situation might escalate.
A market history of indifference about politics
Consider two past examples for relevant comparison in any major escalation scenario.
Nixon
The first is the Nixon scenario from the early 1970s. The following chart tells us everything we need to know.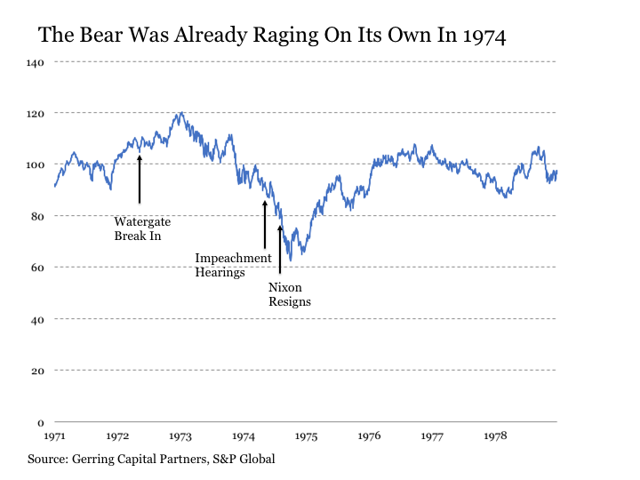 By the time the political situation with Nixon really started heating up, the oil crisis bear market of 1973-74 was already well underway. Not only were stocks largely unmoved by the political noise, but the bottom of the bear market soon followed roughly two months after Nixon waved goodbye for the last time from the White House lawn.
Put simply, the U.S. stock market did not care in any sustainable way. And this was in the midst of a bear market where stocks could have taken hold of the uncertainty and run with it. Instead, they soon found a bottom as President Ford was just starting to get settled in.
Clinton
The second is the Clinton impeachment from the late 1990s. Unlike the Nixon scenario, the Clinton situation took place during a raging economic expansion and bull market.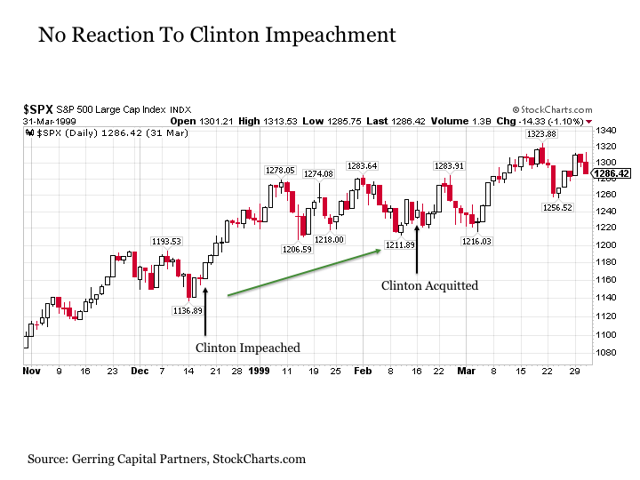 Not only did the stock market not care, it actually rallied fairly solidly in the midst of this unfolding news and the political uncertainty/distraction that came with it.
Once again, collective shoulder shrug from the stock market.
The case for a marginal stock market rally outcome on the news. If anything, investors might reasonably expect that stocks could actually rally instead of fall under any such scenario. Indeed, pockets of short-term downside volatility driven by headline events much like what we witnessed Tuesday afternoon into the evening should be reasonably expected. But more broadly, markets thrive on a narrative, and one could easily envision some among the investment market powers that be speculating that a Pence administration might drive a more consistent and growth oriented fiscal policy agenda with less controversy and the potential for rolling back on the trade conflicts. In other words, less uncertainty for markets.
If and when, until then. All of this assumes that the current news actually amounts to something, which it may very well not as the current situation may just as easily blow over. But market history instructs us that regardless of whether a president is impeached, eventually resigns, is assassinated, or dies in office, capital markets, including stocks, are simply unmoved by it over any measurable period of time. Thus, stay long U.S. stocks as part of a broad asset allocation strategy.
Disclosure: This article is for information purposes only. There are risks involved with investing including loss of principal. Gerring Capital Partners and Retirement Sentinel makes no explicit or implicit guarantee with respect to performance or the outcome of any investment or projections made. There is no guarantee that the goals of the strategies discussed by Gerring Capital Partners and Retirement Sentinel will be met.
Disclosure: I/we have no positions in any stocks mentioned, and no plans to initiate any positions within the next 72 hours. I wrote this article myself, and it expresses my own opinions. I am not receiving compensation for it (other than from Seeking Alpha). I have no business relationship with any company whose stock is mentioned in this article.
Additional disclosure: I am long selected individual stocks as part of a broad asset allocation strategy.