The proxy vote on August 24th where shareholders will determine if Cigna (NYSE:CI) will purchase Express Scripts (NASDAQ:ESRX) is only a few days away. The market believes with a small dash of doubt that shareholders will vote 'yes' as evidenced by Express Scripts advancing nearly 20% over the past two weeks from $76 into the mid-high 80s. Yet Express' share price hasn't quite reached Cigna's 'offering price' of around $94. Cigna is offering $48.75 cash and 0.2434 Cigna shares per Express share. With Express' share price at $88 and Cigna's at $186, Express is trading at a 6.4% discount to the 'offering price'. The discount reflects the uncertainty the market has in the 'yes' vote. Buying Express Scripts before the vote could net a quick gain in the event of a 'yes' vote, but the downside is large in the event shareholders vote 'no'. In the event of a 'no' vote, Express' share price could very well drop into the high 60s where it sat for most of 2017 and will likely rebound to $70-80 range where it traded before the announcement. The trade off of capturing a 6-7% gain with the risk of losing 20% or more is not for those who lack conviction. The payoff based off of the two companies share prices barring other factors leads me to believe the odds of shareholders approving the buyout is at least 3-1.
The real risk of the deal falling through comes from lack of support from institutional investors. You can bet Express' institutional investors will support the deal; it offers a premium to the current share price. The recent publicity from Carl Icahn Glenwood Capital and a few independent proxy advisors will be in the back of shareholders' minds before the vote.
Institutional investors who own 91% of Cigna's outstanding float will determine the outcome of the vote. Morgan Stanley (MS) committed to providing significant senior debt funding to Cigna after the buyout since they get to finance the deal, they will vote for it. Many institutions hold both Cigna and Express Scripts shares making it very unlikely they will vote against the buyout since they would suffer substantial losses on their Express Scripts position. With how the market is pricing Express Scripts and the overlap of shareholder bases, I believe the likelihood of getting a 'yes' vote is 5-1 or greater.
Was Carl Icahn right in saying Express Scripts is not worth $67 billion? Absolutely not. Icahn wanted a narrative and tried to use his reputation to quickly profit. Express is worth $67 billion and probably more to Cigna.
Eventually, healthcare plans and drug prices will be pushed down. Democrats will likely promise lower healthcare and insurance costs to persuade voters in the upcoming midterms and the next Presidential election. Icahn's argument that the merger won't reduce prescription prices and insurance costs is most likely valid considering both companies answer to their shareholders that want to maximize revenues and profits. The entire PBM and healthcare insurance industry knows political pressure is increasing and will do whatever they can to profit as much as possible before change is forced upon them. Cigna will easily argue they are able to damper prices with synergies gained from purchasing Express. If both companies vote yes, regulators will have a tough decision to make.
Express' valuation has been beaten down in the past two years as the PBM industry continues to make healthcare plans and prescription drugs more unaffordable. PBMs will soon face increased political pressure to lower prices. The looming threat of Amazon (AMZN) entering the PBM market put a damper on PBM valuations. These negative narratives could explain that Express Scripts' valuation has been so poor for the last two years.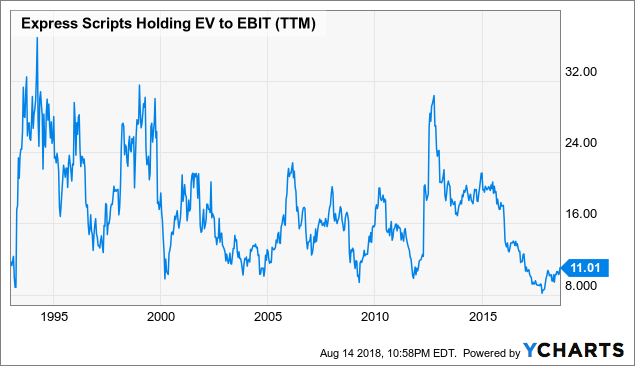 By EV/EBIT, Express Scripts is trading at a 25-year low, Cigna is getting a bargain. Vague unsubstantial threats to Express' business model dropped their valuation to a level where Express became an attractive buy. Cigna's management believes PBMs will continue to be profitable. Cigna's management have a strong history of creating shareholder value, shares of Cigna has significantly outperformed the market. The offer to buy Express at the bottom of its historical valuation only reinforces my conviction that Cigna has excellent management. Cigna continues to create shareholder value regardless of the vote, but I wouldn't bet against the buyout.