CenturyLink Inc (CTL) is breaking out higher as management is gaining traction in its turnaround efforts. The company has made investments in new areas of growth, attempting to gain market share, and evolve alongside its customers. It has used debt to finance these moves, making the company fairly leveraged. Nonetheless, its share price trades at distressed levels, making it an interesting risk/reward position as investors keep close track of how the turnaround effort is progressing.
Revenue and EPS
Over the most recent quarter, CTL executed well on capturing synergies, achieving roughly $675 million of annualized run-rate adjusted EBITDA synergies since the close of the Level 3 transaction, compared to $215 million as of the end of the first quarter 2018. Overall, the company generated adjusted EBITDA of $2.27 billion, with its adjusted EBITDA margin expanding to 38.5% from 35.7% in the previous year.
From a top-line growth point of view, CTL is building on Q1 momentum as total sales production improved on a sequential basis. Management has been focusing its efforts on ramping up its Price for Life offering, which is driving higher ARPU and improved customer experience metrics for customers moving to the plan. In addition, CTL is planning on increasing its investment in targeted areas where they can profitably offer much higher broadband speeds.
Below is a chart of the company's revenue and earnings per share. Over the last decade, the company's revenue has largely been flat, with declining bottom-line growth. This is due to competition among the telecom space and CTL's declining market share. Management, however, is in the process of reinventing its core business, focusing on both digital as well as other innovative offerings. Thus far, there has been a slight uptick in both revenue and EPS, signaling that their plan may be gaining traction.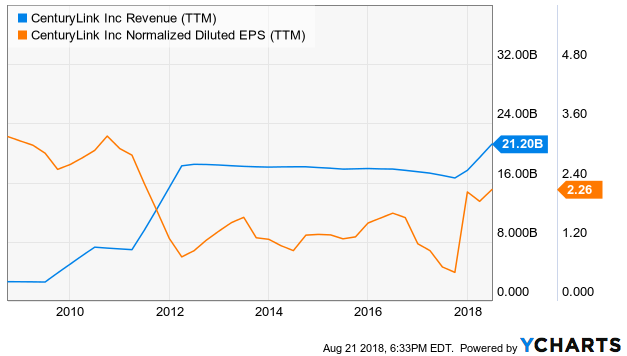 Level 3 Integration
To date, the integration of Level 3 is going well, ahead of plan for capturing synergies, according to management in the company's most recent earnings call. The company's global network assets, robust product portfolio, and its willingness to invest to meet customer needs is enabling CTL to evolve.
Management is focused on transforming the joint company to be more efficient by enhancing its business for effectiveness, cost efficiency, and customer experience. This is taking shape through a more digital experience across its customer base. As was stated earlier, CTL has achieved a total of $675 million in annualized run-rate adjusted EBITDA synergies since the Level 3 transaction closed, with a target of $850 million run-rate adjusted EBITDA operating expense savings.
Growth Areas
The joint company will look to capitalize on growth opportunities in areas such as cloud, SD-WAN and security, with more robust capabilities of the combined product portfolio enabling them to compete for a broader set of opportunities. CTL has implemented a single standardized master contract for new sales, eliminating unnecessary time in process, which has been well received by its customers and sales team thus far.
CTL also is making progress moving customers from off-net to on-net. This progress can take a while, but helps the company win new sales, expand its network access margins, and drive a much better customer experience. Its product decisions also feed into its transformation efforts. For example, its products are assisting business customers in their own transformation by better managing a hybrid multi-cloud environment. By focusing on designing products to streamline activation and reconfiguration, making it easier for customers to manage the ongoing transition to the Cloud, this ultimately gives customers better control of their cloud environment. This overall transformation of CTL should position them to compete in the market, while increasing top- and bottom-line growth.
Balance Sheet
CTL has significantly increased its debt load in recent years as a function of both adding debt, while also seeing its core operations deteriorate. This should potentially reverse course in coming years, as its operations expand, more easily paying down its debt levels. Below is a chart of the company's debt to EBITDA, as well as its EBIT to interest expense. In recent years, the company's debt levels have ballooned higher from a leverage ratio under 3, to now roughly 4.47. Debt grew to such levels in order to complete its acquisition and expand its operations into areas of growth. Should its investments begin to bear fruit, its leverage should decline. Its interest coverage ratio has also deteriorated in recent years, but remains manageable. Again, should its operations begin to improve, the interest coverage ratio will similarly get better.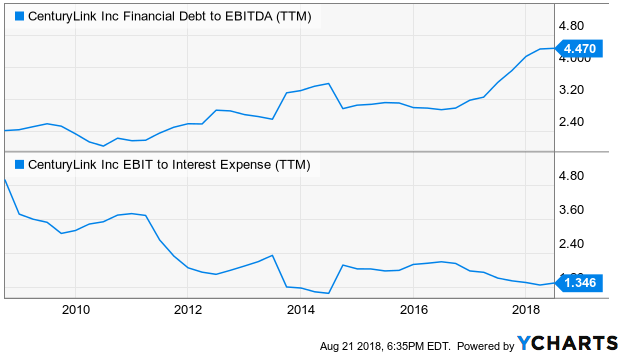 Price Action
CTL has been a company in transition over recent years, leading its share price significantly lower. The combination of deteriorating fundamentals as well as rising debt levels sent its share price down significantly. Now, however, as its operations look to be improving, its share price looks to be reversing higher from a multi-year base formation. The recent breakout above $20 was significant, as this level had acted as strong resistance in recent months. Rising investor sentiment around the company, tied to improving fundamentals, is leading me to purchase shares at current levels, while setting a stop-loss at $20 should my investment thesis be proven incorrect.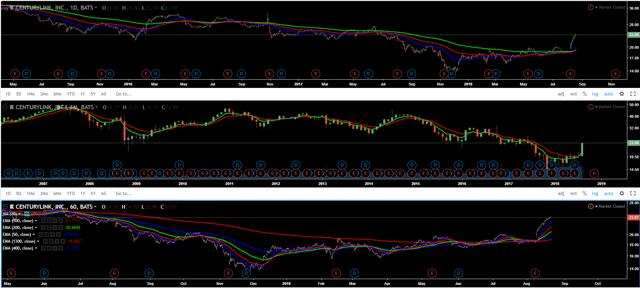 Source: Trading View
Conclusion
CTL is in the midst of a leveraged turnaround, making it slightly more risky than the average investment. There are a number of things that could impede its growth, forcing me to use a stop-loss on the position. For example, if its acquisition is a failure, or its other investments fail to pay off, both equity investors and creditors could sour on the company quickly. From the current vantage point however, CTL is investing in a turnaround effort that looks to be gaining traction. Although its leverage is high, fundamental growth should ease this burden. Its share price trades at severely distressed levels, making this investment a potentially big winner should management succeed in its turnaround effort.
Markets move quickly. To take advantage of the highs and lows - especially in today's volatile environment - you need a strategy that's nimble and flexible. My approach is both, and it enables me to move in and out of assets and sectors while continually generating double-digit annualized returns. Sign up for Absolute Returns today to see how I manage my portfolio in the continuously changing market environment. Many believe absolute returns and beating the market are mere fiction, but I assure you they're not. See for yourself how you can benefit from my approach, and how your portfolio can profit, regardless of market conditions.
Disclosure: I am/we are long CTL. I wrote this article myself, and it expresses my own opinions. I am not receiving compensation for it (other than from Seeking Alpha). I have no business relationship with any company whose stock is mentioned in this article.