Project Background
The DGI For The DIY portfolio was created in 2013 when I liquidated the mutual funds in my retirement account and began my journey as a dividend growth investor. I've been writing quarterly updates on the portfolio ever since, documenting the portfolio's progress and my lessons learned as a Do-It-Yourself investor.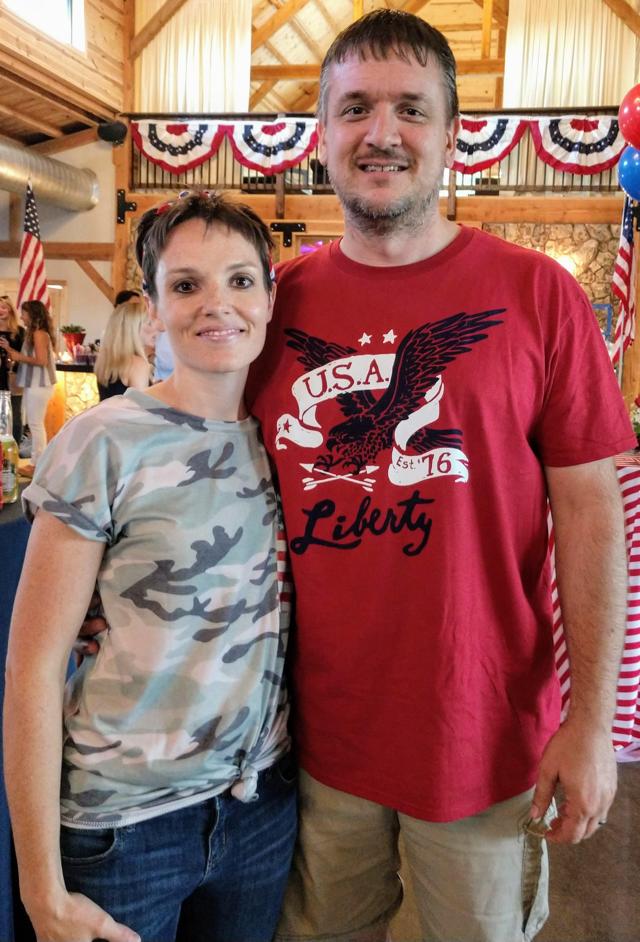 I am a 39-year old (for a few more weeks!) civil engineer who is married with three young children. We have the expenses of daycare, a mortgage, school loans, etc. that many of my generation are also going through.
We are also a military family, and are in the middle of our first experience with my wife being deployed overseas. Needless to say, with three young kids and a household to run, my free time has been nearly non-existent of late.
I've always had a ton of respect and admiration for members of our military, and have several extended family members who have served in the Army, Marines, and Air Force over the years. But now being married to a service member, and experiencing first hand the sacrifice that so many people make in leaving their families and loved ones to serve, has certainly created a new level of appreciation for our armed forces.
My hope is that by sharing my journey as a DIY investor, and some personal stories there than people can relate to, I can help others learn about investing, and give them the courage to take control of their own path to retirement.
It can seem like a daunting task to start investing from scratch, but this portfolio is proof that a successful portfolio can be built with just a few hundred dollars a month in contributions. This is an IRA that initially saw only $300 in monthly deposits, and is now funded solely by dividend reinvestment as contributions ended last October following a merger of the company I worked for.
If you'd like to read the history of, and more information about the portfolio, I have included links to all prior quarterly updates here.
Portfolio Guidelines
The purpose of this portfolio is to fund a portion of my future retirement. Being 39-years-old, I have another 25 years-plus to go until I reach that milestone.
As my approach has evolved I've established guidelines that help meet my goal of building a portfolio that produces a consistent and reliably increasing stream of dividend income.
Buy companies that consistently show positive growth in earnings and translate those earnings into increasing dividend payouts to shareholders.
Focus on companies that are investment grade, with S&P credit ratings of BBB or higher.
Maintain a diversified portfolio spread across multiple industries.
Reinvest all dividends back into the companies that pay them.
Consider for sale any company that cuts or freezes its dividend.
Last year I also established a goal of 10% annual income growth for the portfolio. This income growth will come from organic dividend growth and reinvestment of dividends, as there are no longer any cash contributions being made into this account.
I think this should be a sustainable long-term income growth goal. With an overall portfolio yield of 3.1% being reinvested, I will need just 7% in organic dividend increases to meet the 10% income growth threshold.
As the table below shows, if I can maintain 10% annual income growth with the portfolio, it will produce over $26,000 in annual dividend income when I am 66-years-old and nearing retirement.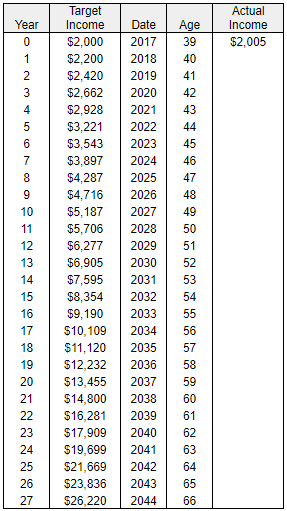 Before you tell me this won't be enough to retire on, I'm already quite aware of that, so keep in mind that this will be just one piece of my retirement puzzle. My wife and I will also have a Roth IRA, a 401k plan, social security (hopefully), my wife's military retirement, and other investments.
Market Overview
The second quarter was a good one for the markets, as all major indices moved higher, led by the NASDAQ with a 9.32% gain.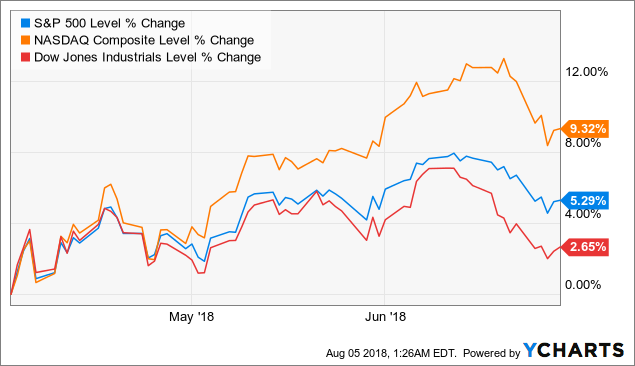 My portfolio also saw some positive gains, increasing in value by 3.6% during the quarter. This wasn't quite as impressive as the NASDAQ and S&P, but it was able to beat the returns from the Dow.
Here are the quarterly values of the portfolio since its inception in 2013.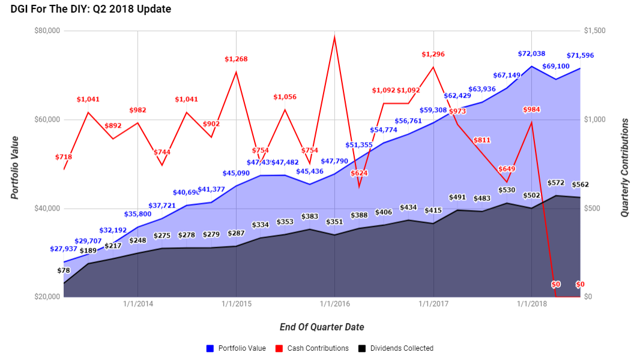 The 3.6% increase brings the portfolio to within $500 of all-time highs, and returns the portfolio to growth after its drop in value in Q1.
You'll notice that cash contributions have dropped to zero, where they will remain going forward. This changes management of the portfolio a bit, as the only way to add to existing positions is through dividend reinvestment. It also means that no new stocks can be added without trading out of an existing position.
Dividend Income Progress
Turning to dividend income, you can see that the amount collected dropped slightly in Q2, from $572 to $562. This is primarily due to the largest position in the portfolio, Digital Realty Trust (DLR), making two dividend payments during Q1, and zero during Q2. This was also the case in 2017, where Q1 payments were seven dollars higher than Q2.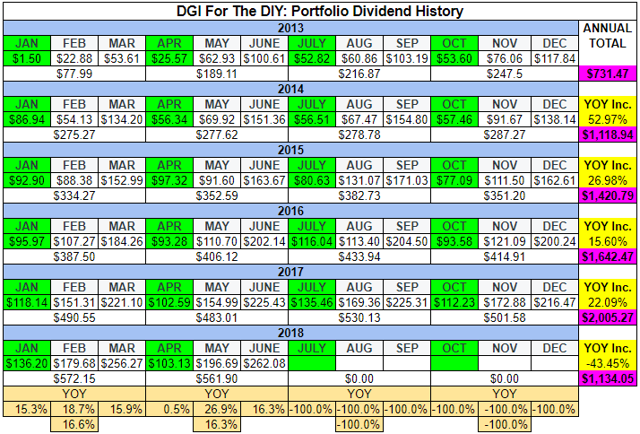 Looking at the year-over-year numbers shows that income for the quarter rose by 16.3%. This is fairly close to Q1's 16.6% increase, and is well above my portfolio goal of 10% income growth.
The future looks bright as well, as there were another seventeen dividend increase announcements made in the portfolio during the quarter.
| | | | | | | | | | |
| --- | --- | --- | --- | --- | --- | --- | --- | --- | --- |
| Announce Date | Company | Ticker | Previous Payout Rate | New Payout Rate | Sequential Increase | Year Ago Payout Rate | YoY Increase | Dividend Yield | Link |
| 4/12/2018 | Tanger Factory Outlet Centers Inc. | (SKT) | $0.3425 | $0.3500 | 2.19% | $0.343 | 2.19% | 5.87% | LINK |
| 4/18/2018 | Kinder Morgan Inc | (KMI) | $0.1250 | $0.2000 | 60.00% | $0.125 | 60.00% | 4.51% | LINK |
| 4/20/2018 | American Water Works Company Inc | (AWK) | $0.4150 | $0.4550 | 9.64% | $0.415 | 9.64% | 2.06% | LINK |
| 4/23/2018 | Ameriprise Financial, Inc. | (AMP) | $0.8300 | $0.9000 | 8.43% | $0.830 | 8.43% | 2.62% | LINK |
| 4/24/2018 | IBM Common Stock | (IBM) | $1.5000 | $1.5700 | 4.67% | $1.500 | 4.67% | 4.36% | LINK |
| 4/25/2018 | Exxon Mobil Corporation | (XOM) | $0.7700 | $0.8200 | 6.49% | $0.770 | 6.49% | 4.26% | LINK |
| 4/26/2018 | Johnson & Johnson | (JNJ) | $0.8400 | $0.9000 | 7.14% | $0.840 | 7.14% | 2.76% | LINK |
| 5/1/2018 | Apple Inc. | (AAPL) | $0.6300 | $0.7300 | 15.87% | $0.630 | 15.87% | 1.39% | LINK |
| 5/22/2018 | Cracker Barrel Old Country Store, Inc. | (CBRL) | $1.2000 | $1.2500 | 4.17% | $1.200 | 4.17% | 3.34% | LINK |
| 5/24/2018 | Flowers Foods, Inc. | (FLO) | $0.1700 | $0.1800 | 5.88% | $0.170 | 5.88% | 3.56% | LINK |
| 6/1/2018 | Lowe's Companies, Inc. | (LOW) | $0.4100 | $0.4800 | 17.07% | $0.410 | 17.07% | 1.98% | LINK |
| 6/8/2018 | Philip Morris International Inc. | (PM) | $1.0700 | $1.1400 | 6.54% | $1.070 | 6.54% | 5.47% | LINK |
| 6/13/2018 | Target Corporation | (TGT) | $0.6200 | $0.6400 | 3.23% | $0.620 | 3.23% | 3.17% | LINK |
| 6/19/2018 | Starbucks Corporation | (SBUX) | $0.3000 | $0.3600 | 20.00% | $0.250 | 44.00% | 2.73% | LINK |
| 6/20/2018 | Realty Income Corp | (O) | $0.2195 | $0.2200 | 0.23% | $0.2115 | 4.02% | 4.58% | LINK |
| 6/28/2018 | Walgreens Boots Alliance Inc | (WBA) | $0.4000 | $0.4400 | 10.00% | $0.4000 | 10.00% | 2.56% | LINK |
| 6/28/2018 | Wells Fargo & Co | (WFC) | $0.3900 | $0.4300 | 10.26% | $0.3900 | 10.26% | 2.97% | LINK |
| | | | | Average: | 11.28% | | 12.92% | 3.42% | |
The average sequential increase was 11.28%, while the average annual increase was 12.92%. The 44% increase from Starbucks and 60% increase from Kinder Morgan skews those numbers a bit, but overall I'm quite happy with the numbers.
Apple, Lowe's, Walgreens, and Wells Fargo also produced double-digit growth. The double-digit increases were expected from Apple and Lowe's, but were a bit of a surprise for Walgreens and Wells Fargo, as they've been in the low single-digits in recent years. I think both should be back on track for double-digit growth going forward.
Cracker Barrel's 4.17% increase might look disappointing on the surface, but the company also announced a $3.75/share special dividend, further boosting the portfolio's income. This is the fourth year in a row of special dividends from Cracker Barrel, which is a nice bonus on top of the already attractive 3.3% yield.
Tanger Factory Outlets and Target had smaller increases, as they've struggled a bit to grow earnings, and are being conservative to keep payout ratios from expanding too much.
If you are interested in a deeper look at the recent increases from Philip Morris, Starbucks, Wells Fargo, and Walgreens Boots, I wrote an article back in July with my analysis. In short, I think all four companies look interesting at current prices, with attractive valuations and historically high dividend yields.
Current Portfolio
This is how the portfolio stood as of the end of the quarter: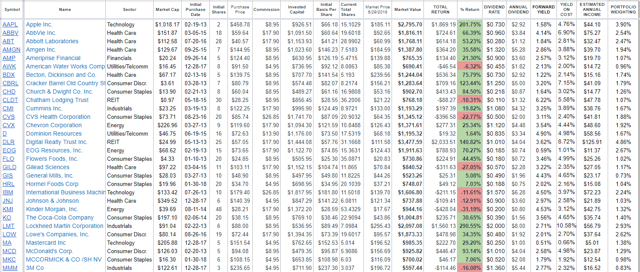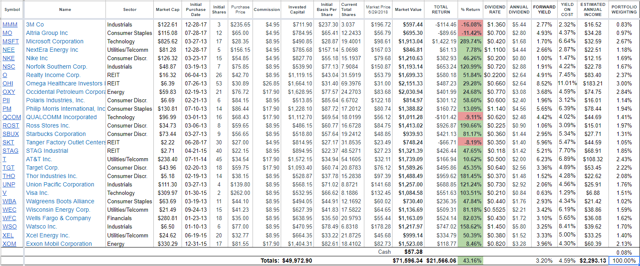 As noted previously, the portfolio had a good quarter, and now sits about $500 below all-time highs. Two big drivers of those gains came from the recovery in my stocks from the Real Estate and Energy sectors
The energy sector especially outperformed, as all five members in the portfolio produced double-digit price gains. Occidental Petroleum and EOG Resources were especially impressive, as they both returned over 20%.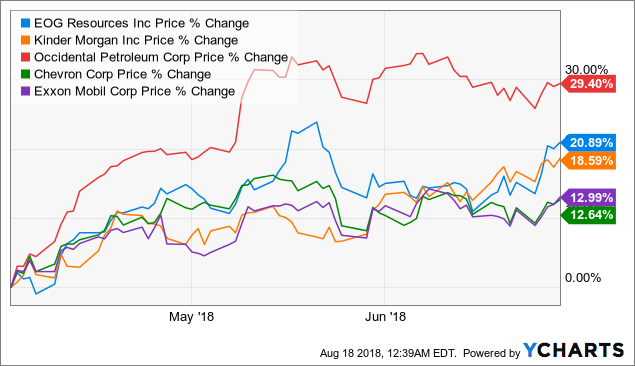 All six of my stocks in the Real Estate sector produced positive gains as well, with Omega Healthcare Investors, Stag Industrial, and Chatham Lodging Trust producing double-digit price gains during the quarter.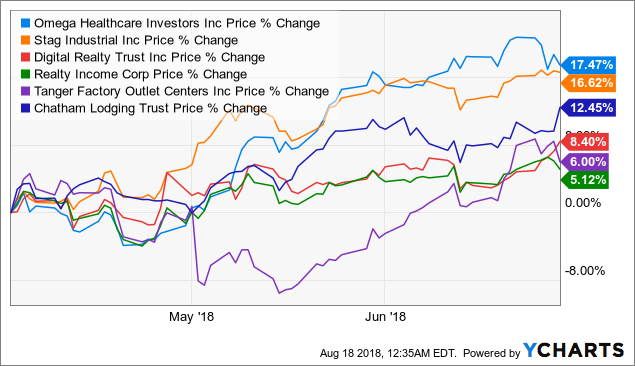 Looking back at the portfolio table, you can see that my projected income has now risen to $2,293.13. This is an $82.19 increase from the $2,210.94 projection at the end of Q1.
Slow and steady progress is always good to see!
Portfolio Weightings
Following the big gains from my Real Estate and Energy stocks, here are the new weightings of the portfolio as of the end of the quarter:

REITs continue to dominate the portfolio, as they now produce 24.2% of the income and 14.2% of the value of the portfolio. I'm also a bit heavy on consumer discretionary, as it currently is worth 16.1% of the portfolio.
This is partly by design, as I've used REITs to boost the dividend yield of the portfolio with them paying higher dividends than other sectors. It has worked, as I've been able to keep the overall portfolio yield above 3%. Unfortunately its also resulted in some poorer performers on a return basis, as Chatham Lodging and Tanger Factory Outlet Centers both have negative returns.
I went a bit heavy on discretionary stocks in an attempt to add some growth to the portfolio. This has generally worked out pretty well, as some of my biggest gainers: Ross Stores, Thor Industries, and Cracker Barrel have come from the sector.
Overall, I'm happy with the portfolio as it stands, although I've considered swapping out some of the under-performers for either new names or to add to other existing positions. I'm generally averse to selling, but its tempting at times to dump under-performers to free up cash for new opportunities.
On The Radar
Speaking of opportunities, I believe there are plenty of good opportunities in the market. Here a few that I find especially interesting at current prices:
Altria Group (MO) has recovered a bit in price, but is still trading at an attractive 15.3X its expected 2018 earnings of $4.00 per share. Even more attractive is the yield of 4.6%, which should be headed higher soon.
The company has guided for an 80% payout ratio and usually announces a dividend increase the end of this week. I'm expecting another ~10% increase, which would push the yield over the 5% mark.
Between that 5% yield and high single-digit EPS growth, I think there's a strong likelihood of double-digit total returns going forward with the company.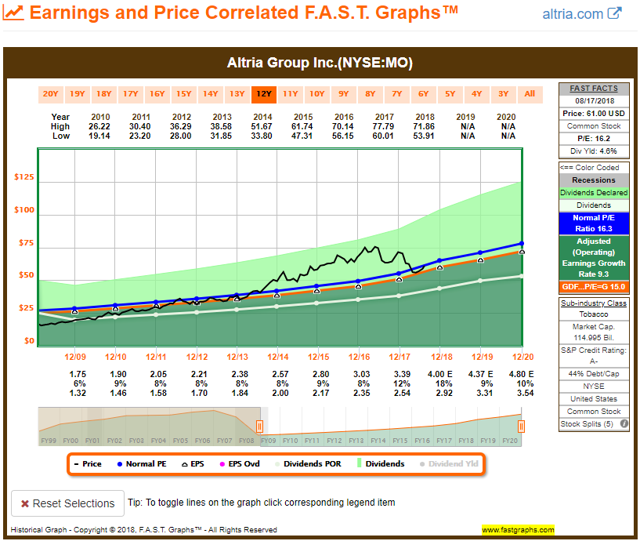 Wells Fargo also looks attractive to me following its recent dividend increase. The stock now yields nearly 3%, and I think the double-digit dividend boost and large share buyback marks an inflection point for investors.
Rising interest rates and a strong economy have already caused analysts to raise growth targets, and they are now forecasting 12-13% growth going forward. The share repurchases should meaningfully reduce share count, which should help the company meet those targets.
Shares are reasonably priced at 13.1X 2018 estimates. Barring a recession, I think there is a good chance for double-digit EPS and dividend growth going forward. Between that and the aforementioned 2.9% yield, I think investors will do well with the company.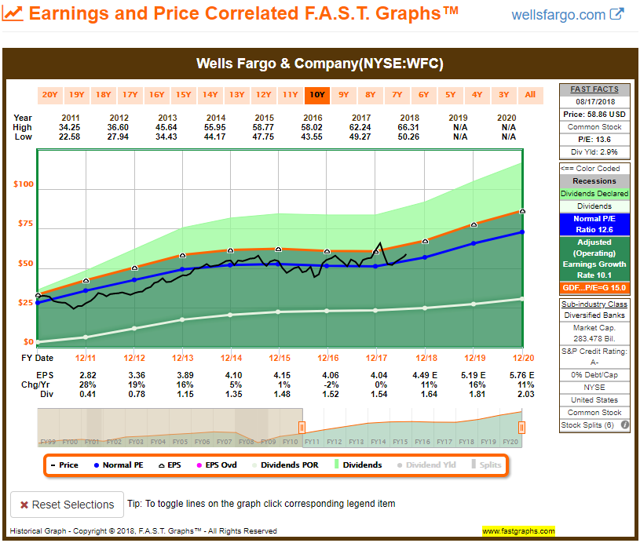 Despite a recent uptick in share price, AbbVie Inc. (ABBV) remains well below last year's all-time highs. This drop in price has brought the yield up to nearly 4%, which is awfully attractive for income investors.
There remains fears about AbbVie's heavy reliance on Humira, but the company seems to be doing a good job of maintaining and expanding patents on the drug. It also has others in the pipeline that should help keep the growth coming.
Analysts continue to forecast mid-teens earnings growth in the coming years, and based on how management has handled the dividend, that too should continue to rise. At a PE below 13 and a near 4% yield, I think the risk/reward looks pretty attractive right here.
Closing Thoughts
Its been a bit of a roller-coaster in the market this year, as a February sell-off, rising interest rates, ongoing trade negotiations, and upcoming mid-term elections all cause some uncertainty with equities.
During these chaotic times, it can be easy to become discouraged or fearful about what's in store for your retirement savings. However, despite all the noise, my portfolio's income does nothing but continue its march higher and higher. I'm well on my way to exceeding the 10% income growth goals in 2018, and recent dividend increases point towards that happening again over the next year.
I hope this update finds you well, and that you are having similar success with your portfolios. Happy Investing!
If you enjoyed this article and would like to read more of my future work, I kindly ask you to click the "follow" button next to my name at the top of the page to receive updates when new articles are published.
Disclosure: I am/we are long AAPL, ABBV, ABT, AMGN, AMP, AWK, BDX, CBRL, CHD, CLDT, CMI, CVS, CVX, D, DLR, EOG, FLO, GILD, GIS, HRL, IBM, JNJ, KMI, KO, LMT, LOW, MA, MCD, MKC, MMM, MO, MSFT, NEE, NKE, NSC, O, OHI, OXY, PII, PM, QCOM, ROST, SBUX, SKT, STAG, T, TGT, THO, UNP, V, WBA, WEC, WFC, WSO, XEL, XOM. I wrote this article myself, and it expresses my own opinions. I am not receiving compensation for it (other than from Seeking Alpha). I have no business relationship with any company whose stock is mentioned in this article.
Additional disclosure: I am an engineer by trade and am not a professional investment adviser or financial analyst. This article is not an endorsement for the stocks mentioned. Please perform your own due diligence before you decide to trade any securities or other products.