Retail stocks are in rally mode, but there is one notable name being left out of the rally: J.C. Penney (NYSE:JCP). While other retail stocks have partied their way to near-40% gains over the past year, JCP is down 50% during that stretch, taking a big leg down recently on ugly second-quarter numbers (against the backdrop of a strong retail environment).
We imply from JCP's continued weakness despite broader retail strength that the retail market is moving on without the company, and that tomorrow's retail landscape will not include this once popular department store. As such, we think JCP stock still can go a lot lower, and fully believe that a $0.50 price target feels about right for this depressed retailer.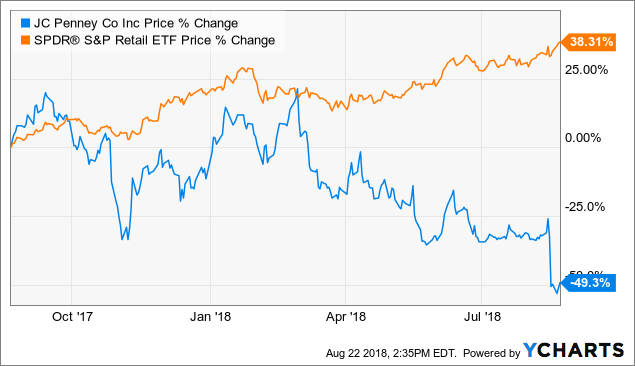 Over the past several years, e-commerce has emerged to the forefront and physical retail sales have shifted online. As a result, the brick-and-mortar retail world has shrunk, and traditional brick-and-mortar retailers with a large presence have struggled. From the start of 2015 to mid-2017, large traditional retailers like JCP, Macy's (NYSE:M), Nordstrom (NYSE:JWN), Kohl's (NYSE:KSS), Walmart (NYSE:WMT), and Target (NYSE:TGT) struggled with negative comparable sales growth, declining margins, and eroding profits. The stocks dropped in a meaningful way.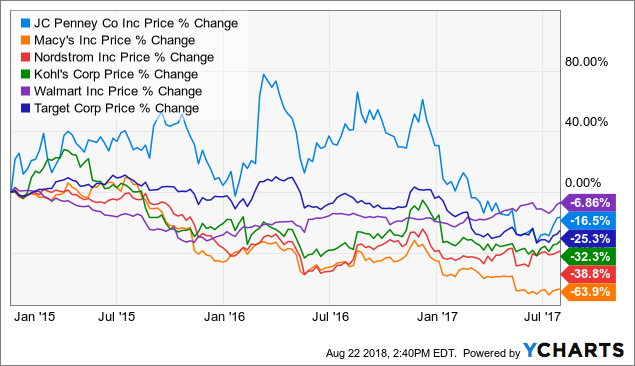 But it appears that most traditional retailers have since weathered the storm. Walmart, Target, Macy's, Nordstrom, and others weren't just sitting back and waiting for Amazon (NASDAQ:AMZN) to make them extinct. Instead, these companies were rationalizing their brick-and-mortar footprints, refreshing stores, building out omni-channel commerce capabilities, and growing their digital presence. The sum of these initiatives has paid off.
Macy's just reported adjusted comparable sales growth of nearly 3%. Nordstrom reported a 4% rise in comparable sales last quarter. Walmart's most recent 4.5% comparable sales increase is the best mark in a decade, while Target's most recent 6.5% comparable sales increase is the best mark in 13 years. Kohl's, meanwhile, reported comparable sales growth of 3.1% last quarter, and smaller retailers like Urban Outfitters (NASDAQ:URBN), American Eagle Outfitters (NYSE:AEO), and Abercrombie & Fitch (NYSE:ANF) have been on fire recently.
Also, margins have largely improved across the board, driven by renewed top line growth. Digital sales are growing nicely across the board, too, highlighted by 40%-plus e-commerce growth at both Walmart and Target. And the consumer retail backdrop has been very strong, with retail sales up 6% over the past three months. As a result, these stocks have been on fire, with the smallest gainer in the group (Walmart) still being up 20% over the past year.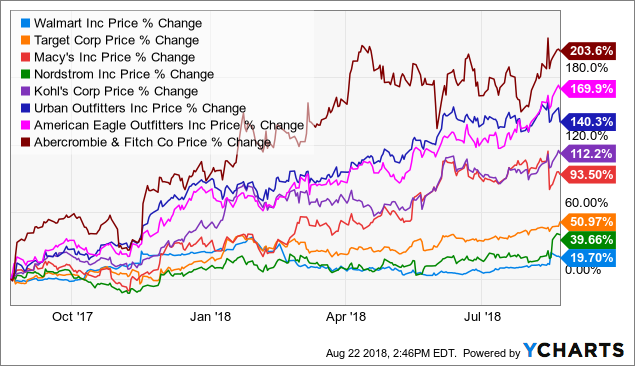 Against this really good retail backdrop, it is exceedingly discouraging to see JCP still put up ugly numbers. Granted, comparable sales growth was positive last quarter. But it was up just 0.3%, a rather anemic number relative to peers and against a 6% U.S. retail sales gain in the roughly overlapping period. Meanwhile, net sales are falling because of store closures, gross margins are dropping due to continued promotional activity, and the opex rate is soaring because of lost sales volume.
These are ugly trends. Granted, the same ugly trends affected all retailers a few quarters back. But everywhere else, those ugly trends have turned into attractive ones (positive comparable sales growth, margin expansion, and profit growth). The fact that JCP's trends have remained ugly is a big warning sign about this company's future.
The bottom line is that Amazon can't go from under $500 million to $200 billion-plus in revenues without multiple players in the commerce world getting squeezed out. What about Walmart, Target, Macy's, Nordstrom, and Kohl's? They all adapted and aren't getting squeezed out. As for JCP, the company clearly didn't adapt fast enough, and it increasingly looks like JCP will be squeezed out of the retail scene.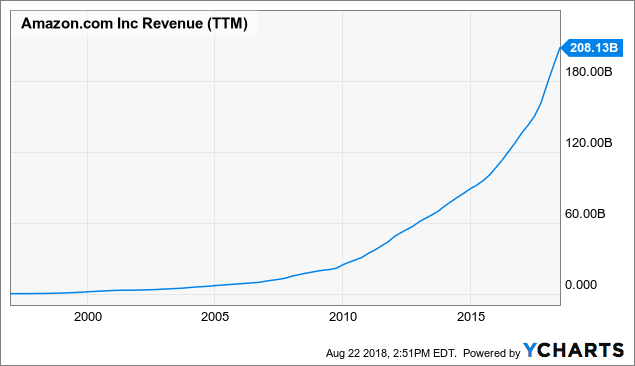 It could downsize and run a profitable operation from a much smaller store base. But that is tough to do when you have billions of dollars of debt on the balance sheet and aren't generating positive free cash flow. Eventually, JCP's massive debt burden will break the company and the stock.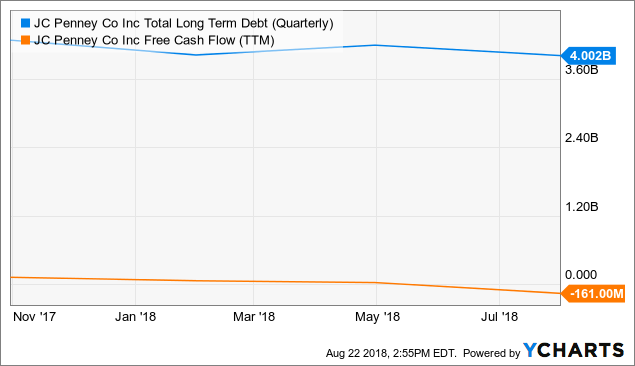 Long term, we don't really see much hope for JCP. The company is simply getting squeezed out of the retail game, and that is an inevitable consequence of Amazon emerging as a major e-commerce player over the past decade. In all likelihood, JCP stock only goes lower from here.
Disclosure: I am/we are long AMZN, M, KSS, ANF, AEO. I wrote this article myself, and it expresses my own opinions. I am not receiving compensation for it (other than from Seeking Alpha). I have no business relationship with any company whose stock is mentioned in this article.