Second quarter earnings are coming in, and they are largely much better than expected across the board, a testament to the strength of the U.S. economy at the present moment. When the economy at home is strong, U.S. home improvement retailers like Home Depot (HD) and Lowe's (LOW) tend to do well.
Indeed, both Home Depot and Lowe's recently reported strong second quarter numbers, and both stocks are up more than 30% over the past year, with LOW stock leading the way with 40%-plus gains. But, at current levels, LOW stock seems to be approaching fully valued territory. On the plus side, the economy is healthy and will likely remain healthy into the foreseeable future, so LOW stock should work for the next several quarters. On the negative side, LOW stock is now as richly valued as HD stock, implying that the stock's valuation asymmetry relative to peers has disappeared. Thus, the days of big gains for LOW stock are likely in the rear-view mirror, and going forward, the most likely result for LOW stock is simply returns in-line with the market.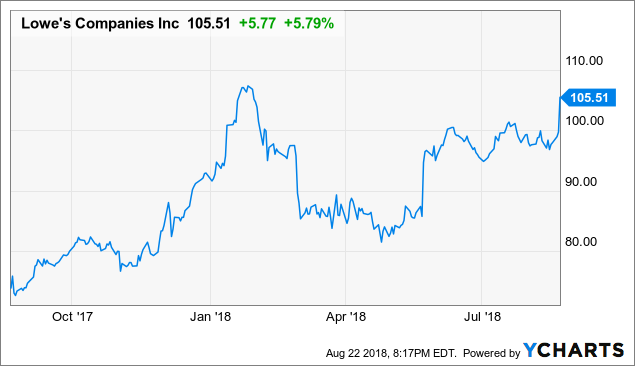 Lowe's second quarter numbers were quite good. It was a double beat quarter that featured 7%-plus net sales growth, 5%-plus comparable sales growth, 25 basis points of gross margin expansion, 10%-plus earnings per share growth, and a strong guide. Those number speak to the fact that, despite pundits claiming the bull run in home improvement retailers to be over, the U.S. economy, and thereby home improvement retailers, are only getting stronger.
Broad economic data speaks to this reality, too. The consumer is really strong and confident right now with retail sales growth running around 6% year-over-year and accelerating higher. Usually, leading into a recession, retail sales growth decelerates meaningfully towards the flat line. We are far off from 0% growth, and the trend is heading in the opposite direction right now.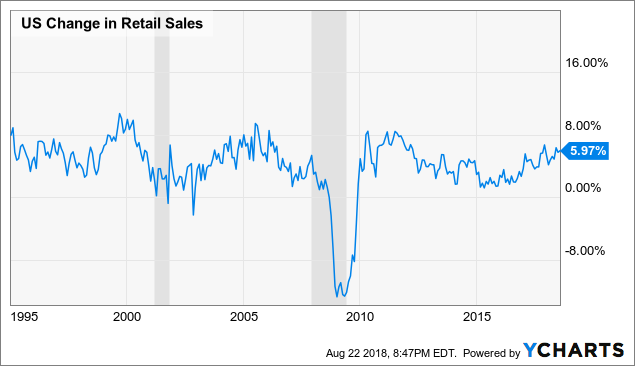 Moreover, the consumer is really strong, yet still saving a bunch. The personal saving rates in the U.S. is just shy of 7%, which is historically a very healthy level. Usually, leading into a recession, the savings rate drops to below 5%.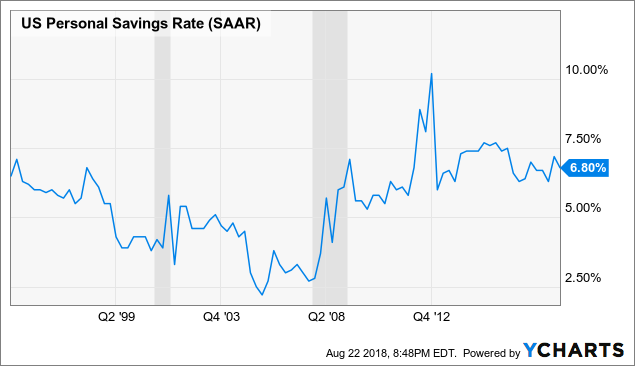 Also, housing starts in the U.S. continue to climb higher. Usually, leading into a recession, housing starts drop as a result of waning demand and/or over-supply. That isn't the case today. Housing starts have continued on their gradual march higher that started at the beginning of this decade.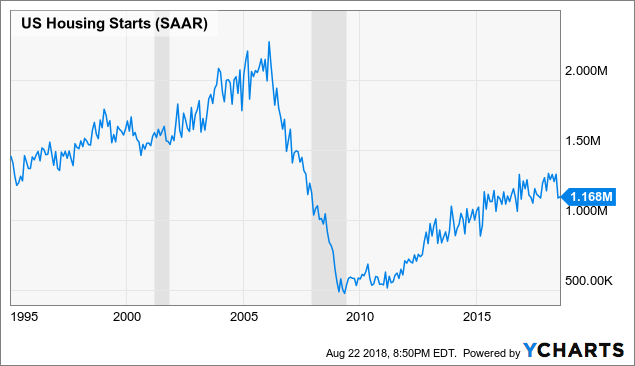 Thus, in the big picture, the economy is doing really well right now, and there aren't any big warning signs out there that a collapse is imminent. When the economy is healthy, home improvement retailers tend to do well, and that is why HD and LOW remain leaders in today's stock market.
Having said that, we think that the favorable valuation asymmetry that made LOW stock a compelling buy back in August 2017 and again in May 2018 is now gone. Back in August 2017, LOW stock was trading at a steep discount to HD stock despite similar long-term growth prospects, and we viewed that steep discount as a buying opportunity. Same with May 2018.
Today, however, LOW stock trades at the same trailing earnings multiple as HD stock (23x). Thus, the valuation asymmetry which made LOW an attractive investment a few months ago is no longer true today. As opposed to trading at a discount to peers, LOW stock now trades in-line with peers. Recently, the only time LOW stock generates significant alpha is when it trades at a big discount to HD stock.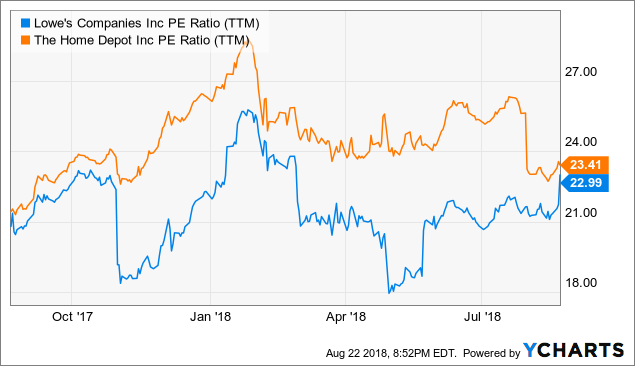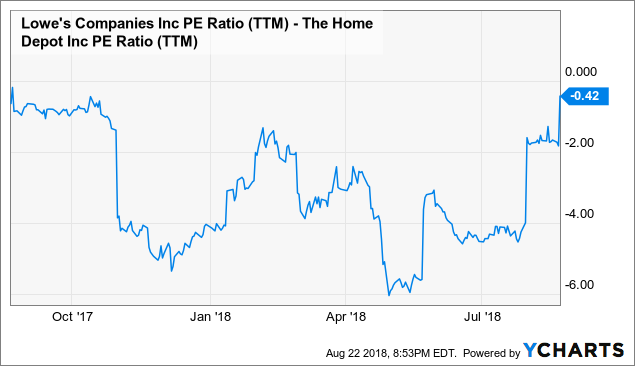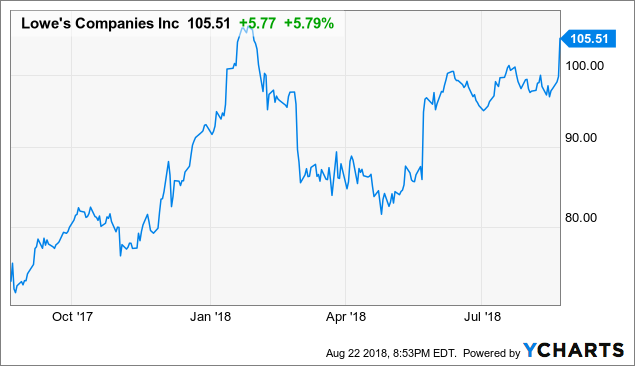 Moreover, LOW's PEG ratio (trailing earnings multiple divided by long-term earnings growth projections) is back at levels that historically imply largely sideways trading going forward. LOW stock usually goes on huge runs when the PEG ratio is around 1.2 or lower (mid-2014 and earlier in 2018). Today, the PEG ratio is right around 1.5, and historically speaking, that PEG ratio correlates to largely sideways trading in LOW stock.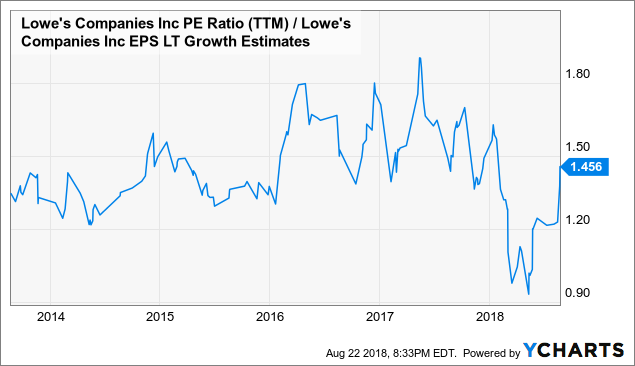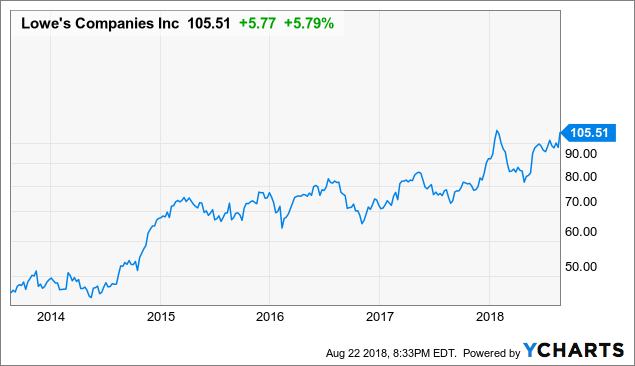 All together, we think that LOW stock will continue to work here because of solid operating fundamentals. But, the valuation is already baked with optimistic growth assumptions, implying that while the stock will continue to work, gains going forward will be garden variety.
Disclosure: I/we have no positions in any stocks mentioned, and no plans to initiate any positions within the next 72 hours. I wrote this article myself, and it expresses my own opinions. I am not receiving compensation for it (other than from Seeking Alpha). I have no business relationship with any company whose stock is mentioned in this article.