This is the ultimate old versus new battle. On one side, we have old reliable in Johnson & Johnson (JNJ), who performs year in and year out with a consistently strong pipeline of new products that grow revenue. On the other side, we have the newcomer on the block or the young gun in AbbVie, inc. (ABBV), who sports the #1 selling drug in the world in Humira.
Here at Big Ticket Fund Managers, we have always been a fan of JNJ stock as a DGI portfolio building block stock, but as we recently have taken a deeper dive into ABBV, we like the risk-reward they have to offer. With the #1 selling drug in the world expected to maintain that top spot through 2023, ABBV will be able to maintain strong cash flows that will drive research and development of their loaded pipeline of products. Trading at a price-to-earnings multiple slightly below their average history, a difference of 3.5 below that of JNJ, if you have the risk tolerance, we like the long-term prospects of ABBV.
Johnson & Johnson has been one of the most respected, well managed, and consistent companies for decades now. When thinking of dividend growth staples for any DGI portfolio, one of the first companies that comes to mind for most investors is JNJ. The company recently increased their dividend for an astonishing 56th consecutive year now, which is a main reason many DGI investors like JNJ as a building block in their portfolio. Over the years, investors have bought JNJ stock for their conservative approach, low volatility, and a dividend that is both stable and growing. JNJ has been a staple in many dividend growth portfolios for some time now, and I do not expect that to change.
AbbVie, Inc. is somewhat of a newcomer on the block. ABBV was founded in 2013 through a spin-off from Abbott Laboratories (ABT) as their research-based pharmaceutical arm. Inception to date, AbbVie is up over 160% in their short five-year history. For comparison purposes, JNJ, though obviously in a more mature state, is up about 80% during the same period. ABBV is also becoming a fan favorite among the dividend investing community as a stock with great potential to be a dividend growth gem.
In this piece, we will pit these two companies against one another to see who deserves a spot in your portfolio today.

Source: JNJ and ABBV Investor Relations
A Quick Look At Recent Earnings Results
Let's take a quick look at how the second quarter turned out for Johnson & Johnson:
| | | |
| --- | --- | --- |
| | JNJ Q2 2018 | YOY Change |
| Revenue | $ 20,830 | 10.6% |
| US Sales | $ 10,640 | 9.4% |
| Int'l Sales | $ 10,190 | 11.8% |
| Gross Margin % | 66.7% | (220)bps |
| Net Income | $ 3,954 | 3.3% |
| Adj EPS | $ 2.10 | 14.8% |
| | | |
Source: Chart created by author
For comparison purposes, let's see how ABBV performed in their most recent quarter:
| | | |
| --- | --- | --- |
| | ABBV Q2 2018 | YOY Change |
| Revenue | $ 8,278 | 19.2% |
| US Sales | $ 5,459 | 17.5% |
| Int'l Sales | $ 2,819 | 22.7% |
| Gross Margin % | 76.6% | (130)bps |
| Operating Margin % | 33.4% | (500)bps |
| Net Income | $ 1,983 | 3.6% |
| Adj EPS | $ 2.00 | 40.8% |
| Humira Sales | $ 5,185 | 9.9% |
Source: Chart created by author
As you can see from the charts above, both companies saw solid top and bottom line growth. Now when comparing growth numbers, one must put into perspective of where these companies are at in their life cycle. As we mentioned, ABBV is a fast-growing biotech company with the top selling drug in the world, Humira. Johnson & Johnson on the other hand has been around for over 130 years and is in a more mature state, but still maintaining double digit top line growth.
JNJ saw yet another strong quarter with double digit top line growth and EPS grew at a strong clip of 10.6% from a year ago. The decrease in gross margin can be attributed to sales mix during the quarter, which saw higher cost of goods during the period. Compared to last quarter, gross margin was actually up 40 basis points. The company has repurchased $1.6 billion worth of shares through the first half of the year.
The pharmaceutical segment of JNJ continues to be the company's largest segment and fastest growing. The segment grew 19.9% worldwide during the second quarter, and is on pace to do $40 billion in sales for the year, which would be growth of approximately 20% from prior year. The strongest growth within the segment was seen within Oncology, which included the drug Darzalex. The drug is the first monoclonal antibody approved for use in multiple myeloma, which is a blood cancer related to leukemia. Darzalex grew 70% in Q2, and recently surpassed $2 billion in sales. Another drug used to treat other forms of leukemia is Imbruvica, which saw its sales grow 40.5% worldwide during the quarter. Remicade, which has been a huge success in terms of treating patients and a revenue driver for the company over the last decade, has continued to see its sales decline due to expiring patents and the release of Merck's (MRK) generic form. During the quarter, Remicade sales declined 15.4% worldwide, but still brought in $2.7 billion through the first half of the year.
In regards to AbbVie's recent Q2 earnings, the company met or beat consensus estimates. Adjusted EPS of $2.00 was 1% higher than consensus estimates of $1.98. Revenue of $8.28 billion for the quarter was in-line with what analysts had expected for the quarter. In addition, the company raised 2018 EPS guidance for the remainder of the year from $7.66 - $7.76 to $7.76 - $7.86, which was in-line with the $7.81 analysts expected for the remainder of the year. Overall, it was a pretty solid quarter for the company, but nothing earth shattering.
All in all, the company had a quality quarter, but a slowdown in growth for Humira and an issue around a recent acquisition drug, Rova-T, is what worried investors resulting in a strong pullback after earnings. Taking a deeper look at the high-level metrics, one of the first items investors look for are Humira sales, and rightfully so, as the drug made up 63% of total sales for the period. In fact, 85% of total sales for the period was made up of only three drugs: Humira, Imbruvica, and HCV. Imbruvica growth is mentioned above as it is co-developed with JNJ. ABBV brought in revenues of $850 million for their portion of the co-developed drug and saw HCV grow 332% on sales of $973 million during the period, making it the second highest selling drug for the company through the first half of the year. These drugs, though both performing well, cannot make up the difference as Humira sales begin to slow, so much more will be needed from the company's pipeline.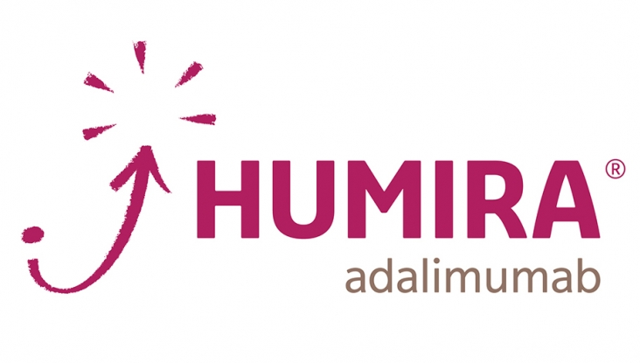 The company's second largest selling drug, Imbruvica is supposed to reach peak annual sales of $7.5 billion by 2020 according to EvaluatePharma. This will certainly help when Humira starts to really slow down, but still accounts for less than what Humira brings in through half the year right now. Luckily, the company has seen free cash flow growth of 45% in the past year, which helps pay for R&D on new drugs. The company's R&D team has been active, as they currently possess the second largest potential drug pipeline, in the pharmaceutical industry, of $21.2 billion by 2024. Two of the leading drugs in the analysis are Elagolix and Rova-T. As we mentioned earlier, Rova-T has run into FDA issues in their early phase testing, which does not bode well for this future estimate. Elagolix is a drug used to treat endometriosis, which recently received FDA approval and is estimated to have peak annual sales of $1.2 billion, according to EvaluatePharma. Upadacitinib is an immunology drug that recently wrapped up phase 3 testing and based on the positive results, the company is expecting to receive FDA approval sometime next year. This drug is expected to bring in peak annual sales of $6.5 billion, according to company management. These pipeline drugs are just a few that ABBV has up their sleeve, so the company is well stocked with potential gems, but as we have seen with Rova-T, things can go south quickly.
Johnson & Johnson sports a strong pipeline themselves that may not be receiving enough credit. By 2021, the company is expected to file 10 new products (each expected to drive $1B+ in revenue) and 50 line extensions (11 with at least $500M potential) in order to combat the company's expected declines from blockbuster drug Remicade. Helping combat the declining sales is the growth in sales from Stelara, which saw 33% growth and is now the company's second largest grossing drug. Johnson & Johnson, having the strong product base that they preserve, is granted the luxury of having numerous products that support growth of the company, whereas ABBV in their early stages is primarily reliant on Humira sales to maintain their strong growth numbers.

Year-to-date, both stocks have been under pressure along with the healthcare sector as a whole, as the President and FDA has lashed out on biotech giants about the high price of healthcare, in particular certain drugs. This has caused many healthcare/biotech companies to underperform the market as a whole. So far in 2018, the Health Care Select Sector SPDR ETF (XLV) has gained about 10%, where JNJ is the largest holding and ABBV is the fifth largest holding. JNJ is down 4% on the year and ABBV is up 1%, based on a nice run up of 10% over the course of the last month. On the year, the S&P 500 (SPY) is up about 7% on the year.
Risks To The Companies
At first glance, areas of concern that would worry me as an investor in JNJ would be the decline in sales for Remicade, contraction of gross margin percentages, as well as growth in the SG&A expenses. However, some of these issues were bought to light during the company's 2017 year end conference call to which CEO Alex Gorsky addressed. Mr. Gorsky alluded to the fact that these areas were negatively impacted by the acquisitions made during the year as well as the launch of new products. Now looking at Q2, it seems as if he was correct (for one of the two), as SG&A expenses as a percentage of sales decreased 60 basis points during the same period a year ago. Gross margin on the other hand decreased 220 basis points to 66.7%, which can partly be due to product mix.
Amazon (AMZN) is another risk I would mention, as they recently announced a new venture with JP Morgan (JPM) and Berkshire Hathaway (BRK.B). In January 2018, the three behemoths announced they would join forces to form an independent health care company to combat frustrations the American people have with today's healthcare system. It is still unclear at this moment what the venture will actually look like, but the venture recently named a CEO to lead the company, Dr. Atul Gawande. We will have to take a wait and see approach here, but we will be watching closely as anything Amazon touches turns to gold and could mark trouble for certain companies within the healthcare industry.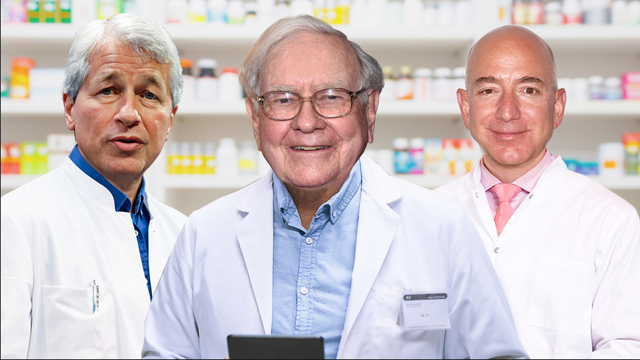 One other area of concern I would like to mention is the recent ruling on the talcum powder verdict, which awarded 22 women $4.6 billion. The case has gone back and forth for quite some time now with JNJ successfully appealing previous rulings. Cancer research professionals have long been at odds with this case or the charge against JNJ, but nonetheless, rulings have still gone in the women's favor. JNJ will look to settle in the near future in my opinion, so they can get this negative publicity behind them, but I do not see this going away anytime soon.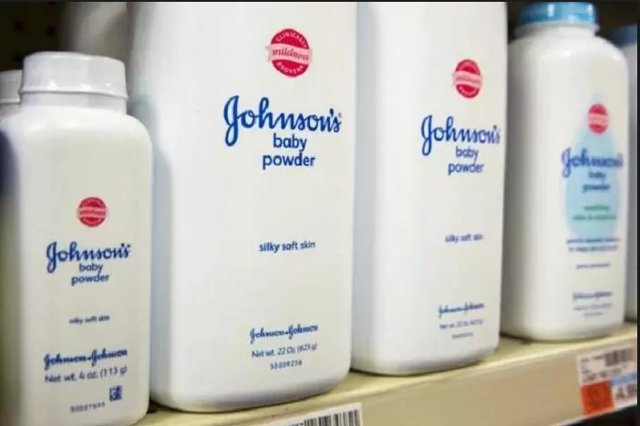 AbbVie has a couple major risks of its own to figure out as well. The first that comes to mind, and one that is already starting to show, albeit small, is a slowdown in Humira sales. Right now, Humira is on pace to reach $20 billion in sales based on the first half of the year being completed, which would peg annual growth around 8.5% compared to prior year growth of 14.6%. Not to overact completely, Humira is supposed to maintain the top spot as best-selling drug in the world into 2024, according to market research firm EvaluatePharma. Therefore, we expect that sales will remain high for the foreseeable future, but the fact that Humira is 63% of total sales, the company will need a slew of successful drugs just to replace expected sales declines related to Humira in the future. The reason the firm expects Humira to fall starting in the year 2024 is due to the fact AbbVie will face competition in the United States starting that year. Mylan is working on getting EC approval later this year on a biosimilar drug they have been working on with Fujifilm Kyowa Kirin Biologics. This will certainly affect ABBV going forward. ABBV did strike a deal with Mylan to delay their challenge in the United States until 2023.
As we mentioned above, another big risk to ABBV is the questions surround the company's $5.8 billion Rova-T acquisition, which has not performed as planned in early testing. The company was hoping to receive a fast-tracked approval from the FDA, but the poor results did not warrant that. The drug is still in early phase testing so things could certainly still get worked out, and considering the delays they have worked out with Amgen and Mylan for the biosimilar drugs for Humira, the company does have some time.
Along with all the new drugs comes large debt bills. Total liabilities have grown 155% since 2014 to $65.8 billion, with the long-term debt portion accounting for $30.9 billion. During this period the debt portion has doubled in size. This is a concern if the debt levels continue to balloon going forward, but the company does have healthy growth in cash flows to help pay down the debt overtime in the future.
ABBV received some negative attention in the past couple weeks when activist short seller Citron Research announced their short position in the company. The research firm recently dubbed ABBV the "Next Great Drug Short", which sent the stock falling 5% last week. Citron attached a price target of just $60, implying a 30+% drop in stock price. The research firm plans to release "a series of reports detailing the dirty money." In addition, the FDA has frowned upon drug makers who have blocked rivals from producing cheaper biosimilar drugs for the public.
To Buy or Not To Buy
Now let's compare the two from a valuation standpoint to one another and some of their competitors. Currently, JNJ is trading at $131.95 with a P/E ratio of 17.52x. ABBV is trading at $91.45 with a P/E ratio of 14.28x. Here is a look at how the two stocks compare to a few of their competitors.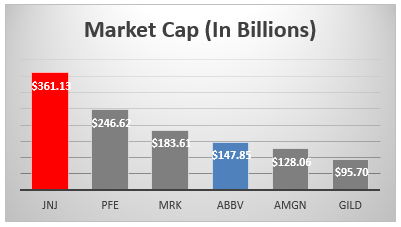 Source: Chart created by author
Let's see how these companies stack up when it comes to their respective P/E ratio: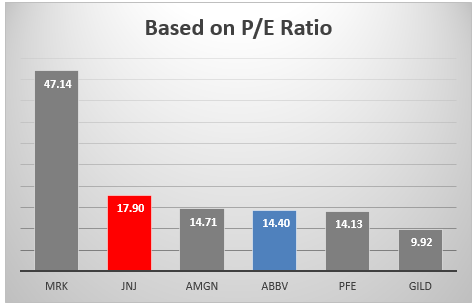 Source: Chart created by author
Based on the P/E ratio of the companies we compared, Merk aside, they are all fairly comparable. Of the five companies that have comparable P/E ratios, JNJ trades at a premium, which is a normal premium for the company over their recent history based on the company's reliability. Johnson & Johnson has traded at an average P/E of 17.2x over the last five years, while ABBV has traded at an average of 14.7x during their short history as a separate public company. According to their current levels and recent history, both JNJ and ABBV appear to be trading at or near fair value.
Here are how the stocks stack up in terms of dividend yield: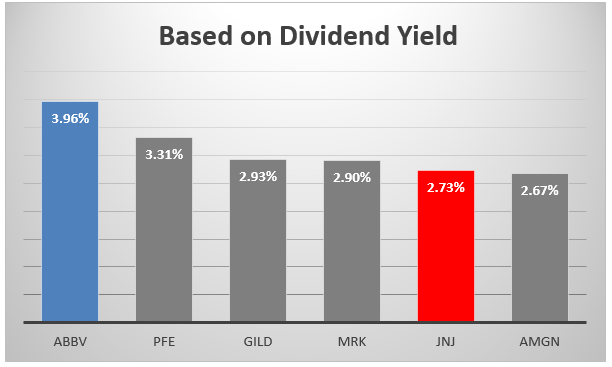 Source: Chart created by author
ABBV happens to have the most generous dividend of the six companies with JNJ having the second lowest. In a way, this is to be expected as JNJ is a more established company with a dividend growing at a modest 7-8% rate year over year, whereas ABBV is more aggressive in their early years, growing their dividend at an average rate of 15% since they started paying a dividend in 2014. With growth rates in the mid-teens, you can see why DGI investors are flocking to ABBV. So, with ABBV right now you get a higher dividend and a faster growing dividend, but assume more risk and higher volatility as you wait for the company's next big drug. As we are seeing with Rova-T, pipeline estimates are all dandy, but they need to come to fruition in order to reap the benefits as an investor. Now, with a loaded pipeline, as we discussed above, the company can handle a few stumbles here and there, plus they have bought themselves a few years in the US with the Humira deals. Both companies have payout ratios around 50%, so future dividend increases should remain consistent, as both companies maintain superb free cash flows of about 6.8x per share.
Lastly, let's take a look at both companies FAST Graph chart: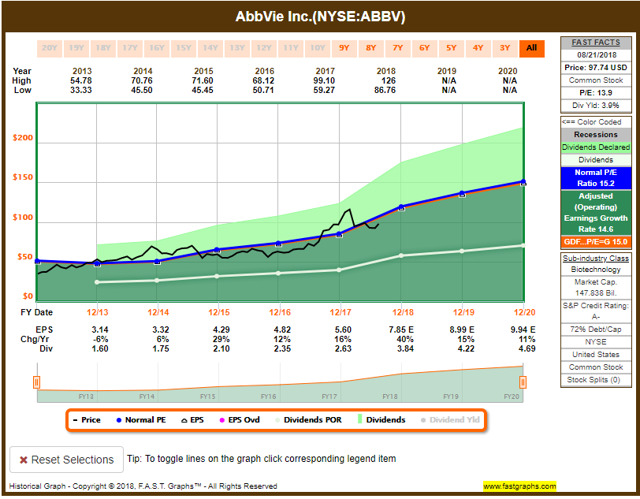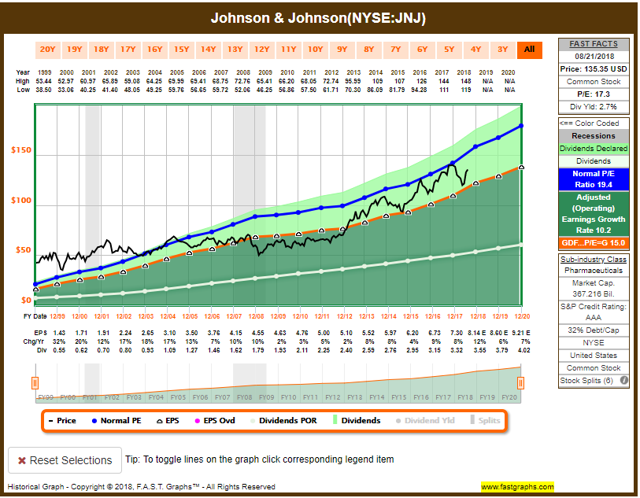 Source: FAST Graphs
According to the FAST Graphs above, both stocks appear to be trading below their long-term trend, which could signal a buying opportunity. JNJ 7-year trend is the one we like to look at for the company, strictly based on the fact the company has been around so long that we like to look at more recent history. According to the 7-year chart, the stock is trading in-line with their average.
Investor Takeaway
The drug industry is one of the most competitive industries around, with numerous companies vying to uncover the next Big Drug. That being said, the industry does provide protection against a recession, with a wide-moat due to the necessity of many of their products. Due to the nature of the industry, many risks are present based on failed tests or pipelines not coming to fruition, but the opportunity is plentiful. As such, based on the risks, we recommend that when investing within the industry, you stick to industry-leading, blue-chip dividend stocks, the likes of Johnson & Johnson and AbbVie.
We really like both of these names in the space for different reasons. We like Johnson & Johnson for the stability they provide based on their proven track record and reliable management. AbbVie maintains a well-respected management team and sports the #1 selling drug in the world and one of the largest pipelines in the industry. In addition, both stocks provide ample growth to their dividend, one slow and steady and the other in a high growth stage. At current valuations, we are now more intrigued than we were, after looking further into the pipeline of products, with the future of ABBV. We would recommend both stocks, but since the nature of the article is the better buy, we would side with ABBV strictly based on the potential for a higher total return. The recent struggles with their Rova-T drug really worried us, but we think the company will be able to bounce back from this, plus it has offered more of a discount on the stock. I look forward to reading your comments below, and Happy Investing!
Note: I hope you all enjoyed the article and found it informative. If you do not currently follow me and would like to be notified of future articles, please hit the "Follow" button above. As always, I look forward to reading your comments below and feel free to leave any feedback. Happy Investing!
Disclosure: I am/we are long JNJ. I wrote this article myself, and it expresses my own opinions. I am not receiving compensation for it (other than from Seeking Alpha). I have no business relationship with any company whose stock is mentioned in this article.