Introduction
Now that we have all of the reports on housing sales for July, let's update with a comprehensive look at this long leading economic indicator (note I am not addressing prices in this article. I'll do that in the next week or two after the Case Shiller and FHFA price reports.).
First of all, remember that the prime (but not exclusive) determinant of housing sales is interest rates. If there were any doubt, here is a 45-year graph comparing the YoY changes in the two: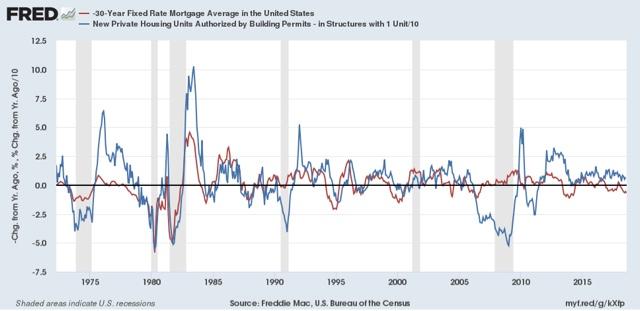 With a few important exceptions - most especially the housing bubble and ensuing bust of 10 years ago and 2014 (and 1966-68, which I cannot show on a FRED graph), when a demographic surge in young adults of prime first-home buying age overcame interest rate increases of less than 2% - housing sales have resolutely followed interest rates with roughly a 6-month lag.
Now let's turn to the measures of home sales. They are:
(Quarterly) private residential investment as a share of GDP (measured nominally or in real terms)
(Weekly) purchase mortgage applications
(Monthly) housing permits and starts (measured overall and for single family only)
(Monthly) new and existing home sales
Updating the 7 measures of home sales
Let's take a look at the current state of each in turn.
(Quarterly) private residential investment as a share of GDP (measured nominally or in real terms)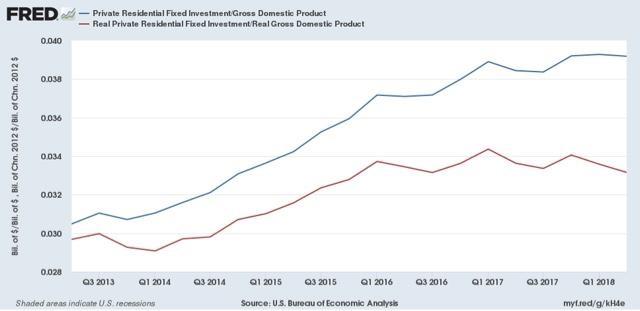 This was reported for Q2 at the end of July. Measured nominally, this has been flat for the last 3 quarters. Measured in real terms, it has been declining since Q1 of 2017. In case you are scratching your head as to why there would be a difference, it's because the CPI for housing materials has increased faster than overall CPI. The former is neutral; the latter negative.
(Weekly) purchase mortgage applications (h/t Calculated Risk):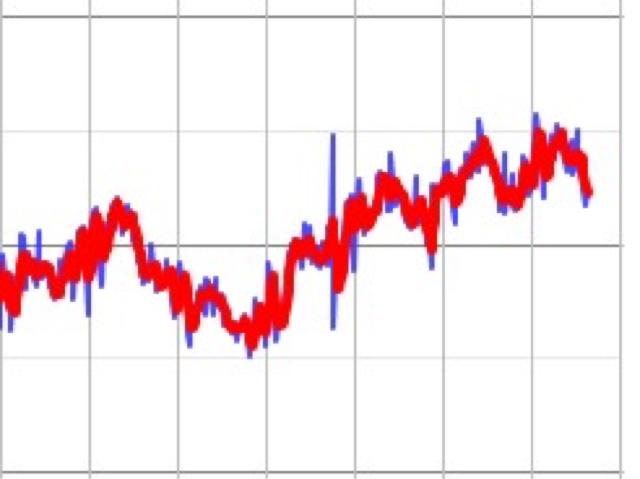 [Note: each vertical bar is one year starting with 2012. Each horizontal bar is 100 points on the scale, with 100 at the bottom]
These rose sharply in 2015-16, and still very positively throughout 2017. This year they have gradually turned flat. The seasonally adjusted 4-week average made its expansion high late this spring. For the last two weeks, for the first time since 2015, they turned slightly negative YoY.
(Monthly) housing permits and starts (measured overall and for single family only)
There were reported last week for July. The first graph compares total starts (blue) and permits (red):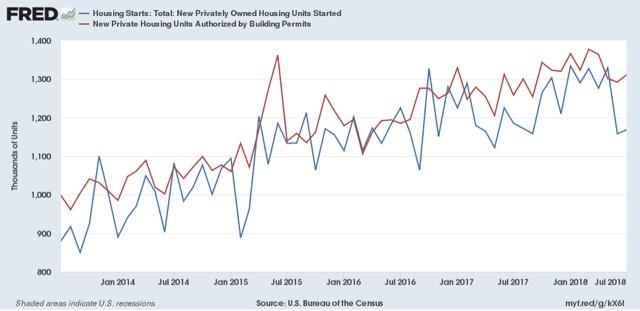 In the last two months, starts fell sharply to levels not seen since one year ago, and on a monthly basis, their expansion high was in January. On a 3-month average basis (to cut down volatility), the expansion high for starts was in March. The less volatile permits, which tend to lead starts by about 1 month, also have declined from their most recent peak in March, but not as significantly.
When we look at the less volatile, but equally leading single family starts (blue) and permits (red),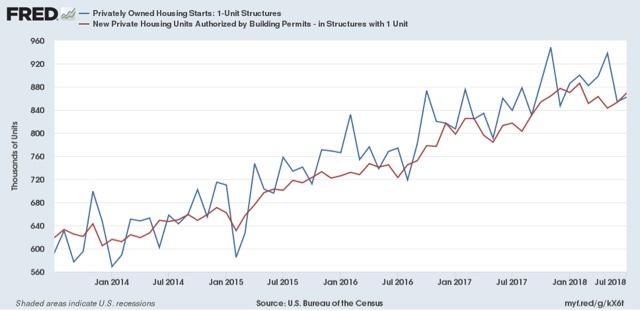 we again see a sharp decline in the last two months for starts, which last made a 1-month high last November, but on a 3-month basis peaked only 2 months ago. Single family permits have not made a new high since February, they are only less than 2% from that peak. For both starts and permits, there is not enough evidence yet that the positive trend of the past five years has been broken.
Typically we would expect a downturn of about 10% or more in advance of a recession. We don't even have 5%, and it has been less than 6 months since the last important new highs. Thus both are still rated as week positives.
(Monthly) new and existing home sales
Let me give you two graphs for these - mainly because the NAR no longer allows FRED to post its data. So here is a graph from Thomson Reuters of 50+ years of data for both series:

and here is a close-up of the last five years of single family sales and the one year that the NAR allows FRED to post, normed to 100 as of 12 months ago: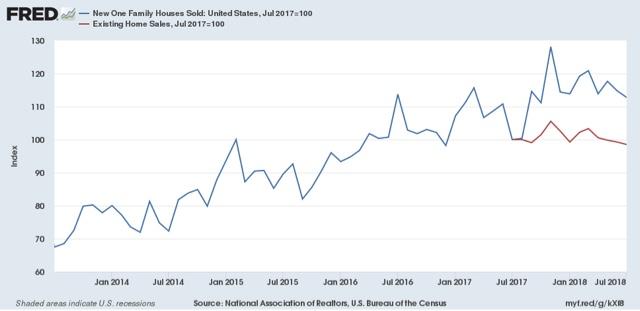 While existing home sales constitute nearly 90% of the total market, they are the least important economically, since far less activity is generated from the sale of an existing home than the building of a new one. Further, the long-term graph shows that sales of existing homes frequently peaks slightly later than for new homes, and in both the early 1970s and late 1990s, there was barely a downturn at all in existing home sales before a recession. So, while sales of existing homes made a 2-year low in July, and thus they are negative, it is the least important statistic.
New home sales, by contrast, tend to peak so early in expansions that they are more of a mid-cycle, rather than long leading, indicator! Note that in the late 1970s and 1980s, they actually peaked less than half the way through the cycle. But this is also another way of saying that, while this number is *extremely* volatile, and heavily revised, of all the housing metrics, it is the one that tends to peak first. As of Thursday morning's report, not only have new home sales not made a new high since last November, but are about 12% below that high, and their three-month average is at a new 10-month low.
Typically in the last 60 years, new home sales have declined over 20% before a recession has begun. Since new home sales are more than halfway to that mark, they must now be counted a negative.
One further metric as to Thursday morning's report is to subtract new one family houses for sale from those sold, as this typically turns decisively well before a recession: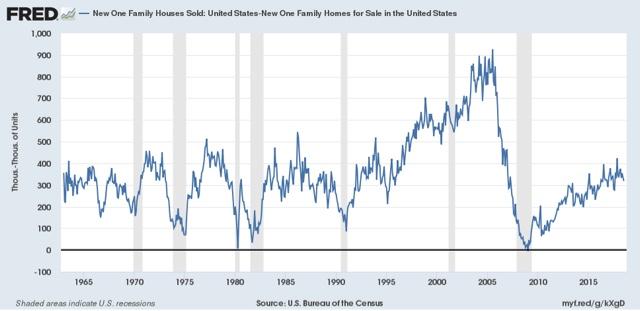 While this has also declined slightly from a high set last November, but nowhere near enough to be close to recessionary numbers.
Conclusion
To sum up, we have:
Two (weakly) positive metrics (housing starts and permits)
One neutral metric (nominally measured private residential investment), and
Four negative metrics (purchase mortgage applications, real private residential investment, new and existing home sales).
Three weeks ago when I made my last forecast through midyear 2019, Long Leading Forecast Through H1 2019: Slowdown Likely, But No Recession, I rated housing as mixed.
With purchase mortgage applications and new home sales turning negative, this is enough - at least temporarily - to tip the rating to slightly negative.
Whether the volatile weekly purchase mortgage applications remain negative, whether the downturn in new home sales this and last month gets revised away, and whether the least volatile single family permits fail to make a new high as of six months from February (i.e., next month) will be most important. Finally, while this doesn't affect the forecast for the first half of 2019, it edges me closer to a "Recession Watch" for Q3 or Q4 2019.