In this article, I will be covering five stocks that I believe are poised to dominate the 2020s. FANG stocks have dominated this decade and some will continue to dominate in the 2020s. The acronym that I believe is going to dominate the 2020s is… PANDA. The stocks I will be covering all have secular trends at their backs, which will help drive growth over the next decade.
P: PayPal (PYPL)
N: Nvidia (NVDA)
D: Disney (DIS)
A: Amazon (AMZN)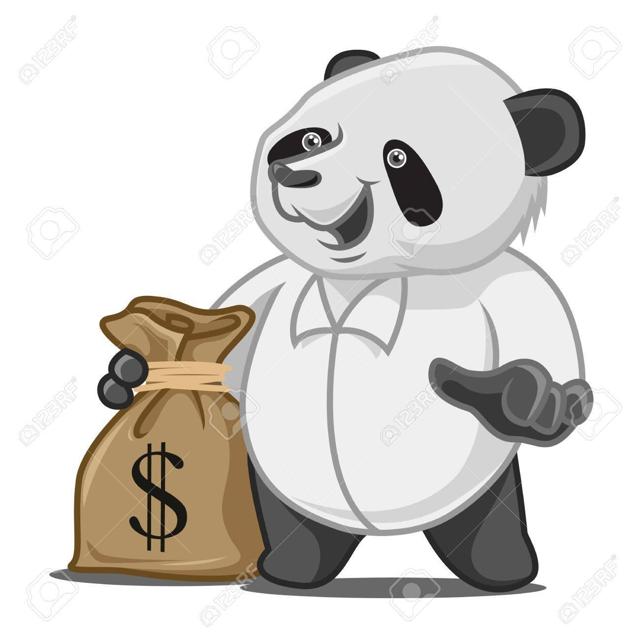 PayPal
PayPal is the leader in digital payments and has a strong presence in mobile payments as well. As society becomes more and more cashless and as consumers who previously have not had access to online services start to get them, PayPal stands to be a beneficiary. The first chart below shows that PayPal has 244 million active accounts and that number is consistently growing. There are over 7.5 billion people on the planet in addition to all the businesses/merchants that could use a PayPal product/service. Considering PayPal "only" has 244 million active accounts, there is still a very long runway for growth going forward over the next decade. Not only is PayPal growing its active accounts, the number of transactions those accounts are making is also increasing, which is shown in the second chart below. Simply put, PayPal is in a great position because they are increasing their customers and those customers are averaging an increasing amount of transactions.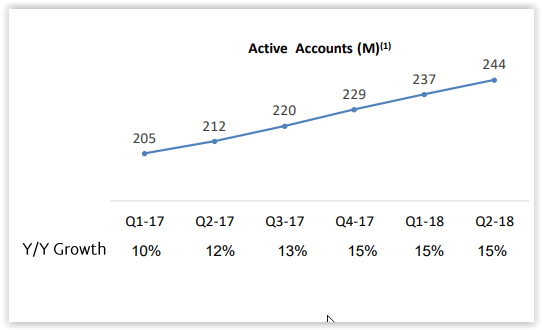 PayPal Q2 2018 investor update

PayPal Q2 2018 investor update
With the widespread use of smartphones in everyday life, mobile payments have significantly increased in popularity, and PayPal is one of the biggest beneficiaries of this trend. The chart below shows that mobile TPV (Total Payment Volume) has steadily grown at around a 50% y/y rate and as a percentage of total TPV, mobile TPV is nearly 40%.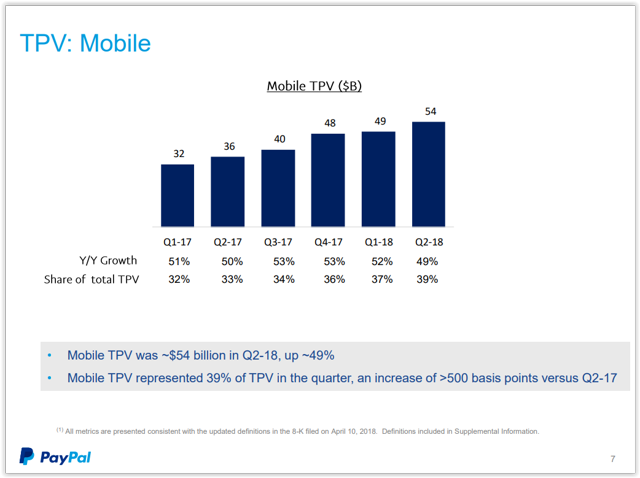 PayPal Q2 2018 investor update
Alphabet
When FANG was coined, the "G" stood for Google, but since the acronym was crafted, Google is now under the Alphabet umbrella, hence why it is represented by the letter "A" and appropriately so because over the next decade Alphabet will be much more than just Google search. Alphabet stands to benefit from autonomous vehicles because it has Waymo under its umbrella, and Waymo has been the leader in self-driving. The chart from Business Insider shows Waymo is the leader in autonomous miles driven, even though Cruise (GM) and others have increased their autonomous miles driven significantly, Waymo is still way ahead of them.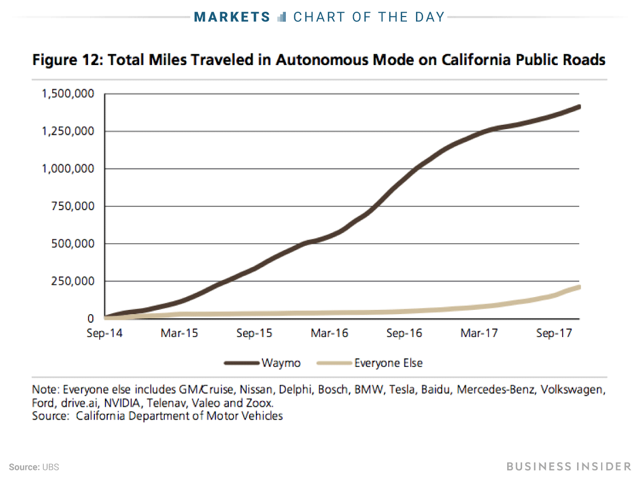 Business Insider
With autonomous vehicles, they create another potential revenue stream for Alphabet. Advertising inside the car is an additional revenue stream: Imagine being able to hop into a fully autonomous vehicle, sit back, do some Google searches, or watch YouTube, etc. Therefore, when you're home on a computer, you can use Google search, maps etc., on your smartphone Google search, maps, etc., and once fully autonomous vehicles become prevalent you can do those things as well without having to worry about watching the road. Simply put, no matter where you are, you will have your eyes on a Google product/service for more time, which means more advertising revenue.
Finally, you have the rest of Alphabet, which includes search, maps, YouTube, YouTube TV, and Google Cloud. YouTube TV is gaining in popularity and as is shown in the Amazon section below, it still has a lot of potential reach. Google Cloud is one of the largest players in the cloud infrastructure space, which is also shown in the Amazon section below. Out of all the companies in PANDA, Alphabet stands to benefit the most because they have exposure to multiple mega trends: Autonomous vehicles (Waymo), streaming/cord cutting (YouTube TV), and cloud infrastructure (Google Cloud). Add all those opportunities to search, maps, YouTube, etc. and the $100 billion pile of cash that Alphabet has and that makes Alphabet my top candidate for the best large-cap growth company in the coming decade.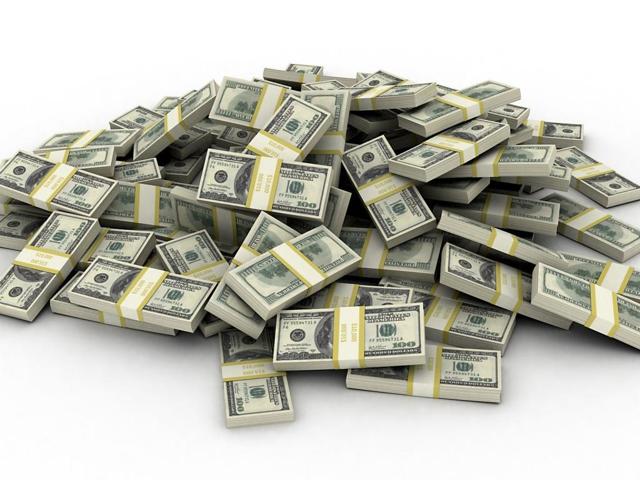 Wallpaper.ge
Nvidia
Nvidia has a number of opportunities for future growth in the datacenter and autonomous vehicles along with a strong position in gaming. The following table shows data from recent quarters and highlights that gaming is the largest segment and posted solid growth, but the largest source of growth came from the datacenter. Datacenter revenues grew 82% y/y and will likely continue to grow at a high rate now and into the future because of the introduction of 5G and autonomous vehicles, which will create a large increase in data from those autonomous vehicles and IoT devices.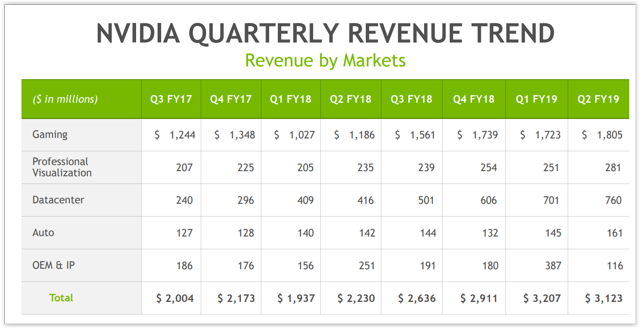 Nvidia quarterly revenue trend
The following two charts from an investor presentation earlier this year shows the opportunity Nvidia has over the next decade with autonomous vehicles and the datacenter. The first chart shows that it will not be until later in 2019 or 2020 before Nvidia starts to benefit from the introduction of autonomous vehicles. Once the vehicles become more prevalent over the 2020s, it is easy to see the growth opportunity for Nvidia. Going along with autonomous vehicles as I mentioned earlier is the large amount of data that is associated with each car. The second chart shows that each car will generate around a petabyte of data per year, per car. For those that do not know what a petabyte is, it is 1024 terabytes. Most laptops today come with a 1-terabyte hard drive, therefore, to put that into perspective, one car would fill up nearly three, 1-terabyte laptop hard drives with data every day! With autonomous vehicles and 5G, which will allow for tons of IoT devices, the amount of data is going to be tremendous and I expect that Nvidia will continue to grow its datacenter revenues at a fast pace for the foreseeable future.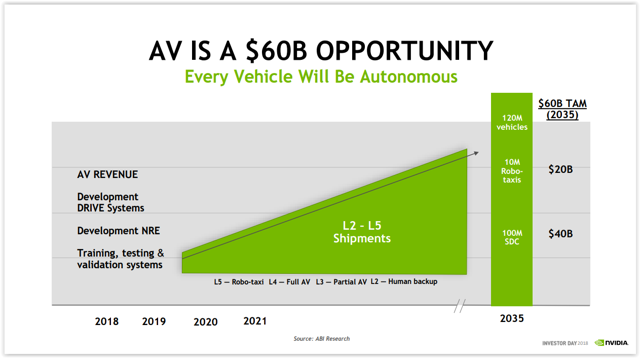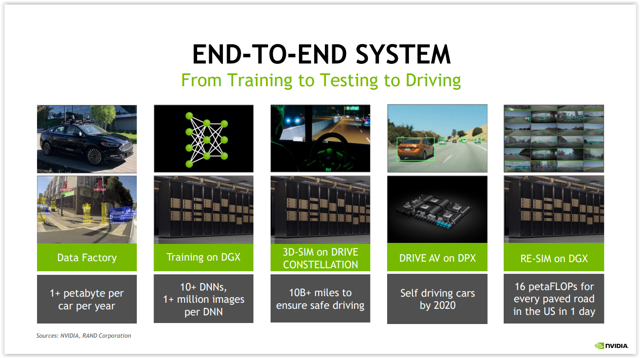 Disney
My inclusion of Disney in PANDA is likely to get the most scrutiny; however, I believe the pendulum is ready to swing back to a position where Disney stands to benefit from cord cutting. With the purchase of Fox (FOXA), Disney will have a 60% ownership stake in Hulu, which gives them an avenue to be a big player in streaming when combined with their own and/or upcoming streaming service.
Starting in 2019, Disney will be growing its own services, and at the same time, it will be weakening Netflix (NFLX) because of the decision to pull Disney content off Netflix in 2019. The following chart is from 2016, however, it clearly illustrates that Hulu has a large runway for growth going forward, given how much more reach they can achieve in comparison to Netflix.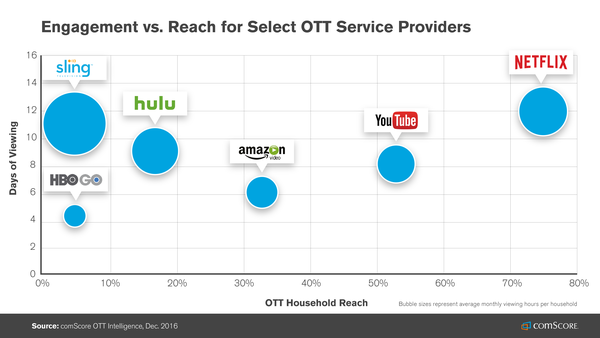 Geekwire
The opportunity in streaming is just one part of the story, studio & parks growth has been strong for Disney and should continue to be strong with the addition of Fox assets. As you can see in the table below, the studio & parks segments grew revenues double digits y/y. The second table below shows the revenues for Disney y/y and the revenues for Fox y/y. As you can see, once the Fox deal closes, Disney will have the potential to grow revenues by around 10%/year, and that is without the advances in streaming in 2019 and beyond. When you combine double-digit growth potential, future streaming opportunities and a PE of just over 14, Disney is one of the best bargains in the market.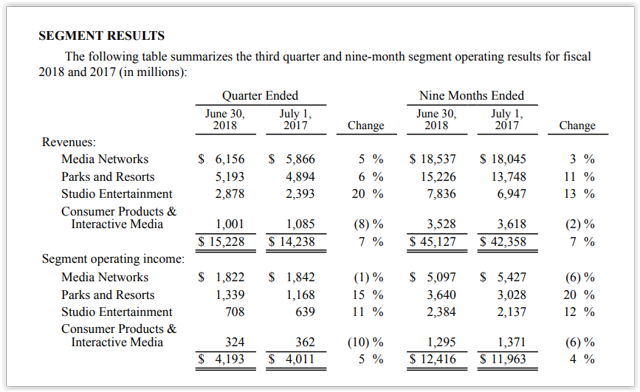 | | | | | |
| --- | --- | --- | --- | --- |
| | Q2 2017 | Q2 2018 | | y/y Growth |
| DIS | 14238 | 15228 | | 6.95% |
| FOXA | 6748 | 7941 | | 17.68% |
| | | | | |
| Combined | 20986 | 23169 | | 10.40% |
Table data from Gurufocus
Amazon
Amazon is the second member of FANG that I believe will continue to dominate over the next decade. Amazon, by far, has the largest share of e-commerce sales and the whole e-commerce pie has a long runway of growth. The first chart below shows that Amazon holds a nearly 50% market share in terms of the percentage of e-commerce sales. The second chart from the St. Louis Fed shows that e-commerce sales have not even cracked double digits yet, which shows that the e-commerce pie has a lot of room for growth over the next decade.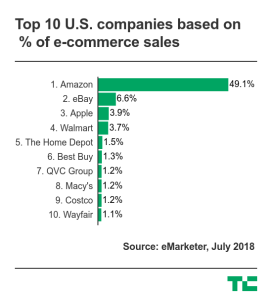 Techcrunch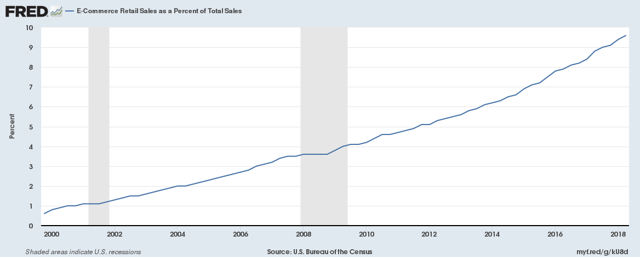 Besides e-commerce, the biggest driver of profits for Amazon is Amazon Web Services (AWS). With tons of companies moving to the cloud, the big three in the space are Amazon, Microsoft Azure (MSFT), and Google Cloud. As you can see in the following chart, Amazon holds the largest market share within the group. The second chart shows quarterly revenues for AWS and they continue to trend higher quarter after quarter. As I mentioned in the first paragraph of my article when building PANDA, I wanted companies with secular trends at their backs and Amazon has two trends at their back: growing e-commerce sales and the shift to cloud computing.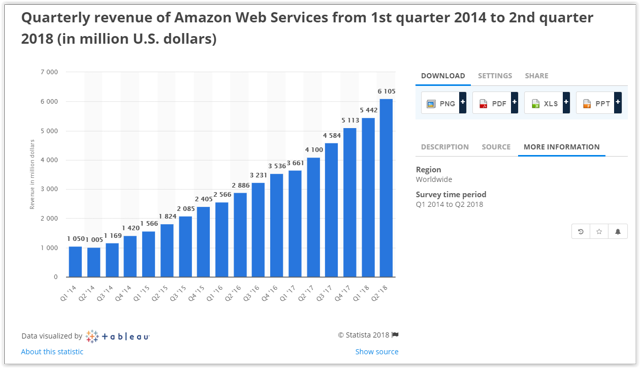 Closing Thoughts
In closing, I believe the constituents of PANDA are set to dominate the 2020s. As a group, these companies will benefit from these mega-trends: increasing use of digital payments, the introduction of autonomous vehicles, streaming/cord cutting, e-commerce growth, and cloud computing growth.
Disclosure: I am/we are long PYPL. I wrote this article myself, and it expresses my own opinions. I am not receiving compensation for it (other than from Seeking Alpha). I have no business relationship with any company whose stock is mentioned in this article.