Retail is back, and at the forefront of the retail resurgence is Urban Outfitters (URBN), the teen-oriented mall retailer that just reported 13% comparable sales growth in Q2 and whose stock is up more than 140% over the past year. With the consumer as strong as ever, we think that Urban's recent operational strength will persist for the next several months. Although URBN stock is up a whole bunch, we think the stock can head higher into the end of the year, powered by consistent earnings beats against a strong retail backdrop. We reasonably think $50 and higher is likely by the end of 2018.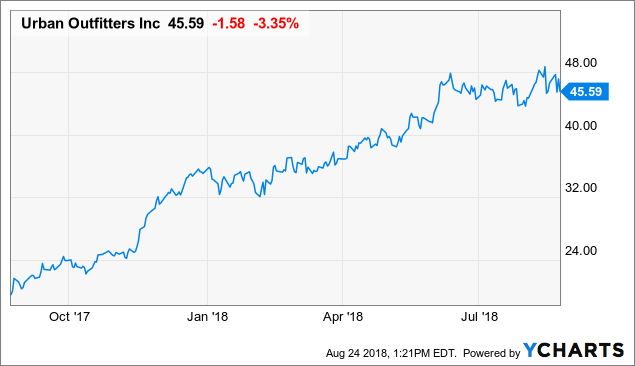 Urban Outfitters is the multi-faceted parent company behind three differentiated and trendy mall retailers: Urban Outfitters, Anthropologie, and Free People. All three of these retailers are lifestyle oriented brands that have been doing very well. Over the past two quarters, Urban Outfitters has averaged 11% comparable sales growth, Anthropologie has averaged 10.5% comparable sales growth, and Free People has averaged 17% comparable sales growth.
This big revenue growth isn't wholly sustainable in the long run. Such big spikes in revenue growth have historically been followed by years of weaker revenue growth. But, the consumer is exceptionally strong right now (retail sales are growing at a 6% rate), and the savings rate remains high (nearly 7%), so the consumer still has a lot of firepower left for big spending this holiday season. As such, we think today's sky-high growth rates at URBN are sustainable into the end of the year.
Thereafter, we think URBN's brands will continue to do well. The whole retail sector is red-hot right now. But, Urban Outfitters, Anthropologie, and Free People all reported comparable sales growth way above the industry-average 6% growth rate last quarter. We think this out-performance speaks to how well these brands are connecting with consumers, and the relevancy of each brand's product mix. At Urban Outfitters, you have a relaxed lifestyle brand with an exceptionally relevant and relatively affordable product mix that resonates well with trend-oriented male and female consumers in the 16 to 30 year old demographic. At Anthopologie, you have a multi-faceted lifestyle brand that is pushing the boundaries of retail by taking the Costco (COST) model (selling dresses, beauty products, and furniture, side-by-side) and adding an authentic, trendy feel to it. At Free People, you have a brand that was made for Instagram, with a product mix that almost wholly comprises cute, trendy, unique, and bright women's clothing. Indeed, Free People has 3.3 million followers on Instagram, more than Nordstrom (JWN), which only has 2.8 million followers. In the big picture, we think the drivers of recent success at URBN's brands have longevity, and should persist even after today's red-hot retail sales growth slows.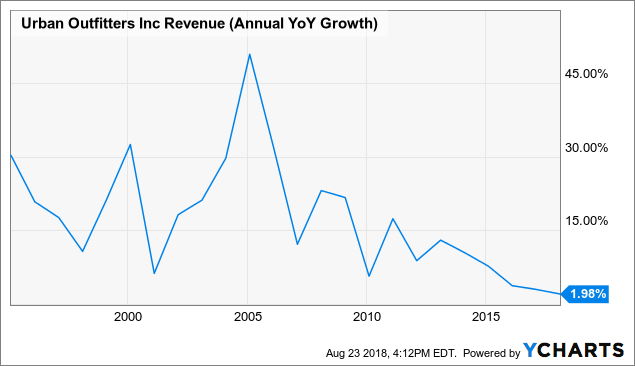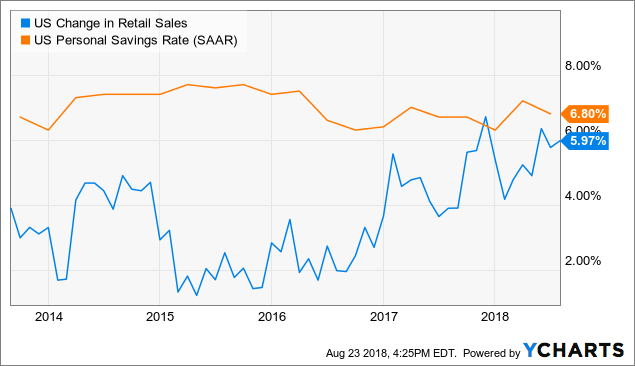 Meanwhile, renewed top-line strength is allowing for a rebound in margins. Gross margins have tumbled from 40% to below 33% over the past several years, while operating margins have tumbled from nearly 20% to below 8%. But, the trend is now reversing. Year-to-date, gross margins at URBN are up 157 basis points, while the SG&A rate is down 178 basis points. Thus, operating margins are up 335 basis points.
While those are big numbers, investors should keep in perspective that even if operating margins rose a whole 300 basis points this year, they would still only be in the 10-11% range, well off the operating margin highs of 16% and up reported earlier in the decade. Thus, so long as top-line momentum remains strong and promotional activity remains muted, URBN's margins can power higher.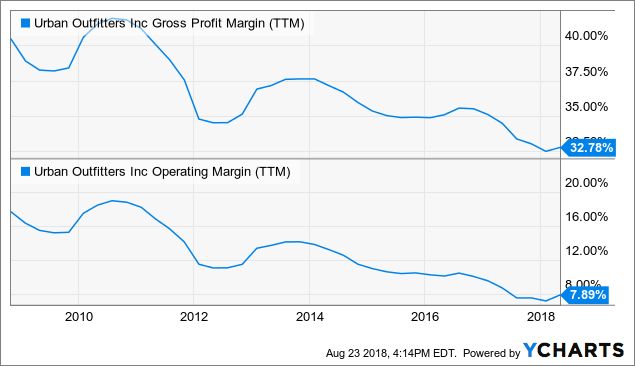 This combination of renewed top-line growth and margin expansion has powered URBN stock 140% higher over the past year. We expect the strong retail backdrop to persist, and for URBN's brands to continue to rise in popularity. Under those assumptions, we think positive revenue growth and margin expansion is a double tailwind that is here to stay, and will power URBN stock higher over the next several years, too.
Our modeling suggests that current Street EPS estimates are way too low, as they have been for some time. We reasonably think that low single-digit revenue growth coupled with decent margin expansion and buybacks can push earnings per share up to $3.60 in three years, and $4.20 in five years. The Street thinks EPS in three years will be under $3.10. But, a year ago, that estimate was trending around $1.50. We think that the Street continues to underestimate the growth potential of URBN through a macro rebound in the entire retail sector. As such, we think URBN stock will power higher into the end of year as consumer spending remains robust, and URBN's numbers top Street estimates. Given our expectation of EPS to hit $4.20 in five years, we think URBN stock should reasonably trend towards $53 by the end of this fiscal year (historically-average 17X forward multiple on $4.20 implies a four-year forward price target of $71, which if discounted back by 10% per year, equates to a year-end price target of ~$53).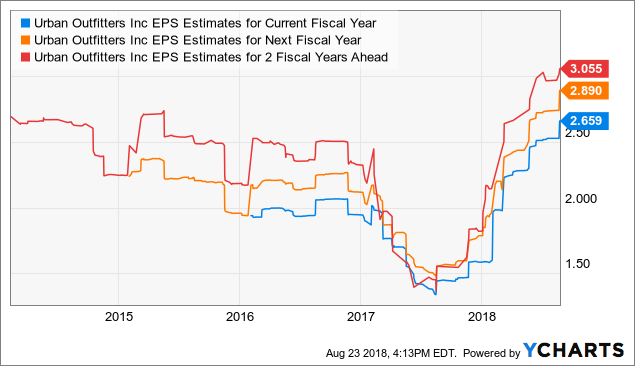 Overall, we think URBN is at the forefront of a massive resurgence in retail. We expect this resurgence to continue into the holiday season, and for URBN stock to remain a winner into holiday 2018. This bull thesis is challenged by a few things, mostly the fact that URBN is a highly cyclical stock in a notoriously cyclical sector of the market. If momentum in any of URBN's brands starts to weaken, sentiment surrounding URBN stock could weaken, and the valuation and stock will likely drop. That could also be the case if today's big macro-retail rally suddenly falls off a cliff, which we view as possible but not likely.
In the big picture, we view the risks on this stock as mitigated relative to the rewards. As such, we think URBN stock looks good here and now.
Disclosure: I am/we are long URBN. I wrote this article myself, and it expresses my own opinions. I am not receiving compensation for it (other than from Seeking Alpha). I have no business relationship with any company whose stock is mentioned in this article.