Discount retailer Ross Stores (ROST) recently reported solid second quarter numbers that beat on revenues, comparable sales, and earnings, but management offered a slightly lower-than-expected full-year earnings guide. In response to those numbers, ROST stock is trading slightly higher, as we would expect it to given the mixed results.
Longer term, we think ROST stock will continue to trade in such a fashion. This company is supported by solid long-term fundamentals that include off-price competition protection, healthy unit growth, solid margin expansion potential, and a healthy share buyback rate. But the valuation on ROST stock already fully encompasses these growth drivers. As such, while we think ROST stock will head higher in a multi-year window, we also think gains from these levels will be limited by what we view as a full valuation.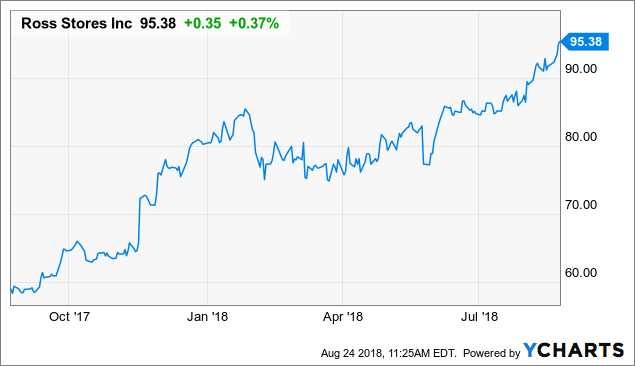 ROST's second quarter report was a mixed bag. On the positive side, not only did sales and earnings top estimates, but comparable sales growth of 5% smashed the Street consensus expectation for a 2.5% rise. Also, management hiked their long-term forecast for unit growth expansion to 3,000 stores, vs. 2,500 before. On the negative side, margins are falling back, and the full-year guide didn't quite live up to the hype most investors expected considering the strong retail backdrop. Comparable sales are expected to rise just 1%-2% in the back-half of the year, vs. up 4% year-to-date, and full-year earnings are expected to come in around $4.06, a hair light of consensus expectations.
In the bigger picture, ROST's second quarter numbers simply affirm, but do not strengthen, the company's long-term growth narrative. Over the past several years, while the rest of the retail sector has fallen victim to Amazon (AMZN), ROST has outperformed due to its off-price and off-mall nature. As such, the past several years have been defined by 3%-4% comparable sales growth, 8%-10% revenue growth, improving gross margins, a falling operating expense rate, healthy real estate expansion, share buybacks, and steady earnings growth. The combination of these tailwinds has powered ROST stock to 175% gains over the past five years, a significantly better performance than both the S&P 500 and other retail stocks.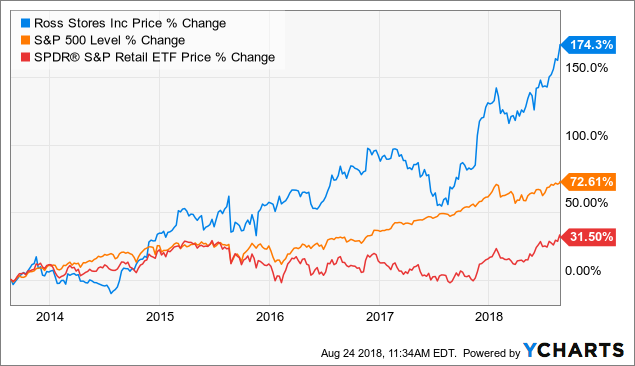 Today, that narrative continues on. Comparable sales are up 4% year-to-date. Revenues are up 9% so far this year. Gross margins are dropping and the operating expense rate is climbing, but that's mostly due to near-term noise surrounding higher freight costs and wage investments. Both of those margin headwinds will pass, and longer term, the margin expansion trajectory for this company remains favorable (merchandise margins are still climbing). Meanwhile, the company is now looking at 3,000 potential stores in the long run, vs. ~1,600 last year. That means this company can continue to open roughly 100 stores per year for the next several years. Also, buybacks have continued (the company has repurchased 6.5 million shares of common stock so far in 2018).
Thus, in the big picture, ROST's second quarter numbers affirm that this is a company with solid long-term fundamentals. Comparable sales growth should remain consistently positive. Unit growth should remain healthy. Revenue growth should run around 5%-10%. Margins should expand, and buybacks should persist, driving earnings growth up to around 10%-15%, which is historically where long-term earnings growth estimates have hovered for the past several years.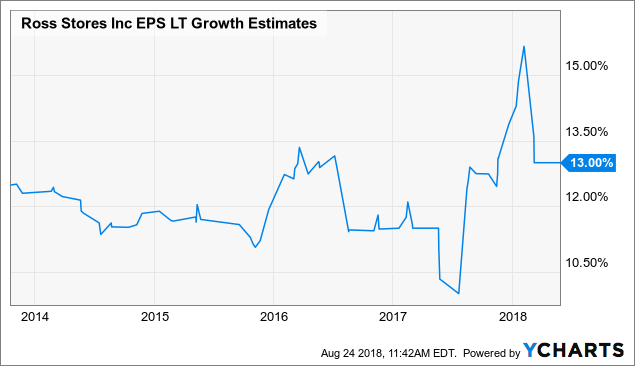 But we argue that at 25X trailing earnings, ROST stock is now fully valued for 10%-15% long-term earnings growth. Relative to historical standards, we think today's go-forward earnings growth prospects are essentially the same as they have been for the past several years, if not slightly weaker due to a slower unit growth rate. Thus, we reasonably expect the valuation on ROST stock going forward to reflect historical norms.
During the past several years, ROST stock has normally traded below 25X trailing earnings. When the trailing earnings multiple on ROST stock does run up to 25X, however, that usually signals a near-term top in the stock. Thus, we believe ROST stock is rapidly approaching a near-term top, and wouldn't be surprised to see shares drop and/or trade sideways in the near-to-medium terms.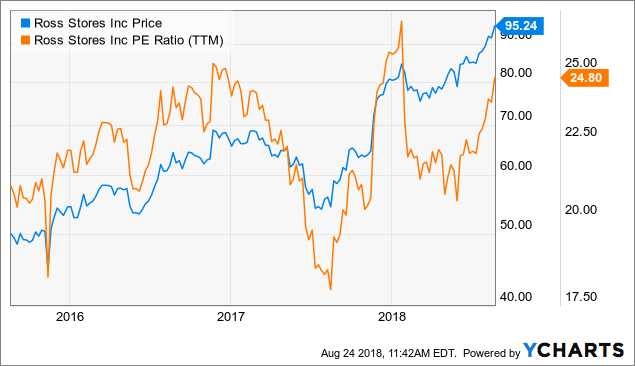 Overall, we think ROST stock is supported by healthy long-term fundamentals, and that this stock will ultimately head higher in a multi-year window. However, we feel that the current valuation on ROST stock is approaching a near-term top around 25X trailing earnings, and don't think the risk-reward profile on this stock is all that favorable here and now. We remain on the sidelines for now, but if ROST stock pulls back meaningfully toward $90 or lower, we think that is an opportunity to buy the dip.
Disclosure: I am/we are long AMZN. I wrote this article myself, and it expresses my own opinions. I am not receiving compensation for it (other than from Seeking Alpha). I have no business relationship with any company whose stock is mentioned in this article.