"I'm a great believer in luck, and I find the harder I work the more I have of it." - Thomas Jefferson
According to many, on August 22nd this current bull market topped the 1990's bull market as the longest ever at 3,543 days. A bull market is most commonly defined as a 20%+ rally that was preceded by a 20%+ decline. Bespoke Investment Group then concludes this current bull market has a way to go before becoming the longest on record.
The current bull market that has lasted 3543 days is the second longest on record behind the 4,494 day bull market that ran from late 1987 through early 2000. Yes, the S&P 500 went from late 1987 to early 2000 without experiencing a single decline of 20% or more on a closing basis.
There are some that argue this bull market isn't all that old. They cite what are referred to as stealth bear markets in 2011 and the period from late 2015 to mid 2016. While they don't officially count as bear markets, they were what I would call resets.
From April through October 2011, the S&P 500 fell 21.6% intra-day. However, on a closing basis, it fell just 19.4%, so an official bear market didn't make the record books. So some say that was indeed a bear market. In the 2015/2016 time period, the S&P 500 only fell 14.2% on a closing basis, but the median S&P 500 stock fell 25%, and other areas of the market got destroyed. The Russell 2000 fell 26%, Emerging Markets fell 36%. China was down 49%, Oil fell 76%. A frightful time with interesting results, but again, that doesn't make the record book as an official bear market.
There will be all sorts of debates about the length of this bull market as well as the last secular bull market in the 90's. At the end of the day it really doesn't matter much when this bull market began. However, be aware that the 1990's bull market saw the S&P 500 Index gain 417%, while the current bull market is up approximately 320%. So for sure we can't call this market the greatest bull market, yet.

Not a week goes by when someone doesn't appear and make one or both of these comments. "We are late in the cycle" and "stocks are expensive". The statements are made as a matter of fact and no one seems to challenge them. On the issue of stocks being expensive, I'll have some challenging thoughts on that issue in the Final Summary that follows.
When it comes to the economy there has been a lot of errors made in the past 5+years as it seems a recession was predicted in each and every one of them. In their enthusiasm for a simplifying assumption, economists seem to have collectively agreed that the economy somehow has a rhythm that produces a "cycle" which eventually ends in a Fed induced recession.
It was also assumed that this cycle has a fixed length and that the present cycle is way past its due date. For sure we have seen this scene play out in the past, but the assumption that this cycle is way past its expiration date has been already proven to be quite wrong.
This economic recovery started after a deep financial crisis that set a very low base and importantly scared a generation of investors, corporations and policymakers against the kinds of excesses that often lead the Fed to end the expansion.
If we look at the first eight years of this expansion, it encompassed one of the most mildest recoveries on record, averaging just 2.2% per year compared to the 4.3% average annual growth rate of previous expansions. One might conclude we are early-mid cycle, not late cycle.
There are traits in this recovery that exist today suggesting it could last longer than most can imagine. Inflationary forces which were cited as an eventuality after QE was announced haven't materialized, and seems fairly well contained. The Fed has been very transparent regarding its intention to err on the side of caution in raising rates. As a result, the risk of a policy error, which is how this expansion will probably end, could be a long way off.
As always there are a lot of "what if" situations that investors bring up to challenge the positives that are present. That begs the question I always ask. What is the probability of any "what if" situation that is conjured up actually taking place?, and when exactly is this supposed to happen?
During this bull market the answers to those questions are now fact. The probability answer comes in at very low, and as far as when, we are still waiting for the many what if's to materialize. When I get an answer that says the probability of an event is very high, and it appears to be right around the corner, I'll start to pay attention. Otherwise its best not to pay attention and stay invested in the stock market.

Economy
Industrial production up 4.2% in July. A new All time high.

Data Source: Federal Reserve Economic Database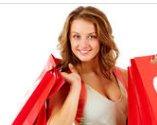 The consumer seems to be in control of their finances and on stable ground. The New York Fed's quarterly household debt data showed a collapse in the share of consumers facing collections for bad debts. Quarterly data from the Mortgage Bankers' Association relating to mortgage bankruptcy and delinquency showed similar results. In the charts below, the share of all loans facing foreclosure, share of loans with new foreclosure proceedings started, delinquent loans, and seriously delinquent loans all as a share of total mortgage loans.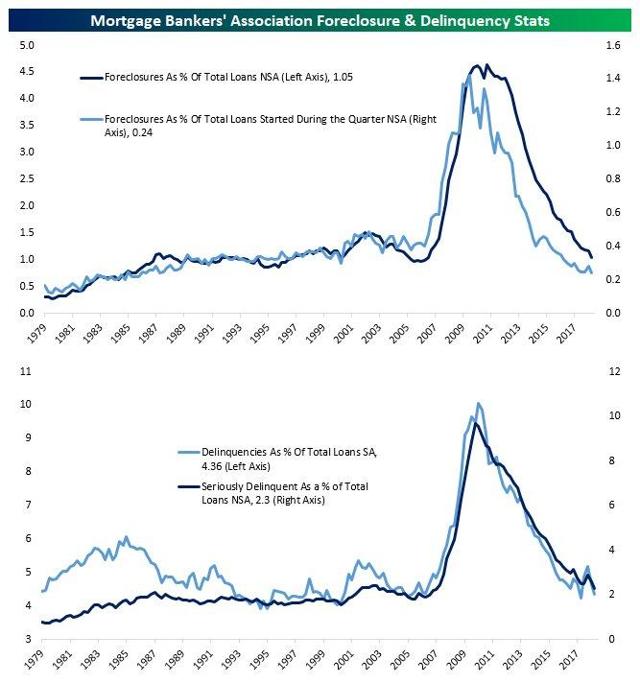 Source: Bespoke
As shown, these indicators of mortgage credit performance are in free fall and making new lows on a consistent basis. The foreclosure stats are the most impressive. New foreclosures as a share of all loans are the lowest since 1986 per the MBA data, while foreclosures as a share of all loans are the lowest since 2006. Delinquency data isn't quite as positive but also shows impressive levels of timely payment.
Another nice surprise the Personal Savings rate is increasing. Households have been saving significantly more of their after-tax income for several years, according to revised data released last month by the Bureau of Economic Analysis. The new number exceeds the 6.4% average rate recorded since 1990, and is almost three times the most recent low of 2.5% in 2005.
When Walmart, Amazon, and Target can all produce excellent quarterly results at the same time it confirms the across the board positive data on the consumer.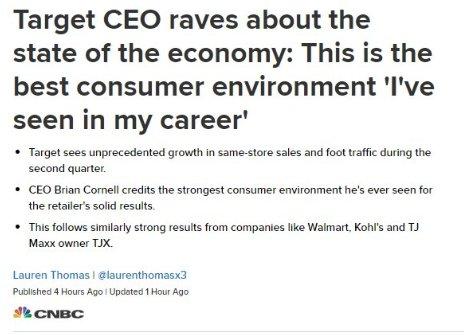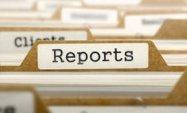 The present analyst mindset is interesting. When economic reports are strong, they are considered negative due to inflation and Fed, and when they come down a little they are considered negative because they are slowing.

Existing Home Sales down 0.7%. The fourth straight month of declines. Lawrence Yun, NAR chief economist;
"The continuous solid gains in home prices have now steadily reduced demand. Led by a notable decrease in closings in the Northeast, existing home sales trailed off again last month, sliding to their slowest pace since February 2016 at 5.21 million. Too many would be buyers are either being priced out, or are deciding to postpone their search until more homes in their price range come onto the market."

"Total housing inventory at the end of July decreased 0.5 percent to 1.92 million existing homes available for sale (unchanged from a year ago). Unsold inventory is at a 4.3-month supply at the current sales pace (also unchanged from a year ago)."
New Home Sales missed estimates in July, falling to a nine month low. The Commerce Department said on Thursday new home sales decreased 1.7 percent to a seasonally adjusted annual rate of 627,000 units last month.

Global Economy

Flash Eurozone PMI Composite Output Index at 54.4 (54.3 in July). This is a 2 month high. Chris Williamson, Chief Business Economist at IHS Markit;
"The survey data indicate that the eurozone economy looks to have continued to grow at a steady rate in August, raising hopes that the third quarter could see GDP growth match the 0.4% expansion seen in the second quarter. In fact, the survey evidence suggests that the official data so far this year could yet be revised slightly higher."

"Jobs growth also remains encouragingly robust, which should help further stimulate consumer spending and help offset signs of continuing weakness in exports. With the indicators of current activity, employment and price gauges remaining elevated, the August survey sends a hawkish signal to policymakers. But the forward-looking indicators suggest the business mood could cool as summer passes."

Japan Flash Manufacturing PMI increases slightly to 52.5 in August, from 52.3 in July. Joe Hayes, Economist at IHS Markit, which compiles the survey;
"August flash data extended the current growth cycle in Japan's manufacturing sector to two years, the longest uninterrupted stretch of expansion since the global financial crisis. New orders rose at a sharper rate, encouraging a solid pace of output growth and prompting businesses to raise input purchasing. That said, with export orders declining, this signalled that the latest expansionary PMI reading was underpinned by strength in the domestic market.

"Indeed, weaker international sales weighed on business confidence, with panellists citing potential trade conflicts as a key risk to their outlook over the coming year. Positive sentiment eased to the lowest level since November 2016."

Earnings Observations and Valuations
In line with the idea of keeping things simple, it is then no surprise why the U.S. markets are looking stronger than a lot of their global counterparts.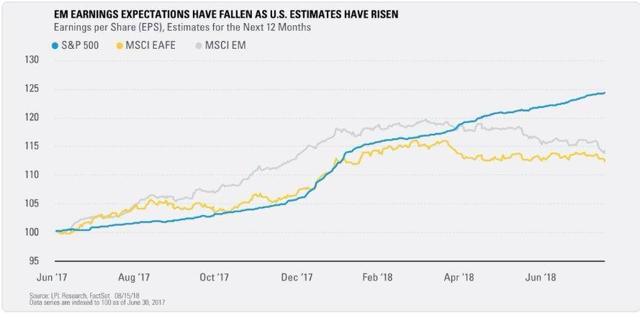 It's all about the earnings trajectory here in the U.S compared to abroad.
It may come as surprise to some but a piece of those earnings are going to things other than buybacks.
Although companies are using some of their earnings to buy their own shares, the relative amounts are not unusual and, more importantly, companies continue to invest for future growth: proportional R&D spending is at a record high and total investment is near record levels from 20 years ago according to HBR.org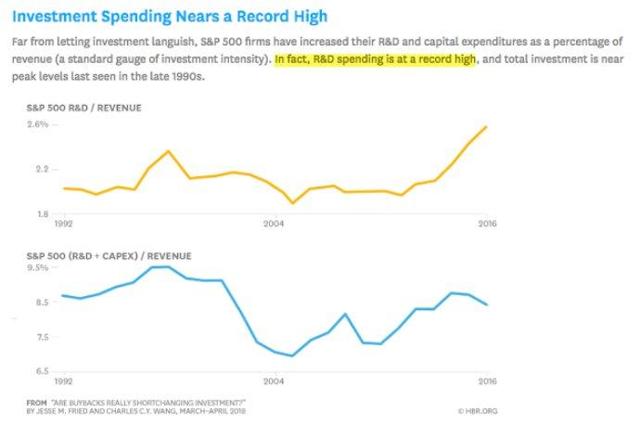 Chart courtesy of Urban Carmel
Corporations also appear to be in very good financial shape. Corporate leverage is as low as it was 50 years ago.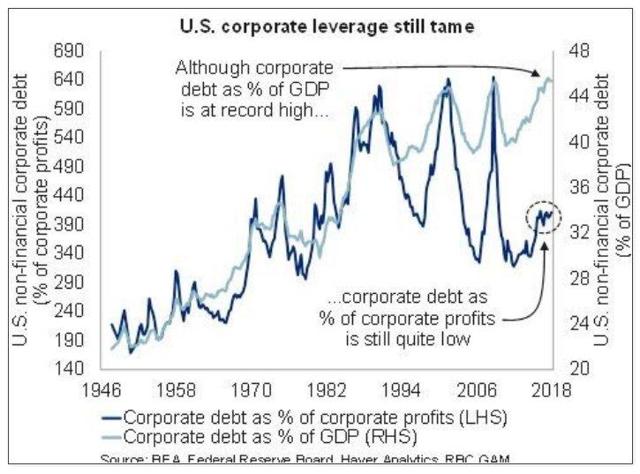 Chart courtesy of Urban Carmel; Data source: BEA

The Political Scene
The stock market shrugged off the news that two of former President Trump's associates were found guilty of committing crimes. Something to ponder down the road, but at the moment not enough to offset the positive fundamental and technical backdrop for equities that is in place.
For those that want to speculate and extrapolate this news to the worst possible outcome, be my guest.

The Fed
The Kansas City Fed's annual monetary policy symposium was conducted this week in Jackson Hole, Wyoming. Around 120 people attend the conference, including central bankers from around the world. Jerome Powell conducted his first speech as Fed chair, the title "Monetary Policy in a Changing Economy".
Highlights from the FOMC minutes;
"Many participants" believed another hike would be appropriate "soon." That clearly supports a September tightening. Participants generally noted the strength of the economy in Q2, as well as favorable factors that were supporting above trend growth, including financial conditions. But "several" stressing transitory factors may have played an roll, including an outsized increase in exports. All officials viewed trade as an important source of uncertainty."

"There was some discussion regarding firms having greater scope to increase prices due to strong demand or rising input costs. Participants noted that the funds rate was moving closer to the range of estimate of a neutral level. Policymakers agreed that "accommodative" language may no longer be appropriate fairly soon. There was also talk over the implications of the flattening yield curve. The minutes indicated balance sheet discussions would continue in the fall. There wasn't any clear hint over what the potential for a December tightening."

Sentiment
Fund flows into domestic equity mutual funds and ETFs has been strongly negative in recent months. $30 billion has flowed out of those funds in the past 10 weeks and $100 billion has flowed out since the end of January and the prior peak in the S&P.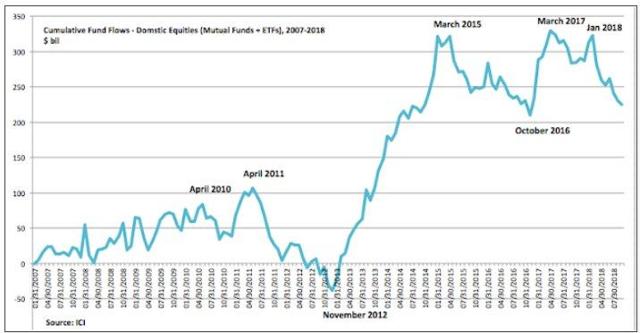 Source: ICI
In this week's sentiment survey from AAII, bullish sentiment increased from 36.2% up to 38.5%. That's slightly above average, but with the market right near all-time highs in what is supposedly the longest bull market ever, one would think that investors would be a lot more confident.

Crude Oil
The EIA weekly inventory continues to bounce around one week showing a build, the next a decline. U.S. commercial crude oil inventories (excluding those in the Strategic Petroleum Reserve) decreased by 5.8 million barrels from the previous week. Last week we saw a 6.8 million barrel build. At 408.4 million barrels, U.S. crude oil inventories are at the five year average for this time of year. Total motor gasoline inventories increased by 1.2 million barrels last week and are about 6% above the five year average for this time of year.
WTI closed the week at $68.59, up $2.57 for the week. The $67 support level temporarily gave way, but this quick rebound now suggest price stabilization may be next. There are as many opinions for lower prices versus a year end rally taking prices much higher. Take your pick.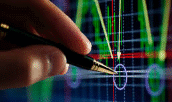 The Technical Picture
All week long the talk was about the longest bull market ever. That is still up for debate and the thoughts of a long extended bull run also brings up the notion that the run may be ending. When we look at the two prior market tops in 2000 and 2008 there were very clear signs presented. Signs that warned about the indices weakening. Trend lines flattening instead of going higher. These signs are NOT present today.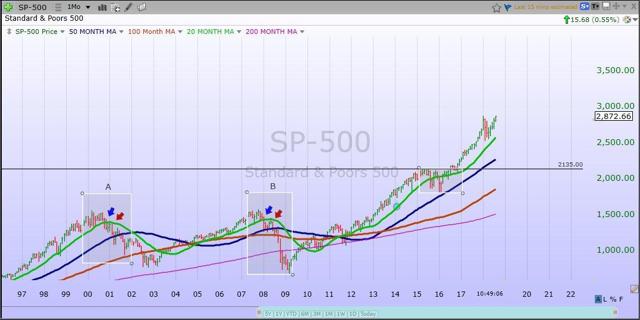 Chart courtesy of FreeStockCharts.com
The highlighted areas in both "A" and "B" on the MONTHLY chart of the S&P represent the last 2 market tops in 2000 and 2007. Notice the flattening of the trend lines followed by a rollover. Today's market situation looks NOTHING like those prior market tops. Trend lines continue to rise roday. Anyone calling a top now is is simply making a wild guess.
Please keep in mind since this is MONTHLY data and that tells us these trendlines do not fall dramatically overnight. A lot of time and price movement will take place underneath the surface before the trend starts to shift. The monthly view smooths out all of that volatility. It is the first view to look at when forming and following an investment strategy.
The arrows shown in each highlighted area, are indicators to show when the Index frist breaks the trendline, and then when it fails to retake that moving average on a subsequent retest. In both cases, failure meant the probability of a bear market increased exponentially.
Notice the highlighted area "C" , the 2015- 2016 time frame. The index did break below the trend line, BUT immediately bounced back and began to trade above this demarcation line. That should tell investors to have PATIENCE. Bailing out at the first sign of trouble was a HUGE mistake back then.
No one is going to get out at the exact top. Plenty of pundits kept trying to make the top was in during the uptrend from 2012 to 2015, then 2016 to the present. They cited the SAME reasons we hear today, and we now know those calls were incorrect. They were incorrect because the chart looked the same back then as it does today, very solid.
In both the 2000 and 2007 market tops, any market participant was able to first, get to a cautious mindset, then totally defensive about 8 - 10% from the highs. If an investor has followed and benefited from a long bull market trend, that is hardly worth getting upset over.

SHHH, don't tell anyone. The index that some believed was signaling trouble just two short months ago, the Dow Transports, just made a new high. When the Transports closed at a new high on Tuesday afternoon, it got absolutely zero attention due to a couple of breaking news events out of D.C. Better to pay attention to the price action.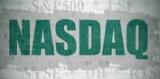 The positives continue to mount up. Another new high for the Nasdaq as well this week. The growth areas of the market are producing the lions share of earnings improvement.

Still worried about a market top? Overall breadth today looks nothing like it did in 2000.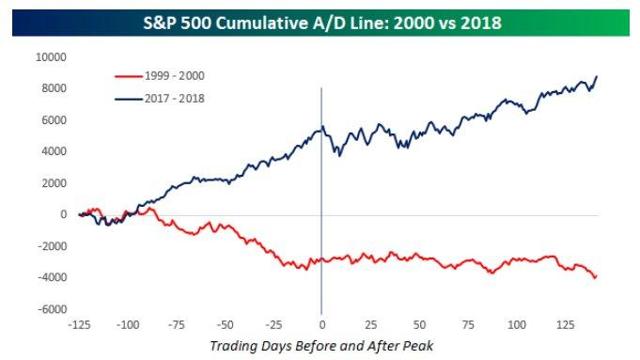 Source: Bespoke
Leading up to the 2000 peak, breadth was actually negative as there were more stocks declining on a daily basis than rising. That trend continued right up to and after the peak. In 2018, the breadth picture couldn't be more different. Not only was breadth confirming the rally right up until the January peak, but ever since then, we have continued to see the cumulative A/D line make multiple new highs since the January high in price.
The only major index that has not made a hew high is the Dow Industrials. The broader S&P 1500 (which includes the S&P 500, Mid Cap 400, and Small Cap 600 indices) and the Wilshire 5,000 (basically every stock in the U.S.) also made new all time highs this week. Past history shows that when all major indices are in sync, stocks have more gains ahead.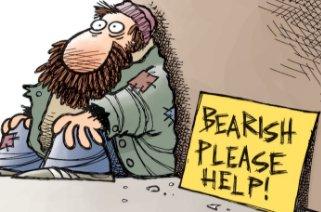 Market Skeptics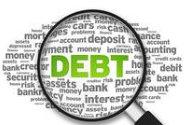 It is a political football, great subject for debate and one that terrifies a lot of people. The issue is DEBT. For decades, investors have feared the national debt growing to unsustainable levels and destroying the US economy. If we look back to 1981, the public debt of the federal government was $1 trillion; today it's more than $21 trillion. No doubt about it, the latter is a scary number. The obvious conclusion has to be that all of this additional debt is going to be the fiscal straw that breaks the camel's back.
The picture below is from a March 1984 TIme magazine cover. The next debacle was upon us because of the debt issues of that era.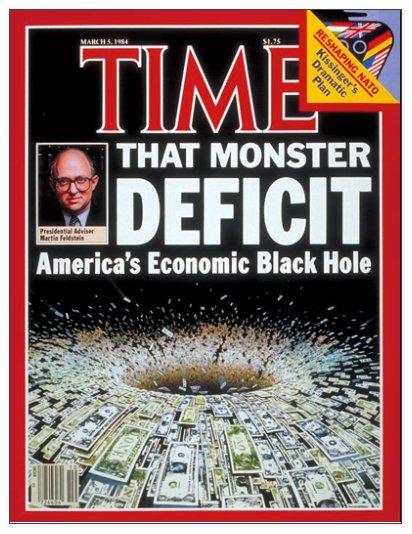 Ironically that appeared at a time that was the beginning of the last secular bull market that took place from 1982 - 2000.
Before anyone gets the idea that I approve of large deficits or want to put my head in the sand, it is quite the opposite. Here is the problem with the theory that we are all going to witness a great depression because of this one issue. Despite the record high debt, the net interest on the debt, the cost to government to satisfy interest payment obligations, was only 1.4% of GDP last year, hovering near the lowest levels in the past 50 years.
One reason, net interest remains so low relative to GDP is that the government itself owns about $6 trillion of the debt, and this doesn't even include the debt owned by the Federal Reserve. So, the "net debt," also known as the "publicly-held debt," is roughly $15 trillion.
The other reason, of course, is that interest rates have been very low. So while we attempt to whittle down the problem, and put it in perspective, the Paul Reveres out there are telling me "wait a minute". The argument then becomes with interest rates rising, it won't be long before interest costs spike upward, meaning the government will have to borrow just to pay the interest on the debt. When that takes place a debt spiral like Greece faced a few years back ensues and there isn't anyone around to bail out our gorilla sized economy.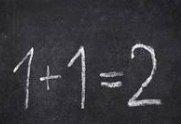 A simple math lesson. Today, the average interest rate on the publicly-held debt is roughly 2%. Let's' play a game where next week, the entire yield curve moves up to 4%. And let's also play along that the Treasury Department rolls over the government's entire debt complex at that new higher rate of 4%, even though the average maturity of the outstanding debt is about six years. That would surely be viewed as a worst case scenario.
Doubling the interest rate to 4% would mean net interest relative to GDP would double as well, going from 1.4% to 2.8%. Not something that anyone would want to see happen, BUT it would be no different than the average net interest on the national debt from 1981 through 1999. Funny, but there is that time frame again coinciding with a secular bull market. I'm not saying that huge debt brings on bull markets, what i am inferring is that back then the U.S.government was capable of issuing new debt and paying its bills without putting the economy at risk. Of course that can also take place today. Or is that an impossibility?
In addition there are the ideas now that the federal government will take steps to lock-in what are still relatively low borrowing costs by lengthening the debt, issuing a higher share of 30-year Treasury bonds, introducing 50s, and even considering 100-year debt. For those that say the U.S will never be able to sell that debt, look around. Argentina, Belgium, Austria, Ireland, and Mexico, all sell 100-year debt.
The debt issue is tossed around because it contains a scary number that we cannot imagine is real. Twenty one trillion dollars and counting. Ironically it is used as a tactic that fits an agenda by many that have little idea of what they are talking about. It's all about Fear of how are grandchildren and their grandchildren will pay the price. It brings out an emotion in people that suggests all sorts of wild claims and the ideas of great depressions.
As mentioned earlier, I am not a fan of large Federal debt, but the issue like many others that are put in front of investors to incite an emotional response should be placed in perspective. Sure there will be times of concerns and financial stress, but that's the way it has been throughout time. Higher interest rates that we are likely to see in the next few years are probably not going to generate a fiscal crisis by itself.

Individual Stocks and Sectors
Semiconductors as measured by the Vectors Semiconductor index (SMH) teetered at support this past week, and that support level held. Perhaps more consolidation is in order, but if these support areas do hold, semi's could be ready to join the rally.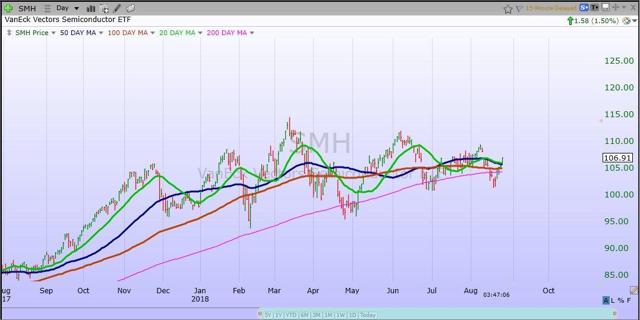 Chart courtesy of FreeStockCharts.com

An investor's job is to analyze the data to determine the best course of action, not to figure out the social impact of policies. While the political backdrop certainly has the potential to create increased periods of volatility into year-end, it is important to focus on the favorable fundamental backdrop and the positive influences that drive the intermediate-term direction of the market. The major indices are in sync and at all time highs. In the past that portends further gains lie ahead.
While we could see a period of consolidation at any time, ANY near term weakness should prove temporary, and serve as an opportunity to add exposure to stocks.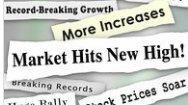 Focus should also remain on a potential year end ramp driven by EPS. There is much discussion about how long the current economic and market cycle can last, but that has been discussed for at least 3 years now. Those subscribing to the idea that the cycle was about to end any day now have been wrong. The combination of a solid economic backdrop, historically high business and consumer confidence, and better than expected earnings growth continues to suggest there may be a lot more upside left in this economic cycle and the stock market.
The typical commentary I hear today. Stocks are overvalued, we can't find stocks that are attractive anymore, we are approaching a bubble like scenario. Sound familiar? What many fail to realize is that during a secular bull market, multiple expansion will take place. It is why I continue to pound the table that stocks are not expensive.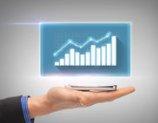 At present the forward PE for the S&P is 16.6 and the 5 year average is 16.2. So we are nowhere near peak multiples, and this confirms there has not been any large multiple expansion yet. All of this while the 10 year Treasury is under 3%.
I can easily make the case for more PE expansion in our future. Because that is what usually happens in a secular bull market. According to Thomson Reuters, second quarter S&P 500 operating EPS now look to be up 24%, with 79% of those having reported beating expectations.
Confirming the stronger willingness of businesses and consumers to spend, S&P top line growth should be up 9.4%. There should be little doubt about how strong the consumer is now. The rest of 2018 should be no different, with current consensus expectations for third and fourth quarter S&P operating EPS growth of 22% and 20%, respectively.
The earnings driven bull market is alive and well, and there is little reason now to abandon ship. The highs are not in yet. Stay the course.

I would also like to take a moment and remind all of the readers of an important issue. In these types of forums readers bring a host of situations and variables to the table when visiting these articles. Therefore it is impossible to pinpoint what may be right for each situation. Please keep that in mind when forming your investment strategy.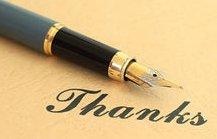 to all of the readers that contribute to this forum to make these articles a better experience for all.
Best of Luck to All !
Invest without emotion, drown out the noise and start profiting from what this stock market is giving investors. What stocks and sectors look good now?  The Savvy Investor Marketplace service is here to help. Stop listening to the market pundits that have had the story wrong. Instead, please consider joining the advisor that has had the story correct, calling for new high after new high for 5+ years. 
Disclosure: I/we have no positions in any stocks mentioned, and no plans to initiate any positions within the next 72 hours.
I wrote this article myself, and it expresses my own opinions. I am not receiving compensation for it (other than from Seeking Alpha). I have no business relationship with any company whose stock is mentioned in this article.
Additional disclosure: I have a portfolio consisting of numerous equities that is LONG the market.

This article contains my views of the equity market and what strategy and positioning is comfortable for me. Of course, it is not suited for everyone, there are far too many variables. Hopefully it sparks ideas, adds some common sense to the intricate investing process, and makes investors feel more calm, putting them in control.

The opinions rendered here, are just that – opinions – and along with positions can change at any time.
As always I encourage readers to use common sense when it comes to managing any ideas that I decide to share with the community. Nowhere is it implied that any stock should be bought and put away until you die. Periodic reviews are mandatory to adjust to changes in the macro backdrop that will take place over time.