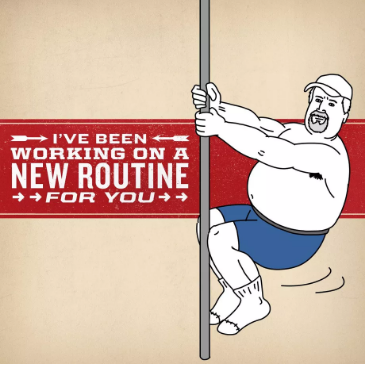 Introduction
Nearly three years ago I wrote my first article for Seeking Alpha. During the first six months of writing on the platform, I was really feeling my way around and trying to find my niche. I wrote on a wide variety of topics and stocks, including short articles and macro calls. It wasn't until about February of 2016 that I decided to focus on long-only cyclical investing, which is pretty much my exclusive focus now. Duluth Holdings (NASDAQ:DLTH) was one of the last stocks I wrote about that didn't include a cyclical angle with the investment thesis. It was also the last of my early ideas that I still personally held as of August 2018. All of my previous long ideas on SA had been realized. I recently sold my Duluth shares for a price of $29.15 per share. And in this article, I will explain why I made the two purchases of Duluth that I did back in 2016, what I learned from holding Duluth stock the past couple years, and why I decided to sell my shares this week.
Why I bought Duluth
I first discovered Duluth Trading Company in true Peter Lynch-style. My wife, who works as a creative director in advertising, told me how much she the loved Duluth's creative marketing campaigns, and suggested I research the stock if it was publicly traded. At the time, I had never heard of the company, and, nine out of ten times, when someone brings me a stock idea it usually doesn't end up being an investment for me. Most of the time the stocks people suggest are overpriced, and the rest of the time they are highly speculative growth stocks. Rarely, do people bring me good values. But, with Peter Lynch fresh in my mind, I noted my wife's comment and checked out Duluth Holdings. To my surprise, the stock had had a recent IPO and the price looked quite reasonable given the prospects for store growth and their ability to compete with Amazon. Here is my final assessment from the original article:
My sense is that Duluth Holdings is either going to catch on and grow very quickly, or it isn't, in which case it will fade and languish in the dustbin of retail history. For this reason, I would recommend a very small weighting of 1% right now. If Duluth takes off, it should easily become a multi-bagger in the next 5 years, but it could also flame out if it makes any missteps or just gets unlucky. I consider this a medium-risk/high-reward investment.

My initial time frame on this investment is solidly medium term, or about 2-3 years.
That wasn't a bad summary for a rookie writer. While I didn't give a target price I did provide a weighting and a time-frame for us to measure and I noted that it would likely be feast or famine with the stock. At the time I estimated that the stock was trading near a 15 P/E for their 2016 earnings. When it was all said and done, I think it was actually probably trading close to 22 times earnings at the time of my investment. So, my estimate was a little off, but for a company whose earnings I expected to rise over 20% per year, likely for the next decade, 22X wasn't a bad price to pay. And the results of this first investment, which could probably be considered a 'growth-at-a-reasonable-price', or GARP, investment, were very good: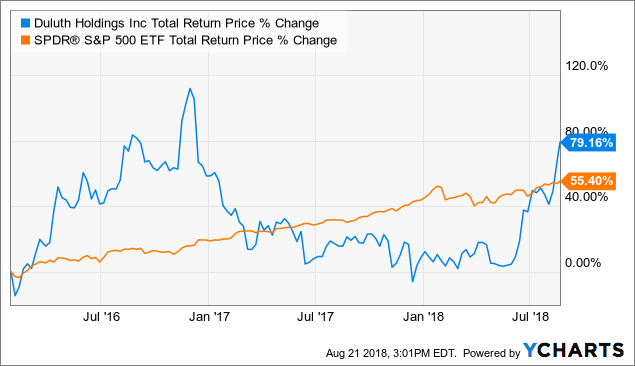 This investment returned nearly 80% (about 30% annualized) and significantly outperformed the S&P 500 over the past 2.5 years. During this time the stock only spent a few weeks in negative territory.
Here is how the stock performed from the time my first article was published until the publication of my second article about 8 months later in September of 2016: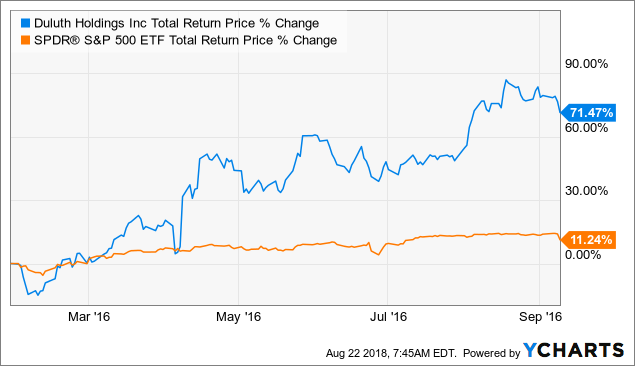 At the time it certainly looked like Duluth was taking the "multi-bagger" route I had described in my original article, but before I wrote my second article, I wanted to get a better feel for the company and the actual products it sells. Having learned that one of their few brick-&-mortar stores was near where I lived, I made a trip to the store and purchased some items.
In keeping with the Peter Lynch approach, I documented my store visit in my second Duluth article. Since that first visit, I have been thoroughly impressed by Duluth's products and service. Their "Dry-on-the-Fly" pants that are made of their "flex" material are my favorite product. I own four pairs of these pants now in various colors and the first pair I bought over two years ago has probably been worn 100 times and shows very little signs of wear. The pants are insanely comfortable, the product quality is incredible. If I'm wearing pants, there is about a 90% chance they are from Duluth Trading Company now. That being said, the pants are fairly expensive (especially for a cheap guy like me). You can expect to pay about $80 per pair.
I've used Duluth's website, bought products in-store, and ordered online with in-store pick-up. Each method worked flawlessly, and Duluth's marketing, as I noted in my original article, is fantastic both online and through more traditional media. Basically, it's a great company, with a lot of store growth ahead of it still, and that is what motived my second Duluth purchase, even though the stock price had risen considerably. This is from my second article:
At the time of my original purchase, with a P/E ratio estimated somewhere around 15x, Duluth was nearly a value purchase. At current prices, Duluth stock may no longer be a value buy, but it's still worth considering as a pure growth stock. Most of my strategies involve purchasing after a major selloff, usually while the stock price is still falling. I very rarely chase stocks higher. However, I think Duluth might be a rare story where purchasing as growth stock is justified.
In my mind, I expected this to be a 10-year investment of the pure growth variety.
What I learned from these purchases
Looking back at the first investment I think the most important thing I got right was buying a quality company with a good margin of safety relative to future growth. I correctly identified that Duluth would be able to remain immune to Amazon (AMZN) and avoid the issues many other apparel retailers were facing as they tried to convert from brick-and-mortar to omnichannel. Duluth was actually doing the opposite of most stores. They were converting from online and mail-order to omnichannel, and there were great advantages in that arrangement. I think I correctly estimated long-term growth above 20%, too. And even though my PE estimate was off by a decent amount (I thought it was trading around 15, when in reality it was closer to 22.), it was still cheap enough to make it a very good GARP investment.
If I could find more companies with this profile to invest in, I certainly would, but the dangers are fairly clear, too. In order to make good on this sort of recent-IPO investment consistently I would have to get better at predicting the near-term earnings so I could generate a more accurate P/E estimate. That's certainly possible if I had the time to work on it. Getting in on a good long-term growth prospect at a reasonable price is obviously something I would like to do. My guess is that most of these opportunities come about 18 to 24 months after an IPO when the original investors have dumped their shares. (That's a pretty common pattern I've noticed.) Waiting for at least 18 months after an IPO would give me an opportunity to get a better read on what sort of earnings to expect as a publicly traded company as well. And even though Duluth traded quite low immediately following their IPO, there was still an opportunity about two years later to buy at reasonable prices and with more earnings clarity. The main difficulty in all this is sifting through the market to identify these opportunities. I'm not sure of a good screening method to do this (but I'm open to suggestions).
Moving on to my second purchase of Duluth, I think I'll just be blunt and declare that it was a mistake. At the time, Duluth was trading around a 40 P/E ratio. As I've followed Duluth over this period, I've come to expect about 20-25% annual earnings growth from the company over the next 5-7 years. With that growth rate in mind, buying when the stock has a P/E of 25 or less seems like a good policy, and selling when the P/E is over 40 seems reasonable, too, but adding to a position while the stock trades at over a 40 multiple would require some patience for the stock to grow into, and, it would offer no margin of safety. (Although in my defense, the stock had only been publicly traded for three quarters at the time and didn't yet have a full year's data as a publicly traded stock, and I had erroneously estimated the P/E to be 27 at the time of my second purchase.) While it's true that some growth stocks can maintain high P/E ratios above 40 over a long period of time, I don't think Duluth is one of those stocks. And I learned that lesson on valuation the hard way with this second investment: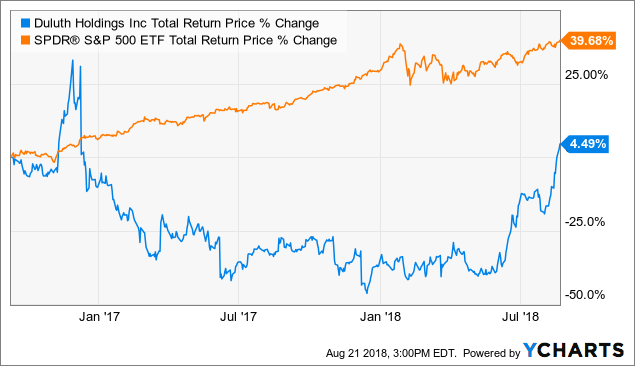 While this isn't exactly a horror story - the stock from this second purchase is at least now positive - it has suffered a great deal of volatility and has underperformed the S&P 500 over the past couple years. I think the lesson here is that valuation matters. Even if over the next ten years the stock far surpassed the performance of the S&P 500, being more patient would have provided a much better entry point.
Why I'm taking profits
After the price spiked and then fell following my second purchase, I really kicked myself for not taking profits. My thesis for the long-term prospects of the stock were still intact and I never considered selling during this period, but I did promise myself that if valuations ever got really high again I would go ahead and take profits, and then buy again later if the valuation became attractive. Now that we've had a few years under our belts, let's take a quick look at a F.A.S.T. Graph: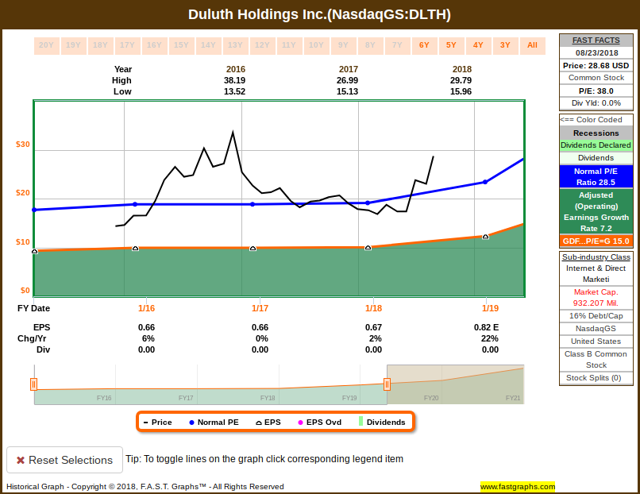 We can see Duluth's blended P/E is currently at 38 while the 'normal' P/E ratio the market has valued Duluth at is 28.5. Even if earnings growth is in the 20-25% range for the next year, it would probably still take another year of that type of growth for Duluth's stock price to trade in that 28 P/E range. And that is where I think the risk comes in.
My estimate is that we are in the later stages of this bull market and that we will probably see some sort of economic slow down within the next 2.5 years. If that happens, Duluth stock will likely get hit pretty hard. Remember, while their goods are high quality, they aren't cheap. So basically we are in a situation where in order to justify a 38 P/E we probably need two solid years of growth with no hiccups from Duluth and also no macroeconomic headwinds. That could certainly happen, but I think the odds are perhaps 20% for this scenario and 80% that something will happen that sends the price lower over the next three years, and I'm placing my bets with the later and taking profits here.
Conclusion
Ultimately, one of my Duluth investments turned out to be a winner by both producing positive returns and beating the S&P 500. The second investment was positive but did not beat the S&P 500. I've now been writing for SA for almost three years, and Duluth is the last idea published before I started writing almost exclusively about cyclical investing.
I've always had a policy of giving clear buy and sell suggestions in my articles. Thus far, there have been 23 ideas that I have first written a 'buy' article on, followed by a 'sell' article (producing a measurable "realized return"). Of these 23 realized ideas, 21 have produced positive returns and 17 have produced positive returns and simultaneously outperformed the S&P 500. 2 out of the 23 produced losses of about 15%. I'm pretty proud of that performance.
I'll keep my eye on Duluth stock going forward. I still like the company's long-term prospects and if I can buy the stock back in the mid-teens again, I certainly will. But, for now, I'm taking my profits.