Introduction
On July 20th, 2017, I recommended Momo (NASDAQ:MOMO) as a potential multibagger in my series here on Seeking Alpha. The stock has underperformed the market in its stock price, and it is even down versus then, but it has actually outperformed the market as a business.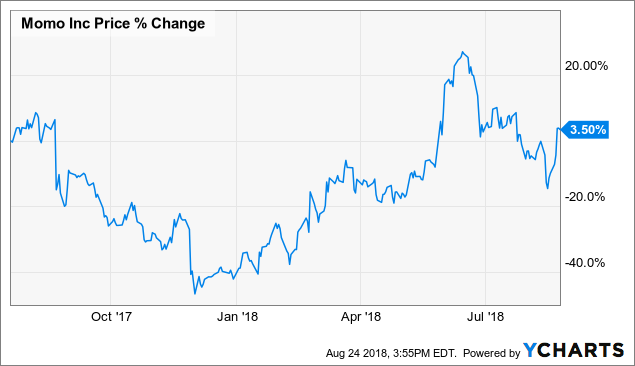 That is why I think Momo is a very attractive stock to buy now. The earnings that were just released show again that Momo is a gem.
The company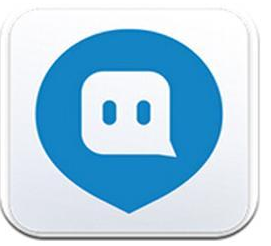 (Momo Logo - Source: Upi.com)
A quick introduction to Momo for those who don't know it yet. The company made its IPO on the Nasdaq on November 7, 2014. Its main product is a mobile-based social networking platform, based on location and interests. Basically, this means that you can meet people who are near you and/or have the same interests as you. That was and is considered to be a hook-up app too.
But Momo has much more: chatrooms, karaoke, social groups, social mobile games, etc. An important acquisition was made in March of 2018: Tantan, the Chinese version of Tinder.
Q2 2018 results
Momo had great results again: the non-GAAP EPS was $0.66, beating analysts' estimates by $0.05, or 7.5%, so it looked only natural that the market adjusted the stock price of Momo by 8% as well. The non-GAAP EPS was up from $0.35 last year, an increase of 88.5%. GAAP EPS was $0.55, up from $0.29 in Q2 2017, an increase of 89% YoY.
Revenue, which is in my opinion a lot more important for growth stocks than earnings, was up 58.3% YoY to $494.27M, beating analysts' forecasts by $14.5M or 3%.
But what the market reacted probably the most to was the updated revenue guidance which was increased to $525M to $540M, while the consensus was $516.61M.
Another metric that is very important for social media apps is Monthly Average Users (MAUs). There were 108 million MAUs in June 2018 compared to 91.3 million in June 2017, an increase of 18% YoY and up 4.7 million (4.5%) versus the previous quarter, showing that the growth has not slowed down. Also very important is that the users spent more time on the app: the average daily time spent by the users grew a good-looking 11% YoY.
Paying users
$411M of the revenue in this quarter ($494M) comes from paying users. That is a 58% growth YoY. So 83% of Momo's booming revenue comes from paying live-streaming videos. There were more paying users, and the average revenue per paying user increased.
For the readers above a certain age, this will probably sound outrageous, but live-streaming videos are actually what you think they are: boys and girls (mostly girls) who broadcast themselves for hours a day and get paid for it. They might sing or dance or just be eye candy. The audience gives them virtual gifts then, which they buy in the App Store or on Google Play, which keeps 30% of the pay. The remaining 70% is then split between the broadcasters and Momo. Those gifts can be very small ($0.01) to big ($100 or more). You can compare it with Facebook's (FB) thumbs-up, but then paid. Or maybe even a better comparison: the in-app purchases in video games.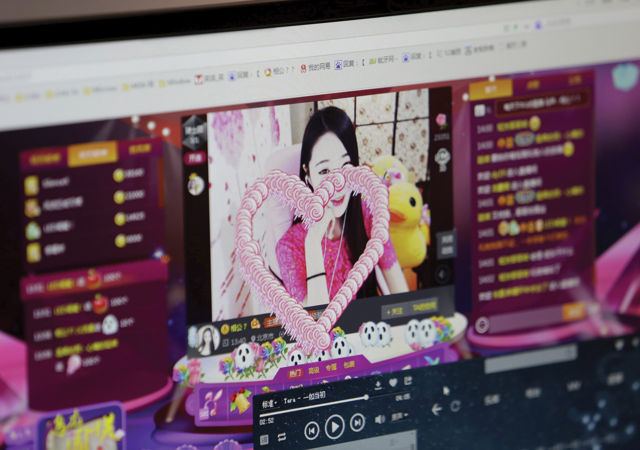 (Source: The world of Chinese)
The broadcasters pay a subscription fee to Momo and then get paid by the viewers. This is from the Q2 2018 earnings press release:
Value-added service revenues mainly include membership subscription revenues and virtual gift revenues. The total value-added service revenues were $55.2 million in the second quarter of 2018, an increase of 124% from $24.6 million during the same period of 2017. The year over year increase was primarily attributable to the continuous growth of the virtual gift business on the Momo application and to a lesser extent, the consolidation of Tantan's membership subscription revenues for the single month of June 2018. The growth of the virtual gift business was driven by more paying use cases introduced to enhance the social experience for Momo users. Total paying users of the value-added service on Momo application was 5.3 million for the second quarter of 2018, compared with 4.5 million for the second quarter of 2017. As of June 30, 2018, Tantan has 3.1 million subscribers.
Up 124%, that is amazing. And the growth will probably not slow for a while. More and more in-app purchases will be done: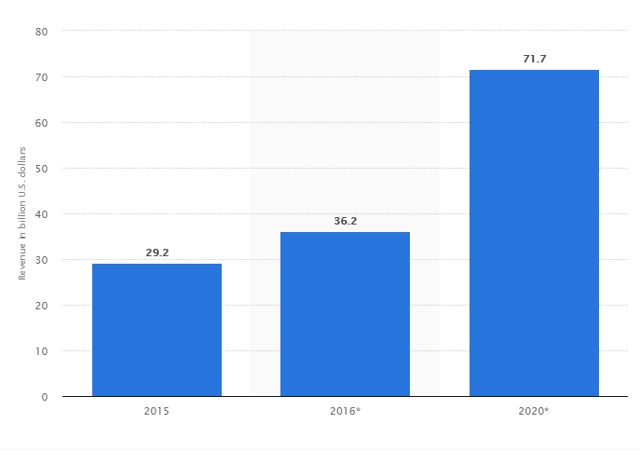 (In Billion Dollars - Source: Statistica.com)
This bodes well for Momo's revenue.
The total paying users for Momo was up to 8.5 million versus 7.1 million last year. That number does not include the 3.1 million paying users of Tantan. That is a healthy 16.5% growth.
Tantan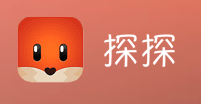 (Tantan's Logo, from the Company's Website)
The acquisition of Tantan is a very valuable one for Momo, as I have already argued before. Tantan is the Chinese Tinder, the biggest dating app, with the difference that it is not as generally accepted as Tinder. Tinder has an estimated 50 million users, of which 10 million are daily users, while Tantan, even though it is the most popular date app of China, only has 20 million users (3.1 million paying). That is just 40% of the users of Tinder, while the Chinese population is gigantic.
This means that there is a lot of growth potential for Tantan, especially if you know that Momo was considered to be the second biggest dating app of China (bigger in total number of users, but not all for dating). Now that the number one and two companies are combined, they can join their efforts to making dating apps more socially acceptable and, more important for us investors, more profitable.
Yan Tang, founder, CEO and chairman of Momo, introduced Wang Yu, founder and CEO of Tantan, on the Q2 2018 earnings call, announcing he would be joining the team and the conference calls starting from this quarter. That indicates how important Tantan is for the future of Momo.
Long-term trend
It is very clear in my opinion that Momo has a long-term trend to support the growth of its business for years to come. In China, even more than in the US, mobile is the alpha and omega of the tech sector. The company uses AI to pair people to each other, another one of those trends. And it gets data, data, data, the oil of the 21th century.
Live video broadcasting is more and more the place to be for young people. It's not a coincidence that FB added Facebook Live to its app in 2016. In the first two years, 3.5 billion live sessions were broadcast on Facebook Live, and nearly 2 billion people have watched Facebook Live broadcasts. Those are amazing numbers. And Momo is in the centre of that trend.
Long-term vision
Besides that, as Mark Zuckerberg has done a few times in the history of his company, Momo's Tang Yan deliberately has slowed down MAUs for a better product and accelerated growth later on. From the Q3 2017 CC:
In Q3, we started to implement a new marketing scheme to drive long term retention and federal return on investment in connection with pay user acquisition efforts.

As the implementation of the new marketing plans involve the establishment of a real-time data monitoring and feedback system, testing out existing and new channel partners, and respective tactics, as well as getting up new policies and streamlining the working process with the channel partners, we have taken our time and led to a meaningful slowdown in new user acquisition during the third quarter.

However, we do believe that such adjustment is necessary for us to achieve higher quality of our top of the funnel addition and that's through the more solid foundation for continuous community expansions. At this point, we are progressing well with adjustments and a big part of our new system is already functioning well. Looking into December and further into 2018, we are optimistic about the growth prospects in our MAUs.
This was one of the reasons, probably the most important reason, for the underperformance of the stock over the last year. There are quite a bunch of traders in this volatile stock, and they swing in and out of it. But as a long-term investor, I like this way of working: focusing on the long term, even if it means some pain in the short term. And, even more important, the numbers for this quarter prove that Tang Yan wasn't just looking for excuses: the growth of MAUs has indeed regained traction and proven that the strategy he implemented has rolled out exactly as planned. The best CEOs are relentless executioners.
Valuation
This is a F.A.S.T. Graph of Momo: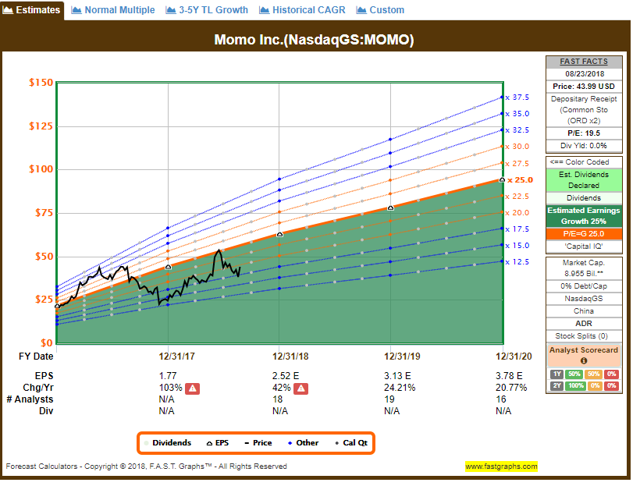 It's actually incredible how low this company is valued. The P/E is 24.95, but the forward P/E is only 13.9, according to finviz.com. F.A.S.T. Graphs uses a blended P/E, meaning the average of the TTM P/E and the forward P/E. The orange line represents a PEG ratio of 1, and as you can see, Momo is under it. The company is expected to grow 24% and 21% in the coming years. It is followed by quite a lot of analysts, as you can see (18, 19 ad 16), and so the results are more reliable.
Besides that, Momo is also a serial overdeliverer. This is an overview of its earnings. All but one (hit the target) are beats, with an average of 17%, which is quite impressive in my opinion: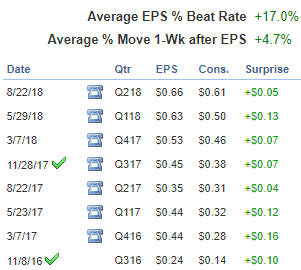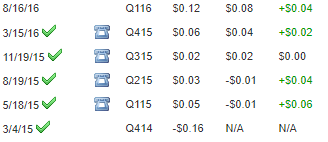 (Source: Streetinsider.com)
It is no wonder then that simplywall.st considers Momo undervalued, based on future cash flows:

The fair price calculation of Simplywall.st is $58.09, 28% above the current price.
Over the longer term (5 years), the analysts expect Momo to grow its earnings by more than 30%.
Personally, I think that might be a bit optimistic, but even with 20% growth and such a low valuation, Momo might easily double or triple over the next few years. If you take a moderate P/E of 21 for 2023, you already get these results: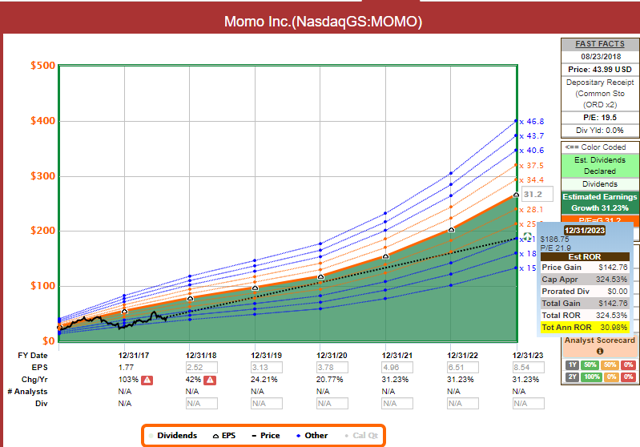 Up 324%, and annually more than 30%. That sounds like a stock that I want to hold for the long term! And I will. Momo is only at the start of its growth trajectory.
Conclusion
Momo has a bright future. The company evolves with a long-term vision and a great execution. The MAUs grow steadily (108 million already) and the time spent on the app grows as well (11%). But maybe even more important the company is also good at monetizing its users.
With the acquisition of Tantan, the Chinese Tinder, Momo has a new growth engine under the hood. It already has 20 million users. 3.1 million of those chose for the premium, paying version, and I expect that number to grow once the social barriers start to lower for online dating apps.
Besides all this, it is surprising that Momo is cheaply valued. Therefore, it could provide great returns over the longer term.
If you don't want to miss the other installments in the series Chinese Stocks To Buy Now, feel free to hit the follow button. In the meantime: keep growing!