Agenus (AGEN) was founded in 1994 and is based in Lexington, MA. Shares have risen >30% last week since the idea was published to the subscribers of Vasuda Healthcare Analytics, marketplace service.
Bull's case: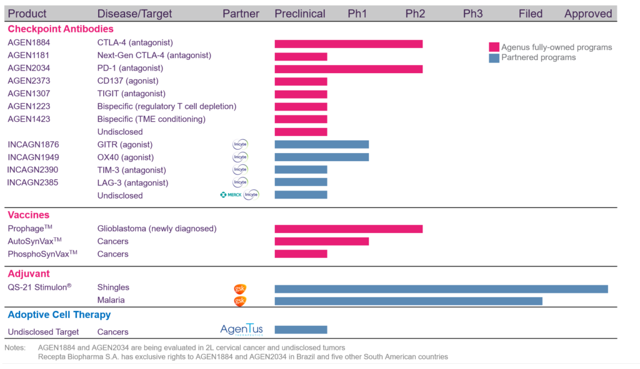 (R&D pipeline, source company website)
The company has a diverse pipeline in immune-oncology, ranging from checkpoint inhibitors to cancer vaccines and adoptive cell therapy. After two decades of existence with no commercial products, the management is playing 'catch up' by filing 5 INDs in 18 months, and on track for more IND filings this year. Incyte (INCY) has licensed certain checkpoint inhibitors which could be worth $510M in potential future milestone payments. The stock is trading much below that paid by Incyte ($6).
There is a continuous revenue stream from Shingrix vaccine. Shingrix vaccine peak sales are estimated at around $2 billion, though the royalty stream from this vaccine will be used to pay the $190M debt taken by Agenus (from Healthcare Royalty Partners). QS-21 Stimulon vaccine is also under development for malaria by GSK. QS-21 Stimulon adjuvant is more effective in stimulating immune response than aluminum hydroxide and aluminum phosphate, two commonly used adjuvants and can be used in vaccines for other clinical indications.
The management also filed IND for a next-in-generation bispecific antibody pipeline. The adoptive cell therapy business could be spun off as IPO (AgenTus) and may get a premium valuation in line with the recent Kite and Juno acquisitions.
The management also claims a manufacturing capability that is 3-5x faster than the industry standards. The company has hired some executives with past experience at pharma giants like R&D at Bristol-Myers, President of Europe and Emerging Equities at Pfizer, 20 years experience at GSK and Novartis and Head of Pharma at Merck.
Technically, the daily stock prices chart has positive divergences though the stock is clearly in a downtrend and below 50-DMA and 200-DMA. The stock is at the lower end of daily Bollinger bands and a short-term oversold bounce is possible targeting $2.1- $2.25.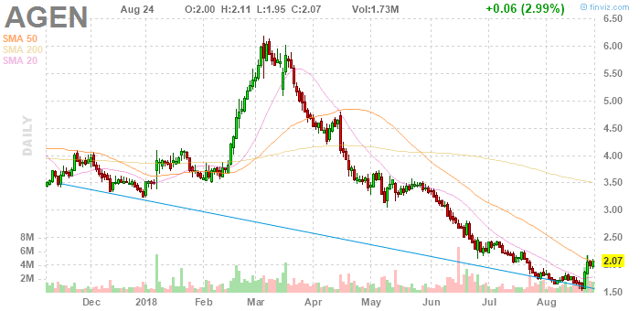 (Agenus: common stock price chart, from Finviz)
Bear case:
The current downtrend in the stock which started in March this year accelerated in May which coincides with the data presentation for its checkpoint inhibitors AGEN1884 (anti-CTLA4) and AGEN2034 (anti-PD1) at ASCO conference this year. The response rate of 31% and 42% respectively in advanced cancers with these checkpoint inhibitors was not out of the world, though the company claims that these are 'next-generation' with a possible differentiation compared to the increasingly crowded field of anti-PD1 and anti-CTLA4 molecules being developed by big pharma companies like Bristol-Myers Squibb (BMS).
The management has failed to bring a single product to the commercial stage on its own in more than two decades of existence for the company (founded in 1994). The R&D pipeline lacks a focus and is full of all kinds of immune-oncology molecules ranging from checkpoint inhibitors (anti-PD1, anti-CTLA4, anti-GITR), anti-OX40), neoantigens, cancer vaccines (prophage), etc.
Despite Incyte partnership for checkpoint inhibitors like GITR, OX40, anti-LAG3, there does not appear to be any differentiation compared to similar checkpoint inhibitors under development by larger pharma/biotech companies like Novartis, Astra Zeneca, and Pfizer, which have access to greater financial resources. Prophage vaccine which failed in an earlier trial in combination with Avastin in newly diagnosed glioblastoma is being tested in combination with Keytruda in the same indication which is tough to treat cancer.
No major institutional investors have recently bought the stock (point72 sold out). No recent insider buying, in fact, insiders were selling in December last year. Sell-side analyst coverage is sparse, only one analyst covers the stock (Jefferies, PT $7, Buy). Cash reserves were only $43.2 M at the end of Q2 this year (with $245M in liabilities, including royalty revenue liability). With $94M in operating cash burn last year, the company is likely to raise capital over the next 6-9 months resulting in further shareholder dilution.
The company is burdened with $245M of total liabilities (including liabilities against the royalty stream from GSK vaccine). The independent accounting firm hired by the company raised concerns over the 'going concern' in the annual report.
Conclusion:
This is clearly not an investment for the those with a faint heart. The liabilities are my main concern which has resulted in a negative liquidation value (current market cap=$192M) although Shingrix vaccine is selling well and there should be no problem paying down the debt against the royalty stream. The lethargy in pipeline development is the second concern. On the other hand, the stock trades at all-time lows, is oversold, and looks ripe for at least a short-term rebound (which could result due to the upcoming phase 2 data for AGN1884+Keytruda in non-small cell lung cancer (in PDL1 expression 50% or more) this year. This is best suitable for a speculative short-term long trade for now as long as it is timed well to avoid the expected capital raise over the next 6 months.
Note:
This article represents my own opinion and is not a substitute for professional investment advice. It does not represent a solicitation to buy or sell any security. Investors should do their own research and consult their financial adviser before making any investment.
Disclosure: I am/we are long AGEN.
I wrote this article myself, and it expresses my own opinions. I am not receiving compensation for it. I have no business relationship with any company whose stock is mentioned in this article.
Disclosure: I am/we are long AGEN. I wrote this article myself, and it expresses my own opinions. I am not receiving compensation for it (other than from Seeking Alpha). I have no business relationship with any company whose stock is mentioned in this article.