I don't usually focus an entire article on a single statistic, but I believe this particular statistic at this particular time deserves this level of attention:
The S&P 500 (SPY) median Price to Free Cash Flow ratio is now 34.66.
In other words, investors who are buying US stocks at the current price levels are valuing the typical large-cap company at almost 35 years worth of free cash flow. That is from now until the year 2053.
Here is a graphic of the page of stocks that are at and around this median P/FCF value, followed by a graphic spelling out all the company names, sectors, and industries: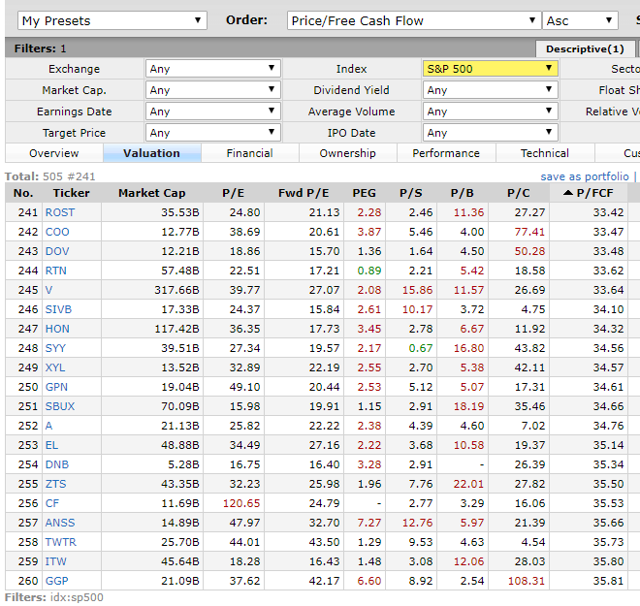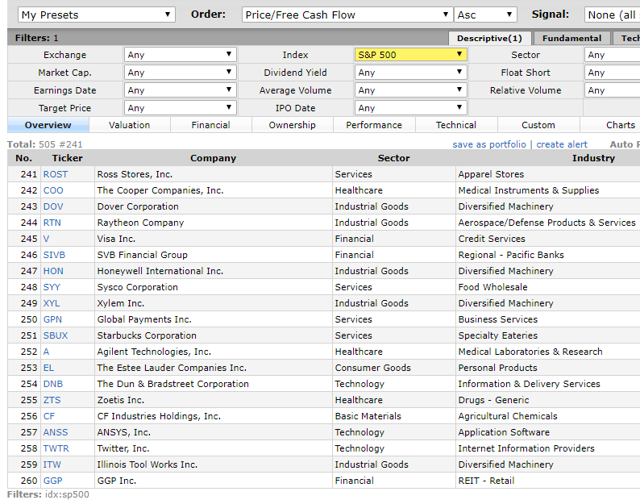 (Source: finviz.com)
Price to Free Cash Flow is highly followed as a very useful valuation indicator to analyze individual stocks. It is a well-known saying that "companies can fake earnings, but they can't fake cash." Many savvy and experienced investors consider the Price to Free Cash Flow metric to be a superior equivalent of the Price to Earnings ratio.
However, I rarely see general statistics and charts for the average or median Price to Free Cash Flow of the entire stock market or major stock indexes. Perhaps that's because this metric presents a more sobering view of stock valuation levels than P/E ratios do.
In other words, this data is telling us that today, in terms of the tangible cash earnings that really count and really translate into gains payable to shareholders, the real "P/E ratio" of the market right now is more like 35.
By this measure, we may be a lot closer to year 2000 style bubble valuation levels than most people in the market believe.
"Special" vs. Typical Stocks
High valuation levels of a particular stock, whether it be measured by P/E or Price to Free Cash Flow or Price to Sales or anything else, can sometimes be justified if the company is truly "special" and worth it in some fundamental way.
No one would say the stock market is in a bubble just because Amazon's (AMZN) Price to Free Cash Flow ratio is 70, for example. Clearly, investors place a value on Amazon for reasons and in ways that are not so easily quantifiable by traditional measures of stock valuation.
Likewise for a soaring growth stock like Nvidia (NVDA). It may well be overvalued, but it's not just because its Price to Free Cash Flow ratio is 46. In this case, the Price to Sales ratio of 14.72 would probably be a bigger valuation concern. I'm not talking about bubble valuations because of stocks like Nvidia.
Entire Stock Market Is Valued Like Booming Growth Stocks
Rather, the real concern is found among the stocks that are NOT soaring growth stocks, but they have still taken on Price to Free Cash Flow ratios in the 30s, just because they have risen higher by riding the wave of the entire stock market.
That's what the median measure is good for, finding the valuations of these typical stocks, regardless of the valuations of the Amazons of the world. Amazon's stock price and valuation has absolutely zero effect on the median value of this metric. We all know it will be way above the median Price to Free Cash Flow ratio value of the market. How far it is above the median has no effect whatsoever on the median value itself.
Instead, on the page of median value stocks in the graphic above, you find a whole bunch of typical stocks in the S&P 500. As far as I can tell, they are nothing special. That's why they're in the middle.
They come from all different sectors and industries. You may be able to explain why one particular sector or industry deserves a higher than normal valuation. But it's a lot harder to explain why all these different sectors and industries should all deserve these high valuation levels.
The company that is exactly in the middle is... Starbucks (SBUX). Once upon a time Starbucks was a booming growth stock. Now it's right in the middle of the entire stock market. And yet it is still being valued like a booming growth stock, because the entire stock market is being valued like they are all booming growth stocks.
Looking at the rest of the page, we have... Twitter (TWTR). Remember last year when Twitter was supposed to be a poorly valued bargain stock that the Street didn't like? Suddenly it's a growth stock again, with valuation metrics higher than Facebook's (FB).
We also have Ross Stores (ROST) and Estee Lauder (EL). Remember the "death of retail"? Incredibly, the retail stock ETF (XRT) is now at its all-time high: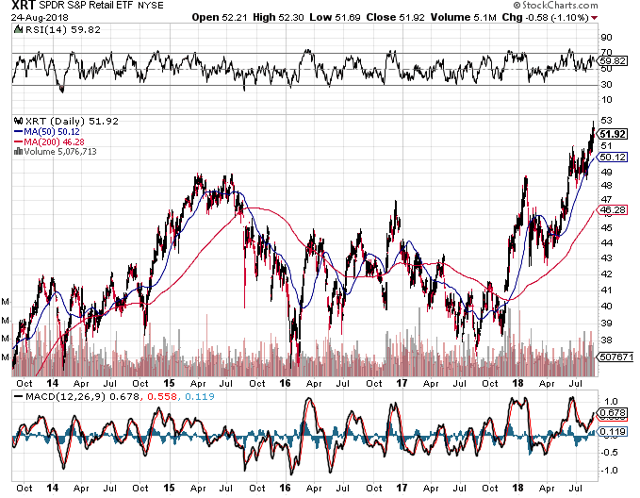 How can Amazon be killing all of these other retail companies, if all of them have all-time high stock prices? To me, this is another sign of bubble valuations percolating in the stock market in 2018.
Moving on, the list of stocks on the median Price to Free Cash Flow page also includes a whole host of industrials: Raytheon (RTN), Honeywell (HON), Illinois Tool Works (ITW), Dover Corp. (DOV), and Xylem (XYL). I can understand premium valuations for Raytheon and Honeywell. But all of them? Do investors really want to pay the same valuations for Dover Corp. and Xylem as they do for Raytheon and Honeywell?
I suspect that what we are seeing here are some of the effects of passive index investing. Increasing numbers of investors and traders aren't buying or trading individual stocks at all. They are just buying or trading index ETFs like SPY or sector ETFs like the Industrial Select Sector SPDR Fund (XLI). When all the stocks in the index get traded together, they all end up with the same valuation levels.
Finally, I note that Visa (V) is on this list. Now here is a massive mega-cap profitable company that is making a killing off of the growing digital payments trend as well as its traditional credit card business. I can fully believe that Visa deserves this premium valuation.
The question is, what are most of the other stocks on the list doing on the same page as Visa?
Now I realize that particular sectors and industries may have their own dynamics that cause them to have higher or lower Price to Free Cash Flow ratios as a typical feature of the way their industry functions. But that might explain a couple sectors or industries, but it can't explain all of the sectors and industries on this list.
You can't say that Industrial Goods and Financial and Technology and Healthcare and Services are all exceptional sectors that justify Price to Free Cash Flow ratios that appear higher than the norm for the entire stock market. At that point, it's like saying that "every sector is better than average". They can't all be better than average.
Conclusion
The point of all this is simply that valuations are now enormously high across the entire stock market.
Sure, continued economic growth in the US can justify some of the valuation. But it's looking more and more like the entire upside of all the future economic growth in the rest of the current cycle has already been priced into the stock market - it got there in January 2018, and now it's gotten back there again.
Of course, in a bubble, high valuations are often no barrier to even higher prices and valuations. But as I explained in my recent article, "Was January 2018 The Global Stock Market Top?", I see a lot of evidence that we reached the global peak of the bubble back in January.
It can take a while to go from the peak to the sharp downturn to the bottom. The dot-com bubble peaked in March 2000, but the stock market looked ok until September 2000, and even the tech sector (QQQ) hung on well enough to fool many people into believing it would rally again until the September and October downturn wiped out all illusions of a recovery.
The housing bubble itself reached peak prices in 2006 or very early 2007. The subprime mortgage crisis began to become apparent by summer 2007. But the stock market peaked in October 2007, and it hung on well enough to fool an awful lot of people until the collapse of Lehman Brothers in September 2008.
This stock market could hang on for quite a while as well. It could go sideways for the rest of 2018 and most of 2019. The S&P 500 could keep going up somewhat higher. I very much doubt that all global stocks, as measured by the Total World Stock ETF (VT), will be making new highs above those of January 2018.
But I see now as a time to get defensive. Not to go net short the stock market, not to sell all your stocks. But to have a defensive mindset in place, to protect yourself against the risk of the current stock market bubble valuations collapsing. I can't say when it will happen. But I am confident in saying that a market-wide Price to Free Cash Flow ratio around 35 will not last forever.
Perhaps the best value my subscription service the Stock & Gold Market Report can offer you right now is recommendations on which stocks and sectors to sell in order to reduce risk and raise cash, and which core holding stocks and sectors to hold onto. A penny saved is a penny earned, and in the stock market, $10,000 saved is $10,000 earned too.
In the service I also share my recommendations for select short positions as hedges, and I share my ideas about promising speculative put option bets against the market, for those who are interested in that kind of risk/reward profile.
At the same time, there are still some valuable money-making opportunities out there on the long side. Select high-quality junior gold miner stocks have gotten very, very cheap once again. They may go down a little more in a broad global market selloff, but they could also bounce back very strongly later in 2018 or early in 2019. The Stock & Gold Market Report portfolio contains 7 junior gold miner stock picks and 2 platinum miner stock picks to benefit from this scenario.
I encourage you to check it out and subscribe today!
Disclosure: I/we have no positions in any stocks mentioned, and no plans to initiate any positions within the next 72 hours. I wrote this article myself, and it expresses my own opinions. I am not receiving compensation for it (other than from Seeking Alpha). I have no business relationship with any company whose stock is mentioned in this article.
Additional disclosure: I am long put options and short ETFs on select stock sectors. I am long other stocks and sectors. I am not net short the stock market.
Further details are available to subscribers of the Stock & Gold Market Report.