Introduction:
Electric Power is the backbone of modern economies. Their use from industrial to commercial to a very large number of residential connections, is what keeps the economy running.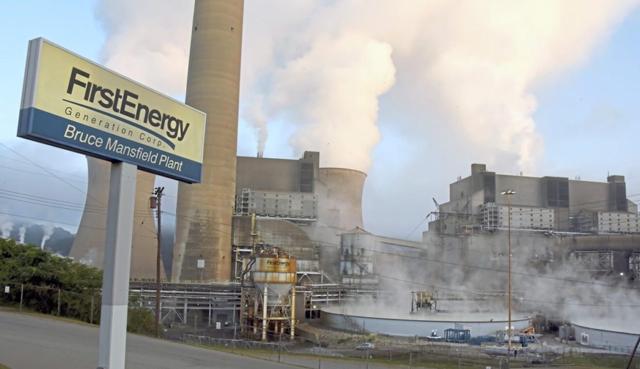 Source: Washington Examiner
First Energy (NYSE:FE) is one of the largest electric utility companies in the U.S., that claims to serve 6 million customers (and that means 6 million electricity connections) through its 10 regulated distribution companies situated in Ohio, Pennsylvania, NJ (read:New Jersey), WV (read:West Virginia) and Maryland. As far as power generation is concerned FE owns a total of five power stations; three of them are coal-based and located in WV, with the remaining two projects being hydroelectric power projects based in Virginia and NJ. The locations of FE power generation projects are mapped below: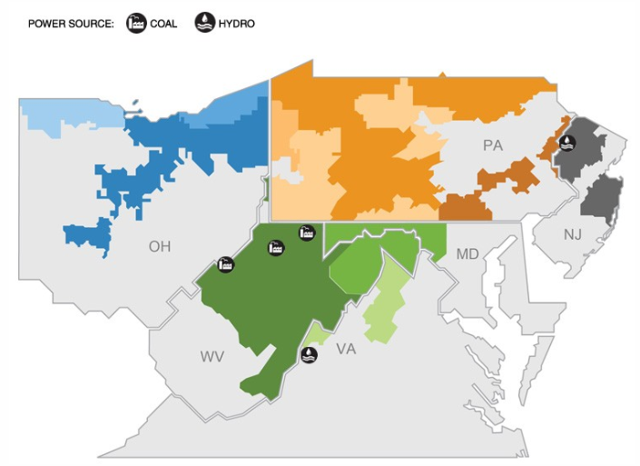 Source: First Energy
Investment Thesis:
In this article, I will discuss the dynamics of U.S. electricity generation industry and identify a significant growth opportunity that may be seized by FE in future. I will also discuss how FE is transforming its business model to a more secure and profitable one that results in short-term costs but promises long-term profits. Moreover, FE is taking steps to sustain revenue growth in the long-term, and has suitable valuation compared with selected peers. These factors combined with FE's 4% dividend yield make it an attractive income investment that is likely to witness growth in future.
The
U.S. electricity generation and an opportunity for FE:
As shown in the table below, around 30% of U.S. electricity generation is attributable to coal-fired power stations.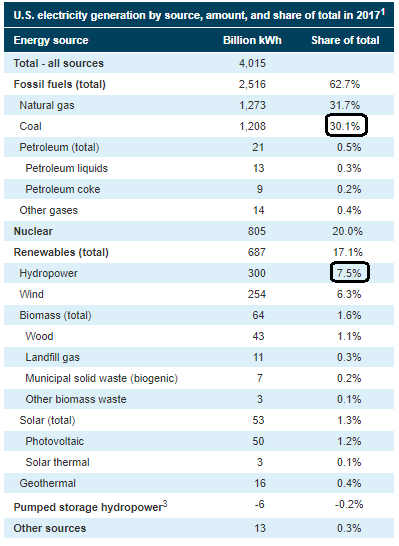 Source: EIA
Looks fair enough, as the United States is arguably the 2nd largest producer of coal in the world. The problem is the non-renewable nature of this power source. Besides, coal-fired power plants are not an eco-friendly source of power production and therefore are a major contributor in global warming.
Without getting into the discussion of whether adequate coal supplies will be available for power generation in the next 30 years; our top consideration should be what renewable and eco-friendly sources of power are there which can conveniently replace the non-renewable sources. This leads us to the top alternative in renewable energy sources, namely hydro electricity.
Given the fact that at present hydro electricity accounts for only ~7.5% of U.S. power generation, this source itself provides immense growth potential and will shape the future of power generation due to its eco-friendly generation capability. I believe the growth of this sector provides a great opportunity for companies like FE who already have expertise in running hydroelectric plants and would be willing to invest in more hydro power projects in future. Although such projects are high-cost in the beginning, but going forward they promise significant returns to the company with a lower operating cost compared with coal-fired power stations.
Change of business model piles up short-term costs but promises long-term benefits:
On 1st August 2018, FE announced its freedom from the bankruptcy case involving its ex-subsidiaries FES (read: FirstEnergy Solutions) and FENOC (read: FirstEnergy Nuclear Operating Co.) and their related unsecured creditors. As part of the settlement, FE will transfer its coal-fired Peasants Power Station in favor of those unsecured creditors.
Besides, FE will also pay ~$218.5 MM to cover benefits related to FES employees. Given that FE reported H1 2018 cash of ~$256 MM, the FY 2018 cash may be estimated around $512 MM. In my opinion, the payment of this employee benefits settlement will be a burden on the company's cash but only in the short term. Going forward, FE will be relieved from any further costs that might otherwise have been inflicted due to impending bankruptcy cases of FES and FENOC.
With FE's successful unwinding of FES, the company has moved closer to its objective of being a purely regulated company. As mentioned earlier, the company currently serves 6 MM customers and plans to increase this customer base going forward. The achievement of this revenue growth objective will become easy as FE transforms into a fully regulated utility.
I believe that such transformation will also help stabilize FE revenues to some extent because a regulated utility enjoys fixed charge-out rates. However, the other significant factor to determine FE revenues is the weather conditions prevalent in a particular area for a particular time period. To some extent FE revenues are sensitive to weather changes. In simple words, hot or warm weather will generally mean more power consumption due to say, increased usage of air conditioners, refrigerators etc. and the reverse is also true.
FE looks committed to sustain its revenue growth in future:
Commenting on the results of Q2 2018, FE's VP & CFO, Mr. Steven Strah stated,
Earnings benefited by $0.09 per share from stronger distribution revenues associated with higher weather-related usage, increased industrial load, and a true-up of previous deferrals resulting from rate orders that were issued in the second quarter of 2018.

Cool temperatures in April followed by hot weather in May and June resulted in a 4% increase in total distribution deliveries compared to last year's mild second quarter. Sales to residential customers increased 8.6% while commercial deliveries increased 1.6%.
The company's earnings beat expectation by $0.09/share. This was another positive in addition to the revenues that beat expectations by ~$130 MM. As identified by the CFO, Q2 revenues were up 4% due to hot weather conditions observed in May and June 2018. In my opinion, mild weather during the Q3 2018 will partially affect consumption from residential customers. However, the likely impact will not be significant because FE's revenue growth is also attributable to increased customer base and a higher industrial load. FE plans to improve customer service by upgrading its transmission network to prevent or reduce power outages. For this purpose, FE has initiated its "Energizing The Future" project and plans to incur CAPEX of ~$4.2-5.8 B by 2021.
Source: First Energy
Going forward, improved transmission facilities and fewer power outages will help enhance FE's customer base and given the regulated nature of its services, will boost the company's growth.
FE's 4% dividend yield makes it a safe investment with appealing valuation:
FE's 4% dividend yield beats COD rates:
FE current DY (read:dividend yield) lies between ~3.9-4% with an annual dividend payout of $1.44. FE has maintained this dividend payout since 2014 and based on the company's positive outlook, this payout may reasonably be expected to continue going forward. However, the current 4% DY appears to be an attraction because it promises higher returns than the U.S. Bank's COD rates. In my opinion, this makes FE an attractive income investment with solid growth potential.
Valuation: To consider the valuation of FE compared with peers, I have tabulated the EV/EBITDA and PB ratios of FE and selected peers that includes Exelon Corporation (EXC), CenterPoint Energy, Inc. (CNP), Alliant Energy Corporation (LNT), Xcel Energy Inc. (XEL) and MGE Energy Inc. (MGEE). The table reveals that based on both these metrics FE has a sweet spot among selected peers:
| | | |
| --- | --- | --- |
| Ticker | EV/EBITDA (times) | P/B ratio (times) |
| FE | 8.55 | 2.33 |
| EXC | 7.54 | 1.39 |
| CNP | 9.08 | 2.56 |
| LNT | 13.37 | 2.31 |
| XEL | 10.46 | 2.08 |
| MGEE | 13.99 | 2.87 |
Comment on EV/EBITDA: Generally, a higher EV/EBITDA points towards overvaluation however it's clear that all the selected companies have EV/EBITDA ranging between ~7.5-14, and a high EV/EBITDA is reflective of investor confidence in the sector. Based on this metric it's easy to see that FE has a suitable position among peers in terms of this valuation metric.
Comment on P/B ratio: Then again, FE appears to be slightly overvalued in terms of its PB ratio. The company's price is ~2.3 times its net assets. However, I believe the stock is not excessively overvalued compared with selected peers, and the higher P/B is reflective of investor confidence about the growth potential in this sector.
Bottom Line: Electricity generation in the U.S., is primarily based on non-renewable resources including natural gas and coal. The future of this industry will largely depend on renewable and eco-friendly sources including hydroelectric power generation. This presents a great opportunity for FE to fuel its growth as it has the expertise and the resources to add more hydro power projects in its portfolio.
Moreover, the company is transforming its business model to become a fully regulated utility company and has to bear short-term costs that will bear long-term fruit in terms of increased revenues and wider customer base. For the purpose, the company plans to spend heavily in CAPEX to improve its transmission network that will help reduce power outages. Finally, with a 4% dividend yield that beats the COD rates and an appealing valuation compared with selected peers, FE is a great income investment that has solid prospects for growth.