As a professional money manager, I spent about 50 hours this past week fishing as many tributaries of the market as I could. I made a lot of observations during my travels that I believe can be very helpful to investors.
There is still only one asset class that is working in the markets. I am not an asset allocator, Instead, I have been parked on this asset class all year long, looking to pull up as many winners as I can until the fish move once again.
Here are my observations from this past week of trading:
Monday 8/20/18=DJIA (+89) NASDAQ (+10)
The new trading week started off on a positive note. Once again, it was the DJIA leading the NASDAQ, however. The situation in Turkey seems to be coming to a head as both sides delivered tough talk on the release of a U.S. pastor.
While Turkish President Erdogan claimed that Turkey will not be cowed by the U.S., he did float an offer of releasing Pastor Andrew Brunson in exchange for billions of dollars in relief for their Halkbank. The bank faces billions of dollars in U.S. fines for allegedly violating U.S. sanctions on Iran.
This offer went now where with the current administration.
The market also seems to be cautiously optimistic about the U.S. China trade talks which began Tuesday in Washington.
In the meantime, President Maduro of Venezuela told his people to "trust him," as he had a plan and a formula for the country to recover.
Goldman Sachs told investors on Tuesday to not fear the yield curve that continues to narrow.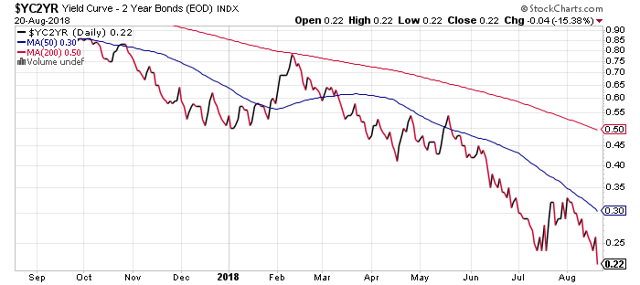 The spread between the 2 year and 10 year U.S. treasury narrowed to just 22 basis points on Monday! This is its thinnest margin since 2007. But, Goldman reasons that three of the last ten times that the yield slope inverted, no recession followed over the next two-year period.
"Things are different this time," said Goldman. The Fed's portfolio reduction, a more gradual pace of interest rates, and a late cycle fiscal stimulus are all factors.
The bond market seems to be saying one thing about the market, while the market has its own ideas. The consumer stocks sure are not predicting a recession right now. I continue to see many retailers hitting new 52 week highs.
Kohls (KSS) would be one example…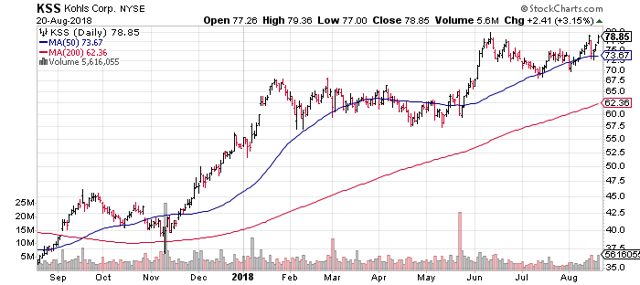 Lululemon (LULU) would be another one. LULU exploded to new highs on Monday.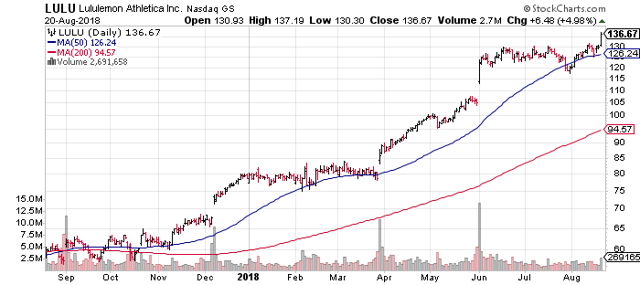 For me, seeing the action in these consumer-driven stocks is much more important right now than a narrowing yield curve.
There was yet another merger and acquisition deal on Monday as Pepsi (PEP) took out Soda Stream on Monday. The price tag was $3.2 billion. I wrote a few articles about Soda Stream several years ago calling it a threat to "Big Soda."
Here is an excerpt from one of those articles:
I love to visit the county fair every year. I have always been a soft-sell for many of the gadgets that are being demonstrated by the showmen at the fair. I have bought salsa makers, sushi makers, magic mops and just about every other type of gadget designed to make my life easier. Most of the gadgets are now buried in my drawers and closets. They never quite lived up to my high expectations.
I have seen many attempts over the years of making your own soda pop. I remember my mom and dad bottling root beer many years ago, only to have the bottles explode in the middle of the night under my bed, the cool, dark place where they were being kept.I also remember gadgets at the fair that promised to be able to make soda for pennies per glass. It all sounded good, but none of them ever seemed to take off. Finally, a little company outside of Tel Aviv came up with a system that has taken off. The system is now in most of the major retailers across America. I bought mine at Sears.
Soda Stream Intl. (SODA) went public in November of 2010 at $25 per share. It has traded as high as $79 per share since then and is currently trading at $35 per share. While I currently do not own any shares of the stock for myself or my clients at Gunderson Capital Mgt., I do own the product, and I like the long-term prospects for this company.
Here is a link to another article that I wrote about the Tel Aviv, Israel based company.
Estee Lauder beat their earnings estimates on Monday. I continue to own shares of the company in my Growth & Income portfolio. The stock currently has a dividend yield of 1.1%, and it has put up some very nice "alpha" over the years for investors.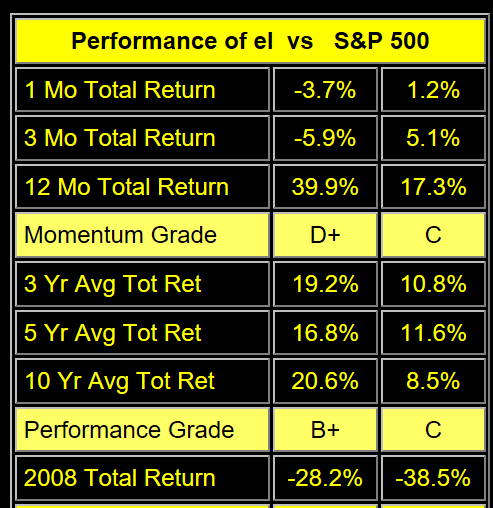 Data from www.BestStocksNow.com
My other big observations from Monday were the action in the weed stocks. Canopy Growth (CGC) exploded to the upside.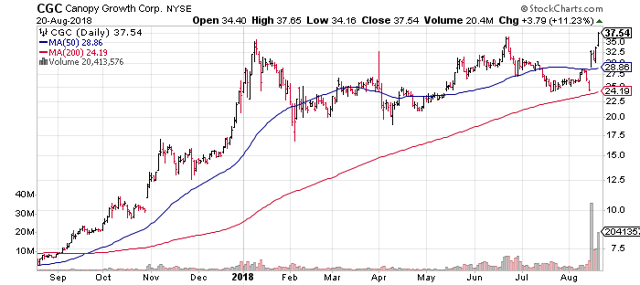 So did Tilray (TLRY).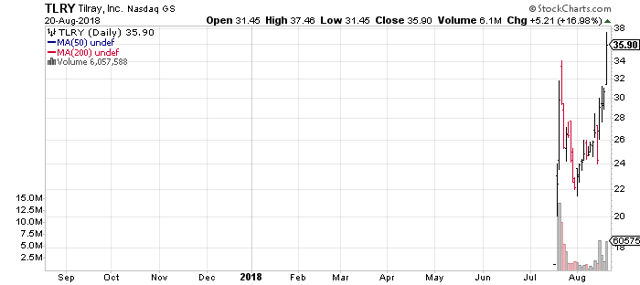 Tuesday 8/21/18=DJIA (+63) NASDAQ (+38)
As the China and U.S. trade talks continued, the S&P hit an all-time high on the 3,500th day of the longest bull market in history.
My weekly market timing, Best Stocks Now newsletter put out a BUY SIGNAL on the market back on March 27th of 2009. It has been on the BUY SIGNAL ever since, but at some point, it will deliver a SELL SIGNAL, so stay tuned.
President Trump complained once again about his own Fed chairman Powell and the rate that interest rates are being raised.
This sent the dollar south and metals north while NAFTA talks resumed in Washington.
Yet another retailer reported better than expected earnings and the stocks broke out to the upside. TJX Co. (TJX) was the stock that broke out to new highs on Tuesday after its comparable store sales dazzled.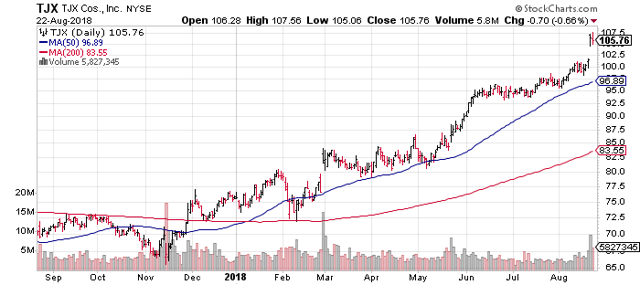 Chain store sales are also buzzing along according to a weekly read from the Johnson Redbook. Something is sure going right in the economy!
But, wait a minute. Analysts were also raving about Costco (COST) on Tuesday. Several of them raised their target prices. I continue to own Costco shares in my Growth & Income portfolio. The stock has delivered a lot of alpha to investors over the years.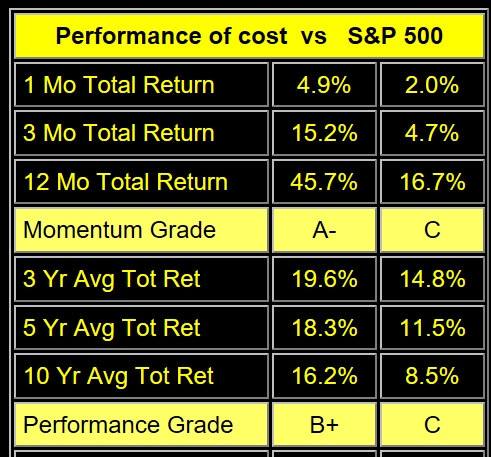 Data from www.BestStocksNow.com
.
Wednesday 8/22/18=DJIA (-88) NASDAQ (+28)
Two bombshells were dropped on the market after it closed on Tuesday. Paul Manafort, one of President Trump's campaign chairmen was found guilty on 8 of 18 felony charges against him.
But the news about Trump's form lawyer, Michael Cohen was even a bigger bombshell. He admitted to paying off two women at the request of an unnamed candidate to influence an election.
IMPEACHMENT TALK is now burning up the airwaves at CNN and CNBC. The DJIA was bothered by it a bit on Wednesday, but the "risk-on" NASDAQ and Small-Cap indexed did not seem to care much.
The good news on Wednesday was that the U.S. and China continue to talk trade with each other. In the meantime, North Korea continues its nuclear work.
In yet another sign that the U.S. consumer is feeling quite confident these days, Target (TGT) reported blow out earnings on Wednesday. Target's CEO, Brian Cornell called this the best consumer environment that 'I've seen in my career.' Target's comparable store sales were a dazzling 7.5%!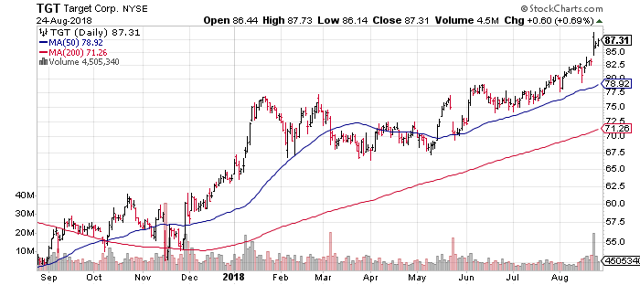 But, in the mouth of two witnesses are truths established. Well, add Lowe's as yet another witness to the strength of the U.S. consumer. They too had reported blow-out earnings on Wednesday. The stock exploded to the upside.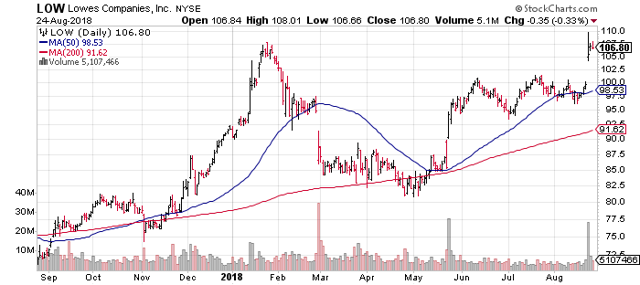 Thursday 8/23/18=DJIA (-76) NASDAQ (-10)
There was a lot of noise in the market on Thursday over all the recent developments in the White House. The word "impeachment" is being thrown around all over the place in all the usual place, but the market does not seem to be too rattled by it yet.
The new round of U.S. tariffs on $16B worth of Chinese imports kicked in on Thursday and Beijing swiftly retaliated. The total tariff tally now stands at $100b and counting.
If you are looking for a looming recession in the U.S. economy, you may see some early signs in a narrowing yield curve, but you will not find any in the jobs market. Jobless claims continue to fall. Last Thursday's reading was a very low 210k.
Another top executive is leaving Facebook. Its top dealmaker, Dan Rose is leaving in February. Meanwhile, the shares of Facebook (FB) remain very weak.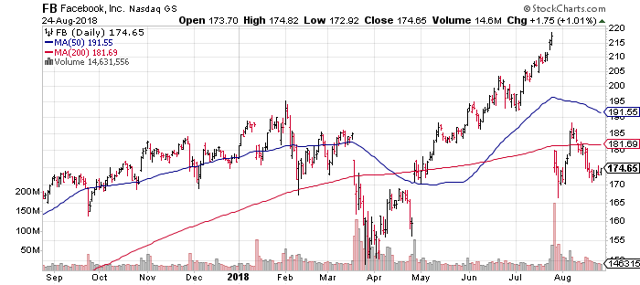 Alibaba (BABA) had had just a luke-warm EPS report on Thursday. The stock has sold off quite a bit since this whole trade war started. I finally gave up on the shares recently and sold my position for a 64% profit.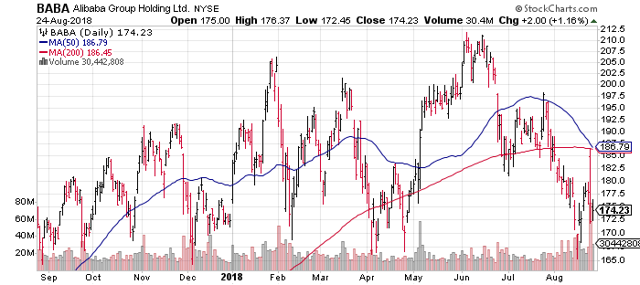 A retailer with exceptional mall traffic? Wow, we have not heard that for a while! What happened to the retail ice age? Children's Place (PLCE) was the company that reported this news, but they are just one of many consumer-related stocks reporting blow-out earnings recently.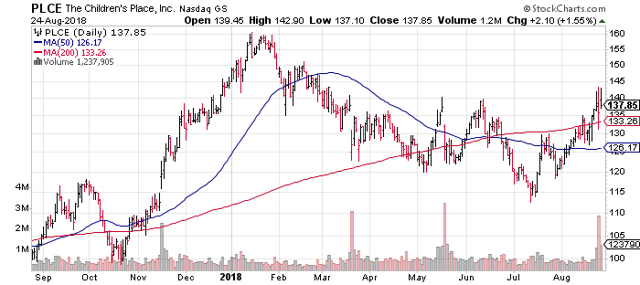 Isn't Williams Sonoma also a mall-based retailer? I especially like their apple cider samples around Christmas time! They too reported blow-out earnings on Thursday. Look at that one-year chart! The U.S. economy is humming right now. Who gets the credit?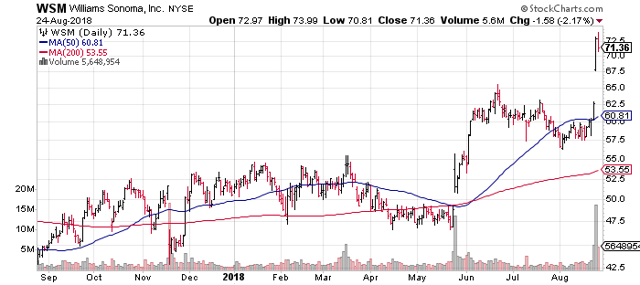 The retail sector continues to be one of the strongest sectors in the entire market.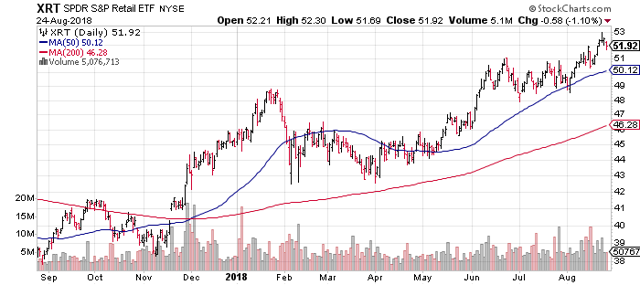 In a note, RBC Capital Market said that legal sales of marijuana in the U.S. are catching up to beer and wind, potentially reaching $47B in ten years. That is a lot of weed! Will we be better or worse off as a society with the booming use of cannabis. I have my opinion, and I am sure that you have yours.
In the meantime, the marijuana stocks continue to explode to the upside.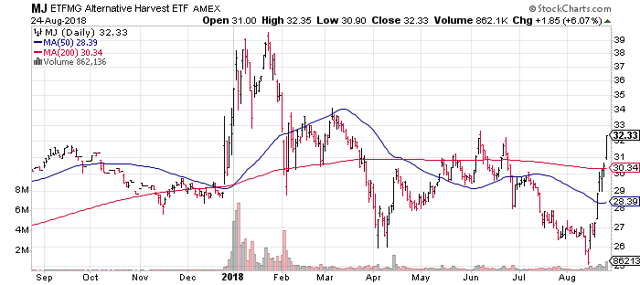 Nvidia's stock is also exploding to the upside as they put out new performance specs for their new gaming GPU.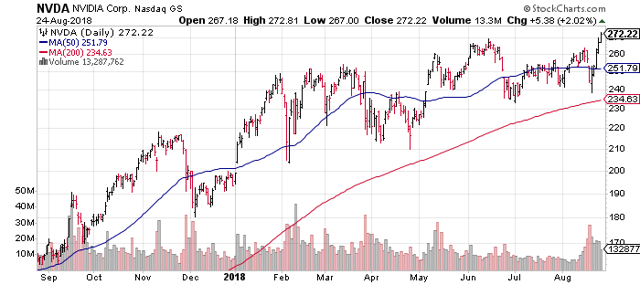 Friday 8/24/18=DJIA (+133) NASDAQ (+67)
Wow, what got into the market on Friday? With the drama building with the Trump presidency, the U.S. China trade talks ending with no major progress, a weaker than expected durable goods report, a yield curve that is getting narrower by the day, the market blasted off to one of its best gains in quite some time!
The big catalysts for the market seem to have come from several software stocks reporting extremely strong earnings and Fed Chairman Powell's comment from Jackson Hole reaffirming a gradual rate hike path.
The yield curve continues to narrow and narrow, however. It is now down to just 21 basis points!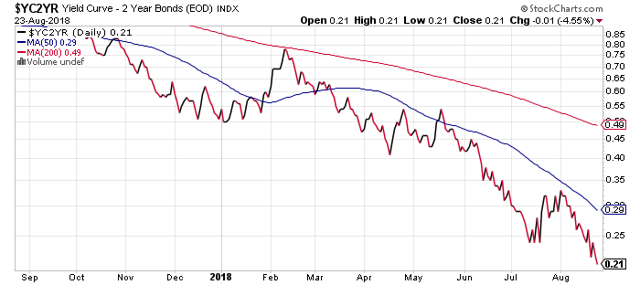 Yet, the software stocks were on fire on Friday! The following companies reported better than expected earnings.
Architectural software maker Autodesk (ADSK) exploded to the upside after beating their estimates. I regret selling my shares recently. I got impatient with it going nowhere. Patience is definitely a virtue in the stock market, especially when valuations are so compelling.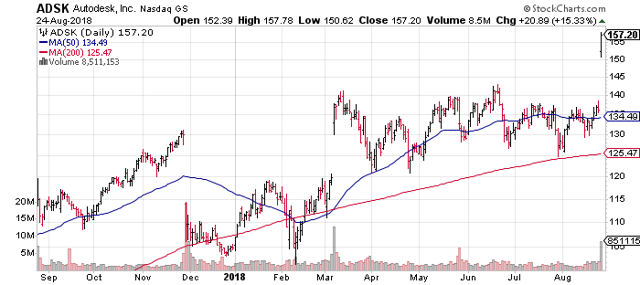 Software developer Splunk (SPLK) was another winner big winner on Friday after a stellar EPS report.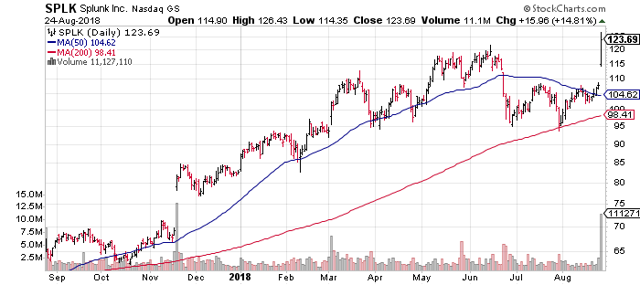 Cloud-based software developer, Veeva Systems (VEEV) works with companies in the life sciences industry. It too had a blowout report on Friday.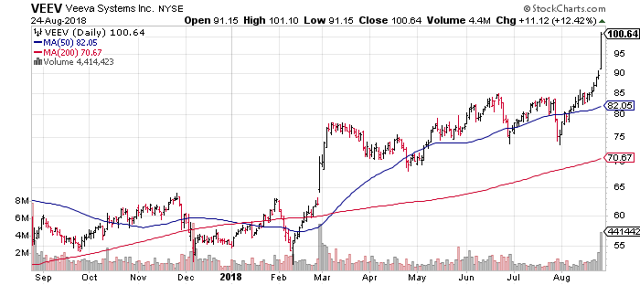 I do not own any of the aforementioned stocks, but I do own Intuit (INTU) in my Growth & Income portfolio. It also had a good day after its EPS report.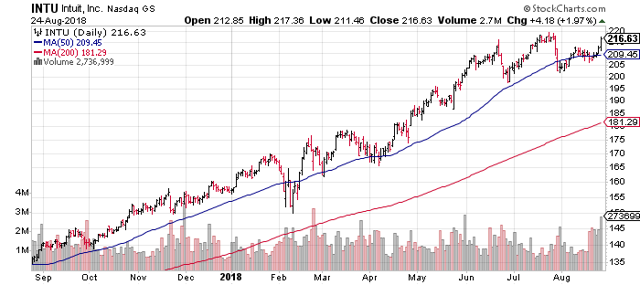 Intuit has delivered some very good alpha over the years to its investors. It currently earns a performance grade of "A" in my database of over 5,000 stocks, mutual funds, and etfs. The company also pays a dividend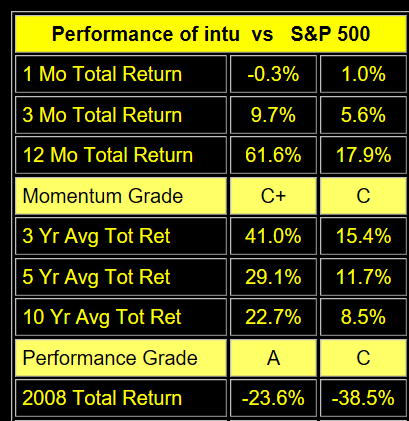 Data from www.BestStocksNow.com
Palo Alto Networks (PANW) also had a very good day. I continue to own it in my Ultra-Growth Portfolio. This is one of four portfolios that I manage. It is having a very good year so far in 2018.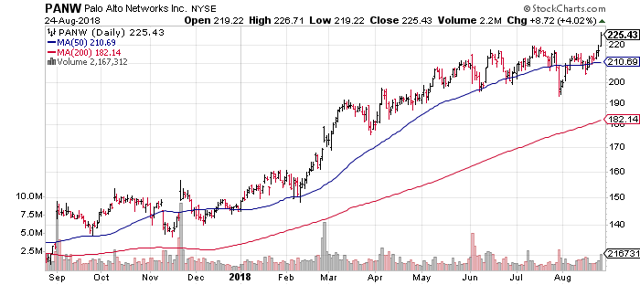 Netflix (NFLX) recently grew to a very large position (7% overall) at my firm. It had more than doubled since my original purchase and I sold one half of my position earlier this year. I sold my remaining shares last week for a 120% gain. I did not like their recent EPS report at all. I had an article published on Seeking Alpha last week as to why I sold my remaining shares.
The stock had a big up day on Friday after an upgrade by Sun Trust. I am going to remain on the sidelines in the stock for now, but Netflix was another catalyst in the big move of the NASDAQ on Friday.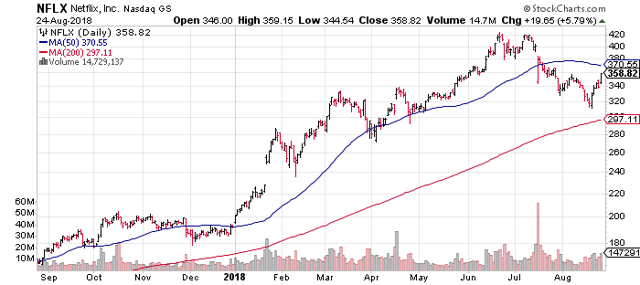 I am sticking with my large position in Visa (V), however. I own the stock in both my Premier Growth and Growth & Income portfolios. It has been one of the great IPO's of all time. The stock went public back at the beginning of 2008 at about $15 per share, and it closed Friday at $144.20 per share.
Here is what its return numbers for investors look like.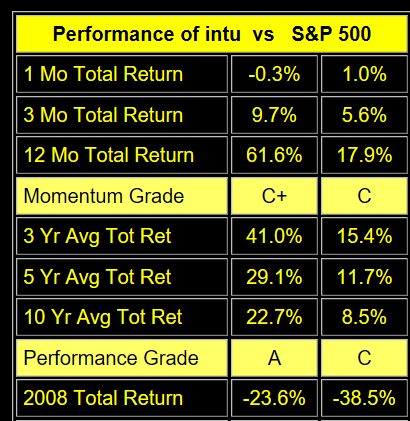 Data from www.BestStocksNow.com
That is a lot of alpha! The stock hit a new all-time high on Friday. Every picture tells a story. The company is expanding its footprint big time into Japan with a recent purchase.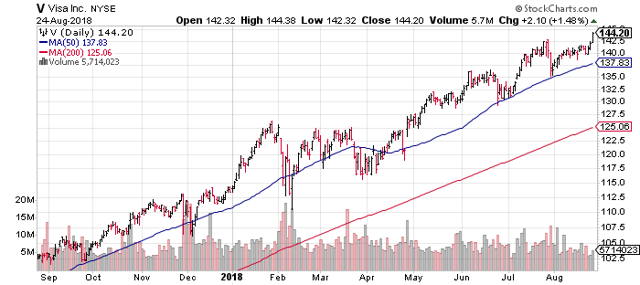 Another tech stock that has been unbelievably strong lately is AMD. The stock hit a new 12 year high on Friday as it received yet another upgrade.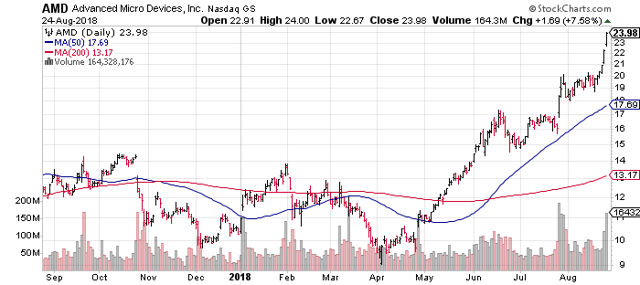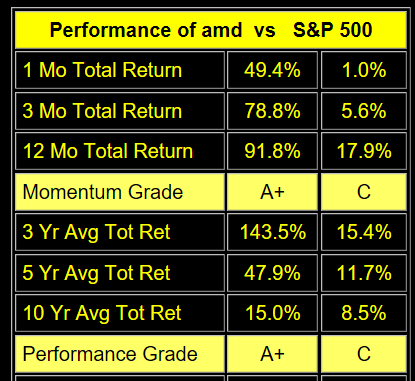 Data from www.BestStocksNow.com
The stock started showing up on my A+ momentum list several weeks ago. It has been exploding to the upside ever since. I check this list daily and the stock's corresponding one-year charts. There are usually about 100-150 stocks daily from my database of over 5,000. This is a very good list of potentially actionable stocks.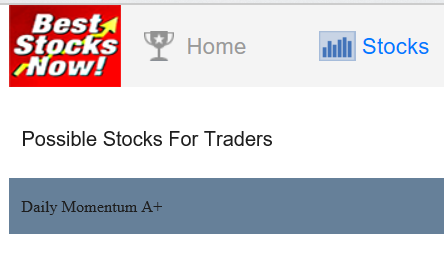 Here is a small sampling from today's list.

Data from www.BestStocksNow.com
Here is one sample of a one-year chart from that list. Angie's (ANGI) list started showing up in the last a few weeks ago. In the case, it certainly a precursor of what was to come. The stock has exploded to the upside. Once again, this is a great list to check daily.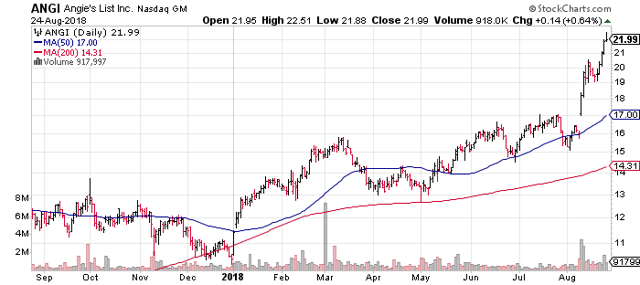 The week ended on a very high note as earnings seem to trump the Trump news. It has been rising earnings that have fueled this longest bull market in history. It will be earnings that will continue to fuel it until they begin to recede.
I will end this week's missive with the most important chart of all. Earnings, earnings, earnings!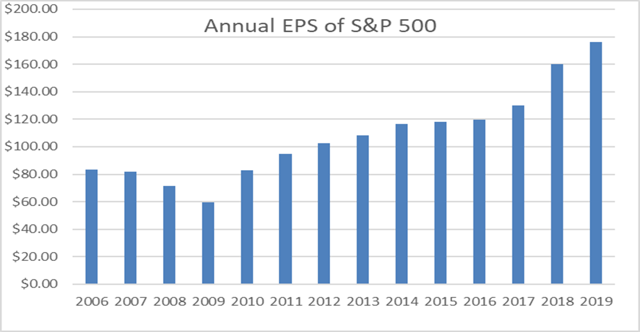 Enough said!
Disclosure: I am/we are long INTU, PANW, EL, FB, V.
I wrote this article myself, and it expresses my own opinions. I am not receiving compensation for it (other than from Seeking Alpha). I have no business relationship with any company whose stock is mentioned in this article.